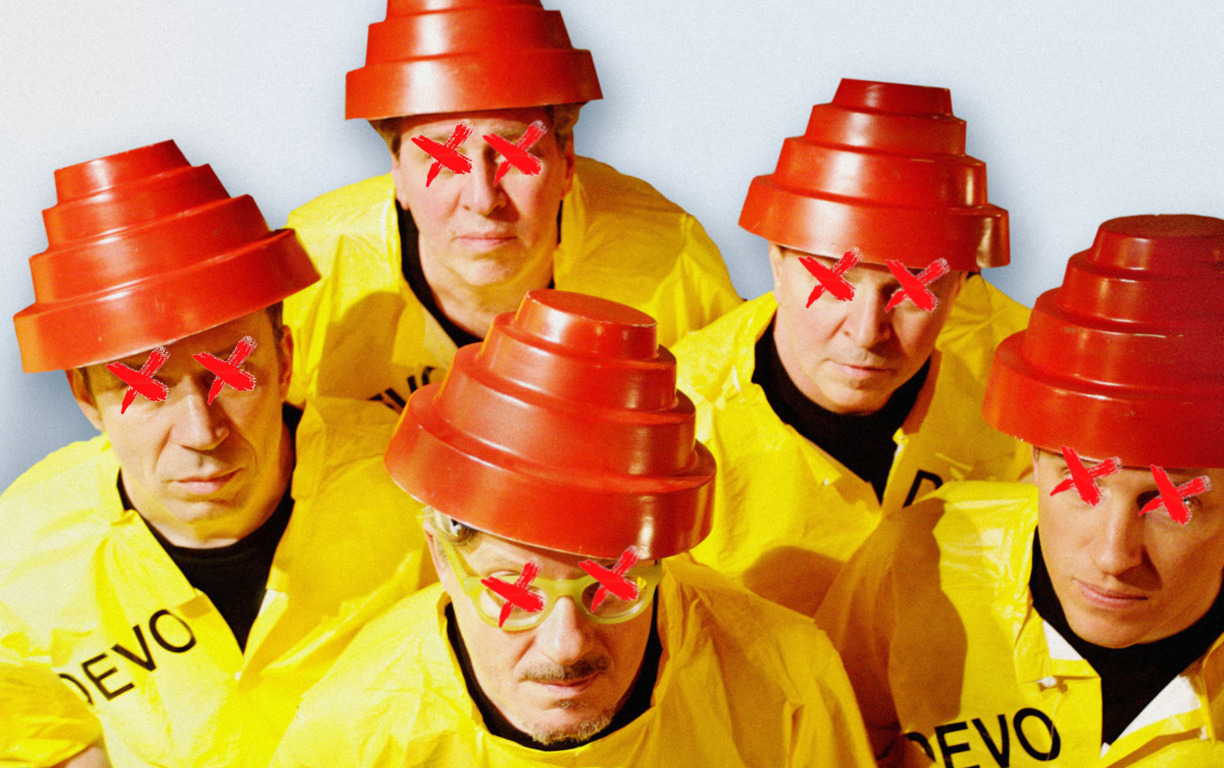 ENGLISH VERSION

In March 2020, I published an "empirical study" (that's a big word) on the garage scene. I found that more and more releases were labeled as such but that the public interest was unfortunately declining. Here is the second part of this series of articles, this time, on the post-punk scene. Many of the bands featured on Still in Rock call themselves "post-punk". The scene seems to have never been so flourishing in a long time. I wanted to know what Google had to say about it, just to get a first glimpse of what might look like an overview. Here are my results.
The number of "post-punk" releases
I started my research by looking for the following keywords: site:https://bandcamp.com/ "post-punk". The idea here was first to quantify the number of Bandcamp releases labeled "post-punk". Google does not display the number of results for specialized queries, but one can get the numbers by tweaking the source code a bit. While I was expecting a significant but contained increase in the number of Bandcamp "post-punk" releases, I discovered the following trend: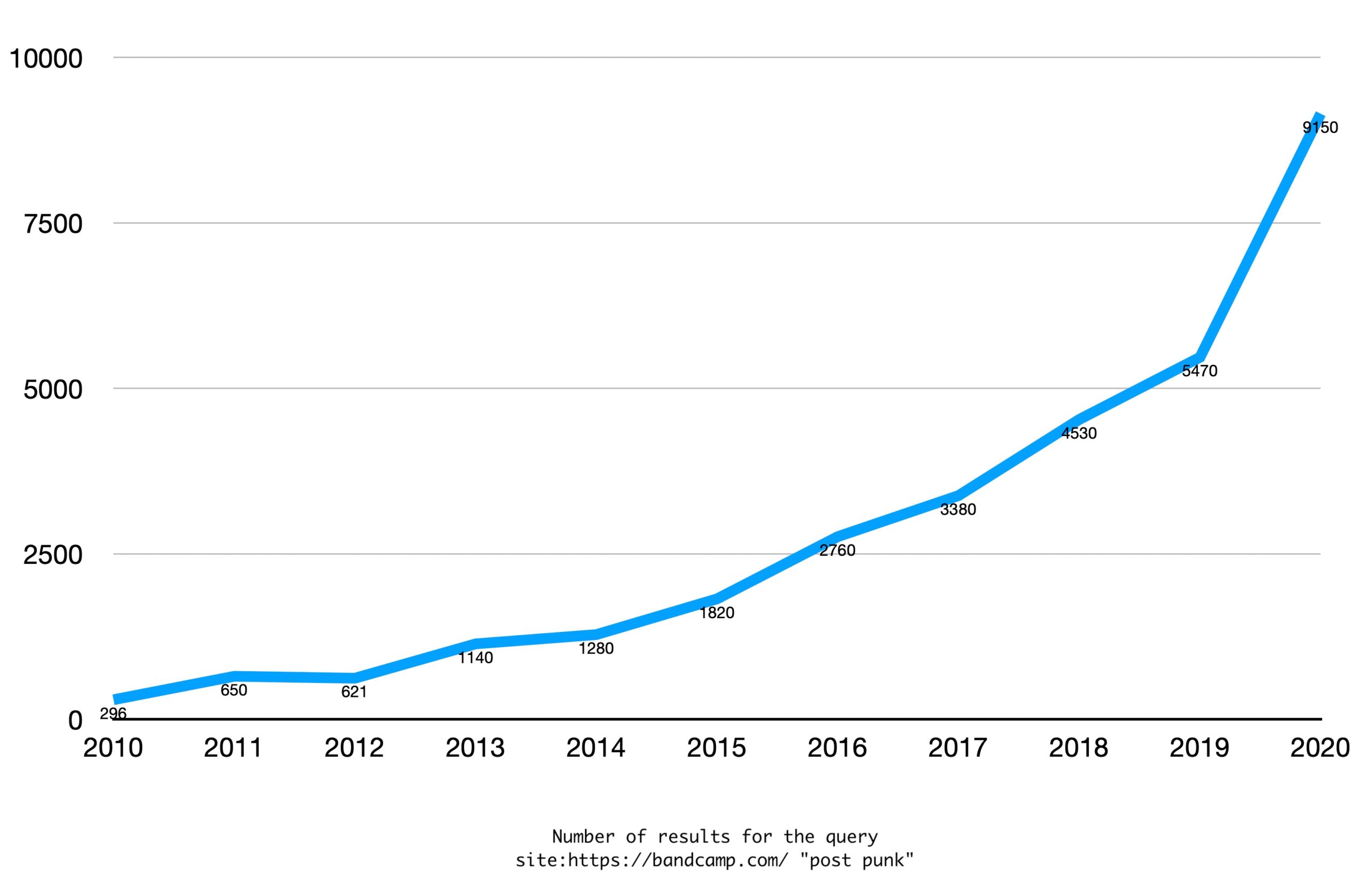 These proportions are exceptional in every way. In 2020, Google listed 9150 "post punk" releases on Bandcamp for only 296 in 2010. This represents an increase of 3,091% in just ten years. The post-punk scene is doing well, at least in terms of creation. Of course, many bands label their music "post-punk" while they play different genres such as post-skate music. There is a fashion and probably a strategy to make it easier for labels to get their music. However, this doesn't take anything away from this exponential rise, which is more than just statistical noise.
General interest in "post punk" music
The number of "post-punk" releases is increasing year after year. A question then follows: is the public's interest correlated? The two seem to go hand in hand; no band has an interest in putting out post-punk music if the crowds are not interested in it. Of course, there will always be bands that play music regardless of their music's reception, but it is clear that the ecosystem in which bands are immersed often ends up influencing their musical style. So here is the number of Google queries about "post punk":

Undeniably, the trend is downwards. If this graph is less impressive than the first one, I would nonetheless like to point out that Google records half as many "post-punk" searches in 2020 as in 2011. That's huge.
Lessons
What do we get out of all that? As the garage scene, the "post-punk" scene is experiencing a strange phenomenon: more and more bands say they are part of it, yet the public interest is sharply declining. The proportions are extreme. There are 31 "post-punk" bands in 2020 for only 1 in 2010. At the same time, one fan out of two has now turned to another genre. This is all the more true outside the United States and Australia, where playing "post-punk" music doesn't seem to be a great career choice anymore: there is too much for not enough.
Unfortunately, I'm beginning to fear that this trend shows a decline in the interest "underground" rock scenes are emulating. To be sure, I will continue to publish articles in this "empirical" series. We'll see…
***
FRENCH VERSION

(english right above)
En mars 2020, je publiais une "étude empirique" (c'est un grand mot) sur la scène garage. Je trouvais qu'il y avait de plus de plus de sorties labélisées de la sorte, mais que l'intérêt du public allait malheureusement décroissant. Voici le deuxième volet de cette série d'articles, cette fois-ci, sur la scène post-punk. De nombreux groupes qui occupent Still in Rock se disent post-punk. La scène semble ne jamais avoir été aussi florissante. Je voulais donc savoir ce que Google en disait, histoire d'avoir un premier aperçu de ce qui pourrait ressembler à une vue d'ensemble. Voici mes résultats.
Le nombre de sorties "post-punk"
J'ai débuté ma quête au moyen de la recherche suivante : site:https://bandcamp.com/ "post-punk". L'idée était de commencer par chiffrer le nombre de sorties Bandcamp étiquetées de la sorte. Si Google n'affiche pas le nombre de résultats des requêtes spécialisées, on obtient toutefois les chiffres en trafiquant un peu le code source. Alors que je m'attendais à une hausse sensible mais contenue du nombre de sorties "post-punk" sur Bandcamp, j'ai découvert cette tendance :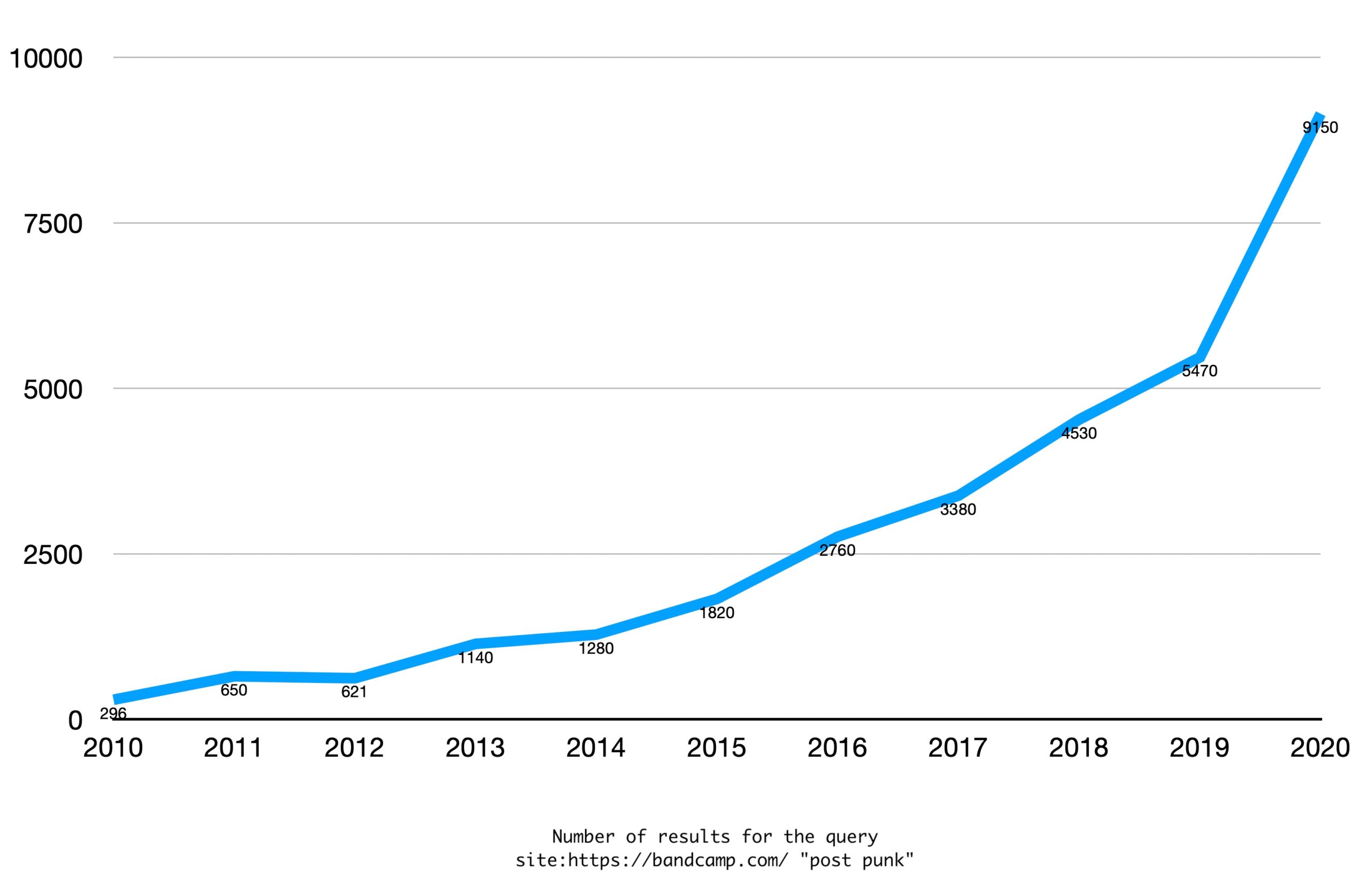 Ces proportions sont en tout point exceptionnelles. En 2020, Google listait 9150 sorties post punk sur Bandcamp pour seulement 296 en 2010. Cela représente une augmentation de 3 091% en dix années à peine. La scène post-punk se porte donc bien. Bien entendu, beaucoup de groupes étiquettent leur musique "post-punk" alors qu'elle relève d'autres styles musicaux (dont du post-skate). Il y a un phénomène de mode, et, probablement, une stratégie afin que les labels puissent plus facilement mettre la main sur leur musique. Toutefois, cela n'enlève rien de cette hause exponentielle qui représente plus qu'un simple bruit statistique.
L'intérêt du public pour le "post punk"
Le nombre de sorties "post-punk" augmente d'année en année. Une question se pose alors : l'intérêt du public est-il corrélé ? Les deux semblent aller de pair, a priori, aucun groupe n'a intérêt à sortir du post-punk si les foules s'en désintéressent. Certes, il y aura toujours quelques groupes qui joueront une musique indépendamment de la réception qui lui ait faite, mais force est de constater que l'écosystème dans lequel les groupes évoluent finit bien souvent par influencer leur style musical. Voici donc le nombre de requêtes Google portant sur le "post punk" :

C'est indéniable, la tendance est à la baisse. Si ce graphique est moins impressionant que le précédent, je souligne toutefois que Google enregistre deux fois moins de recherches "post-punk" en 2020 qu'en 2011. C'est beaucoup.
Au final
Qu'en retirer ? Comme c'est le cas pour la scène garage, la scène "post-punk" connait un phénomène étrange : de plus en plus de groupes disent en être, et pourtant, l'intérêt du public décroit continuellement. Les proportions sont pour le moins extrêmes. On trouve 31 groupes de "post-punk" en 2020 pour 1 seul en 2010. Dans le même temps, un amateur sur deux s'est désormais tourné vers un autre genre. Cela est d'autant plus vrai en dehors des Etats-Unis et de l'Australie où jouer du "post-punk" semble ne plus être un super choix de carrière : il y a trop pour pas assez.
Je commence à craindre, malheureusement, que cette tendance indique un déclin pour l'intérêt que suscitent les scènes rock "underground". Afin de m'en assurer, je continuerai à publier des articles dans cette série "empirique". On verra bien…