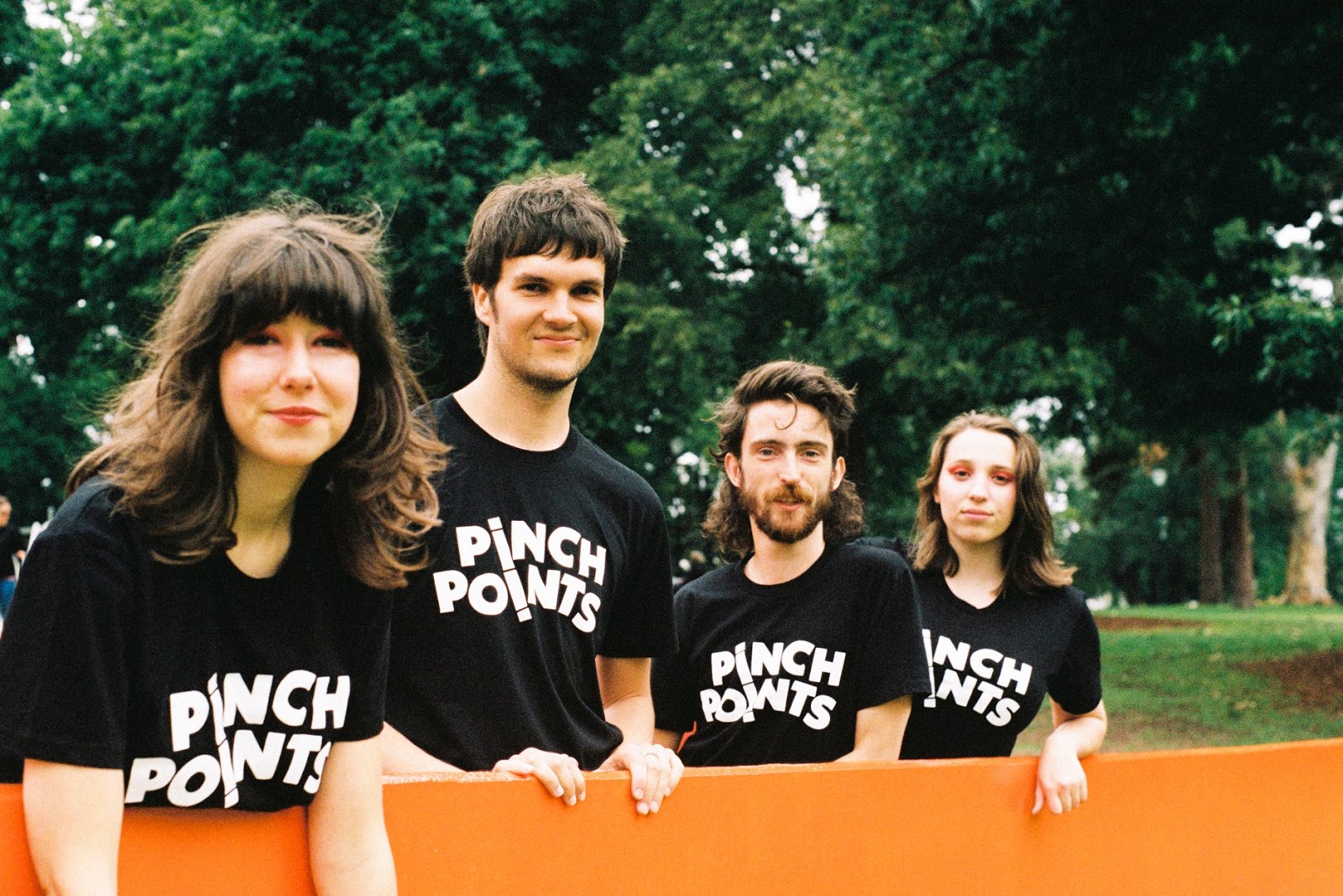 PINCH POINTS is one of the post-skate scene leaders, a band from Melbourne that has been releasing only hits since day one. I had quite a lot to ask, about its hometown, the Australian surroundings, the lack of diversity in the scene, and the death of (white) slacker music. The band also curated a playlist only for us, 28 songs to dynamite the upcoming weekend. Cheers!
***
Let us start with a playlist curated
by PINCH POINTS for Still in Rock
*


The Band
How are you? What's up with you these days?
We're doing our best to adapt to being a band in the Covid-19 era. Unfortunately, we've lost a bunch of upcoming shows already and have larger-scale plans up in the air, as have all bands right now. It's a strange and unsure time for sure. Despite this, we're still riding on the high of having played Golden Plains festival at the start of March. Chipping away at new material is keeping us occupied and focused, but we're also having to rethink our songwriting process to work whilst we're self-isolated separately. We're utilizing this time to get something really cool ready to put out into the world once everything has settled down.
I have a theory: we have seen the creation of a new genre at the end of the 2010s, and it's about to take over the 2020s. Its name? "Post-skate" music. What is it? Speedy garage punk with nervous yet friendly voice (nothing like angry punks), a simplistic and very tight rhythm, a cathartic sound, almost chopped, anti-corporation lyrics, a mid-fi production (not too lo-fi) and bouncy melodies with a vehement tendency (listen & read). Some of your songs relate to the genre. "Shibboleth" and "Ouch ! !" are good examples. What do you think of this theory? Is there such a scene in your opinion? If so, are you willing to take the lead with a few others?
We love it! After reading your previous articles on it (required reading!), it definitely clicked. There's a whole era of bands now that grew up listening to 'indie rock' as kids and then maybe moved away to more underground or diverse stuff – post-skate. It does sometimes feel like a bit of a reaction against the rise of slacker punk, and the desire to keep the energy but be a bit more concise and meaningful.
Ah, you're pleasing me right now! Generally speaking, it seems to me that you and a few others are taking over the garage scene which has been quite obsessed with slacker bands such as Fidlar, Dune Rats and co. Do you identify with these Australian bands, or, on the contrary, do you reject (part of) what they represent?
It's always great to see guitar-based punky bands like Dunies and Fidlar doing super well, especially in the more mainstream Australian music industry sphere of radio and festivals. It gives us hope that we can follow this path too. But part of the reason we don't identify with these bands is that they operate in a scene that is still very dominated by cis white men. A core value for Pinch Points has always been to champion diversity on our lineups and within the Melbourne scene. When these all-male punk bands use their power to uplift some diverse bands too – that's awesome – but when they repeatedly play with other all-male bands we feel like this isn't good enough. There are so many incredibly talented diverse garage and punk bands in Australia, who we identify with far more: Cable Ties, Tropical Fuck Storm, The Buoys, Hexdebt and Porpoise Spit to name a few.
What is the root of this problem related to the lack of diversity?
This is a huge, complex and multi-layered issue for sure.
In terms of gender diversity, there are social and cultural barriers at play, like young women historically not being encouraged to take up heavier or 'rockier' instruments, with gender roles and expectations barring women from participating in punk and garage scenes in various ways. We repeatedly see women being under-represented and struggling to gain as much success as men at all levels of the music industry; not just musicians but label reps, managers, producers and so on. Triple J's annual 'By the Numbers' report shows how "The gender gap in the Australian music industry is slowly narrowing, but men continue to dominate the scene at almost every level".
On a more positive note, there are a lot of people and groups doing fantastic work to change these stats. For example, Girls Rock! Australia runs music education and mentoring programs for girls, trans and gender diverse youth, combating the problem of gender inequality in the music industry by empowering the next generation of bands and industry personnel. Another great group is LISTEN, who works to foster change by promoting the visibility of underrepresented groups in the music industry, which includes women, gender diverse folk, LGBTQIA+, people of colour, First Nations peoples and people with disabilities. They've created databases of women and gender diverse sound-engineers, producers, DJs, session musicians and bands to demonstrate the extensive community of non-males working in the industry, and give us no excuses for not booking gender diverse lineups and teams for our projects.
We as a band don't have much time for those that aren't actively working to support diversity within the music industry.
I'm 1,000% with you! OK, difficult to make the transition now, but let me try: you recently released your "LIVE at RRR". Wow. The combo "Liquid Stone – Ground Up – System Failure" is quite exceptional. When are you coming to Europe to play all that?
Thank you; that segment of our live shows is a lot of fun. A Europe tour is at the top of our bucket list right now. We're itching to get over to you and connect with the European garage and post-punk scenes. As soon as travel bans are lifted and it looks feasible, we'll be packing our bags for sure.
When should we expect your second LP? Or a new EP? Do you have a title for it already? A release date? A label? An artwork?
We're definitely cooking something up currently, but given that this virus has shaken the music industry up so much in the past few months we're still ironing out details. Keep an eye out for a release later in the year.
The Scene
I've recently conducted a short empirical study on garage rock (link). I found out that there are more and more albums labeled as such, but the number of Google queries tends to decrease. What's your impression from the inside? Do you find it more and more difficult to get support from playing shows and releasing music?
We don't have too many associations with Garage Rock, so we can't say for sure. We've been lucky to ride a bit of a wave of interest attached to post-punk, which has trickled down from the success of bigger names such as IDLES, etc. There definitely seems to be an oversaturation of rock bands at the moment, though. Again, we've been quite lucky. Getting coverage from local radio and Bandcamp early on really helped us grow an audience.
What's the music scene like in Melbourne, and more generally, in Australia. Is it going in the right direction? What would you like to change?
Australia has a rich music history and Melbourne definitely seems like the centre of music culture here at the moment. Pre Covid-19 there were so many shows on every week. It was hard to keep track of it all! It has been great to see more bands and bookers valuing diversity and booking strong lineups and we're sure this will continue. The main problem that everyone is facing now is whether our treasured venues can survive the pandemic. Our government hasn't shown much support yet so the future of our venues is still very much up in the air!
One may argue that there's a battle between the Australian scene and the US one. Could you give us a few names of North American bands you adore? (just to see if they're up to the fight).
Surfbort, Stawcrawler, Control Top. We love them. There's some real great North American punk music happening. Dumb and Deliluh as well.
In "Ouch ! !", you say, "I listen to post-punk and I got a great personality". You conclude, "but I fit right in". What is it all about? Is that a criticism of these obnoxious persons we sometimes see on the music scene?
Adam: to an extent, yeah – but it was mostly meant to be self-deprecating. I get hung up on a lot of things that are actually wastes of energy. The desire to fit in is perfectly natural, but most people tend to see themselves as a unique case; I think this can cause a lot of anxiety. There's this state of mind where you feel exceptional, but then also that everyone else is better than you, or at least better off. That cycle can only really lead to bitterness or righteous indignation. I directed those lines at myself, but if you feel it's about you, then it is. If you think it's about someone you know, then it is – but it's worth asking why you feel that way about someone. They could be a poser, or maybe they just want a sense of belonging like everyone else.
You work with Roolette Records. Tell us about them.
We released our first EP and LP with them. They've been getting behind heaps of local releases over the past few years and have done really well to support the community over here. Roolette were really keen to work with us from the beginning which was super nice. It was great to have a platform to release on as a brand new band back in 2018. They also have a little operation going in NYC too which is really cool!
To conclude
Is "rock'n'roll dead"?
No way! We're living in one of the most exciting eras for rock music and beyond. The scenes are more diverse than ever and there are so many different sounds being experimented with. A bunch of people come to our shows who lived through the 80s punk scenes and they think that what's happening now is way more exciting and welcoming.
It's funny that you quote the post-punk scene, I don't identify your music with it at all. You're less throbbing, less demonstrative, way more punchy. I take good note 🙂 Now, best tour memory?
Making a human pyramid in front of Parliament House with TFS and All The Weathers (photo below).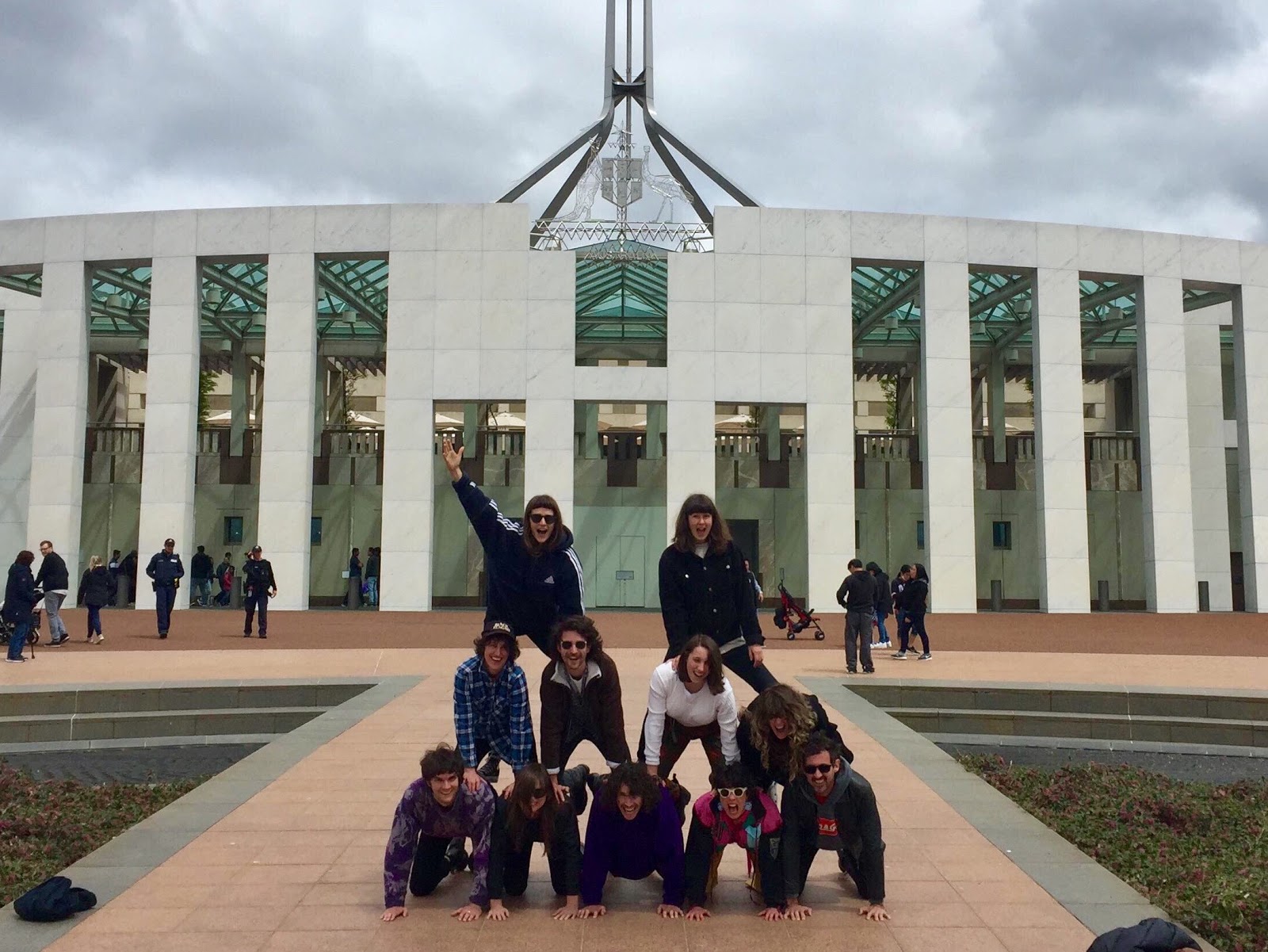 What is your favorite album of the last few months?
Acacia: Far Enough by Cable Ties
Adam: Ave Muñón by Sandré
Issy: Pop Soap by Kosmetika
Jordan: Joyful by Andras
How do you imagine your discography in 20 years from now?
Well so far we've released something every year, but it's hard to imagine us having 20 records out. Maybe 10? It would be great to keep releasing different editions of albums too!
The last word to conclude?
Stay home and rock on 🙂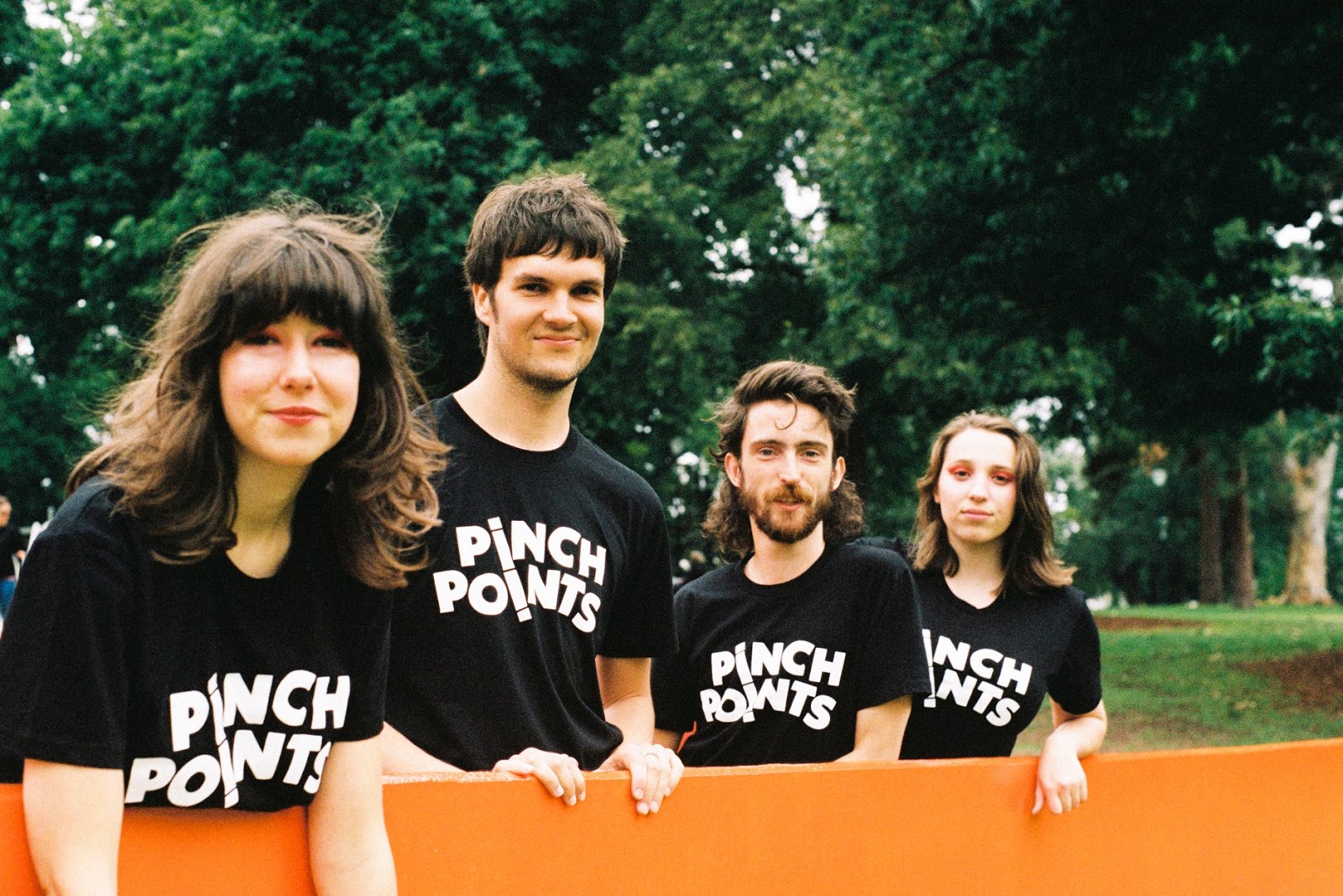 FRENCH
PINCH POINTS, c'est l'une des parles rares de la scène post-skate, un groupe originaire de Melbourne qui n'a fait paraître que des hits depuis le premier jour de sa création. J'avais donc logiquement quelques questions à lui poser en ce qui concerne sa ville natale, le manque de diversité sur la scène, les alentours australiens, et la mort annoncée de la musique slacker (blanche). Le groupe a composé une playlist pour l'occasion, 28 morceaux pour dynamiter le week-end qui s'annonce. Cheers !
*
Let us start with a playlist curated
by PINCH POINTS for Still in Rock
Le groupe
Comment allez-vous ? Que faites-vous ces temps-ci ?
Nous faisons de notre mieux pour demeurer un groupe de musique à l'ère Covid-19. Malheureusement, plusieurs concerts ont été annulés, comme pour tous les groupes en ce moment. C'est une période étrange et incertaine, c'est sûr ! Et encore, nous avons pu joué au festival Golden Plains début mars… Bref, nous sommes occupés par la production de nouveaux morceaux, nous avons repensé notre processus de composition pour travailler pendant le confinement. On en profite pour préparer quelque chose de vraiment cool qu'on publiera une fois que tout cela sera réglé.
J'ai une théorie : nous assistons à la création d'un nouveau style musical depuis fin des années 2010, et il est sur le point de prendre le dessus sur les années 2020. Son nom ? La musique "post-skate". Qu'est-ce que c'est ? Du punk garage rapide avec une voix nerveuse, mais amicale (rien à voir avec les punks colériques), un rythme simpliste et très resserré, un son cathartique, presque haché, des paroles anti-corporation, une production mid-fi (pas trop lo-fi) et des mélodies rebondissantes à tendance véhémente (écoutez & lisez).
Certains de vos titres s'inscrivent dans le genre. "Shibboleth" et "Ouch !!" sont de bons exemples. Que pensez-vous de cette théorie ? Une telle scène existe-t-elle votre avis ? Si oui, êtes-vous prêt à en prendre les commandes avec quelques autres ?
Nous l'adorons ! Après avoir lu vos précédents articles à ce sujet (lecture obligatoire !), elle a définitivement fait mouche. Il y a maintenant toute une ère de groupes qui ont grandi en écoutant du "rock indépendant" quand ils étaient plus jeunes et qui ont peut-être ensuite évolué vers des groupes plus underground ou plus variés: le post-skate. On a parfois l'impression de réagir à la montée du slacker punk et au désir de conserver notre énergie tout en étant un peu plus concis et significatif.
Ah, vous me faites bien plaisir là ! D'une façon générale, il me semble que Pinch Points et quelques autres êtes en train de prendre le dessus sur la scène garage qui a été (trop) obsédée par les groupes slackers tels que Fidlar, Dune Rats et co. Vous identifiez-vous à ces groupes ou, au contraire, rejetez-vous (en partie) ce qu'ils représentent ?
C'est toujours super de voir que des groupes punk à base de guitare comme Dunies et Fidlar puisse connaître autant de succès, surtout dans la sphère plus mainstream de l'industrie musicale australienne, ce qui inclut radio et festivals. Ça nous donne l'espoir de pouvoir suivre cette voie également. Mais si nous ne nous identifions pas à ces groupes, c'est en partie parce qu'ils évoluent dans une scène qui est encore très dominée par des mecs blancs un peu criard. L'une des valeurs fondamentales de Pinch Points a toujours été de défendre la diversité dans nos programmes et au sein de la scène de Melbourne. Lorsque ces groupes punk entièrement masculins utilisent leur inflence pour faire monter en puissance certains groupes plus divers, c'est carrément génial, mais lorsqu'ils jouent à plusieurs reprises avec d'autres groupes entièrement masculins, nous avons le sentiment que ça ne suffit pas. Il y a tellement de groupes de garage et de punk divers et incroyablement talentueux en Australie, auxquels nous nous identifions bien plus : Cable Ties, Tropical Fuck Storm, The Buoys, Hexdebt et Porpoise Spit, pour n'en citer que quelques-uns.
Quel est la racine de ce problème lié au manque de diversité ?
Il s'agit d'un problème absolument énorme, complexe et multi-niveaux.
La diversité des genres, des barrières sociales et culturelles sont en jeu, comme le fait que les jeunes femmes ne soient jamais encouragées à utiliser des instruments plus lourds ou plus "rock". Les rôles et les attentes des hommes et des femmes les empêchent de participer aux scènes punk et garage. Nous constatons régulièrement que les femmes sont sous-représentées et qu'elles luttent pour obtenir le même succès que les hommes à tous les niveaux de l'industrie musicale ; pas seulement pour les musiciens, mais aussi les représentants des labels, les managers, les producteurs, etc. Le rapport annuel de Triple J, "By the Numbers", montre comment "l'écart entre les sexes dans l'industrie musicale australienne se réduit lentement, mais les hommes continuent de dominer la scène à presque tous les niveaux".
Sur une note plus positive, il y a beaucoup de personnes et de groupes qui font un travail fantastique pour changer ces statistiques. Par exemple, Girls Rock ! Australia gère des programmes d'éducation musicale et de mentorat pour les filles, les jeunes transgenres et les jeunes de tous âges, luttant contre le problème de l'inégalité des sexes dans l'industrie musicale en donnant des moyens d'action à la prochaine génération de groupes et de personnel de l'industrie. Un autre grand groupe est LISTEN qui s'efforce de favoriser le changement en promouvant la visibilité des groupes sous-représentés dans l'industrie de la musique, ce qui inclut les femmes, les personnes de sexe différent, les LGBTQIA+, les personnes de couleur, les peuples indigènes et les personnes handicapées. Ils ont créé des bases de données de femmes et d'ingénieurs du son, de producteurs, de DJ, de musiciens de studio et de groupes de genres divers pour montrer la vaste communauté non-masculine travaillant dans l'industrie.
En tant que groupe, nous n'avons pas de temps à consacrer à ceux qui ne travaillent pas activement à soutenir la diversité au sein de l'industrie musicale.
Je suis 1000% à vous ! Bon, difficile de faire la transition (:), mais je tente quand même : vous avez récemment sorti un "LIVE at RRR". Wow! Le combo "Liquid Stone – Ground Up – System Failure" est absolument exceptionnel. Quand venez-vous en Europe pour le jouer ?
Merci, ce segment est super fun à jouer. Faire une tournée en Europe est tout en haut de notre liste de priorités. Nous avons hâte de venir et découvrir le garage européen. Dès que les interdictions de voyager seront levées et que cela semblera possible, nous ferons nos valises, c'est sûr.
Pour quand est prévu votre troisième LP ? Ou un nouveau EP ? Avez-vous déjà un titre ? Une date de sortie ? Un label ? Une pochette ?
Nous préparerons quelque chose ces jours-ci, mais vu que ce virus a tellement secoué l'industrie de la musique ces derniers mois, nous sommes en train de régler les détails. Attendez-vous à une sortie durant l'année…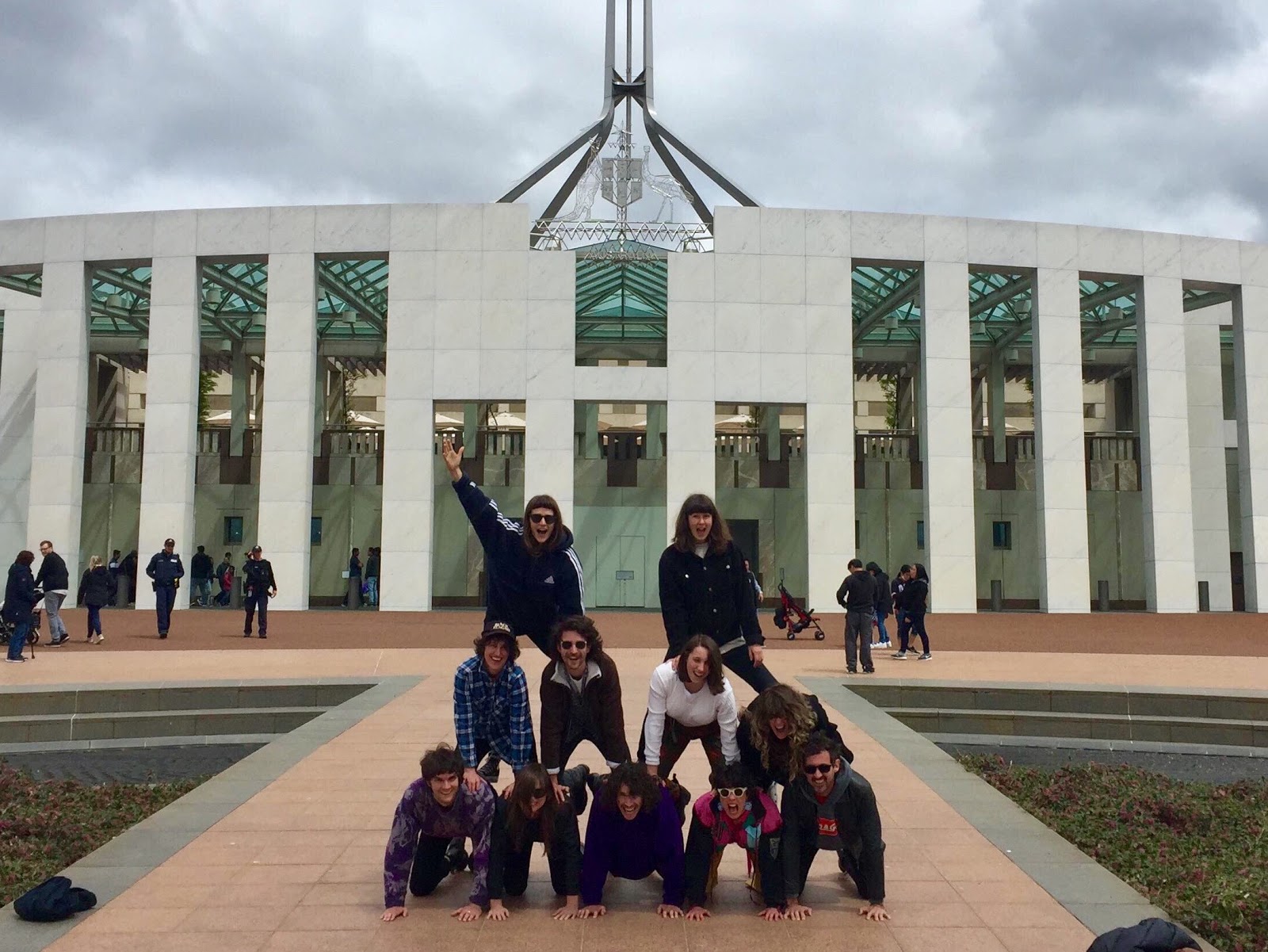 La scène
J'ai récemment mené une courte étude empirique sur le garage rock (lien). Il en ressort qu'il y a de plus en plus d'albums étiquetés comme tels, mais que le nombre de requêtes Google a tendance à diminuer. Quelle est votre impression de l'intérieur ? Trouvez-vous de plus en plus difficile d'obtenir du soutien pour jouer des shows et sortir de la musique ?
Nous ne nous sentons pas vraiment associé au garage rock, donc on n'sait pas trop. Nous avons eu la chance de bénéficier d'un certain intérêt de la scène post-punk, qui s'est inspirée du succès de grands noms comme IDLES, etc. Il semble toutefois qu'il y a saturation des groupes rock en ce moment. Encore une fois, nous avons eu beaucoup de chance. Le fait d'avoir obtenu le soutient d'une radio locale et de Bandcamp dès le début nous a vraiment aidé à élargir notre audience.
Comment est la scène musicale à Melbourne, et plus généralement, en Australie. Va-t-elle dans la bonne direction ? Qu'aimeriez-vous changer ?
L'Australie a une riche histoire musicale et Melbourne semble être le centre de la culture musicale ici en ce moment. Avant Covid-19, il y avait tellement de shows chaque semaine… C'était difficile de tout suivre ! Mais ça va reprendre. Le problème principal auquel tout le monde est confronté aujourd'hui est de savoir si nos salles de concerts peuvent survivre à la pandémie. Notre gouvernement n'a pas encore montré le moindre soutien et de fait l'avenir de nos salles est encore très incertain…
Il y a une bataille entre la scène australienne et la scène américaine. Pouvez-vous nous citer quelques-uns de vos groupes nord-américains préférés, histoire de voir s'ils sont à la hauteur ?
Surfbort, Stawcrawler, Control Top. Nous les adorons ! Il y a de la très bonne musique punk nord-américaine qui aussi, avec Dumb et Deliluh.
Dans "Ouch !!", vous dites : "J'écoute du post-punk et j'ai une super personnalité". De quoi s'agit-il ? Est-ce une critique de ces personnes odieuses que l'on voit parfois sur la scène musicale ?
Adam : dans une certaine mesure, oui – mais c'était surtout une critique envers moi-même. Je m'accroche à beaucoup de choses qui sont en fait un gaspillage d'énergie. Le désir de s'intégrer est parfaitement naturel, mais la plupart des gens ont tendance à se considérer comme un cas unique ; ça peut provoquer beaucoup d'anxiété.
On se sent exceptionnel, et dans le même temps, on pense que tout le monde est meilleur que nous, mieux loti. Ça ne peut vraiment conduire qu'à de l'amertume. Ces paroles étaient donc dirigés contre moi-même, mais si vous avez l'impression qu'elles s'adressent à vous, eh bien… c'est probablement le cas. Si vous pensez qu'elles s'adressent à quelqu'un que vous connaissez, c'est également le cas. Demandez-vous pourquoi vous ressentez cela de quelqu'un. Cette personne est peut-être un poseur, ou peut-être qu'elle veut simplement appartenir, comme tout le monde.
Vous travaillez avec Roolette Records. Parlez-nous d'eux.
Nous avons sorti notre premier EP et notre premier LP avec eux. Ils se sont derrière des tas de sorties locales ces dernières années et ont très bien réussi à soutenir la communauté. Roolette était très enthousiaste à l'idée de travailler avec nous dès le début, c'était top. Ils ont aussi une petite antenne à New York !
Pour conclure
Carrément pas ! Nous vivons l'une des époques les plus passionnantes de la musique rock. Les scènes sont plus diverses que jamais et il y a tant de sons différents qui sont expérimentés chaque jour. Un tas de gens qui ont vécu les scènes punk des années 80 viennent à nos concerts et nous disent que ce qui se passe actuellement est bien plus excitant.
C'est marrant que vous citiez la scène post-punk, je n'identifie pas du tout votre musique à cette dernière. Vous êtes moins lancinants, moins démonstratifs, plus punchy. J'prends note 🙂 Meilleur souvenir de tournée ?
La réalisation d'une pyramide humaine devant le Parlement avec TFS et All The Weathers. (photo ci-dessous)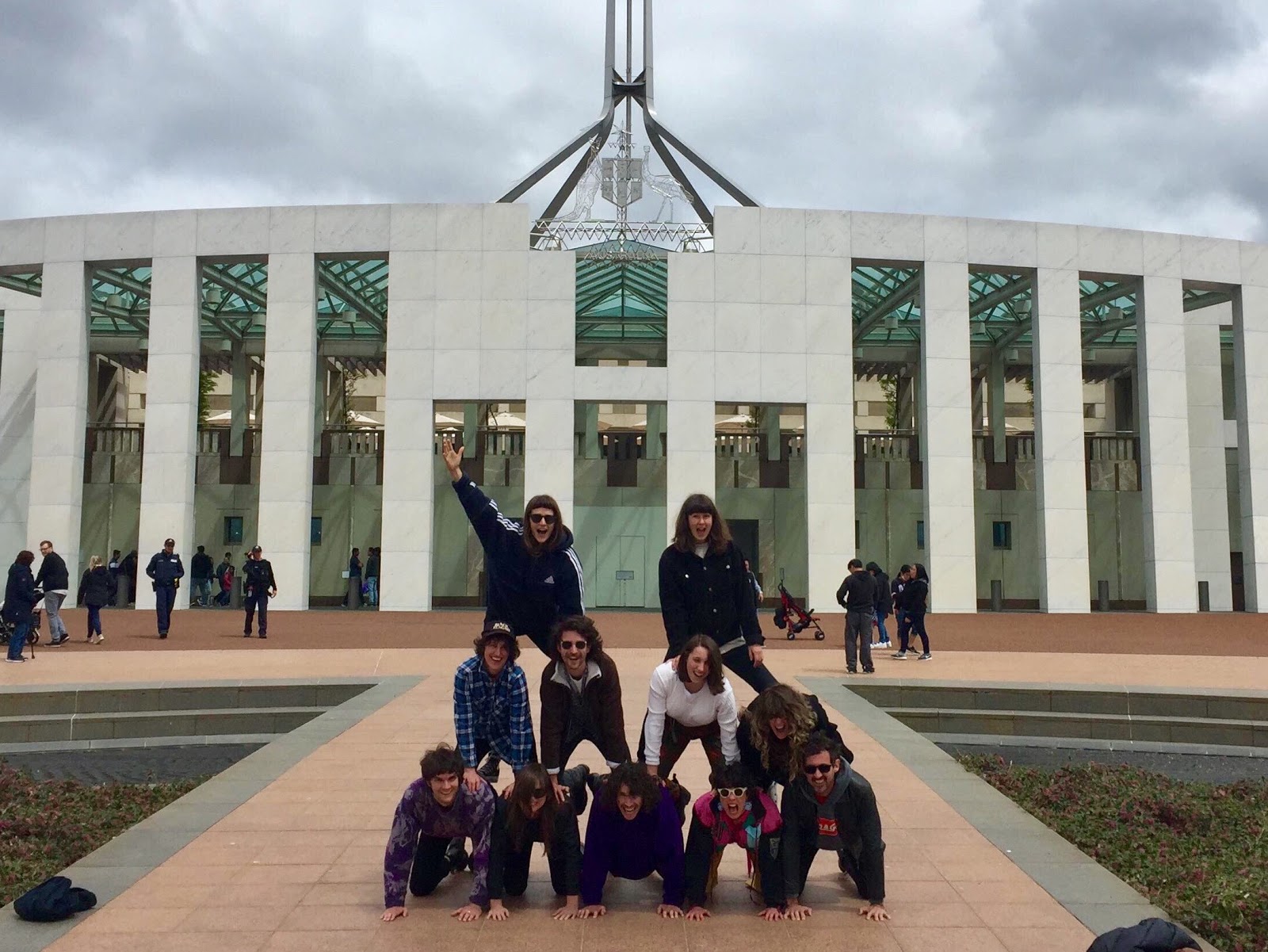 Quel est votre album préféré de ces derniers mois ?
Acacia : Far Enough by Cable Ties
Adam : Ave Muñón by Sandré
Issy : Pop Soap by Kosmetika
Jordanie : Joyful by Andras
Comment imaginez-vous votre discographie dans 20 ans ?
Eh bien jusqu'à présent, nous avons sorti un truc chaque année, mais il est difficile d'imaginer que nous aurons 20 disques. Peut-être 10 ? Et puis, ce serait cool de pouvoir continuer à sortir différentes éditions de nos albums !
Le mot de la fin ?
Restez chez vous et have fun 🙂