Every Monday morning, Still in Rock begins the week with an article featuring a bunch of new releases. A playlist is dedicated to the very best of these articles at the end of each month (link). Make sure you don't miss anything, join Still in Rock on Facebook (here) and WhatsApp (here). Cheers.
Chaque lundi matin, Still in Rock commence la semaine avec plusieurs sorties qui méritent leur pesant de cacahouètes biologiques. Et à la fin de chaque mois, une playlist rassemble le meilleur de ces articles (
lien
). Soyez sûr de ne rien manquer, rejoigniez Still in Rock sur Facebook (
ici
) et WhatsApp (
ici
). Cheers.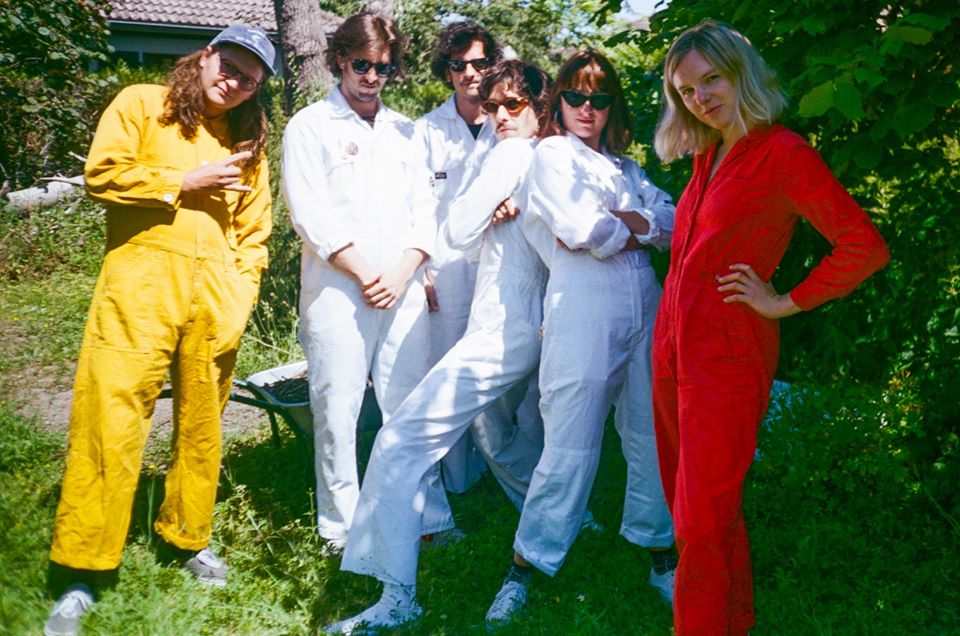 Modulator II – Slivered Hearse
LP, Stolen Body Records, 24 April 2020
[garage noisy]
EN
: Modulator II is part the
Dusty Mush
/
Druggy Pizza
gang, the kings of garage noisy music. When the band released its first EP in September 2018, I was exclaiming great joy at the idea of an upcoming album that would combine the strength of Bruce Willis in
Die Hard With a Vengeance
with the sound of the Jesus Lizard's
Liar
album (
here
). It's now done, but in reality, I shall stop with my cheesy comparisons as
Slivered Hearse
is one of the best garage things of the last few years that deserves its singularity. Still, I remember listening to Segall & Cronin's
Shark Attack
for the first time, with its loops that seemed to be the result of several layers of crumbling, as if the two artists had worked on a neutral basis to end up with a plaster rotten by time, moldy, torn, and finally so stocky. Same for Fuzz's
II
.
Slivered Hearse
gives me a similar feeling. I can hear the layers of perversion, as if the pieces have been artificially corroded, decayed, undermined from within, attacking each note before they were finally restored. Yeah, it's been a long time since the sound and visual approach (Attic Video) had entered such a communion, however corrupted it may be.
FR
: Modulator II, c'est le gang
Dusty Mush
/
Druggy Pizza
, le gang garage noisy, les rois du monde. Alors qu'il faisait paraître son premier EP en septembre 2018, je m'exclamais de joie à l'idée d'un album qui combinerait la force de Bruce Willis version
Die Hard With a Vengeance
et le son de l'album
Liar
des Jesus Lizard (
ici
). C'est désormais chose faite, mais en réalité, je devrai en finir avec mes comparaisons cheesy tant
Slivered Hearse
est l'une des meilleures choses garage de ces dernières années qui mérite bien un peu de singularité. Mais puisque je ne peux pas m'empêcher, je veux dire à quel point le
Shark Attack
de Segall & Cronin m'avait marqué, avec ses boucles qui semblaient être le résultat de plusieurs couches de décrépissage, comme si les deux artistes avaient travaillé sur une base neutre pour aboutir à un enduit pourri par le temps, moisi, déchiré, et finalement si trapu. Pareil pour Fuzz, album
II
.
Slivered Hearse
me procure une sensation similaire. J'y entends les couches de perversion, comme si les morceaux avaient été artificiellement gangrénés, délabrés, sapés de l'intérieur, attaquant chaque note avant qu'elles ne soient finalement toutes restaurées. Ouais, cela fait longtemps que la démarche sonore et visuelle (Attic Video) n'était pas entrée dans une telle communion, aussi corrompue soit-elle.
***
Uni Boys – Heavy​-​Hearted
LP, Burger Records, 24 April 2020
[power pop]
EN
: Uni Boys is the kind of project so Burger Records could have been called Burgered. But Uni Boys is quite perfect, in fact. Its first album,
Heavy-Hearted
, has just been released and I already count it among the best things ever published by the label (my favorite Burger's releases are listed
here
… and my interview with them is
right here
). The sound of this album reminds me of the
Homosexuals'
one, it's a compliment I rarely give. There's some
Protex
, too, and a power-pop will (listen to "
Happiness
" and "
William Alexander
"). Yeah, this album definitely reminds me of the years 2012-2013, my American life. Of course, "
She Happened To He
" is the LP's big single, a very
Dow Jones And The Industrials
slash early 1980s thing, stripped-down, cheesy, ironic like the
Speedies
(video below). Anyway, I haven't been so nostalgic for a long time, it makes me want to cry. Here's my newest Proust Madeleine.
FR
: Uni Boys, c'est le genre de projet tellement Burger Records qu'il aurait pu s'appeler Burgered. Mais Uni Boys c'est plutôt parfait, de toute façon. Son premier album,
Heavy​-​Hearted
, vient tout juste de voir le jour que je le compte déjà parmi les choses majeures du label (classement des meilleures sorties Burger
ici
… et
interview ici)
. Le son de cet album me fait penser à celui des
Homosexuals
, c'est un compliment que je n'adresse que très rarement. Il y a du
Protex
, aussi, et une volonté power pop (écoutez "
Happiness
" et "
William Alexander
"). Ouais, cet album me rappelle assurément aux années 2012-2013, ma vie américaine. L'énorme single, c'est "
She Happened To He
", une chose très
Dow Jones And The Industrials
, une chose très début 1980s, dépouillée, cheesy, ironique à la façon des
Speedies
(vidéo ci-dessous). Bref, je n'ai pas été autant nostalgique depuis longtemps, it makes me want to cry. Voici donc ma nouvelle madeleine de Proust.
***
Los Bitchos – "The Link Is About To Die"
Single, 11 October 2019
[surf rock]
EN: Los Bitchos is a London-based all-female band that has been releasing great singles since 2018, all following the same "tequila-surf-rock" formula. And it works surprisingly well, probably because they do it seriously rather than playing the 'big joke' card. If the album versions are sometimes cheesy, the live performances are quite different. A KEXP session recorded last December in Rennes is a great proof of that. What a hit! The second song reminds me of the storms in Tahiti that I never knew (and for good reason, I've never been there). It's the great darkness of a summer evening. Overall, anyone willing to have a good glass of tequila and to put this video on full screen, headphones on, will experience the great joy of finally being somewhere else, where the girls are all badass, surfers, and fun. And where the guys are finally shutting it down.
FR: Los Bitchos, c'est un groupe féminin londonien qui, depuis 2018, fait paraître des singles en suivant la formule : tequila-surf-rock. Et ça fonctionne étonnamment bien, probablement est-ce dû au fait qu'elles font ça sérieusement plutôt qu'en jouant la carte 'grosse blague'. Si les versions albums ont toutefois quelque chose de cheesy, le rendu live est tout à fait différent. Pour preuve, une session KEXP enregistrée en décembre dernier du côté de Rennes. Quelle claque ! Le deuxième morceau, avec sa noirceur d'un soir d'été, me rappelle les tempêtes de Tahiti que je n'ai jamais connu (et pour cause, je n'y suis jamais allé). Il n'en demeure pas moins que quiconque s'octroiera une bonne tequila et foutra cette vidéo en full screen, casque sur les oreilles, se trouvera ailleurs, quelque part où les filles sont toutes badass, surfeuses, et fun. Et où les mecs la ferment.
***
Frankie And The Witch Fingers – ZAM
LP, Greenway Records, 1 March 2019
[psych rock]
EN: I seem to vaguely remember one day I played a video of Frankie And The Witch Fingers and thought, 10 seconds in, that it was a carbon copy of King Gizzard that I wasn't going to bother with. What a mistake! If Frankie's sound is indeed similar, it has absorbed all the heat, dust, sweat, and burning feeling of a Californian desert. Not surprisingly based in Los Angeles, the band has released several excellent albums, including ZAM (2019), an album that a Still in Rock reader recommended to me several times. Mea culpa, if you read me. It starts with "Dracula Drug", an experience immediately crowned with the tropical-psychedelic-rock-n-roll sounds of "Work" and "Realization". The south meets psychedelic experiences, noisy things, it's a big beautiful mess worthy of the late 2010s. In 2020, I won't miss it.
FR: Je crois vaguement me souvenir d'avoir un jour foutu une vidéo de Frankie And The Witch Fingers sur mon ordinateur et de m'être dit, 10 secondes après, que c'était une copie conforme de King Gizzard avec laquelle je n'allais pas m'embarrasser. Quelle erreur ! Si le son de Frankie est effectivement ressemblant, il a pour lui d'emmener toute la chaleur, la poussière, la transpiration et la country brulante d'un désert Californien. Sans grande surprise originaire de Los Angeles, le groupe a fait paraître plusieurs excellents albums, dont ZAM, en 2019, un album qu'un lecteur Still in Rock m'a recommandé plusieurs fois. Mea culpa, si tu me lis. La chose commence avec "Dracula Drug", une expérience immédiatement couronnée de sonorités tropicalo-psychédélico-rock-n-roll avec "Work" et "Realization". Le sud rencontre la chose psychédélique, noisy, c'est un joyeux bordel digne de la fin des années 2010s. En 2020, je ne les manquerai pas.

(from the album of the same name, 2017)
***
Bonus n°1:


Des singles dont je veux me débarrasser,
au risque de ne jamais m'en sortir :
#1: PUP – "Anaphylaxis"
#2: Tijuana Panthers – "Current Outfit" (le clip ici)
#3: FREEZ – "Not A Punk Song"
Bonus n°2 :
Spoiler alert, here is Oh Sees rehearsal for the band's next album: