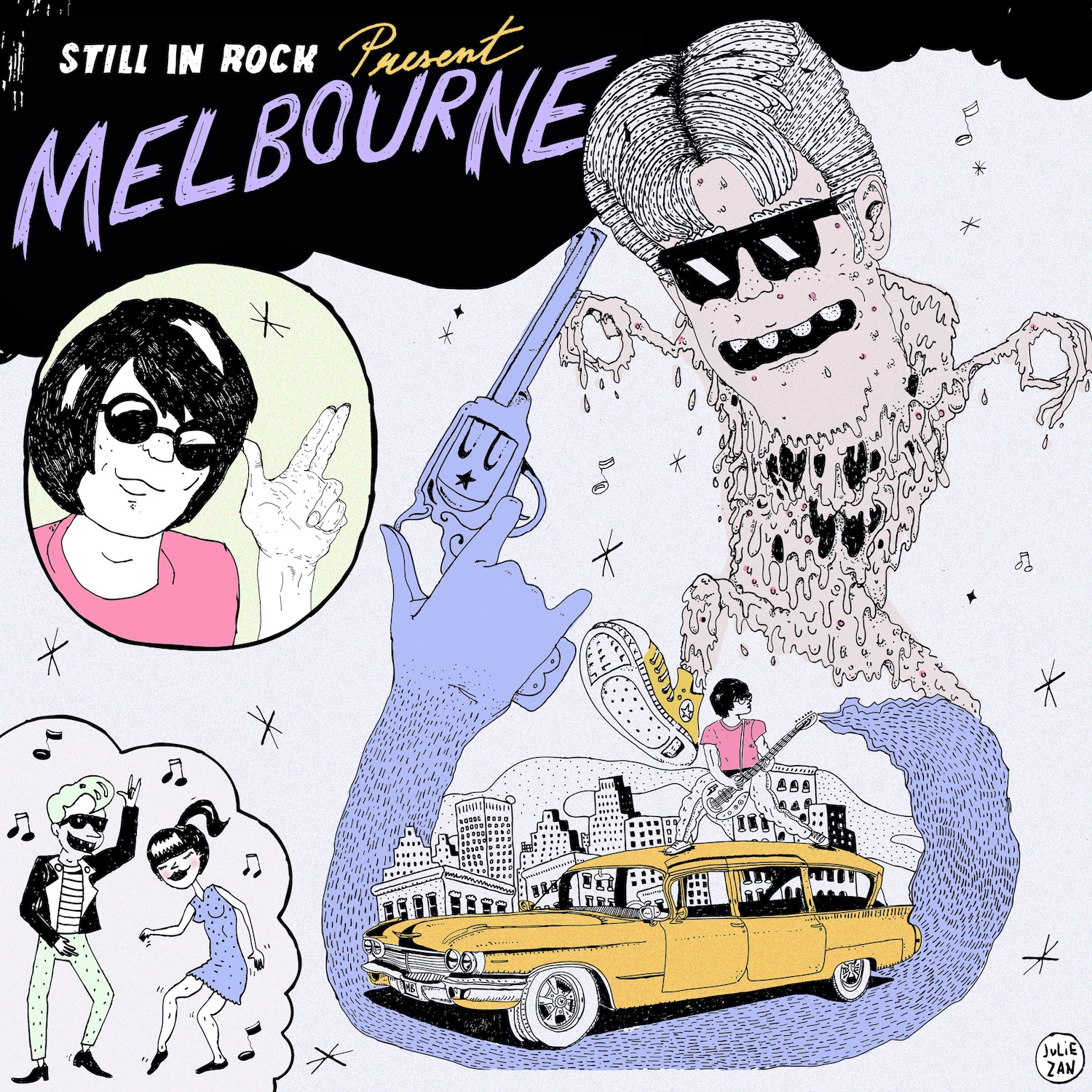 ©

Julie Zan
MELBOURNE

EN: A thousand times I've mentioned Melbourne these last few months. It reminds me of 2011-2012 when all the best bands came from Brooklyn. And then it was L.A. Just two months ago, I published my shaky analysis of the Australian scene of the 2010s. The article (available here) concluded: "Australians often crush other scenes when they play sun-drenched music, in short, when they honor Lester Bangs' famous maxim and celebrate rock'n'roll as 'the most invincible Superjoke in history'. But when it comes to bringing out shades of gray and black and admitting their torments, Australians often seem to miss the boat."
Today, I want to make the apology of this one city. Indeed, Melbourne deserves better than my limited conclusions on the Australian scene. Because I've never been there and because I don't want to go around the web looking for the best venues, labels and touring agents to contact, I am going to focus on the very center of the ecosystem: the bands. And rather than talking about each one of them, repeating myself endlessly in saying how much I love them all, I am going to put them on a few charts I made for the occasion.

***
FR: Mille fois j'ai mentionné Melbourne ces derniers mois. Ça me rappelle l'époque 2011-2012 où tous les meilleurs groupes venaient de Brooklyn. Et puis ce fut L.A. Il y a deux mois à peine, je publiais ainsi mon analyse bancale de la scène australienne des années 2010s. L'article (disponible ici) concluait de la sorte : "les Australiens écrasent bien souvent les autres scènes lorsqu'ils font dans la chose débile, gorgée de soleil, alcoolisée, bref, lorsqu'ils font honneur à la maxime de Lester Bangs et célèbrent le rock'n'roll comme 'the most invincible Superjoke in history'. Lorsqu'il s'agit en revanche de faire apparaître des nuances de gris et de noir, d'avouer ses tourments, les Australiens me semblent souvent manquer le coche".


Aujourd'hui, je veux faire l'apologie de cette seule ville, jouant au futuriste semi-inspiré. Melbourne mérite mieux en effet que mes conclusions bornées sur la scène australienne. Parce que je n'y suis jamais allé et que je n'ai pas non plus l'envie de faire le tour du web à la recherche des meilleures salles de concerts, des labels et des tourneurs à contacter, je vais me concentrer sur le very centre de l'ecosystème : les groupes. Et plutôt que de parler de chacun d'entre eux, me répétant sans fin, je vais les placer sur des chartes composées pour l'occasion. Voici :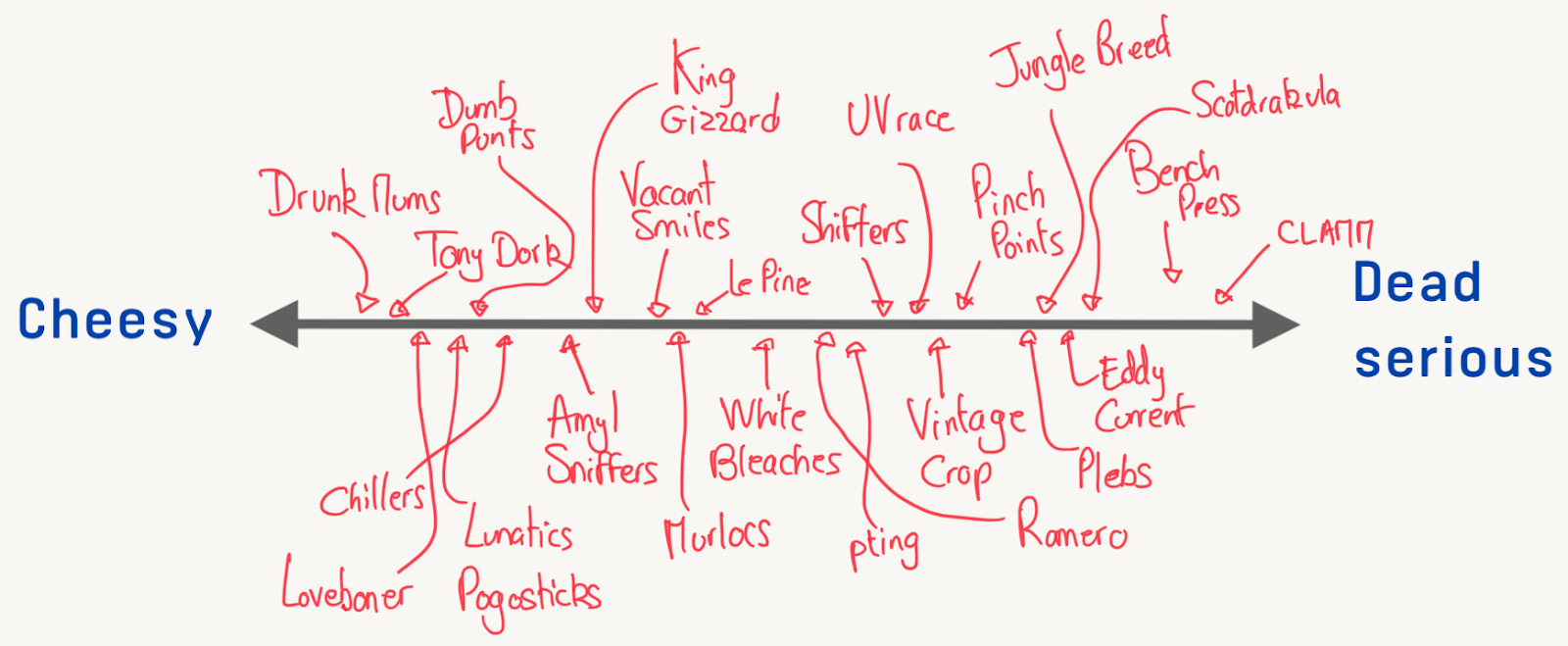 Mais encore :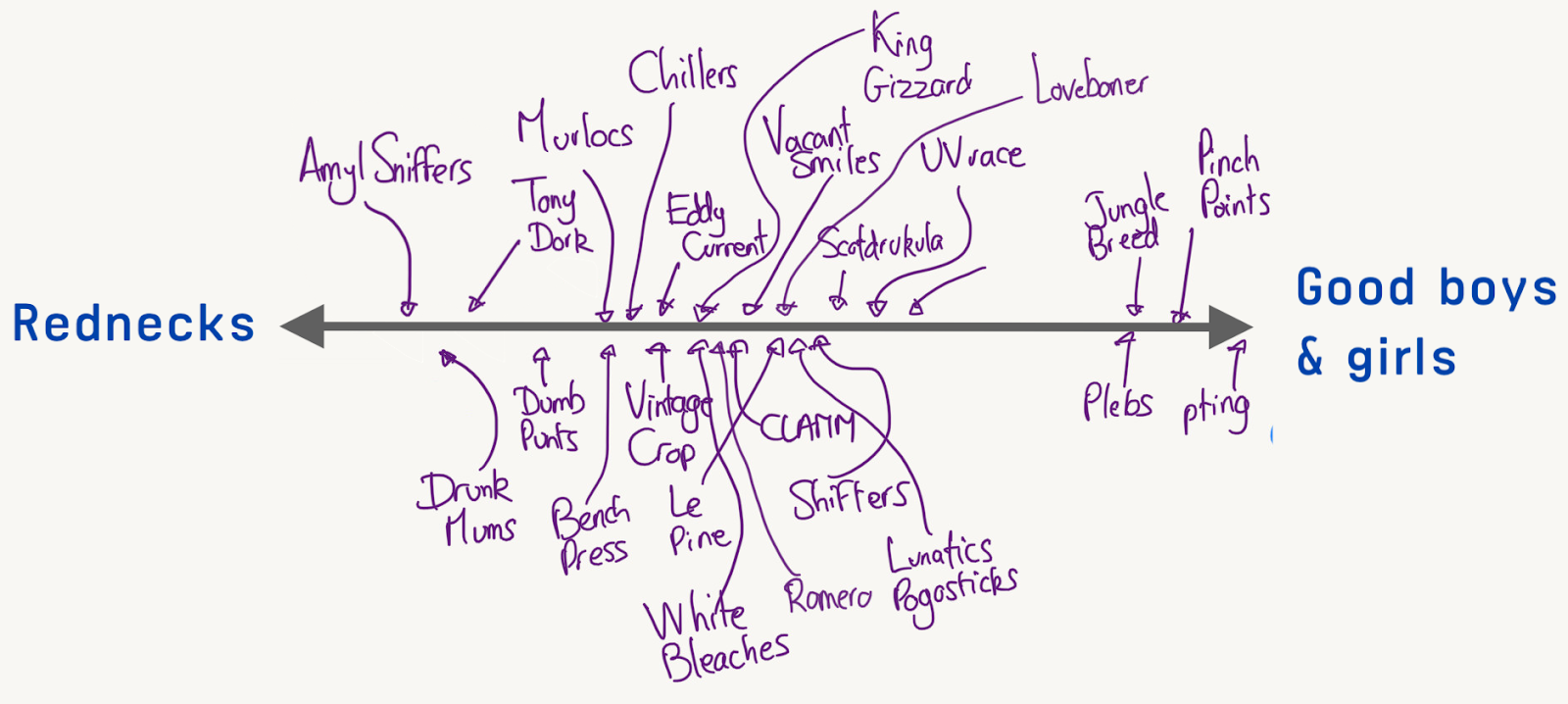 Toujours plus :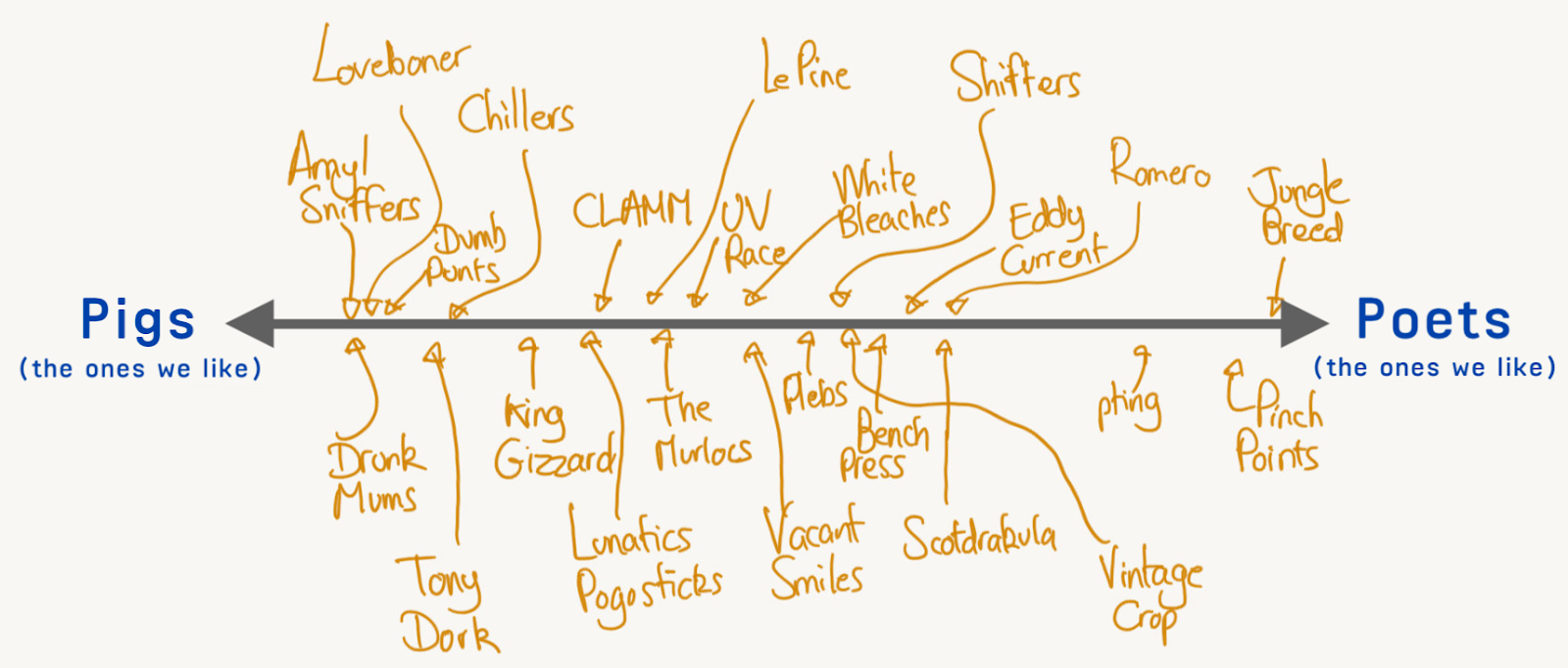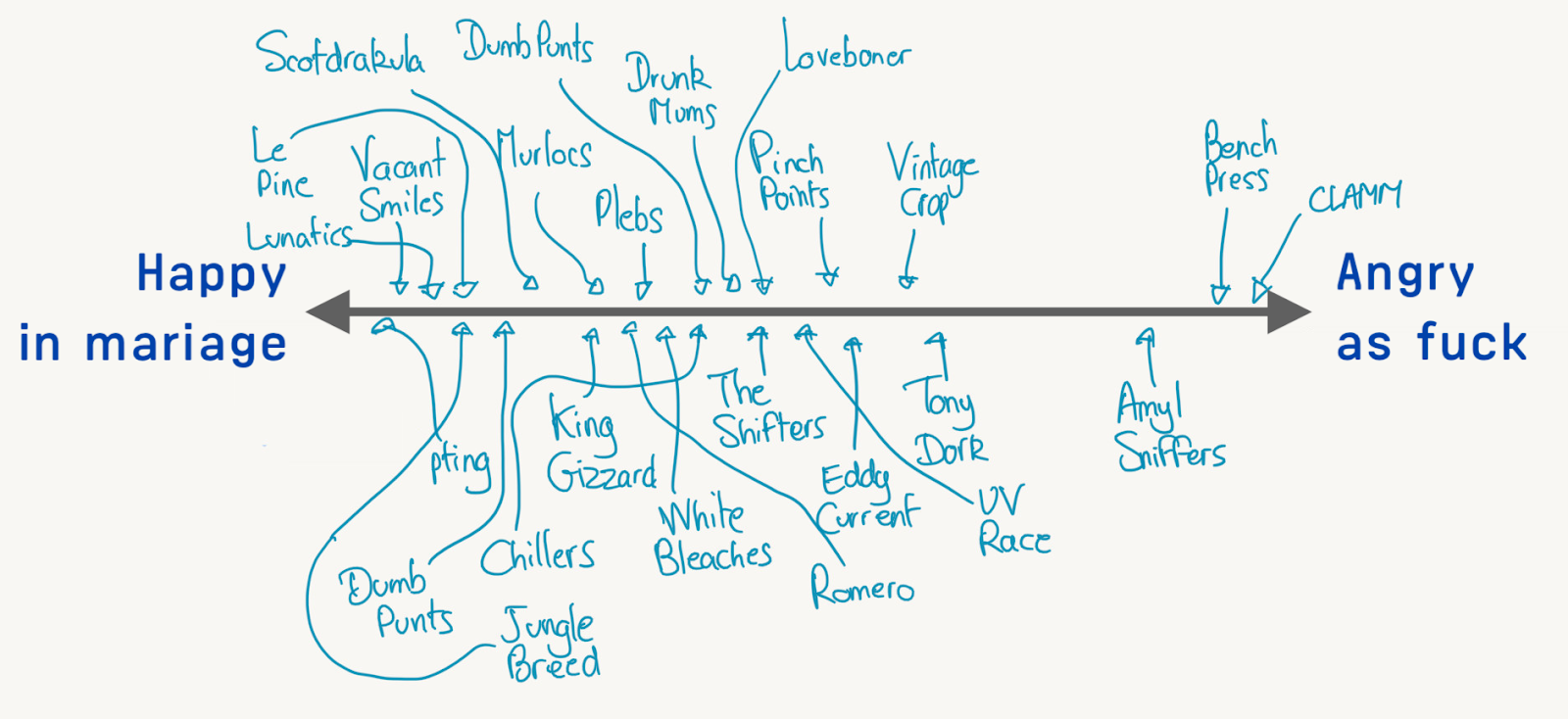 Et la grande finale…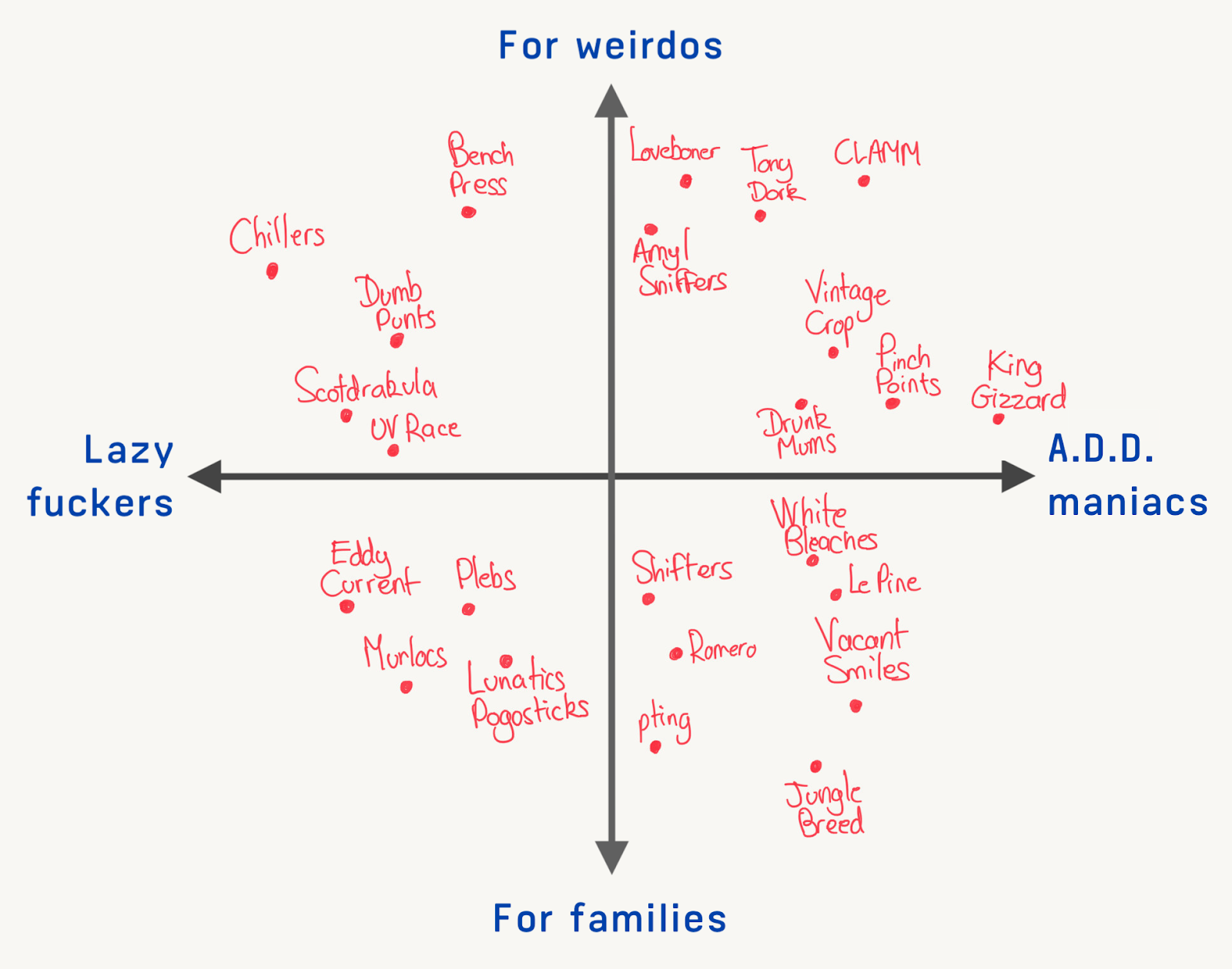 Et enfin, la playlist qui va bien.
Cheers les amis.