(c) Jess Baumung
EN: PUP is one of the best bands of the entire 2010s. And as evidenced by the excellent "This Place Sucks Ass", the group will also leave its mark on the current decade. His music has a strong generational aspect, it reminds me of my years in college, eternal parties, and rushes. That's all I talked about with Stefan Babcock, PUP singer and guitarist. Boom.
FR: PUP, c'est l'un des meilleurs groupes de toute la décennie 2010 — et il faudra aussi compter sur lui pour la décennie en cours, preuve en est avec l'excellent "This Place Sucks Ass". Sa musique a un aspect générationnel très fort, il me rappelle mes années d"université, les fêtes éternelles, les cohues. C'est tout ce dont j'ai parlé avec Stefan Babcock, le chanteur et guitariste du groupe. Boom.
***
How are you? What's up with you these days?
I'm doing OK, staying at home, writing music a lot. I just got a piano, and I have no clue how to play piano, so that's been kinda fun.
Haha, excellent. OK, let me start by going back in time. What was the idea when you created the band?
There wasn't really a master plan — just wanted to hang out with my friends, make loud noise, and maybe play in a basement for a handful of our friends. We weren't really thinking about much, just trying to get good at shredding, and having fun.
And yet, over time, PUP has become a generational band getting lots of traction. Interestingly, I'd say that the under-18s like it for its pop-punk aspect, the over-28s like it for the nostalgia of their golden years, while the 18-28s might get it depending on their willingness to embrace their teenage spirit. What do you think of all that?
I think it's cool that we have people of all ages and walks of life at our shows. The teenagers really like to go off and it makes for some pretty energetic shows, and the older crowd that stands at the back makes me feel like we're writing music that people who've been around the punk scene for a long time can still appreciate. I wouldn't want only one or the other.
Indeed! Now, how did your success impact the band (either positively or negatively)? It came gradually, but, I presume, in proportion you never expected…
Yeah, the band has definitely gone much further than any of us ever anticipated. It's been a weird and wild few years. Until COVID, we were never at home — always on the road or in the studio. At times it's difficult, but having some success has been incredibly rewarding. The fact that people have connected with each album has just given us more confidence to go further with the music and trust our instincts.
I've read many press articles describing your music as "emo punk". While nobody really cares about such labels, I was wondering what you'd think of it — as I think it provides valuable information about the intention behind your music.
One thing I've noticed about the press in Europe is they are seemingly obsessed with labeling bands. For better or worse, you need to be called "punk" or "emo" or "hardcore" or whatever. That doesn't really happen as much in North America; you just are what you are. As to that question specifically, I think there is a lot of passion and emotion in our music. And we are loud and aggressive at times. So if it makes people happy to call us Emo Punk, it doesn't bother me. I don't put much weight behind that stuff.
Interesting, I never thought about this difference between US and EU press. Anyway, Morbid Stuff took me back to my high school years. Was that your intention? When you think about it, what's the first image coming to your mind?
Honestly, it sounds stupid but there wasn't much thought as to the intention with the record. It just kinda came out. I wasn't specifically trying to say anything, or make anyone feel anything particularly, aside from trying to make myself feel a bit better about life. When we were writing Morbid Stuff, I was in a pretty dark place but also trying to find some sort of silver lining, something to feel hopeful about. Music, for me, is supposed to be fun, so taking that darkness and turning it into something chaotic and goofy and cathartic was just a natural thing that happened. But I'm glad it inspired some nostalgia in you; the great thing about music is we can all take what we want from it, create our own meanings, and ignore everything else.
Moving on, This Place Sucks Ass is a real hit-machine. How many songs do you trash in the process of selecting the ones on your LPs and EPs?
I've probably trashed a hundred songs over the past 10 years. My bandmates haven't even heard most of the songs I've written. And out of the ones they do hear, we shelf about half of them. I've written a ton of garbage that doesn't deserve to see the light of day.
Yeah? I hope that you'll grant us the right to listen to a few of them one day 🙂 But OK, talking about the songs you did publish, dan you tell us about the story behind "Rot"?
"Rot" is about self-sabotage. We've had so much success by being fuckups. The more we fuck up, the better this band does, and the better the band does, the more we fuck up, and it's an endless cycle of self-sabotage.
To infinity…. and beyond. Some of your songs have something 90s, like "Bare Hands". Are you into the nineties? I also hear some Built to Spill in your music from time to time…
Yeah, Built To Spill are one of my favourite bands. There aren't a ton of bands from that era I still love, but there are definitely a handful.
Probably "
DVP
". When that song came out, it definitely took us to the next level. But personally, one song that has really kept me going and motivated to keep writing and keep pushing is "
Scorpion Hill
". I think it's the best song we've written. It's a song I'm really proud of, and I think being proud and excited about what you do is as important to the success of your career as the song that gets the most Spotify plays or whatever.
Are you part of a "scene", and if so, which one?
Yes and no. When we started off in Toronto, there was a really great community of other bands playing loud rock music that we played with a lot. As we've grown, our "community" has more just been about finding friends and other bands with mutual respect, whether we sound like each other or not. And I think the same can be said about the people who come to our shows — it doesn't matter if you consider yourself a "punk", or an "indie kid", or don't fit into any of those boxes, the scene we are trying to foster is just about connecting like-minded, empathetic and non-judgemental people who can find shared connection and experience through music.
Yup! Now, most bands' music can easily be attributed to one country. Your music is way trickier: I find American influences and British (something similar to Idles) and, of course, Canadian (the Fucked Up scene). Is that intentional, by any chance?
No, not really. Again, there is very little intention behind what we do, we kind of just do it. We never sat down and said "hey, if we want success in America we have to change to sound this way". The way we sound is just how we sound.
What changes you would like to see in the rock scene (generally speaking)? Are we going in the right direction?
I think inclusivity and safety is the most important challenge right now. We want everyone to feel safe and welcomed at our shows, and for anybody to be able to come to a show and feel like they are represented there. There's still a lot of work to do, and that work is the responsibility of every band with a following, no matter how big or small.
That's a long road… What is your favorite album of the last few months?
Best tour memory?
There are lots. Last night, I was thinking about the last time we played in Italy. It was one of the smallest shows on the tour, but definitely the sweatiest and most out of control. So fun to see people whose first language isn't English, and who maybe don't understand all of the lyrics still screaming them back in your face. It's a pretty crazy feeling.
Haha, well, Italian people are the best for that 🙂 What are the next steps for you as a band? When should we expect your next LP?
Listen, I'm just trying to take my life day by day. Things are so fucked up right now, I'm just trying to make it through tomorrow.
Fair enough. How do you imagine your discography in 20 years from now?
I have never pictured my life more than a year or two in the future. So I honestly have no fucking clue! I hope we can keep this band going a few more years without killing each other, that would be nice.
Talking about which, is "rock'n'roll dead"
Probably.
Last word to conclude?
Thanks for the interview — stay safe and wear a mask! See you on the other side.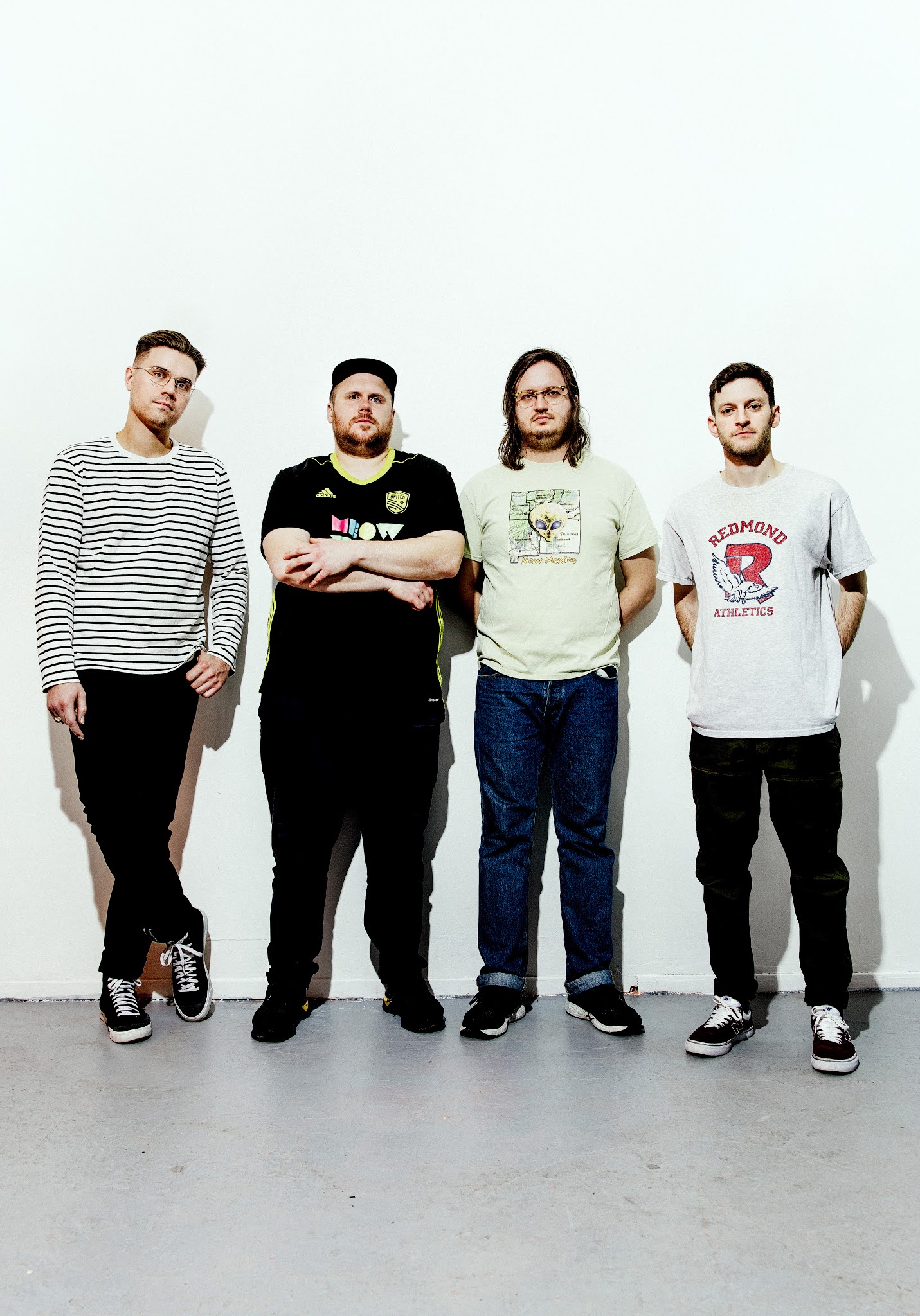 (c) Jess Baumung