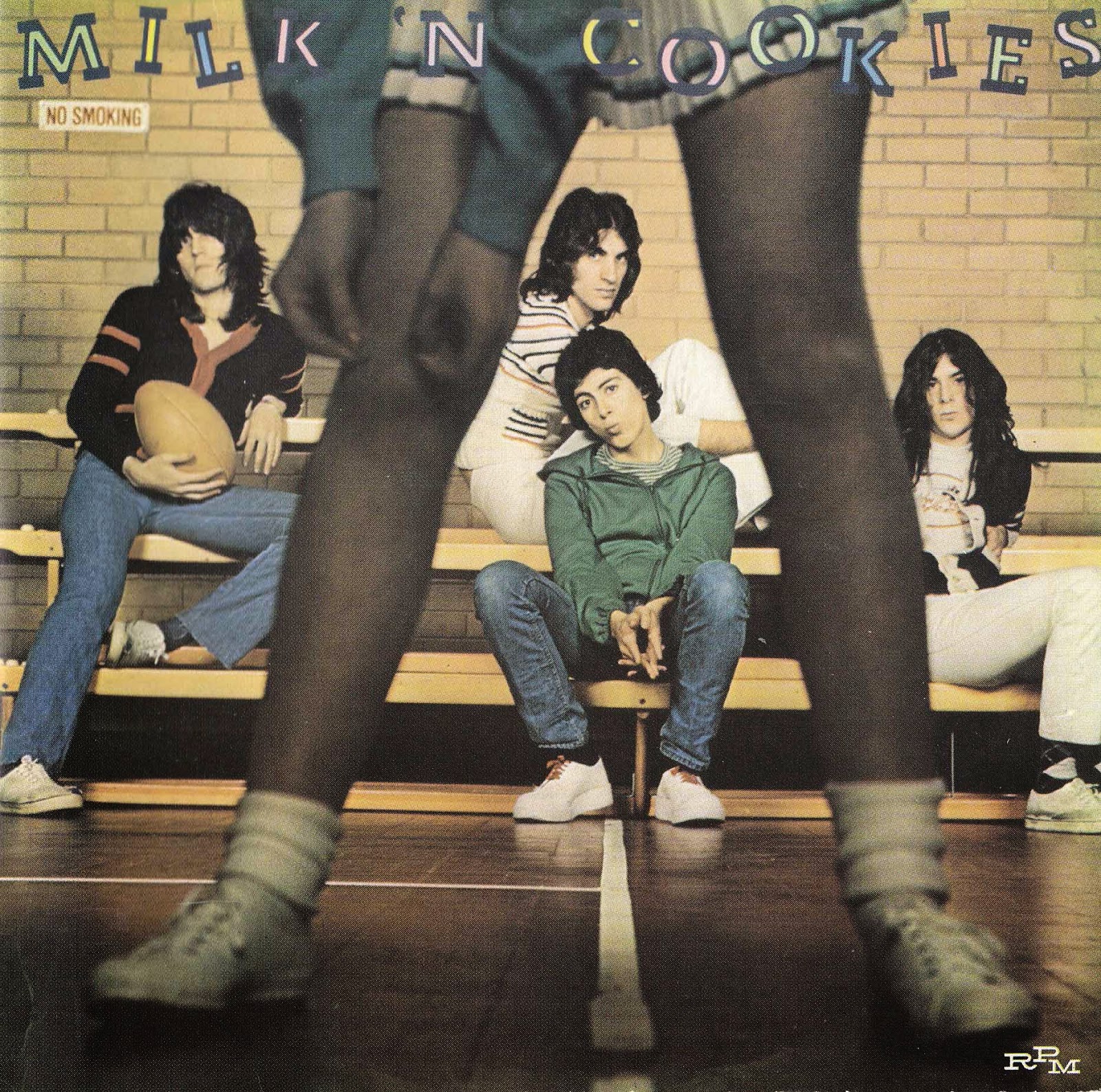 ******
ENGLISH VERSION

Milk'N'Cookies, as I said many times, is one of the best power pop bands in history. And you know what, the Ramones also though so. Interviewing the singer, Justin Strauss, was one of these very privileged moments that you always remember. This gentleman from New York took the time to sit around a good cup of coffee and to tell us the entire history of the band, from the beginning to the end. Here is a unique opportunity to understand the proto-pop / proto-punk scene that exploded in the city around 1973, where it all began…
OK, you're well known as a very famous DJ in New York City. However, I would like to focus this interview on your involvement with Milk'N'Cookies, as Still in Rock focuses on rock'n'roll. You first released a single via Island Records, in 1975, and then your first LP the same year. It was a worldwide release, what was the objective for you at the time?
The album was recorded in 1974 and released in 1976. It was released in the U.K., Germany, France and Holland, at that time. It was originally never released in our own country the USA. We wanted to be a big pop band like our idols Bowie, T-Rex, Sparks, and The New York Dolls.
Why did the band eventually released only one LP?
After we recorded the first album in England, we came back to New York. The first single was released and Island expected more success than it had received. So they brought us back to England to record a new song we had, "Tinkertoy Tomorrow" and a new B-side "Wok n Woll", to be released as a second single. Although pressed as a test pressing, it never got released and they didn't release the album 'till 1976, when the New York Punk scene was happening.
Milk'N'Cookies was part of the power pop movement. I would like to know, did you ever played this kind of music or did you choose to do so because it was popular?
When Milk'N'Cookies formed there was no Power Pop Movement. We all grew up on British and American Pop and later David Bowie, T-Rex, Roxy Music and UK glam/glitter scene was a huge influence, as well as Sparks and the New York Dolls. But Milk'N'Cookies didn't quite sound like any of them. Ian North's songs and guitar playing, mixed with my vocals made it pretty original sounding. Sal Maida on bass and Mike Ruiz's drumming made for an amazing rhythm section which contributed to the band's uniqueness.
Could you define power pop for the readers who're not certain about what it is?
I guess for me Power Pop takes the elements of a great Pop song and combines it with other influences. And it can take many forms. But back when Milk'N'Cookies was playing and recording there was no Power Pop movement. It is only years later that this sound or sounds was given a name and genre.
You worked with the Sparks manager. How was it?
After we recorded our demo tape we sent it to David Bowie's Mainman Management and to Sparks managers in hopes of finding someone who would understand the band and help us get a record deal. We received a nice letter from Mainman saying "keep us posted", but they weren't jumping at getting involved with us. On the other hand, we got a call from Sparks managers, John Hewlett and Joseph Fleury saying they loved the band and wanted to work with us. They said they had Island Records and Muff Winwood interested. This was huge and all we ever dreamed of.
They were unhappy with our original bass player Jay Weiss and asked if we'd be open to trying out Sal Maida, who they knew, and had just gotten off tour, playing bass with Roxy Music. Sal was a perfect fit and we rehearsed with him and shortly after they brought Muff Winwood over from England to hear us play in my parents basement and he signed us on the spot. So all that was incredible and a life changing experience for us. So for awhile, it was a fantastic experience. As things happened and turned out it got less fantastic. But they were the ones who first believed and took a chance on Milk n Cookies.
You also talked a lot about the influence of the British Invasion on your music. But for me, your music was much less serious than the one of those British bands, and thus, quite different. Would you agree with that?
I wouldn't really agree with that, as we all being influenced by many things. But to me Ian's songwriting was serious, but with a playfulness about it. There was more to it than it might seem on the surface, which is why it has endured and people still relate to the band today.
The scene was booming in New York at the time, notably with the punk movement. How close were you to punk bands? For instance, did you know the New York Dolls, and if so, how was Johnny Thunders as a human being?
We had heard of this band the New York Dolls and we went to check them out. From the minute I first saw them I was mesmerized in a way I hadn't been since first seeing the Beatles or Stones or Bowie. They were raw, messy, and you couldn't take your eyes off them. We went to every show and became friends with them. Johnny was one of the sweetest people and loved Milk'N'Cookies and came out to my basement on occasion to our band rehearsals.
Obviously he had his demons which eventually and sadly destroyed him, but to me, he was always a lovely guy. We played with the Heartbreakers at Johnny's request at gigs at Max's Kansas City. The New York Dolls made it possible for Milk'N'Cookies and many other bands to exist.
Also, did you know the Ramones (they were fans of yours apparently…)?
We meet and heard the Ramones upon returning to New York. The whole CBGB's scene was starting up and the Ramones shared a love of bubblegum and pop but put their own spin on it. Their sound was so powerful and undeniable. They were fans of Milk'N'Cookies, especially Joey and Tommy, and we played with them quite often at Cbgb's and later in Los Angeles as well.
You are sometimes described as being proto-punk, as Jonathan Richman and the Modern Lovers are. What does that inspire you?
I would describe us as that or "Post Pop". It was a time before punk and after straight ahead pop music. Things were changing and Milk'N'Cookies was right in the middle of it. But I think with many newer bands influenced by that period now, Milk'N'Cookies sounds timeless. I would hope.
You played CGBG few times. Was it as cool as people say or do you think that people tend to fantasize it?
We played their quite a bit. The place itself was nothing special, but the bands and the whole scene at the time was incredible that it didn't matter. But Hilly Kristol let the scene incubate and evolve and so much greatness happened and changed things forever.
Is there any stories from that time that you never told anyone and would like to tell us?
None that I can repeat here 😉 Every night was a story waiting to happen. It was a special time. Just look at some of the advertisements and line ups that played every night. Mind blowing.
Who created the cover of your LP? Why did you choose that one?
The original album cover was conceived and designed by Nichloas DeVille who did all the great Roxy Music album covers and the Sparks "Propaganda" cover, and later the Adverts early records. He and our manager Joseph Fluery came up with a lot of the ideas and hired the photographer Kim Sayer who shot it. The front cover was shot in a school gymnasium in England and I think is iconic and perfect. Teenage dreams and fantasy.
There is one song that I particularly love, "Not Enough Girls (In The World)". Can you tell me more about the writing of that track, about the lyrics as well…
Ian North who wrote that and all of Milk'N'Cookies songs was very prolific at that point. "Not Enough Girls" was one of many. I can't speak for Ian, but it was his most anthemic song that he wrote for the band. The chorus chant "10 girls. 20 girls, I want more…." is super catchy. At one point we got a request from the Bay City Rollers, who were interested in covering it. Ian turned that down. It should have been our first single. It's a very strong song. Things might have been very different for the band if it was.
Milk'N'Cookies is related to high school in many ways, as "Little, Lost And Innocent" shows. Was high school the best time of your life?
I actually hated high school and was an outcast. Music and Milk'N'Cookies were my salvation. I was still in high school when Milk'N'Cookies got signed to Island Records and it was the best thing that could have happened to me.
Can you tell us the best stories behind some songs of your LPs? For instance, what is the real meaning of "Typically Teenage". Also, who had the idea to include a song called "Buy This Record" and asking people to buy it? And "The Last Letter", for who was it?
As I said, Ian wrote all the songs and would present them to us as demos, some of which you can hear of the unreleased bonus tracks included in the new Captured Tracks released boxed set. The band would then work on the arrangements and parts. A lot of Ian's songs were on the surface about girls, and high school life, but always almost had a darker side to them as well. Which is what makes them so interesting.
"Buy This Record" is genius I think. A song from the point of view of a record in a record store, wanting to be taken home by some girl. It was very cleaver, lyrically and musically, and I love performing it to this day. It was written after the original album and was recorded for demos we did for Warner Bros. Records in 1976, who were interested in signing the band at the time. Ian was a genius at writing pop songs, and had the concept in his head for Milk N Cookies. He was obsessed with becoming a pop star and getting it right. As was I. After I joined the band, and then later with the addition of Sal on bass, and with Mike on the drums, a super tight rhythm section we had something very special.
You were very young when you released this LP. Was your life as in 'Rock'n'Rool High School' (the movie) after that, i.e. being so popular and getting laid every day?
Ha. Well you know high school times can be that and can also be very hard for lots of kids. Especially kids that don't "fit in". I was lucky and had an amazing girlfriend, who actually introduced me to Ian. And suggested I be in a band with him and Mike Ruiz, and Jay Weiss, the original bass player.
You released a single, "Think (About It)", via Stiff Records on 1982. It was definitively more new wave than Milk'n'Cookies music. Why did you choose to end your solo career after it?
After Milk n Cookies finally disbanded, Ian had left to move to England, Sal moved to LA to join Sparks for their "
Big Beat
" album and tour, Mike and I moved to LA to reform the band out there. Sal eventually rejoined and we play all around LA in 1977/78. Things never quite worked out and I was missing New York, and came back and got a job as a DJ at the legendary Mudd Club in New York.
I had the idea to do a cover version of the James Brown written and produced Lynn Collins song "Think About It" and enlisted the help of Earle Mankey from the original Sparks' line-up, turned producer/engineer to help me do an early electronic take on it. I played it for Stiff Records and they released it and it became an underground New York club track. I soon got into remixing and production and didn't do any more solo records after that one.
In 2010, Burger Records released Live @ CBGBs 1975. Did you get in touch with them or how did that happen?
They have actually released two cassettes, that one and one from a performance at the Whisky in LA, when we opened for the Ramones. We had met them at the first reunion gig we did at a Radio Heartbeat festival in 2007. They were big fans and we played one of their Burger Festivals about two years ago. They are great and super supportive of Milk'N'Cookies.
Captured Tracks just releases the Milk'N'Cookies box set. What's in it? How involved were you in the making of it?
I was very involved in every aspect of it. From finding the unreleased tracks, putting the 100 page book together and working on the design with Drew Heffron. was a labor of love and Mike Sniper the whole Captured Tracks staff have done an amazing job with it. It's a three lp vinyl set, the original album, plus two albums of bonus tracks, and unreleased demos and band rehearsals with many previous unheard songs written before we recorded the Island LP. There is also a limited edition, colored vinyl version that comes with a tote bag, poster, and buttons. It's pretty special and one of the best-looking reissues I've seen. So proud of it.
You also played at Baby's All Right last January, one of the very best venues in New York. How was it?
We've played there twice, this past January and about a year and half before. It's a great venue, with awesome sound and lights and a great vibe. Always happy to play there.
I know that you were good friends with Keith Haring. I'm sure people ask you all the time, but how did you met him and did you ever collaborated?
I met Keith not long after I started djing at the Mudd Club. He was there a lot and was always very into music. And I was very into art and loved his work. he was a lovely, generous guy, whose creativity and energy is so missed. We never collaborated really, but were friends and he did a great portrait of me DJing, which I treasure.
What other power pop bands would you recommend? As I previously told you, in my opinion, the best ones are Big Star, The Rubinoos, The Flamin Groovies, The Shoes and you. Any you would like to add?
That's a pretty good list. I love early Cheap Trick as well.
What do you think of the actual power pop scene? I include Warm Soda, Ex Hex, EZTV…
I think it's great and has helped focus attention on Milk'N'Cookies for sure. EZTV are great and we played with them at our recent Baby's All Right show. They also recorded two cover versions of Milk'N'Cookies songs, to be released as a record store day 7″ on Captured Tracks.
What are your favorite rock'n'roll bands in history?
Well for me seeing the Beatles when I was a kid changed everything. So them, The Rolling Stones, David Bowie, and the New York Dolls I would say had the most effect on me. And Marc Bolan.
Apparently, Sonic Youth said that they were fans of yours as well. Does that surprise you? The gap between your music seems so wide…
It's been pretty amazing the different types of people that love Milk'N'Cookies. It's very rewarding and I'm proud of that. It speaks to different people and connects them. It's kind of a cult, in the best possible way.
I read that you loved T-Rex as well. Did you hear the new LP by Ty Segall, Ty Rex (came out in 2015)?
I love T-Rex and Marc Bolan but haven't heard that record yet, but will be sure to check it out.
Now that we focused the entire interview on Milk'N'Cookies, here's a different one: what is the secret for the best DJ set?
Well I just play what I like and believe in. and always have some surprises, the unexpected. For me I like going out and hearing things I've never heard before and to be turned on to music old and new.
OK, time for the last question. I interviewed Bret Easton Ellis few weeks ago, and he told me that, in his opinion, "rock is dead," I quote, "you have to go to country music to find people who are writing pop or rock songs." What would you like to answer him?
Hmm. I wouldn't agree with that. People have said that for years. They're will always be something out there amazing. You just have to find it. Kind of like Milk'N'Cookies, who some people are just finding out about now.
******
FRENCH VERSION
(english above)
******

Milk'N'Cookies, s'il est encore besoin de le répéter, est l'un des meilleurs groupes de power pop de l'histoire, ce que les Ramones reconnaissaient également. Interviewer son chanteur, Justin Strauss, fait donc partie de ces moments privilégiés de Still in Rock. D'une gentillesse notable, ce gentleman new-yorkais a pris le temps de se poser autour d'une bonne tasse de café pour nous raconter l'histoire du groupe, du début jusqu'à la fin. Une occasion unique de s'immiscer dans la scène proto-pop / proto-punk de la ville de New York, en 1973, là où tout a commencé…

Tu es connu pour être un célèbre DJ à New York. Cependant, j'aimerais recentrer cette interview sur ton implication dans Milk'N'Cookies, puisque Still in Rock parle de rock'n'roll. Vous avez d'abord sorti un single via Island Records en 1975, puis votre premier LP la même année. L'album a connu une sortie mondiale, était-ce votre objectif à l'époque ?
L'album a été enregistré en 1974 et est sorti en 1976. Il est sorti au Royaume-Uni, en Allemagne, en France et en Hollande à l'époque. Initialement, il est sorti dans notre pays, aux États-Unis. On souhaitait être un grand groupe de pop comme nos idoles Bowie, T-Rex, Sparks et les New York Dolls.
Pour quelle raison le groupe n'a finalement sorti qu'un seul LP ?
Après avoir enregistré le premier album au Royaume-Uni, on est retourné à New York. Island Records espérait plus de succès pour le premier single qu'il n'en a eu. Du coup, ils nous ont fait retourner au Royaume-Uni pour enregistrer un nouveau titre "Tinkertoy Tomorrow" et une nouvelle b-side "Wok n Woll", qui devait sortir comme second single. Finalement, le single n'a jamais vu le jour et Island Records n'a pas sorti l'album avant 1976, à l'essor de la scène punk de New Yorkaise.
Milk'n'Cookies faisait partie du mouvement power pop. J'aimerais savoir si vous aviez déjà joué ce genre de musique auparavant ou si vous aviez choisi ce style parce qu'il était populaire ?
À la création de Milk'n'Cookies, il n'y avait pas de mouvement power pop. Nous avions tous grandi en écoutant de la pop anglaise et américaine et plus tard, David Bowie, T-Rex, Roxy Music et la scène Glam Rock anglaise a également été une grande influence, tout comme Sparks et les New York Dolls. Mais Milk'n'Cookie ne ressemblait a aucun des ces groupes. Les chansons de Ian North et son jeu de guitare, mélangés à ma voix ont donné un son assez original. La basse de Sal Maida et la batterie de Mike Ruiz ont également contribué à la singularité du groupe.
Vous avez travaillé avec le manager des Sparks. Comment était-ce ?
Après avoir enregistré notre démo, nous l'avons envoyé au manager de David Bowie et à celui des Sparks dans l'espoir de trouver quelqu'un qui comprenne notre groupe et nous aide à obtenir un deal avec un label. Nous avons alors reçu une lettre sympathique du manager de Bowie, nous disant "tenez nous au courant", mais il n'était pas totalement enthousiaste à l'idée de signer avec nous. En parallèle, nous avons reçu un appel des managers des Sparks, John Hewlett et Joseph Fleury nous disant qu'ils adoraient le groupe et voulaient travailler avec nous. Ils nous ont dit que Island Records et Muff Winwood étaient intéressés. C'était énorme, tout ceux dont nous avions rêvé. Ils n'étaient pas satisfaits de notre bassiste, Jay Weiss et nous ont demandé si l'on serait ouvert à l'idée d'essayer Sal Maida, qu'ils connaissaient et qui rentrait juste de tournée avec les Roxy Music.
Sal s'est parfaitement adapté et après quelques répétitions, ils ont fait venir Muff Winwood depuis le Royaume-Uni pour qu'il nous voie jouer dans le sous-sol, chez nos parents. Il nous a immédiatement signés. Tout cela fut incroyable, une expérience qui a changé nos vies. Pendant un moment ce fut fantastique, puis les choses étant ce qu'elles sont, c'est devenu un peu moins fantastique. Mais ce sont les premiers à avoir cru en Milk'n'Cookies et à nous avoir donné une chance.
Vous avez beaucoup évoqué l'influence de la British Invasion sur votre musique. Mais pour moi, votre musique se prenait beaucoup moins au sérieux que celle des groupes anglais et était, de ce fait, plutôt différente. Es-tu d'accord avec cela ?
Je ne suis pas totalement d'accord avec cela, vu que nous avons tous étaient influencé par un grand nombre de choses. Pour moi, l'écriture de Ian était très sérieuse, même s'il y avait un côté joueur. Milk'n'Cookies était plus choses qu'il n'y paraissait, c'est pour cela que le groupe a duré et que les gens s'identifient encore au groupe aujourd'hui.
La scène était en plein essor à New York à l'époque, principalement avec la mouvance punk. Étiez-vous proches des groupes punk ? Par exemple, connaissiez-vous les New York Dolls, et si oui, comment était Johnny Thunders ?
Nous avons entendu parler d'un groupe appelé les New York Dolls et on est allé les voir. Dès la première minute où je les ai vu, j'étais ensorcelé de la même façon que lorsque j'avais vu pour la première fois les Beatles, les Stones ou Bowie. Ils étaient bruts, désordonnés et il était impossible de détourner le regard. On est allé à tous leurs concerts et on est devenus amis. Johnny était adorable et aimait beaucoup Milk'n'Cookies et venait parfois dans mon sous-sol, assister aux répétitions du groupe.
Évidemment, il avait aussi ses démons, qui ont fini par le détruire, mais pour moi il a toujours été une personne adorable. À la demande de Johnny nous avons joué avec les Heartbreakers lors de concerts à Kansas City. Les New York Dolls ont permis l'existence de groupes comme Milk'n'Cookies et de biens d'autres encore.
De même, connaissiez-vous les Ramones (ils étaient fans de vous apparemment…) ?
Nous avons rencontré et entendu les Ramones en rentrant à New York. Toute la scène du CBGB's se mettait en marche et les Ramones partageaient cet amour de la musique bubblegum et pop, mais ont su y ajouter leur propre effet. Leur son était si puissant et incontestable. Ils étaient fans de Milk'n'Cookies, tout particulièrement Joey et Tommy, et on a souvent joué avec eux au CBGB's et plus tard à Los Angeles également.
Vous êtes souvent décrit comme proto-punk, à l'image de Jonathan Richman and the Modern Lovers. Qu'est-ce que cela vous inspire ?
Je nous décrirais comme cela ou comme Post pop. C'était avant l'arrivée du punk et juste après la musique pop. Tout changeait rapidement et Milk'n'Cookies était pile au milieu de ça. Mais j'aime à penser qu'avec tous les groupes aujourd'hui influencés par cette période, le son de Milk'n'Cookies est intemporel. Je l'espère.
Vous avez joué au CBGB plusieurs fois. Était-ce réellement aussi cool que ce qu'en disent les gens aujourd'hui ou penses-tu que les gens l'idéalisent.
On a pas mal joué là bas. Le lieu en soit n'avait rien de spécial, mais les groupes et la scène de l'époque étaient tellement incroyables que ça n'avait pas d'importance. Mais Hilly Kristol (propriétaire du CBGB) a couvé la scène et l'a laissé évoluer. Tellement de choses géniales se sont passées là bas et ont changé la donne pour toujours.
Y-a-t-il une histoire, que tu n'as jamais raconté, que tu aimerais nous dire de cette époque ?
Aucune que je puisse dire ici 😉 Chaque soir était une histoire en attente d'être écrite. C'était une époque unique. Jette un oeil aux flyers et aux line ups qui se produisaient chaque soir. C'était incroyable !
Qui est à l'origine de la pochette de votre LP ? Pourquoi avoir choisi celle-ci ?
La pochette originale de l'album avait été réalisée par Nicholas DeVille, responsable de toutes les pochettes de Roxy Music et l'album Propaganda des Sparks, ainsi que les premiers albums des Adverts. Notre manager Joseph Fluery et lui avaient de nombreuses idées et le photographe Kim Sayer a pris les clichés. Le devant de la pochette a été pris dans le gymnase d'une école en Angleterre et je la trouve parfaite et iconique. Rêves d'adolescents et fantasmes.
Il y a une chanson que j'aime particulièrement, "Not Enough Girls (In The World)". Peux-tu m'en dire plus sur son écriture, ses paroles…
Ian North l'a écrite, il était très prolifique à cette époque. Je ne peux pas parler pour Ian, mais je crois qu'il s'agit de la chanson la plus emblématique qu'il ait jamais écrite. Le refrain avec ce "10 girls, 20 girls, I want more…" est super catchy. Les Bay City Rollers nous avaient demandé s'ils pouvaient en faire une reprise, mais nous avions refusé. Ce titre est vraiment cool, et qui sait, peut être que les choses auraient été différentes si nous avions acceptés…
Milk'n'Cookies évoque souvent la période du lycée, comme sur "Little, Lost And Innocent". Etait-ce la meilleure période de ta vie ?
En réalité, j'ai détesté le lycée. La musique, et plus particulièrement Milk'n'Cookies, ont été mon salut. J'étais encore au lycée que nous avons signé chez Island Records, c'était la meilleure chose qui puisse m'arriver.
Peux-tu nous en dire plus sur les histoires qui se cachent derrière les morceaux de cet album ? Par exemple, quel est le véritable sens de "Typically Teenage" ? Et qui a eu l'idée de sortir un morceau intitulé "Buy This Record" ? Et "The Last Letter", c'était pour qui ?
Comme je le disais, Ian a écrit toutes les chansons. Il nous montrait les démos, dont certaines qui sont incluses sur le box qui vient de sortir sur Captured Tracks. Le groupe travaillait ensuite les arrangements. Beaucoup des titres de Ian parlaient du lycée et des filles, mais toujours avec un côté un peu sombre. C'est, je crois, ce qui rend ces morceaux si intéressants. "Buy This Record" est particulièrement génial.
Ecrire la chanson en se plaçant dans la peau d'un disque au milieu d'un magasin de vinyles et qui veut être acheté par une fille, c'est vraiment fort. Les paroles sont très bien écrites et la musique également, toujours un plaisir de la jouer aujourd'hui. Nous avons composé ce titre après que l'album soit sorti, c'était une démo pour Warner Bros. Records qui était intéressé pour faire signer le groupe en 1976.
Tu étais très jeune lorsque l'album est paru. Est-ce que ta vie s'est transformée comme dans le film Rock'n'Roll High School, je veux dire par là, être célèbre et avoir du succès avec les filles ?
Ha, eh bien, tu sais, le lycée peut être ça en effet… et peut également être très difficile pour beaucoup. Surtout pour ceux qui ne rentrent pas dans le moule. J'ai eu de la chance d'avoir une copine incroyable à l'époque, c'est elle qui m'a présenté à Ian. Elle lui a suggéré que j'entre dans le groupe aux côtés de Mike Ruiz et Jay Weiss qui était le bassiste original.
Tu as sorti un premier single solo, "Think (About It)", via Stiff Records en 1982. Il était définitivement plus new wave que ce que l'était Milk'N'Cookies. Pourquoi as-tu choisi de mettre fin à ta carrière en solo si peu de temps après?
Après la séparation de Milk'N'Cookies, Ian est parti vivre en Angleterre. Sal a déménagé à Los Angeles pour rejoindre les Sparks à l'occasion de la sortie de leur album "Big Beat", et enfin, Mike et moi avons déménagés à Los Angeles pour reformer le groupe là-bas. Sal nous a finalement rejoint à nous avons continués Milk'n'Cookies en 1977/1978.
Mais ça n'a jamais vraiment fonctionné, New York nous manquait et nous sommes revenus. J'ai alors trouvé un job en tant que DJ au légendaire Mudd Club à New York. J'ai alors eu l'idée de faire une reprise d'un titre de Lynn Collins, "Think About It", j'ai l'ai masteurisé avec l'aide de Early Mankey des Sparks et Stiff Records l'a finalement sorti. Le titre est rapidement devenu un morceau un peu underground pour les clubs new-yorkais. Et puis, je me suis alors lancé dans la production et je n'ai jamais plus rien enregistré.
En 2010, Burger Records a fait paraître un album live intitulé Live @ CBGB 1975. Comment êtes-vous entrés en contact ?
Ils ont effectivement sorti deux cassettes, celle-ci ainsi qu'une autre d'un show enregistré à Whisky à Los Angeles, lorsque nous avons ouvert pour les Ramones. Nous les avons rencontrés au premier concert que nous avons fait après nous être reformé à l'occasion d'un festival pour Radio Heartbeat en 2007. Ils étaient fans et nous avons finalement joué dans un de leurs festivals il y a deux ans environ. Ils apportent un super soutien à Milk'N'Cookies.
Captured Tracks vient tout juste de sortir le box Milk'N'Cookies. Que contient-il exactement ? A quel point t'es-tu impliqué dans sa conception ?
J'ai été très impliqué dans tous les aspects. J'ai trouvé des morceaux inédits, j'ai créé un livre de 100 pages, j'ai travaillé sur sa conception… J'ai fait ça avec passion et je dois dire que Captured Tracks a été particulièrement cool. Au final, on y trouve trois vinyles – l'album original et deux albums de titres bonus et de démos inédites avec beaucoup de morceaux que nous avons joués pour Island LP. Il y a également une édition limitée avec le vinyle en couleur et un tote bad, une affiche et des badges. C'est un objet assez spécial, une des meilleures rééditions que je n'ai jamais vues à vrai dire. J'en suis très fier.
Vous avez également joué à Baby's All Right en janvier dernier, l'une des meilleures salles de New York. Comment était-ce?
Nous y avons joué deux fois, en janvier et il y un an et demi environ. Cet esprit est top, les lumières sont cool et les gens réceptifs, toujours un plaisir d'y jouer.
J'ai lu que tu étais bon ami avec Keith Haring. Je suis sûr que les gens te demandent tout le temps, mais comment vous êtes-vous rencontrés ? Et avez-vous déjà collaboré ensemble ?
J'ai rencontré Keith pas longtemps après avoir commencé au Mudd Club. Il y était et a toujours été fan de musique. Pour ma part, j'ai toujours aimé l'art visuel et son travail en particulier. Keith était quelque de très intéressant, de créatif et énergique. On n'a jamais collaboré mais il m'a donné un portrait de moi auquel je tiens particulièrement.
Quels groupes autres de power pop recommanderais-tu ? Comme je te l'ai dit, les meilleurs groupes de power pop, à mon humble avis, sont Big Star, The Rubinoos, The Flamin Groovies et vous. Veux-tu en rajouter ?
C'est une très bonne liste. J'adore également les débuts Cheap Trick.
Que penses-tu de la scène power pop actuelle ? J'y inclus Warm Soda, Ex Hex, EZTV…
La scène actuelle est super et je dois dire qu'elle a pas mal attiré l'attention sur Milk'N'Cookies. J'adore EZTV, nous avons joués avec eux à Baby's All Right. Ils ont également enregistré deux reprises de Milk'N'Cookies qui sortiront bientôt sur Captured Tracks.
Quels sont tes groupes de rock préférés ?
Tout a changé lorsque j'ai écouté les Beatles, donc eux, les Rolling Stones, David Bowie et les New York Dolls. Et Marc Bolan.
Apparemment, les membres de Sonic Youth ont dit qu'ils étaient fans de Milk'N'Cookies. Cela t'étonnes ? Vos deux musiques semblent si éloignées…
C'est assez incroyable la diversité des gens qui aiment Milk'N'Cookies. C'est très gratifiant, j'aime beaucoup l'idée que le groupe permette à des gens de se rencontrer. C'est une sorte de groupe culte, avec tout ce que cela a de positif.
J'ai également lu que tu appréciais T-Rex. As-tu écouté le nouvel album de reprise par Ty Segall sorti en 2015 ?
J'aime particulièrement T-Rex et Marc Bolan, mais je n'ai pas encore pu écouter cet LP. Je n'y manquerai pas.
Bon, nous avons fait l'intégralité de l'interview sur Milk'N'Cookies, alors changeons quand même de sujet: quel est le secret pour être un bon DJ ?
Eh bien, j'aime passer la musique que j'aime. Et créer des surprises, toujours. J'aime sortir et écouter de la musique que je n'ai jamais entendue.
OK, voici venue l'heure de la dernière question, celle avec laquelle je conclue désormais tous mes interviews. J'ai interviewé Bret Easton Ellis il y a quelques semaines, et il m'a confié qu'à son avis le "rock est mort", je cite, "tu dois écouter de la country pour trouver des artistes qui écrivent encore des titres de rock et de pop". Qu'as-tu à lui répondre ?
Hmm, je ne suis pas d'accord. Les gens disent cela depuis des années. Il se passera toujours quelque chose sur la scène rock'n'roll, il s'agit simplement de le trouver. C'est un peu comme pour Milk'N'Cookies où des gens en découvre tout juste l'existence…