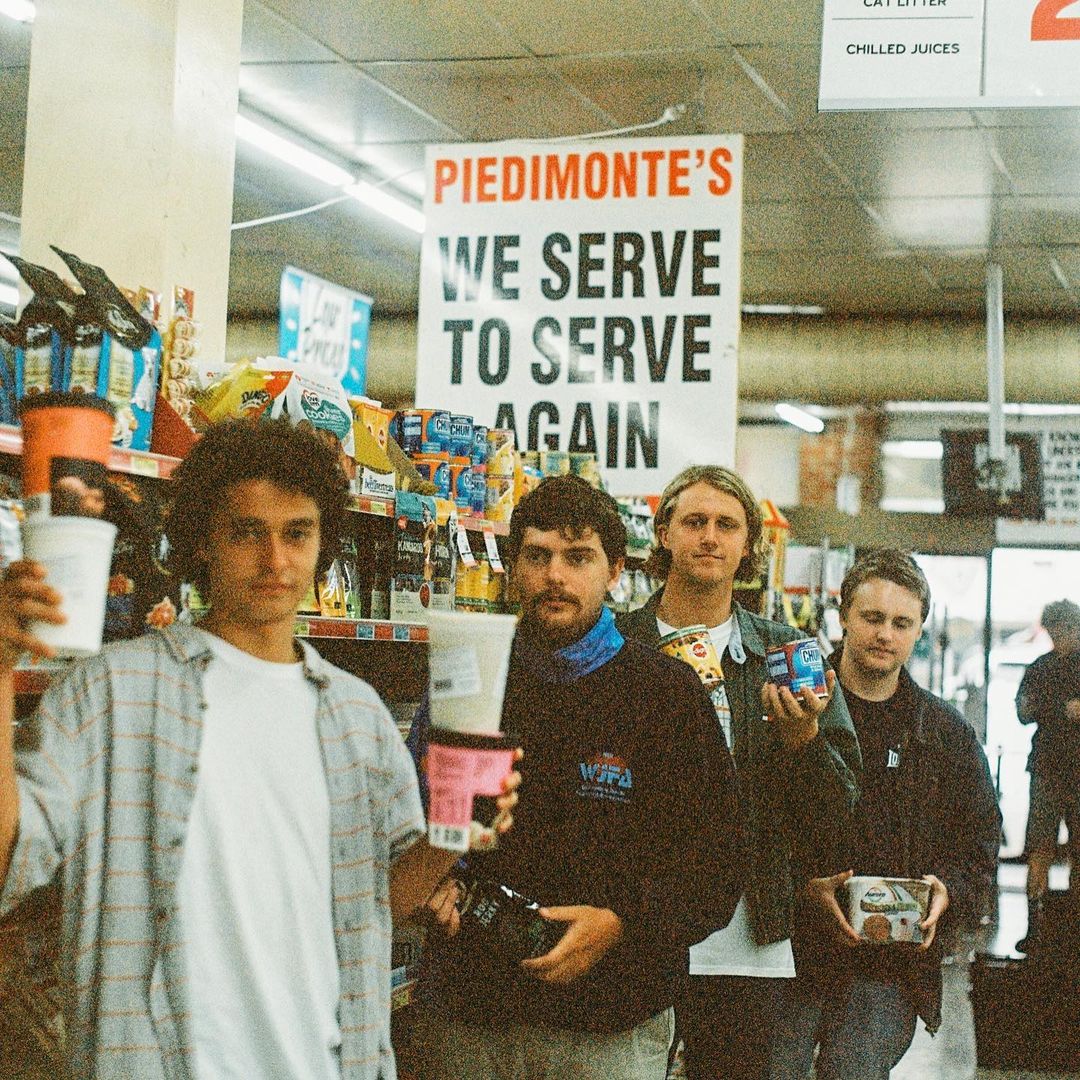 EN
: Vintage Crop is, in my opinion, one of the 10 best bands today. Originally from Melbourne, everything he touches turns into a "
post-skate
" miracle. Our discussion logically revolved around this Australian music, the "bogan" culture, slackers, and so on. The band also prepared a surprising playlist for us. The Australian revolution is now!
FR
: Vintage Crop, c'est à mon sens l'un des 10 meilleurs groupes actuels. Originaire de Melbourne, tout ce qu'il touche se transforme en merveille "
post-skate
". Notre discussion a donc logiquement tourné autour de cet univers australien, de la culture "bogan", des slackers, et j'en passe. Le groupe a aussi composé une playlist pour le moins surprenante. La révolution australienne, c'est maintenant !
***
Let us start with a playlist curated by
Vintage Crop for Still in Rock
***
How are you? What's up with you these days?
We're good thanks, we've been busy working at our day jobs & practicing together when we can.
"When we can" seems to be the new norm… OK, let me start by going back in time. What was the idea when you created the band?
The idea when we started the band was just to play shows. For me personally, the idea of playing an actual gig seemed so insurmountable, so it was really just about playing live and having fun. Once we started playing together more, it became really fun and easy to write songs together so we became more serious about it.
And a few years later… Serve to Serve Again is your 3rd LP. Can you explain what was the intention behind it? Also, what does the title mean?
Serve To Serve Again happened the same way as the 2 albums before it, the only difference was that this time we used a keyboard on a few of the songs & we were more concerned with having all the songs sound like they belong together. Another thing we wanted to do was to slow down some of the songs (compared to New Age or Company Man) and really try to focus on making them interesting. It's easy to make fast post-skate music & people are probably going to eat that up. We wanted to do something a little different and see how it would sound.
What's the story behind "The Ladder"? I took it as a social comment on the bourgeoisie, is that right?
The Ladder is about people who only care about their reputation and what others think of them but at the same time, they don't care about those other people who give them their reputation. Think about a ladder with only a top rung, it just doesn't work.
Ahhh! So… it is about the bourgeoisie, but it's especially about the bourgeoisie getting on top! Excellent. Now, why did you write "American Living"? Is moving to New York (or California) a real dream?
No, not really. I think that song happened because I watch so much TV. A lot of television programming in Australia is made up of American content and it just feels kind of like we're raised more on American Culture than our own here in Australia. So the song was kind of taking the piss out of that.
At the same time, you are now getting famous all over the world, including in the United States. Are you worried this might impact your music? Excited about it?
Sometimes I worry about it, we started using 7th chords on this record. It's really exciting that people are finding our music all over the world though, I suppose that's the benefit of working with great labels like Upset The Rhythm, Anti Fade & Drunken Sailor.
Are you part of a "scene", and if so, which one?
We definitely get pushed into the post-punk scene a lot, but digging yourself too much into one scene can be a bit of a wank off I think. We don't really think too much about scenes and that sort of thing, I mean we tend to play shows mostly with people that we're friends with or bands we like. It wouldn't matter too much whether they were a punk band or a pop band.
I've conducted a short empirical study on garage rock (link). I found out that there are more and more albums labeled as such, but the number of Google queries tends to decrease. What's your impression from the inside? Do you find it more and more difficult to get support from playing shows and releasing music?
Even though we're not really a garage rock band, life for us has been pretty easy. I think because we found a community in Geelong that were doing a similar thing. As long as you keep playing shows and releasing quality music you'll find your way I think. Garage rock is such a broad term, maybe it's just such an easy way to describe an approximate sound that it's increasing in use.
Indeed, it's a convenient word. OK, I have a theory: we have seen the creation of a new genre at the end of the 2010s, and it's about to take over the 2020s. Its name? "Post-skate" music. What is it? Speedy garage punk with nervous yet friendly and spoken voice (nothing like angry punks), a simplistic and very tight rhythm, a cathartic sound, almost chopped, anti-corporation lyrics, a mid-fi production (not too lo-fi), and bouncy melodies with a vehement tendency (listen + read). Most of your music fits the description, IMHO. What do you think of it? Is there such a scene? Are you willing to take the lead with a few others?
It's certainly a scene, and it's very popular at the moment. It's such a fun style of music to make so I can see why it feels like everyone is doing it. I feel like it's probably just a trend though, It will fade away eventually and something else will be the "It" sound. It seems like maybe it's just the natural progression of fast punk style music, the dissonant riffs & bouncy melodies are just a way of keeping it fresh.
We have seen many slacker bands from Australia, such as Dune Rats, Skegss, and co. What's your take on that scene?
Bands like Dune Rats have teams of people around them who do so much work so the bands can look like slackers who only party and play gigs. It feels kind of stupid and old now, like is it really cool that a bunch of 30-somethings is still releasing albums where all they talk about is getting high and partying. I've heard they're really nice guys though, so maybe I'm just being a smug arsehole.
It seems like Australia is now getting big on "redneck music" (or, at least, groups that borrow from the redneck culture), with bands such as Amyl and the Sniffers, The Chats, Pist Idiots, Drunk Mums, and more. Do you have the same impression from the inside? If so, what do you think of it?
Yeah, this sort of thing is big over here because it's Australian bogan culture and it'll probably always have a market here. It all started as a joke and a little bit of light self-deprecation but I feel like some bands recently have started taking it seriously which is kind of weird. I'm honestly surprised that it's so popular overseas, it feels like an in-joke between us Australians.
What is your favorite album of the last few months? Is it bogan?
Maybe the new Stroppies album, that was pretty good. Looking forward to the new Seaford Mods album too. Ouzo's "Rotten Tomato" EP is good too.
Best tour memory?
Best tour memory is eating so many different cheeses in Gigors, enjoying the French countryside.
What are the next steps for you as a band? When should we expect your next LP?
Our next step is playing shows again, we finally have some shows booked and can't wait to play them. We have some new songs, but no timeline for a new album yet. Probably not too far away.
How do you imagine your discography 20 years from now?
One more serious album before we start making stadium rock. I'll be disappointed if there's not at least one bloated double album in there somewhere too.
Is "rock'n'roll dead"?
Rock & Roll died with Little Richard.
The last word to conclude?
Happy New Year.