Ultimate Painting is one of the greatest revelations of the year. Best first act of 2014, the band was able to breathe a new life into the Velvet. It isn't a surprise to read an analytical interview where answers are the result of true thoughts and can not be reduced to the usual "we made rock'n'roll and we have no idea why". There is a real philosophy in Ultimate Painting's music, a true message. This is what is lacking to the scene, and what we found here. Oh, and also, Ultimate was the last interview of the year…
Ultimate Painting est l'une des plus grandes révélations de l'année. Meilleur premier album de 2014, le groupe a su donner une énième vie aux Velvet. On ne sera donc pas étonné de lire un interview analytique où les réponses sont véritablement pensées et ne se résument pas au flot habituel sur fond de "on fait du rock et on se fou du reste". Il y a une véritable philosophie à toute la musique d'Ultimate Painting. Un message. C'est ce qui manque à une grande majorité de groupe, et ce que l'on trouve ici. Ultimate, c'était le dernier interview de l'année…

INTRODUCTION

First thing first, who is the ultimate painter?
Commençons par le commencement. Qui est le peintre ultime ?

Vincent Van Gogh.
—–
Now, how would you describe your music to someone who has not heard about you yet?
Comment décrirez-tu ta musique à quelqu'un qui ne la connait pas ?

Music influenced by the 1960's. Recorded on tape, played on guitars.
C'est une musique influencée par les années '60, enregistrée sur cassette, à base de guitares.

—–
You are getting quite some big hype recently. Do you feel that it might, in some ways, alter your music?
Vous devenez de plus en plus populaire. Penses-tu que cela puisses, d'une façon ou d'une autre, influencer ta musique ?
I don't think so, the album was recorded in my bedroom, as the next one will be. There is less pressure in a situation like that than going to an expensive studio where time is money. If people like the music you make it's always a bonus. I imagine we'd make the same music regardless of who was into it.
Je ne pense pas. L'album a été enregistré dans ma chambre, et le prochain le sera également. Il y a moins de pression a procéder de la sorte, plutôt que d'aller dans un studio d'enregistrement qui coûte cher. Si les gens aiment la musique que tu fais, alors c'est un bonus. J'imagine que nous ferons toujours la même musique indépendamment du public.





—–
You are both part of other bands, Mazes and Veronica Falls. How do you manage to put so much energy in different projects?

Vous faites tous les deux parties d'un autre groupe, Mazes et Veronica Falls. Comment procédez vous pour mettre tant d'énergie dans ces différents projets ?

We both enjoy writing songs and recording. It's easy to become enthusiastic about something if you're happy with the results.
Nous adorons écrire et enregistrer. Et puis, c'est toujours plus facile d'être enthousiaste lorsque le résultat te plaît.
—–
These two bands are more rock'n'roll. Why did you choose to move toward another type of music? Were you tired of the lo-fi musicality?
Vos deux groupes précédents sont plus rock'n'roll. Pourquoi avoir choisi de changer d'univers ? Etiez vous fatigués de la musique lo-fi ?
We are both influenced heavily by the music we grew up with, the Beatles, the Beach Boys, Buddy Holly etc… We like melodic music basically. The other bands we do are not really rock'n'roll, maybe they have faster songs. This is closer to the music we actually listen to I'd say.
Nous sommes tous les deux très influencés par la musique avec laquelle nous avons grandi, les Beatles, les Beach Bous, Buddy Holly, etc. On aime avant tout les belles mélodies. Nos autres groupes ne sont pas vraiment rock'n'roll. Mais il est vrai qu'ils ont peut être des titres plus rapides, surement plus proche de nos influences.


YOUR LP

Where and when did you write Ultimate Painting?
Ou et quand avez vous enregistré Ultimate Painting ?

We wrote five songs each. for the purpose of recording this record. initially it was just one song each, then we thought we'd do an EP, then it became an LP. Most of them were written earlier on this year. In my house, and Jacks house.
Nous avons écrit 5 titres chacun. Initialement, nous avions prévu de n'écrire qu'un titre chacun et de sortir un EP, qui est finalement devenu un LP. La plupart d'entre eux ont été écrits en début d'année, chez moi, et chez Jacks.

—–
What is this LP about?
De quoi parle cet album ?

Many different things. anxiety, relationships, drugs etc?
De pleins de choses différentes, d'anxiété, des relations, de la drogue…
—–
How long did you spend mixing this album?
Combien de temps avez vous passé à mixer l'album ?
The recording was done bit by bit. we didn't spend long. The whole thing was recorded in my bedroom over the period of a month or so, just the odd day here and there. Each track was mixed quickly, and normally the first or second take was the one used.
Cet album a été construit par à-coups. Nous n'y avons pas passé trop de temps. Nous avons beaucoup enregistré dans ma chambre, ce qui a dû prendre environ un mois. Les titres ont été mixés assez rapidement, et nous avons gardé la première ou deuxième prise par chacun d'entre eux.

—–
There is a great spleen is your music. I feel like a battle between deeply sad feelings and hope for better days. Does that translate your feelings at the time you created it?
Il y a une force sleenetique dans votre musique. J'y ressens comme une bataille entre un sentiment de tristesse et l'espoir de jours meilleurs. Est-ce que cela transcrit ce que vous ressentiez au moment où vous l'avez composé ?
Yes I think it does. Deeply sad and hoping for better days pretty much sums it up, at least for me.
Je crois que oui. Profondement triste et espérant des jours meilleurs, c'est un bon résumé. Au moins en ce qui me concerne.

SOME MORE
You've been compared to a lot of great bands: The Velvet, Cass McCombs, Tomorrows Tulips… Which one do you feel the closer to?
Vous avez été comparé à de nombreux groupes : les Velvet, Cass McCombs, Tomorrows Tulips… Duquel vous sentez vous le plus proche ?
I have never listened to Cass McCombs and don't know who Tomorrows Tulips are. So it's safe to say its probably not either of those two.
Je n'ai jamais écouté Cass McCombs et je ne connais pas Tomorrows Tulips. Dont je crois que je peux dire aucun des deux sans trop me mouiller.
—–
Which Velvet Underground's song is your favourite?
Quel titre des Velvet est votre préféré ?
Maybe « Some Kind of Love » the third album is possibly my favourite. When I was a teenager, it was the banana record and White Light / White Heat. These days, it's the thirds LP and Loaded.
Probablement « Some Kind of Love », du troisième album. Lorsque j'étais ados, je préférais l'album banane et White Light White Heat. Mais aujourd'hui, assurément le troisième et Loaded.

—–
The Velvet's intention was to be really disruptive. They came with high ambitions. Do you feel like "the scene" miss that in 2014?
L'intention des Velvet était de créer une véritable rupture. Ils avaient de très hautes ambitions. Penses-tu que « la scène » de 2014 manque d'ambition ?
I think "the scene" of 2014 misses pretty much everything, especially from that period. Anyone being disruptive these days has probably discussed it first with their manger
Je pense que « la scène » de 2014 manque d'à peu près tout. Si quelqu'un créé une rupture, c'est probablement qu'il en a discuté avant avec son manager…
—–
Speaking of that, what is your most ambitious goal with Ultimate Painting?
En parlant d'ambition, quel est votre objectif le plus fou avec Ultimate Painting ?
We want to release records that are good quality. And play shows around the world. We're not thinking about anything else really.
Nous voulons sortir des albums de bonne facture. Et jouer dans le monde entier. Le reste nous importe peu.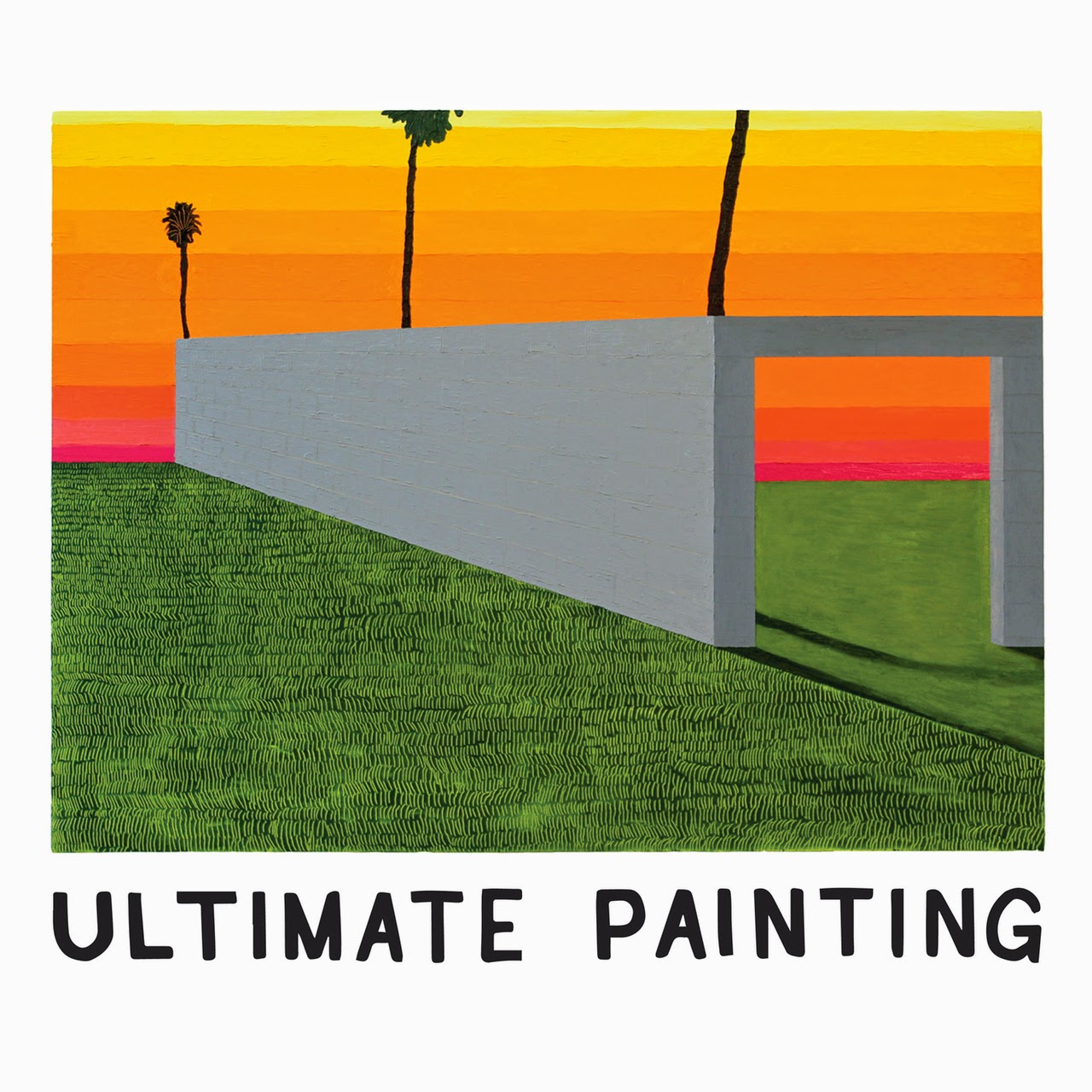 THE SCENE

I feel like 2014 has been the year of hi-fi music. Ty Segall went hi-fi, Bass Drum of Death and King Tuff too, as many more. Is it a good news?
2014 a été l'année de la musique hi-fi, avec Ty Segall, Bass Drum of Death, King Tuff… Est-ce une bonne nouvelle ?

I don't really know what you would define as hi-fi. If it works for them then yes. I imagine Ty Segall does well off his music and that is always a good things. So yes, it is probably good news.
Je ne sais pas vraiment ce que tu entends par hi-fi. Ty Segall s'en sort bien avec sa musique, alors je crois que c'est effectivement une bonne nouvelle.
—–
These leads me to ask you what you think about elitism in art? I notice that tapes are becoming a "thing", and I like it because they allow bands to spread out their music for cheap money. Lo-fi is also the product of cheap gear. This participate to democratize music. What do you think about all that?
Cela me pousse à te demander ce que tu penses de l'élitisme dans l'art ? Les cassettes deviennent de plus en plus hype, ce que j'apprécie parce qu'elles permettent aux groupes de faire connaître leur musique à un prix très accessible. La musique lo-fi est également bien souvent le produit d'équipements plutôt cheap. Tout cela participe à démocratiser la musique.Que penses-tu de tout cela ?

Most people who buy tapes probably aren't even listening to them, and a lot of people recording Lo-Fi music are probably spending way too much money on it. But whatever works for them. I don't think people releasing music on cassette are giving that much thought to it, it's cheap and it's cool.
La plupart des gens qui achètent des cassettes ne les écoutent probablement jamais. Et beaucoup de ceux qui enregistrent de la musique lo-fi dépassent probablement beaucoup trop d'argent dans l'enregistrement. Mais après tout, que chacun fasse ce qu'il lui plaît. Je ne pense pas que ceux qui sortent des cassettes le fassent par conscience de démocratisation, mais plutôt parce que c'est cheap et cool.
—–
You're from England, but still, you choose to write about "Central Park Blues" (and you speak about it in "She's A Bomb"). Do you feel like the american scene is better than the english one? I recently went to see an exhibition of Hedi Slimane pictures, and he opposes the two scenes. It is quite stunning, in my opinion, how greater the american one is, because less self-conscious, less pretentious and so more diverse. Would you agree with that?

Vous êtes anglais, et pourtant, vous avez choisi d'écrire sur « Central Park Blues » (et vous parlez également de Central Park dans « She's A Bomb »). Penses-tu que la scène américaine est meilleure que celle anglaise ? J'étais récemment à une exposition des photos d'Hedi Slimane où les deux scènes sont opposés. C'est assez frappant, de mon avis, de constater à quel point la scène américaine est meilleure, parce que moins self-conscious, moins prétentieuse, et tellement plus diverse. Es-tu d'accord avec ça ?

I think the US music scene is less self conscious and pretentious. they also take them selves less seriously, have more fun, and make better records. People in the UK get way too serious about everything and are constantly on Twitter / Facebook / Instagram trying to convince each other they're actually cool. When they should be more concerned with making a decent record.
Je pense que la scène est effectivement moins self-conscious et moins prétentieuse. Ils se prennent moins au sérieux, s'amusent plus, et produisent de meilleurs albums. Les anglais sont bien trop sérieux et passent leur temps sur Twitter / Facebook / Instagram a essayer de se convaincre les uns les autres qu'ils sont cool. Je crois qu'ils devraient passer un peu plus de temps à essayer de produire de bons albums.

—–
Is music a serious thing?
Est-ce que la musique est quelque chose de sérieux ?
It is and it isn't.
Ca l'est et ça ne l'est pas.

—–
You release Ultimate Painting on a great orange vinyle. What do you think of the dematerialization of music? Does he change the all experience in your opinion?
Vous avez fait paraître Ultimate Painting sur un vinyle orange. Que penses-tu de la dématérialisation de la musique ? Est-ce que cela change l'expérience de ton point de vue ?

I would rather the internet had not been invented, and there were no Mp3's. In the past you would buy an LP, take it to a party for your friends to listen too and it was an experience. The first time you played Sgt Pepper probably blew your mind. I don't think you get the same feeling loading up a track on YouTube. But then we live in this age and so have to make the best out of it. There's no point in complaining about how much money you could have made twenty years ago. It is what it is. And you can still get the same experience listening to a record now and you could then. It's just a shame about the internet.
J'aurai préféré qu'Internet n'ait pas été inventé. Et qu'il n'y est pas de mp3. Dans le passé, tu achetais un album, tu l'amenais avec toi à une fête, et tu l'écoutais avec tes amis, c'était une véritable expérience. La première fois que tu posais le diamant du vinyle sur Sg Pepper, c'était surement quelque chose de fou. Je ne pense pas que tu puisses ressentir pareil en chargeant un titre sur YouTube. Mais il faut accepter le monde dans lequel on vit, et en tirer le meilleur parti. Il n'y a aucun intérêt à se plaindre sur tout l'argent qu'on aurait pu se faire il y a 20 ans. Tu peux toujours recréer la même expérience aujourd'hui qu'à l'époque. Internet est la seule barrière.


ABOUT THE BAND

Any project for a new LP?
Un prochain LP à venir ?

We are about to record another LP in bedroom.
Nous sommes prêts à en enregistrer un nouveau dans ma chambre.

—–
How do you see the future of Ultimate Painting?
Comment vois-tu le futur d'Ultimate Painting ?
Keep making records.
Toujours faire des albums.
—–
What is like to be part of the Trouble in Mind family?
Comment est-ce d'être membre de la famille Trouble in Mind ?
They are exceptionally nice people and understand what a band actually needs. I can safely say it is a complete pleasure to work with them. They have been very supportive. Really wonderful people.
Ils sont super sympas et ils comprennent vraiment ce dont un groupe a besoin. C'est un véritable plaisir de travailler avec eux. Ils nous apportent un super soutien, et ce sont des gens géniaux.

—–
When are you coming to play in France?
Quand venez vous jouer en France ?
Hopefully soon.
J'espère bientôt.

TO CONCLUDE
What other contemporary bands are you listening to?
Quels autres groupes contemporains écoutes-tu ?
White Fence, Parquet Courts
—–
What are your biggest influences besides musical ones?
Quels sont tes influences les plus importantes en dehors de celles musicales ?
Movies, books, paintings etc…
Les films, les livres, la peinture…
—–
Can you give us a list of your TOP 5 artists ever?
Peux-tu me donner une liste de tes 5 albums préférés ?
1. The Beatles
2. The Velvet Underground
3. The Beach Boys
4. Bob Dylan
5. The Byrds
—–
A word to conclude?
Un mot pour conclure ?
Good bye.
Aurevoir.
———-
———-
Links :
LP Review de Ultimate Painting