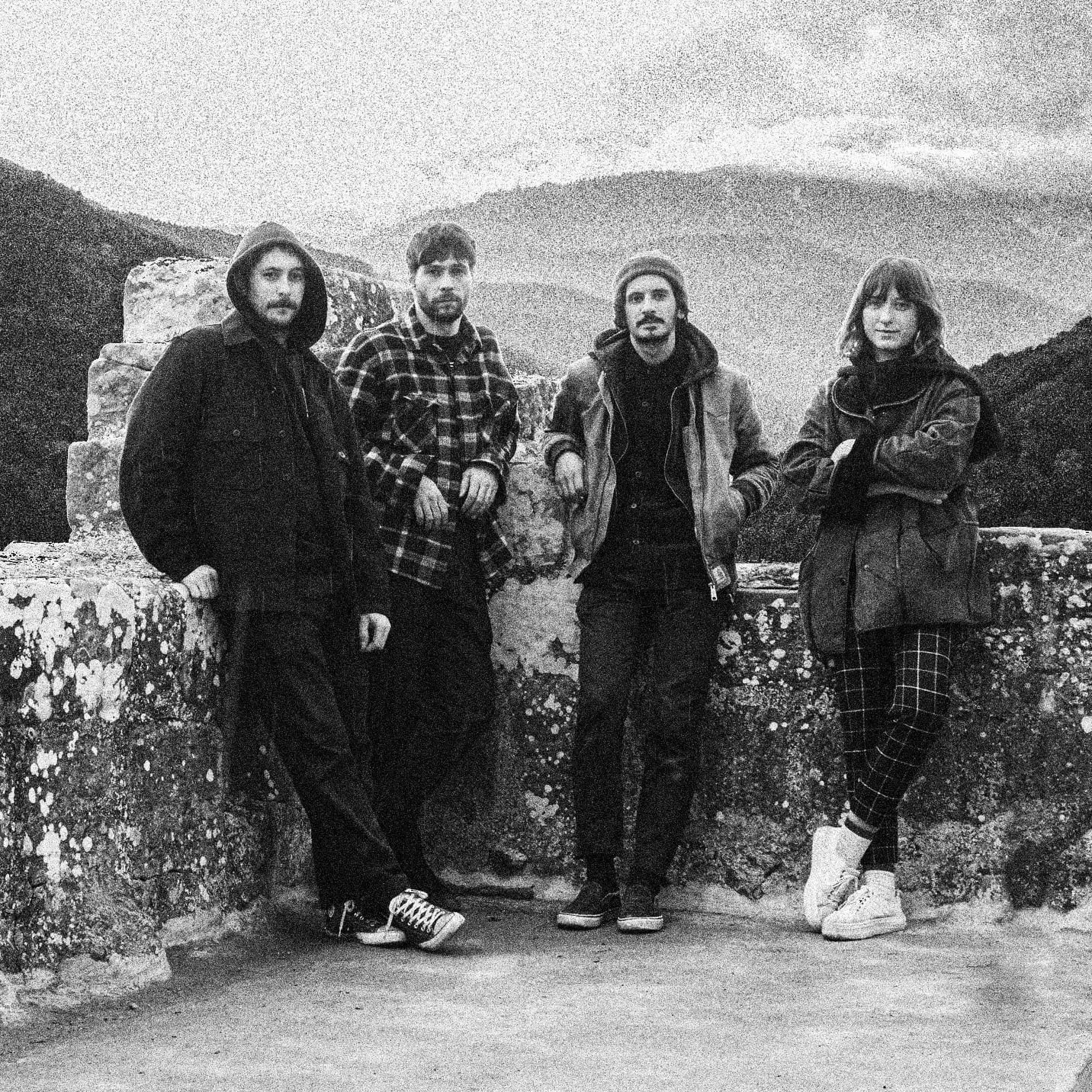 EN: Modulator II is patient zero. The band's noisy & psychedelic garage rock is the best in the world, it's both primitive and incredibly composite. Its first album literally blew up in 2020, and that's just the beginning. Modulator II will kill the entire decade. That's not a prediction, that's a prophecy. I, logically, had a few questions for its members.
FR: Modulator II, c'est le patient zéro. Son garage noisy et psychédélique est le meilleur au monde, il est à la fois primitif et incroyablement composite. Le premier album du groupe a littéralement explosé 2020. Ce n'est qu'un début. Modulator II va tuer la décennie. Ce n'est pas une prédiction, c'est une prophétie. J'avais donc logiquement quelques questions à lui poser.
***
Let us start with a playlist curated by
Modulator II for Still in Rock
***
How are you? What's up with you these days?
Maelle: We're fine, thank you. Just waiting patiently to go back on tour.
Cédric: Yeah, could be worse!
Ben: Waiting for my coffee to be ready.
OK, let me start by going back in time. What was the idea when you created the band?
Romain: After a Dusty Mush tour, me, and Cedric were bored in the studio, so we switched instruments for fun. Cedric went from guitar to drums, and I switched my bass for a guitar. We just jammed for a year. When we finally had a couple songs, I asked Maelle to join us on bass. Then we recorded the EP and LP, and we realized that we needed a second guitarist to play with us for shows, so we recruited Ben!
Cédric: We switched instruments because Dusty Mush drummer would not show up at every rehearsal. So as we were renting a rehearsal space in Paris, it was so expensive we had to play no matter what! Then we realized there was some kind of interesting energy so we kept playing.
The frontier with Dusty Mush is so thin we had to come up with some kind of "concept" at the very beginning, for example as a guitarist playing drums I don't bring guitar chords or we're always wearing white jumpsuits at shows. That way we would have a different writing process naturally, and create something that would stand visually and sonically from our other projects. But we didn't set any "genre" boundaries, what's happening is what we like to play.
Your music has something very… dark. It feels like a near-death experience at times. Is that intentional? Are you inspired by b-movies, slashers, and horror films?
Romain: I'm a big movie guy, but I don't think the music is inspired by it.
I guess I'm more influenced by sci-fi novels when it comes to the theme of the album, like the ones by H.P. Lovecraft or Philip K. Dick. I'm also inspired by role-playing games.
Cédric: Nothing intentional for myself, but I'm trying to create the music I'd like to hear. And I tend to prefer music with a sense of danger, anger, and darkness for sure.
I am curious to know about your creative process. From the outside, I have the impression that you are first recording the songs and then reworking the sound several times as if you were trying to alter the initial result. Is that what's happening? How long are you dedicating to each song's mastering/mixing? Who is taking care of it?
Romain: Pretty much every song is the product of the same process: jam with the band in the studio, recording and listening to those jams, and then writing a song if the material is interesting. Sometimes, I write songs alone and bring them to the band but it's quite rare.
Cédric: Concerning the first album the process was only me and Romain recording all our jams, full blast, no rules, and then creating songs from these recordings. All we cared about is the energy driven by the drums and the guitar together. But now, the writing of the second album, the process involves all four members. I am the one in charge of the recording and mixing, on the first album we tracked the drums, the guitar, and bass live in the same room. Then added a bunch of guitars, vocals, and synths.
Recording was done super fast, it took us 4 days for the basic tracks and a few days here and there for overdubs. When we started the recording process, I already had a precise picture of how I wanted it to sound. But the mixing was quite challenging as I was going through some changes in my life, bought a house, got a new job, so I was desperate for free time to mix the album. I woke up early every day to mix with fresh ears before I went to work.
I record and mix 100% analog, it was quite exhausting and time-consuming. I can't save the mix settings from a song to another so once when I'm done with a song I can't go back. That means I've got to record a lot of different mixes before moving to the next song. It was the most difficult part of the making of Slivered Hearse.
The video you made at the "Quarantine Studio" is quite extraordinary (see right below). What's the story behind it?
Romain: We wanted a live video to promote the release of the first album so we hit a random studio and recorded this video with 3 cameras and a friend to do the live projection. It was shot 24 hours before the lockdown announcement, so this video is very lucky to even exist…
Can you clarify your relationship with Dusty Mush, Druggy Pizza, and Thee Attic?
Cédric: Thee Attic is Romain's lo-fi video production project. He's our visual wizard.
Druggy Pizza is a project I started in 2012 as a way to experiment with recording on my 4-track cassette tape recorder without the exposure of a live band. It has absolutely no rules. The first two EPs are just me messing around on my own, then on the third one I wanted to explore the limits of tape distortion to recreate the sound of your ears overloading at shows. So I asked Romain if he would be down to play guitar and I would bash the drums. We wrote a bunch of songs in one afternoon, we recorded these the next day and called this EP "Chili Cheese Crust". It's pretty much Modulator V1 because it's the same formula we used when we first started Modulator II in 2018.
Dusty Mush is our very first music project that started in 2011 as a way to escape the boredom of rainy days without skateboarding. Romain plays bass and I play guitar and sing. It's a different creative process as the band got two sides, the live band and the solo project. Most of the time I bring finished songs to the live band and then we find a way to play these songs live. Romain brought some inspiring bass lines and guitar riffs over the years too. We also play reworked Druggy Pizza songs so it's quite a mess! But since 2018 it's more like a solo project.
Are you involved in other side projects?
Ben: I do linocuts and drawings in my spare time.
Maelle: We all have artistic activities besides the band and music. I'm a painter, and we're all experiencing visual stuff with various mediums. That explains why we take very seriously the visual aspect and art that surrounds Modulator II.
Your first album, Slivered Hearse, was published in 2020. When is your second LP due?
Cédric: We are working on our next LP right now. Between two lockdowns, we managed to spend 10 days in a small village in the Vosges mountains to write songs. We rented an old church converted into a municipal hall in the village where we stayed. The room was massive with a huge ceiling height, it was very comfortable to create there. When we arrived we only had one song written and a bunch of riffs and ideas from jams but nothing close to an album. We ended up writing the whole thing altogether in 5 days. It's a creative process I'm not used to but I'm glad it worked. Isolation, mountains, good-sounding space sure did help. We're thrilled by what we wrote there, now we can't wait to record it.
You are releasing your music via Stolen Body Records. It's such a great label. How did you come to work together?
Romain: If I remember correctly, our first introduction with SBR was in 2012 or 2013, when Alex from the label asked us (Dusty Mush) if we wanted to appear on a "Record Store Day Compilation" on tape. I don't remember exactly how he found us, but hey, great!
Then they invited us to play the first edition of the Stolen body Records festival in Bristol.
Are you part of a "scene", and if so, which one?
Romain: We're not sure of which scene we are a part of… It was easy to say "garage scene" when we were playing with Dusty Mush, now it's unclear… And after almost no gigs in one year, because of the Covid, I'm not even sure a "scene" is still something relevant.
Maelle: I agree. The garage scene in general in the late 2010s was maybe easier to categorize (not totally sure about that though), but I have the feeling that for the past few years, every band melts various kinds of influences, so it became irrelevant to categorize them.
What's your take on the French scene? Is it going in the right direction? What would you like to change?
Romain: The french scene is evolving toward pop. There's no right or wrong direction, but that's not something I'm really interested in. 2010 was the garage scene explosion, now in 2020 rock is going back underground again, and will reappear whenever it feels like it. Music is a cycle.
Maelle: Yes, but there are still some pretty nice psyche bands in France though.
I've recently conducted a short empirical study on garage rock (link). I found out that there are more and more albums labeled as such, but the number of related Google queries tends to decrease. What's your impression from the inside? Do you find it more and more difficult to get support from playing shows (before Covid) and releasing music?
Maelle: The french scene is still vivid and prolific, with loads of bands and venues, even if they tend to disappear. I'm not sure the difficulties to play shows and to tour come from lower public demand, it's more related to political will to diminish the little venues, bars, and nightlife in general in cities.
Cédric: It was definitely easier to book shows and get media coverage as a "garage rock band" around 2013/2015 in France. it's just different nowadays I think, maybe the listeners don't pay too much attention to the music genres anymore? The "garage" etiquette has been overused over the last few years; it doesn't mean anything anymore. You can't record an album in a proper commercial studio and call it garage, it's pure nonsense. I feel like releasing music is just getting easier and easier, all you need is a computer or a smartphone.
If you had to describe three fundamental albums in the construction of Modulator II, which ones would they be?
Every Hawkwind album from 1970 to 1975.
Rudimentary Peni – Death Church.
Blue Cheer – Vincebus Eruptum.
Best tour memory?
Romain: Touring with Earth Tongue and trying to make them speak french ("la beuh").
Cédric: 2019 Astral Festival in Bristol was a blast.
Ben: When I almost got kicked off the Astral festival for smoking a joint and then later on when we stole a bunch of beers from backstage to party in Slift's room.
Maelle: Touring for just two gigs with Romain's tiny Renault Clio due to touring car availability problems.
One movie I should watch?
Romain: Le daim by Quentin Dupieux.
Cédric: Steak by Quentin Dupieux.
Maelle: Paris, Texas by Wim Wenders.
Excellent. I've actually seen them all, and indeed, they are must-watched 🙂 What is your favorite album of the last few months?
Cédric: Variations on A Theme by OM.
Ben: Clinic – Wheeltappers and shunters.
Maelle: JuJu – Our Mother Was A Plant.
How do you imagine your discography 20 years from now?
Ben: A la Fnac!
Cédric: Weird.
Last question: is "rock'n'roll dead"?
Cédric: As long as there will be people bashing drums and cranking guitar amps up to 10, it will be alive.
Ben: as long as iggy is alive, impossible.