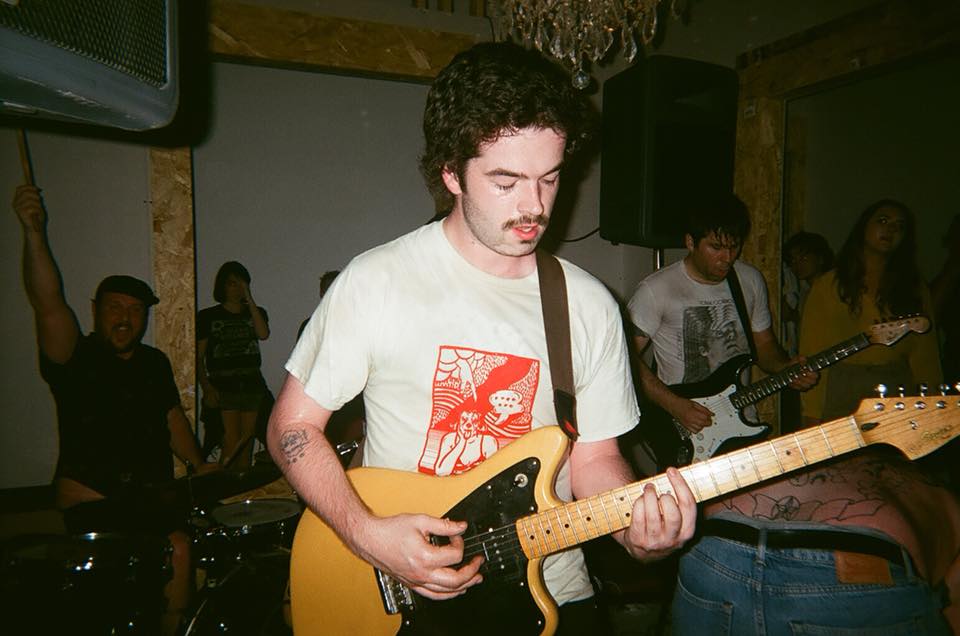 PRIORS he is one of the leaders of the post-skate movement which,
as you probably know,
is the subject of my latest obsession. Having recently decided to interview the main bands in the scene, I started with the author of
New Pleasure
. Its leader, Chance Hutchison, answered my questions and composed a playlist for the occasion (right below). He confessed that "Fidlar is one of the worst bands" he has ever heard, gave the name of the band's next album, the release date and more. Cheers!
***
Let us start with a playlist curated
by PRIORS for Still in Rock


I have a theory: we have seen the creation of a new genre at the end of the 2010s, and it's about to take over the 2020s. Its name? "Post-skate" music. What is it? Speedy garage punk with nervous yet friendly voice (nothing like angry punks), a simplistic and very tight rhythm, a cathartic sound, almost chopped, anti-corporation lyrics, a mid-fi production (not too lo-fi) and bouncy melodies with a vehement tendency (listen & read).


Some of your songs relate to the genre. "Lonely Mind", "Nature Boy" and "Provoked" are good examples. What do you think of this theory? Is there such a scene in your opinion? If so, are you willing to take the lead with a few others?
I think you can put whatever label you want on it but what it boils down to is I make guitar-driven music with a drum machine and we turn it into what it becomes at the jam space. I'm not sure what genre it fits under or what exactly we're doing here but I like it. I guess it's punk or garage but a lot of those kinda bands we don't necessarily fit with. Does music really need a subcategory to be real? I don't think so. Music is art and art does not need to be categorized more than 'I like it or I don't'.

It seems to me that you and a few others are taking over the garage scene (generally speaking) which has been quite obsessed with slacker bands such as Fidlar, Dune Rats and co. Do you identify to these bands, or, on the contrary, do you reject (part of) what they represent?
I don't know who Dune Rats are but Fidlar is one of the worst bands I've ever heard. Are they still a band? I am in no way interested in party punk at this point in my life. That being said – there is definitely a scene out there as there are still young people who wanna party. Good for them for capitalizing on such things. I was a big fan of the first Green Day records when I was young and I still think Dookie is amazing. Blink had their day too but I just can't relate to the cheap beer and pizza gimmick. I feel the same way about the current state of party punk bands coming out.

Some of your songs are trashy, they remind me of early-Together Pangea and similar bands. Do you generally approach all art forms from that perspective, which apparent violence? If so, why?

I really like Jay Reatard and Aussie bands from Radio Birdman to the Birthday Party to Eddie Current, etc. At my house, we listen to a lot of old girl groups and garage records from the '60s. I also really like the late 70s bands like Wire and Swell Maps. I'd say my influence comes mostly from those records. I wouldn't say violence has very much to do with it but aggression is there for sure but that comes from having a rough upbringing. I would just like my songs to have hooks and to make people wanna dance.

What's the biggest difference between your first and second LP?

Well, the first LP we did pretty quickly after we'd become a band and I wasn't really sure where I wanted to take things yet. An example of this is the vocals. We hadn't played a lot of shows and my delivery from home demos to live settings was a completely different animal. I think this is pretty apparent on the first LP as it sounds more like my demo vocals at the time. The second LP sounds a lot more like we do live and I felt a lot more comfortable singing that way as we'd done a few tours at the point of recording New Pleasure.

When should we expect your third LP? Or a new EP? Do you have a title for it already? A release date? A label? An artwork?

We have a new record coming out this year called MY PUNISHMENT ON EARTH. We will also be releasing at least one 45 and possibly a second LP for 2020. We are going to be recording as soon as the social distancing gets dropped and we can get together again. If that ever happens – stay home.
I've recently conducted a short empirical study on garage rock (

link

). I found out that there are more and more albums labeled as such, but the number of Google queries tends to decrease. What's your impression from the inside? Do you find it more and more difficult to get support from playing shows and releasing music?

The garage scene in Montreal is dead. There are a handful of bands that are still doing it but it's been beaten to death and people don't really seem to care that much. My wife's band, Pale Lips, are the last great garage band in the country right now, in my opinion, and I think it's a shame they don't get more recognition. We have been very fortunate to have a lot of support for Priors in Montreal and in Canada in general but we've all been doing music a long time and have a lot of friends all over the place which makes things easier.
I think that releasing the last record on Slovenly certainly helped get our name out there as well but I'm not so sure their audience likes us that much – at least on recording. If they come to see us live, I think we gain a lot of respect from people but I think that can be said for a lot of rock n roll or punk bands.
What's the music scene like in Montréal, and more generally, in Canada. Is it going in the right direction? What would you like to change?

The music scene in Montreal is vast. There are a lot of bands and a lot of different scenes. Punk – Hardcore – Garage and everything that falls under these genres. People want to be challenged I think which is good. Young people don't want to hear the same shit over and over again. I am a huge fan of rock n roll and I think it's been pretty watered down for the past few years but there are a few who are doing it right and are using their heart as much as their brain which is, in my opinion, the perfect recipe for a good tune.
One may argue that there's a battle between the Australian scene and the US one. But Canada also has quite a lot of good bands. Could you name a few of your favorite?

Australia will always be the place to look for the best rock n roll. There is no contest. Good bands in Canada currently: Teenanger, TV Freaks, Strange Attractor, Tommy and the Commies, Crack Cloud, New Vogue, Pale Lips, Sweet Dave, BBQT, Kommissars, First Base, Outtacontroller, Average Times, The Submissives there are a million more I'm just spacing right now.
You work with Slovenly Recordings. Tell us about them.

A great label. They have been nothing but great and easy to work with which is more than you can ask of a record label.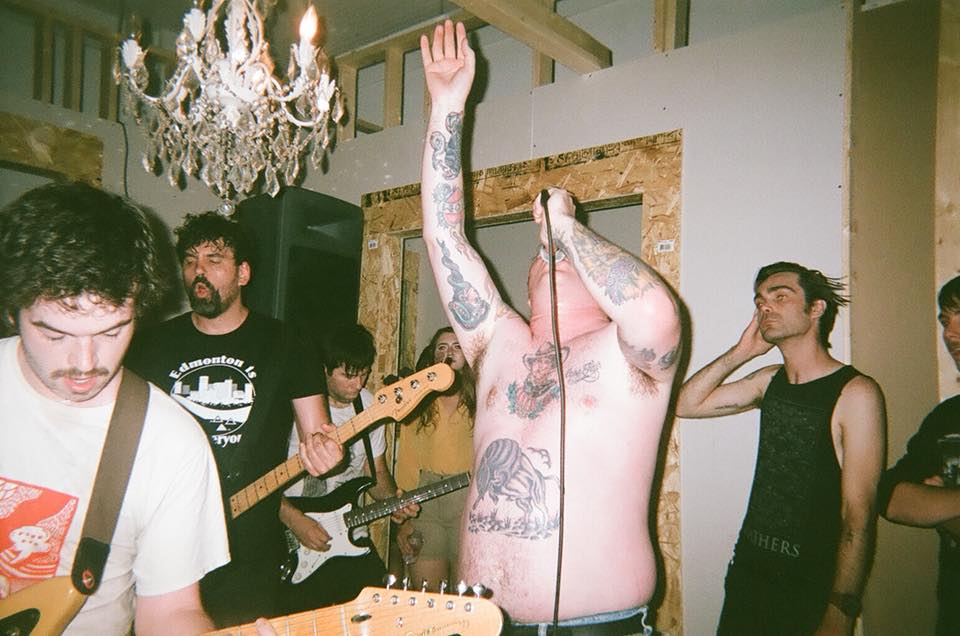 Let's wrap it up
Is "rock'n'roll dead"?

It depends on what your definition is. I don't think the idea is dead and for sure in the underground, guitar music is still loved and sought after. In the mainstream, it's been dead for decades.
What is your favorite album of the last few months?
I've been going back to the last Terry record I'm Terry. They're such a great band. I'm listening to a lot of Shangri-Las and Lovin Spoonful records. I really like the new King Krule record also it's called Man Alive!
Best tour memory?
I've been touring for 20 years so I've seen some wild shit. Best tour memory is tough. For Priors, a highlight would definitely be this past US tour when we played Goner Fest in Memphis. I have a lot of respect for that label and playing outside too as many people as we played to in the afternoon was amazing. I thought it was going to be dead but so many hungover humans were there and everyone was dancing. We had a really good time there – I definitely want to do it again.
20 years!! In what projects have you been involved over the years?

I started in high school and after I played bass in a band called Seconds To Go who toured a lot across the US and Canada. I also was in a band after called The Bad Ideas, and another one called Sonic Avenues – Brat Kings. I then started Priors in 2016.
And how do you imagine your discography in 20 years from now?

I hope it has at least 25 records in it by that point – I hope I don't repeat myself too often but if I do that the songs are honest and good. First, we will need to outlive this COVID crisis! Stay Home!
The last word to conclude?

STAY HOME!
***
FRENCH
PRIORS, c'est l'un des leaders du mouvement post-skate qui fait l'objet de ma dernière obsession, comme vous le savez probablement. Ayant décidé d'interviewer les principaux groupes de la scène, j'ai donc commencé par le commencement avec celui qui a fait paraître New Pleasure. Son leader, Chance Hutchison, a répondu à mes questions et a composé une playlist pour l'occasion (ci-dessous). On y apprend que "Fidlar is one of the worst bands I've ever heard", le nom du prochain album du groupe, sa date de sortie, ce que représente le punk et plus encore. Cheers!
*
Let us start with a playlist curated
by PRIORS for Still in Rock
J'ai une théorie : nous assistons à la création d'un nouveau style musical depuis fin des années 2010, et il est sur le point de prendre le dessus sur les années 2020. Son nom ? La musique "post-skate". Qu'est-ce que c'est ? Du punk garage rapide avec une voix nerveuse, mais amicale (rien à voir avec les punks colériques), un rythme simpliste et très resserré, un son cathartique, presque haché, des paroles anti-corporation, une production mid-fi (pas trop lo-fi) et des mélodies rebondissantes à tendance véhémente (écoutez & lisez).


Certaines de vos chansons s'inscrivent dans le genre. "Lonely Mind", "Nature Boy" et "Provoked" en sont de bons exemples. Que pensez-vous de cette théorie ? Une telle scène existe-t-elle votre avis ? Si oui, êtes-vous prêt à en prendre les commandes avec quelques autres ?
Qu'importe les étiquettes, je veux simplement produire jouer de ma guitare en utilisant une boîte à rythmes dans le but de produire de bons jams. Je ne suis pas sûr du genre dans lequel ma musique s'inscrit ni de ce que nous faisons exactement ici, et j'aime bien ça. Je suppose que c'est du punk ou du garage, mais beaucoup des groupes du genre ne nous ressemblent pas. La musique a-t-elle vraiment besoin d'une sous-catégorie pour être réelle ? Je ne pense pas. La musique est de l'art, et l'art n'a pas besoin d'être catégorisé outre "j'aime" et "j'aime pas".
Il me semble que Priors et quelques autres êtes en train de prendre le dessus sur la scène garage (en général) qui a été (trop) obsédée par les groupes slackers tels que Fidlar, Dune Rats et co. Vous identifiez-vous à ces groupes ou, au contraire, rejetez-vous (en partie) ce qu'ils représentent ?
Je ne sais pas qui sont les Dune Rats, mais Fidlar est l'un des pires groupes que j'ai jamais entendus. Ils existent toujours ? J'dois dire que ne suis pas du tout intéressé par le party punk à ce stade de ma vie. Cela étant dit, il y a définitivement une scène, des jeunes qui veulent faire la fête. Ils capitalisent là-dessus. J'étais un grand fan des premiers disques de Green Day quand j'étais jeune et je pense toujours que Dookie est un album incroyable. Blink a aussi eu ses moments, mais je ne peux plus m'identifier au gimmick de la bière et de la pizza bon marché.
Certaines de vos chansons sont trash, elles me rappellent les débuts de Pangea et d'autres groupes similaires. Est-ce que vous abordez généralement toutes les formes d'art sous cet angle, avec une violence apparente ? Si oui, pourquoi ?
J'aime beaucoup Jay Reatard et les groupes australiens, de Radio Birdman à Birthday Party en passant par Eddie Current. Nous écoutons beaucoup de groupes féminins à la maison, et des disques de garage des années 60. J'aime aussi beaucoup les groupes de la fin des années 70 comme Wire et Swell Maps. Je suis surtout influencé par ces disques-là. Je ne dirais pas que la violence y est pour beaucoup, mais l'agressivité est bien présente, cela vient d'une éducation difficile. Au final, je veux simplement que mes chansons aient des accroches et donnent envie aux gens de danser.
À ce sujet, quelle est la plus grande différence entre votre premier et votre deuxième album ?
Nous avons enregistré le premier album très rapidement après avoir formé le groupe. Je ne savais pas encore très bien où je voulais aller. Les parties vocales le montrent bien. Nous n'avions pas fait beaucoup de concerts, et le passage des démos maison aux concerts en direct était assez brutal. Le deuxième LP ressemble beaucoup plus à ce que nous faisons en concert et je me sentais bien plus à l'aise pour chanter de cette façon, nous avions déjà fait quelques tournées au moment de son enregistrement.
Pour quand est prévu votre troisième LP ? Ou un nouveau EP ? Avez-vous déjà un titre ? Une date de sortie ? Un label ? Une pochette ?
Nous avons un nouvel album qui sort cette année. Il s'appelle MY PUNISHMENT ON EARTH. Nous allons également sortir au moins un 45 tours et peut-être un deuxième LP à la fin de l'année 2020. Nous comptons enregistrer tout ça dès que le besoin de "distanciation sociale" aura diminué et que nous pourrons nous retrouver… si jamais cela se produit un jour.
J'ai récemment mené une courte étude empirique sur le garage rock (lien). Il e ressort qu'il y a de plus en plus d'albums étiquetés comme tels, mais que le nombre de requêtes Google a tendance à diminuer. Quelle est votre impression de l'intérieur ? Trouvez-vous de plus en plus difficile d'obtenir du soutien pour jouer des shows et sortir de la musique ?
La scène garage à Montréal est morte. Il y a une poignée de groupes qui en jouent encore, mais elle a été battue à mort et les gens ne semblent pas s'en soucier tant que ça. Le groupe de ma femme, Pale Lips, est le dernier grand groupe de garage du pays, et il mériterait d'être bien plus connu. Nous avons de la chance d'avoir beaucoup de soutien à Montréal et au Canada en général, mais nous faisons tous de la musique depuis longtemps et nous avons des amis un peu partout, ce qui facilite les choses. Je pense que la sortie du dernier album sur Slovenly a certainement contribué à faire connaître notre nom, mais je ne suis pas sûr que leur public nous connaisse si bien que ça.
What's the music scene like in Montréal, and more generally, in Canada. Is it going in the right direction? What would you like to change?
La scène musicale de Montréal est vaste. Il y a beaucoup de groupes et beaucoup de scènes différentes. Punk – Hardcore – Garage et tout ce qui relève de ces genres-là. Les gens veulent être challengé, je pense que c'est bien. Les jeunes ne veulent pas entendre la même merde encore et encore. Je suis un grand fan de rock n roll et j'dois dire que c'est assez édulcoré depuis quelques années, mais il y a toujours quelques groupes qui en jouent et qui y mettent du coeur autant que de l'intellect, la recette parfaite pour une bonne chanson.
Il y a une bataille entre la scène australienne et la scène américaine, mais le Canada a aussi plusieurs bons groupes. Pouvez-vous nous citer quelques-uns de vos groupes canadiens préférés ?
L'Australie sera toujours l'endroit où aller chercher le meilleur du rock n roll. Il n'y a pas de concurrence. Quant au Canada, les bons groupes du moment sont Teenanger, TV Freaks, Strange Attractor, Tommy and the Commies, Crack Cloud, New Vogue, Pale Lips, Sweet Dave, BBQT, Kommissars, First Base, Outtacontroller, Average Times, The Submissives. Il y en a un million d'autres.
Vous travaillez avec Slovenly Recordings. Parlez-nous d'eux.
C'est un super label ! Ils ont été tout simplement géniaux, faciles et sympas, tout ce que ce que l'on peut demander d'un label.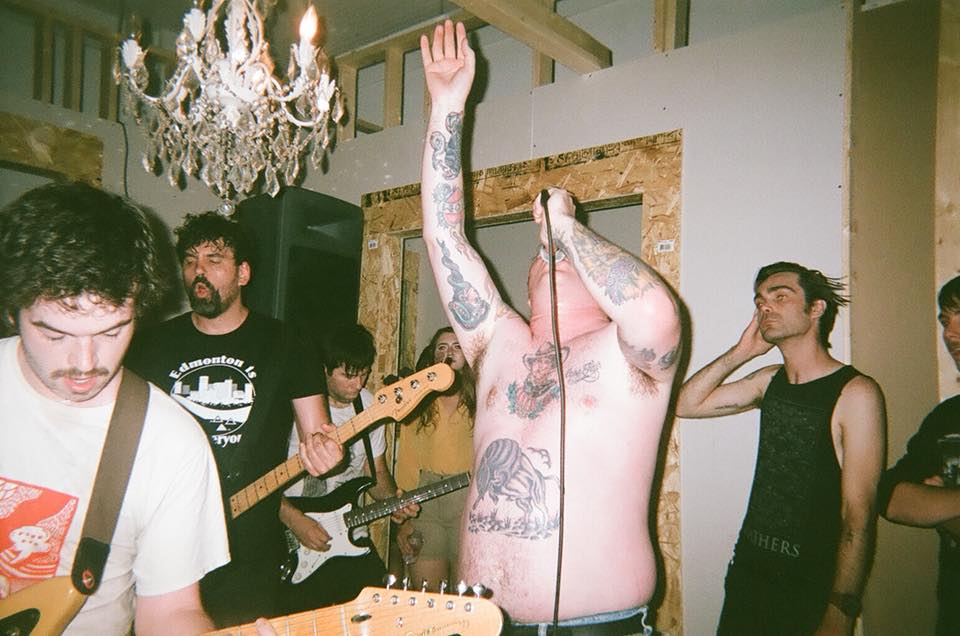 Pour conclure
Le rock est-il mort ?
Ça dépend de ta définition. Je ne pense pas que l'idée soit morte, et il est certain que dans l'underground, le rock est toujours aimé et recherché. Dans le courant dominant, il est mort depuis des décennies.
Quel est votre album préféré de ces derniers mois ?
Le dernier album Terry, I am Terry (2018). C'est un groupe tellement génial. J'écoute aussi beaucoup de disques de Shangri-Las et de Lovin Spoonful. J'aime beaucoup le nouveau LP de King Krule,
Man Alive
!
Meilleur souvenir de tournée ?
Je fais des tournées depuis 20 ans, j'ai vu des trucs sauvages. Difficile de répondre. Pour Priors, un moment fort serait certainement cette dernière tournée américaine où nous avons joué au Goner Fest à Memphis. J'ai beaucoup de respect pour ce label et jouer devant autant de personnes était incroyable. Je pensais qu'ils allaient mourir, il y avait tellement de gens avec la gueule de bois et tout le monde dansait. Nous avons passé un très bon moment – j'veux vraiment le refaire.
20 ans !! Dans quels projets as-tu été impliqué ?
J'ai commencé dès le lycée, j'ai ensuite joué de la basse dans un groupe qui s'appelait Seconds To Go avec qui j'ai beaucoup tourné à travers les États-Unis et le Canada. J'ai également fait partie d'un groupe après The Bad Ideas, et d'un autre groupe appelé Sonic Avenues – Brat Kings. J'ai créé Priors en 2016.
Comment imagines-tu ta discographie dans 20 ans ?
J'espère qu'elle contiendra au moins 25 disques, et que je ne me répéterai pas trop souvent. Mais d'abord, on doit survivre à cette crise du COVID ! Restez chez vous !
Le mot de la fin ?