Over the years, Peach Kelli Pop has become one of the greatest symbols of Burger Records. Yet, it has never been her objective. Her third album, III, is a Bubblegum LP which denounces the society of "women's magazines". On one side, the melodies are super catchy while a strong message runs the all on the other. This is, in my opinion, what makes Peach Kelli Pop the greatest figure of Burger Records, always ready to have fun, but without forgetting to have a reflection. This interview couldn't better illustrate it. A big thank you, Allie, and see you!

Peach Kelli Pop est devenue l'un des symboles de Burger Records. Pourtant, là n'a jamais été son objectif. Son troisième album, III, qui a vu le jour cette année, est un LP de Bubblegum qui dénonce la société "magazines féminins". D'un côté, les mélodies y sont super catchy tandis que de l'autre, un véritable sens commun anime l'ensemble de ces morceaux. C'est, à mon sens, ce qui fait de Peach Kelli Pop la plus belle figure féminine de Burger, toujours dans le fun, mais sans oublier la réflexion. Cet interview ne pourrait mieux l'illustrer. Un grand merci, Allie, et à très vite !




TO INTRODUCE YOU
Hi Allie. First thing first, who is your true lover, Mario or Luigi?
Luigi! Mario is a great friend.
How are you doing those days?
Myself and the band are doing very well, we leave in 2 days on a month long tour of Europe so we are feeling crazy and excited.
You are getting quite some big hype recently. Do you feel that it might, in some ways, alter your music?
I feel like being hyped wouldn't so much alter the music, but it would alter other people's perceptions of the band. I think people like the idea of being different and finding secret gems of bands that other people don't know about so those people won't be interested in us as a result, but the plus side of having some hype is that new people will have an opportunity to hear your music.
It makes no doubt that III is one of the most interesting LP of 2015. There is a great disconnection with the type of music you're playing and the message you're sending, and I really love that. So, what is this LP about?
The 3rd PKP album is definitely a mishmash of different topics. I generally write songs over for an album over a long period of time, and they end up being different from each other because of that. I included topics that were personal to me, like falling in love with someone and what it's like to be frustrated as a woman, and then just some fun songs like Princess Castle 1987 and the Sailor Moon Theme song. Some of the album refer to serious topics, and other parts certainly do not.
You recorded III in a real studio (ARW) for the first time, adding other musicians to the process (including Wyatt Blair on drums). Some artists say the way the music is recorded doesn't matter, but I can't help but noticing that the songs from III are even shinier than previous ones, so, in a way, lo-fi v. hi-fi is a real deal isn't it?
Yes! The new album was the first one I had any help producing or playing on. I was paying to record in the studio, so I had musicians help me record the tracks instead of playing every instrument and track one-by-one myself, like I did before. It saved time and ended up being fun. I had Katy Goodman from Vivian Girls & La Sera play bass and Ali Koehler from Vivan Girls and Upset help me out on drums as well. I ended up playing with around 10 different musicians I really respect.
My goal with recording in a studio was to maintain the "style" of Peach Kelli Pop that you hear on the first 2 albums but make it sound way better. I think Joel Jerome at ARW did a great job of that.
III has a real message under the guise of innocent melodies. I read your frustration about the fact the people were writing reviews about III without even paying attention to the lyrics. Do you see that as being a real problem of music criticism? Also, do you intent to produce a music less bubblegum-ish in the future so people stop presuming that you're singing about Barbie?
Yes – I was frustrated because people who didn't know anything about the music were writing about the new album based on their presumptions and nothing real. It was as if they listened to 10 seconds of one song 3 years ago, then wrote their review. They missed everything of importance. It's lazy and disappointing. A lot of people criticize music journalism for being useless and it proved those sentiments to be true. The faster, more driving sound of the new album is a natural progression and change – I wrote the first album, which is significantly slower 5-6 years ago – but it is also partly intentional because those types of songs are more fun to play live. I also wanted to be taken seriously as well. I think people dismiss the music because of the feminine aesthetic and sound of the band especially with the first 2 PKP albums.
"Shampoo" perfectly illustrates the duality of the album. It could be seen as being cheesy, but also, it denounces women's magazines ("Trying to be pure, perfect and clean I'll be the best girl you've ever seen"). "Plastic Love" does the same, "Perfect 10, ageless, firm". Why did you feel the need to address this problem in this LP and not previous ones?
I've always been affected by societal pressures, like 99% of women. I've always had strong views and voiced my frustrations on these topics. I guess I was more inclined to write about other things the first two albums. I don't think there is a reason for the change.
On "Plastic Love," you're singing about sex dolls. Would you tell us the story on how this song came into your mind?
In the song, I am writing in jest about how the ideal woman for a lot of men would be a sex doll. She doesn't talk, there is (obviously) a huge power imbalance where the man is always in control, she is physically "perfect" 100% of the time and always happy. The guy isn't held accountable for anything he says or does. You can just hide her in your closet if you don't want to deal with her.
"Big Man" (which reminds me of Nobunny) is more feminist, and I'm wondering if it was necessary because it may create some frustrations. Also, I'm wondering if moving to a post-feminist society isn't the solution to prevail in these battles. What do you think?
When I wrote the song I wasn't thinking about how to win any battles or about moving to a post-feminist society. I wrote about things myself and other women experience almost daily – being belittled and not taken seriously by men, and men controlling women's bodies through politics and law and religion. I think a good thing to aim for would be women having the same respect and rights that men do, and for it to be socially unacceptable to be little women in day-to-day life.
III is also about the impossible love. "New Moon" says "You left me no light, you're out of sight". Power Pop / Bubblegum music mostly deals with love, not impossible one. How does it feel to be a rebel?
I love being a rebel! Haha. The song New Moon encompasses bittersweetness and sadness. I think everyone can relate to that when it comes to love. I love sad songs.
III encapsulates the sound of Burger Records in my opinion, and I mean that as a compliment though I read that you never intended to produce such a sound in order to conform to the Burger one. So finally, you're just a the right place at the right moment, isn't it?!
I suppose so! I think having Burger Records release my records has been incredible as far as giving new people the opportunity to hear the music and being part of a great community. I, however, don't consider the label or "scene" or anything like that when recording the music. I write only for myself – I write and record songs exactly how I like hearing them, and hope other people will like them as well.
You said on your Bandcamp that the lyrics of "Heart Eyes" were "too embarrassing to post". Tell us everything, it'll stay between us 🙂
"Heart Eyes" is definitely the cheesiest song on the album. It was about developing a crush on someone and being really excited. The lyrics are similar to the songs on the first PKP album – too sweet. It makes me cringe, but meeting someone you're excited about and starting a new relationship is one of the best parts of life, so it's a good thing to write about.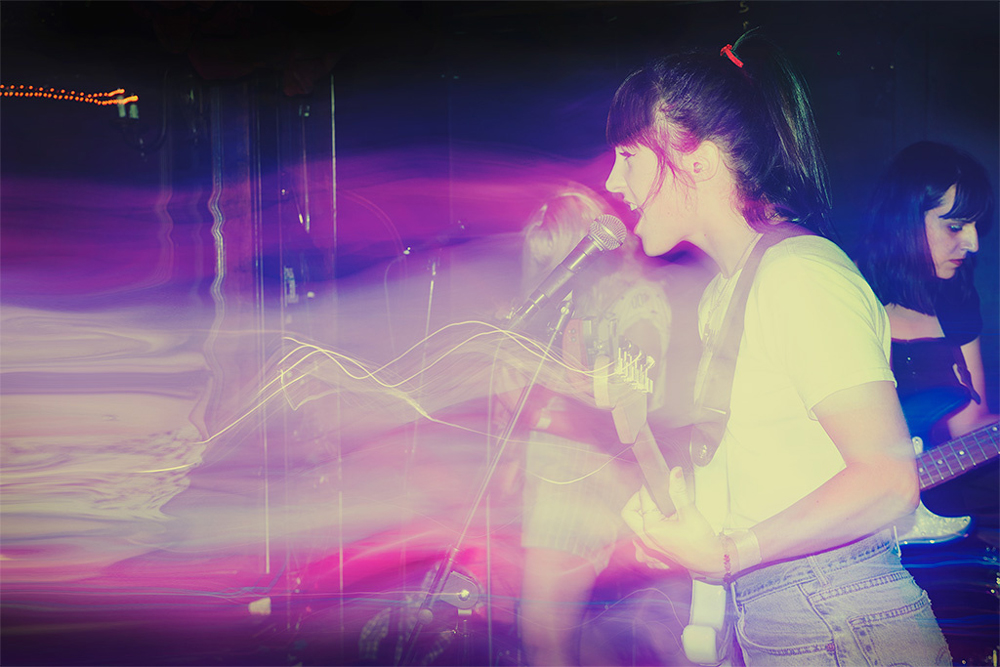 SOME MORE
The Power Pop scene is blooming. Warm Soda, Wyatt Blair, Ex Hex and few more create a real powerful revival. Would you agree? Also, do you feel like you're part of this scene?
I really like all those bands! I think there is definitely a place for power pop at the moment. Most people that like Peach Kelli Pop would also like those bands too. I think there's definitely a market for it!
I interviewed Matthew Melton year ago, and we did a power pop contest. Would you agree to do it as well? What you need to do is the choose your favorite over the two propositions
– Alex Chilton v. Big Star: Big Star
– Milk N Cookies v. The Modern Lovers: Milk n Cookies!!!
– The Real Kids v. The Replacements: Replacements
– Flamin' Groovies v. Tom Petty: Flamin' Groovies
– Ferris Bueller v. Animal House: Ferris Bueller
(see Matthew Melton's answers over here:
link
)
Many artists are playing in different projects/bands. You also are the drummer of the band The White Wires. How do you manage to tour with the two projects?
White Wires are pretty inactive since I moved to the United States a couple years ago. Ian, our singer and guitar player, had a baby with his wife recently too. But, we love playing shows when I'm back in town. Usually a couple times a year. It's really fun and casual. I focus mostly on Peach Kelli Pop which is a lot more time consuming for me. A lot of people tell me they wish White Wires would tour and play more, shows though, so hopefully one day.
Is there any collaboration that you'll do with Peach Kelli Pop in the coming weeks? The split with the Pats Pats was so great!…
I'm glad you like that tape! I like it too. The Pats Pats (from Tokyo) are SO cool! Katy Goodman from La Sera and I were talking about collaborating or going on a tour. We'll see! It would be really cool. When I come back from this tour I want to start a new band, where it's more collaborative.
Speaking about collaborations, who is creating your covers?
I come up with the concepts, and then I have my friend Ken MacLaurin in Ottawa (he also plays in bands – Mothers Children and Voicemail) creates them in adobe illustrator for me! Thanks Ken! I need to learn how to use photoshop.
Mike Lavin, who also worked with the Beach Boys, did the mastering for III. What do you feel that he added to your music?
I don't know if we're thinking about the same Mike Lavin, haha! The guy who mastered the album was a friend of a friend that lives in Las Vegas. I needed someone quickly and he did a great job.




You're from Ottawa, but you moved to California. Was it more easy to produce some music there?
Yes! Los Angeles, where I live, is a way bigger city filled with people who work in music. So there's many more options and people to work with here. It's great.
You're really close to Lolipop Records. You even created the jingle of Lolipop Connection. How did it happen?
Wyatt Blair, one of the guys who started Lolipop Records used to play bass in Peach Kelli Pop! We became really good friends through that. I think we will always be friends. We help each other out with random stuff when we can – lending each other equipment or collaborating on music. I was happy when he asked me to create the jingle! It was so fun to make.

TO CONCLUDE
Lots of artists don't much like to read comments about their music online. Do you sometimes check YouTube or Bandcamp comments on your songs to see if people liked it? If so, how important for you are this sort of feedback from the fans?
I shouldn't look, but sometimes I do. I think most people are curious what people say. A lot of the time it's really nice appreciative things, but then you see a couple mean or stupid comments and it's too easy to focus on them. I don't value what's written online so much as the conversations I have in real life with fans who come to the show. Meeting people who love the music makes playing in a band and writing music worthwhile.
What is the most exciting news about Peach Kelli Pop that you want to share with us?
We will be playing shows around Europe this September and October 2015! This is our biggest project currently. I'm working on a zine (my first ever) and I think it'll be really fun to read. I'm excited to play in a new band when I get back. I still don't know what it'll be, but I want it to be really heavy and dark.
Which band is the coolest you ever played with?
Quintron and Miss Pussycat! We also played with Katy Red, a bounce artist from New Orleans and it was a crazy dance party. Being from Canada, I had never seen anything like it.
When is your next LP coming?
Maybe next summer! But I might be focusing on a new project.
How do you imagine your discography in 20 years? Do you think you will produce another type of music one day (let's be very clear, not that I want to!)?
I like the idea of having 3 LPs per band. I like to look at a discography for each band as a series – that's why I kept a theme for each Peach Kelli Pop album cover. I hope I am in at least a few bands I am really proud of. I also wouldn't mind playing in another person's band.
What are your biggest influences besides musical ones?
I am inspired by my personal experiences and also people in my life. Relationships whether they be friends or lovers or people I meet briefly.
What other contemporary bands are you listening to?
Right now I am listening to the Courtneys from Vancouver, BC a lot. I play their CD in my van. I like a band called P.H.F from New Zealand a lot. Audacity, another SoCal band on Burger Records are amazing. King Tuff too. There's a great new-ish band in LA called Feels that I see play whenever I can.
I recently read that you enjoyed the french artist Soko, who is also on Burger Records. Any other french band you might like?
I am late and just started listening to Soko and I love her music so much. I don't know too many french bands so maybe you can recommend some. I hope I see some great ones while in France, we will be there a lot on this upcoming tour!
For the french bands, click over here: link
.
What is the most important question that nobody ever asked you? And you can answer it 🙂
I can't think of anything! I think you asked me every important question in this interview! Thank you for a great interview!
A word to conclude?
Come see us while we are on tour in Europe! We are so excited to be able to play in 13 countries over there. You can also see photos or read details of our trip on Instagram (
link
) and Twitter (
link
). THANK YOU!!!
(mp3) Peach Kelli Pop – Princess Castle 1987
***********
(english above, click here)
Salut Allie. Commençons par le commencement, qui est ton amoureux, Mario ou Luigi ?
Luigi ! Mario est très bon ami.

Comment vas-tu ces derniers jours ?



Le groupe et moi-même allons très bien, nous partons pour un long tour d'un mois en Europe donc nous sommes très excités.

Tu as beaucoup de succès dernièrement. As-tu le sentiment que cela pourrait, d'une certaine manière, avoir un impact sur votre musique ?

Je ne pense pas qu'être à la mode puisse influer sur notre musique, mais plutôt changer la perception que les gens peuvent avoir de nous. Selon moi, les gens aiment bien l'idée d'être différents et de trouver de nouveaux groupes que personne ne connaisse. Au final, ces gens-là ne seront probablement plus intéressés par Peach Kelli Pop, mais en contrepartie le bon côté d'être à la mode c'est que de nouveaux gens auront l'occasion d'écouter notre musique.

Sans hésitation, III est l'un des albums les plus intéressants de 2015. Tu fais le grand écart entre votre style musical, très pop, et les messages envoyés et j'aime beaucoup cela. Dis-nous de quoi parle cet album ?

Notre troisième album est un véritable pot-pourri de différents sujets. La plupart du temps, j'écris les chansons d'un album sur une longue période et ils finissent donc par être très différents les uns des autres. J'y ai inséré des thèmes qui me sont personnels, comme tomber amoureux et le sentiment de frustration que peuvent ressentir les femmes et puis aussi des chansons plus marrantes comme "Princess Castle 1987" et "The Sailor Moon Theme". Une partie de l'album traite de sujets sérieux et l'autre est plus légère.

Pour la première fois, cet album a été enregistré dans un vrai studio (ARW), en y ajoutant d'autres musiciens (notamment Wyatt Blair à la batterie). Certains artistes affirment que la manière dont il enregistre la musique n'influe pas sur elle, mais je ne peux m'empêcher de remarquer que les titres de III sont encore plus brillants que les précédant, alors finalement la différence entre lo-fi et hi-fi est bien réelle non ?

Oui ! Cet album est le premier pour lequel j'ai reçu de l'aide pour la production ou l'instrumentalisation. Je devais payer pour enregistrer dans le studio, du coup j'ai reçu de l'aide d'autres musiciens pour enregistrer les titres au lieu de jouer moi même chaque instrument les uns après les autres comme j'ai pu le faire dans le passé. Cela m'a fait gagner du temps et s'est avéré amusant. Katy Goodman des Vivian Girls et La Sera joue la basse et Ali Koehler des Vivians Girls et Upset m'a également aidé avec la batterie. Au final, j'ai fini par jouer avec une dizaine de musiciens différents pour lesquels j'ai beaucoup de respect.

Mon objectif en enregistrant cet album en studio était de conserver le style propre aux deux premiers albums de Peach Kelli Pop, tout en l'améliorant. Joel Jerome de ARW a fait un super boulot en ce sens.

Sous couvert de mélodies légères, III délivre un réel message. J'ai vu que tu étais frustrée par le fait que certaines personnes écrivent des critiques sans réellement faire attention aux textes. Crois-tu que cela soit un vrai problème en matière de critique musicale ? Finalement, est-ce que tu envisages de produire une musique moins bubblegum à l'avenir afin que les gens arrêtent de s'imaginer que tes chansons parlent de Barbie ?

Oui, j'étais frustré parce que des gens qui ne connaissaient rien de notre musique écrivaient des choses sur le nouvel album en se basant sur des préjugés qu'ils peuvent avoir. C'est comme s'ils avaient écrit leur critique après avoir écouté 10 secondes de l'une des chansons il y a 10 ans. Ils sont passés à côté de toute la substance de l'album. Je trouve cela décevant. Beaucoup de gens décrivent la critique musicale comme inutile et ce genre d'attitude renforce ce sentiment. L'évolution du nouvel album vers une musique plus rapide et entrainante s'est faite naturellement et cela change.

J'ai écrit le premier album, qui est beaucoup plus lent, il y a 5-6 ans – mais c'est aussi en partie volontaire parce que ce genre de chanson est beaucoup plus marrant à jouer en live. Je souhaitais aussi qu'on me prenne un peu plus au sérieux. J'ai l'impression que les gens peuvent délaisser notre musique à cause de l'esthétique et de la musicalité féminine du groupe, particulièrement sur les deux premiers albums.




Le titre "Shampoo" illustre la dualité de l'album. Cette chanson peut paraître un peu mièvre, mais dénonce aussi les magazines féminins ("Trying to be pure, perfect and clean, I'll be the best girl you've ever seen"). Le titre "Plastic Love" est de la même veine "Perfect 10, ageless, firm ». Comment se fait-il que tu ressentes le besoin d'évoquer ces problèmes sur cet album et pas dans les précédents.

Comme 99% des femmes, j'ai toujours été affectée par la pression sociale. J'ai toujours eu des avis assez tranchés sur ces sujets et j'ai souvent exprimé ma frustration. Je suppose que j'avais plus envie d'écrire sur d'autres sujets pour les deux premiers albums. Je ne vois pas réellement une raison à ce changement.

Sur le titre "Plastic Love", il est question de poupées plastiques. Peux-tu nous raconter comment ce titre s'est développé dans ton esprit ?

Dans cette chanson, j'écris sur le fait que, pour beaucoup d'hommes, la femme idéale serait une poupée plastique. Elle ne parle pas, l'homme a (évidemment) le pouvoir de tout contrôler, elle est tout le temps "parfaite" physiquement et toujours contente. L'homme n'a pas de compte à rendre, sur ce qu'il pourrait dire ou faire. Il est possible de la cacher dans ton placard si tu n'a pas envie de la voir.

"Big Man" (qui me rappelle des titres de Nobunny) est plus féministe et je me demandais si cela était nécessaire, dans le sens où cela pourrait créer une certaine frustration. De même, je me demande si passer directement à une société post-féministe ne serait pas la solution pour gagner ces batailles. Qu'en penses-tu ?

En écrivant cette chanson, je ne pensais pas à comment gagner une bataille ou passer à une société post-féministe. J'ai simplement écrit à propos de choses auxquelles d'autres femmes et moi-même sommes confrontées presque quotidiennement – être rabaissées et pas prises au sérieux par les hommes, le contrôle que peuvent exercer les hommes sur le corps des femmes par le biais de la politique, du droit et de la religion. Je crois que la chose à souhaiter serait que le femmes bénéficient du même respect et des mêmes droits que les hommes et en conséquence qu'il ne soit socialement pas acceptable de rabaisser les femmes dans la vie de tous les jours.

Cet album parle également d'amour impossible . Dans "New Moon", tu dis "You left me no light, you're out of sight". La musique Power Pop / Bubblegum parle généralement d'amour qui se réalise et non d'histoires impossibles. Qu'est-ce que ça fait d'être une rebelle ?

J'adore être rebelle ! Haha. "New Moon" inclue le doux-amer et la tristesse. Je crois que tout le monde peut s'identifier à ça lorsqu'il s'agit d'amour. Et puis, j'aime les chansons tristes.

À mon sens, III encapsule le son particulier de Burger Records et c'est un compliment. Cependant, j'ai entendu que tu n'avais jamais cherché à reproduire un son proche de celui de Burger Record. Finalement, tu es juste au bon endroit au bon moment, n'est-pas ?

Je suppose ! Sortir mes albums sur Burger Records a été incroyable, autant que de donner la possibilité à de nouvelles personnes d'écouter notre musique et de faire partie de cette super communauté. En revanche, je ne prête attention ni au label, ni à la "scène" ou à quoi que ce soit de semblable lorsque j'enregistre mes titres. J'écris seulement pour moi-même, j'écris et enregistre mes titres exactement de la manière dont j'aime les écouter et j'espère que d'autres gens les apprécieront également.

Tu as dit sur ton Bandcamp que les paroles de "Heart Eyes" sont "trop embarrassantes pour les mettre en ligne". Dis-nous tout, ça restera entre nous.

"Heart Eyes" est assurément la chanson la plus mièvre de l'album. Ça parle du fait d'avoir le béguin pour quelqu'un et d'être très excité. Les paroles sont proches des chansons du premier album – un peu trop mièvres. Cela me gène, mais rencontrer quelqu'un pour lequel on est tout excité et débuter une nouvelle relation est l'une des meilleures choses dans la vie, ça en fait donc un bon sujet de chanson.

ENCORE !




La scène Power Pop est fleurissante, notamment avec Warm Soda, Wyatt Blair, Ex Hed et quelques autres. Vois-tu aussi cette tendance ? Sens-tu que tu en fais partie ?

J'aime beaucoup tous ces groupes. Je pense qu'il se passe assurément quelque chose pour la Power pop en ce moment. La plupart des gens qui écoutent Peach Kelli Pop doivent écouter ces groupes.

J'ai interviewé Matthew Melton il y a un an, et nous avait fait un Power Pop contest. Es-tu d'accord pour le faire également ? Tu dois simplement choisir ta proposition préférée :
Alex Chilton v. Big Star : Big Star
Milk N Cookies v. The Modern Lovers : Milk n Cookies!!!
The Real Kids v. The Replacements : Replacements
Flamin' Groovies v. Tom Petty : Flamin' Groovies
Ferris Bueller v. Animal House : Ferris Bueller

(voir les réponses de Matthew Melton à ce lien : ici)
De nombreux artistes jouent dans différents groupes. Tu es également à la batterie pour The White Wires. Comment gères-tu ça, notamment les tournées ?
White Wires est en berne depuis que j'ai déménagé aux Etats-Unis. Et puis, Ian, le chanteur et guitariste, a eu un enfant il y a peu. Mais on adore jouer ensemble lorsque je reviens à Ottawa, ce qui arrive toujours plusieurs fois chaque année. C'est toujours fun et sans prise de tête. J'essaie toutefois de plus me concentrer sur Peach Kelli Pop pour le moment, ce qui me prend beaucoup de temps. Beaucoup de gens me disent qu'ils aimeraient que White Wires fasse une tournée, alors, qui sait, peut-être un jour…

Est-ce que tu as fait des collaborations récemment que tu t'apprêtes à sortir ? Le split avec les Pats Pats était si cool…

Ah, je suis contente que tu aies aimé la cassette. Les Pats Pats (de Tokyo) sont SI cool ! Kate Goddman du groupe La Sera et moi parlons aussi de faire un projet ensemble. Ça serait super cool. Lorsque je reviendrai de ma tournée pour III, j'ai bien l'intention de créer un nouveau groupe, quelque chose de plus collaboratif.

A propos de collaborations, qui réalise tes pochettes ?

J'ai eu l'idée de ce style de pochette et c'est Ken MacLaurin (de Ottowa, qui joue aussi pour les groupes Mothers Children et Voicemail) qui les a réalisés. Merci Ken ! Faudrait quand même que j'apprenne à me servir de Photoshop…
Mike Lavin, qui a également travaillé sur un album des Beach Boys, a réalisé le mastering de III. Qu'a-t'il apporté à ta musique ?
Je ne sais pas si on parle du même Mike Lavin, haha ! Celui qui a masterisé mes albums est l'ami d'un ami qui vit à Las Vegas. J'avais besoin de trouver quelqu'un rapidement et je dois dire qu'il a fait du super boulot.
Tu es originaire d'Ottawa, mais tu as récemment déménagé en Californie. Est-ce principalement parce qu'il est plus facile de produire de la musique pour toi ici ?
Oui ! Los Angeles, où je vis actuellement, est une ville remplie de gens qui font de la musique. Il y a donc beaucoup d'options, c'est cool !
Tu es très proche de Lolipop Records. Tu as même créé le jingle pour leur Lolipop Connection. Comment ça s'est fait ?
Wyatt Blair, un des créateurs de Lolipop Records, jouait de la basse pour Peach Kelli Pop. Nous sommes devenus super amis et nous nous aidons constamment depuis. J'étais super contente qu'il me demande de créer le jingle, c'était cool à faire !
Beaucoup d'artistes n'aiment pas lire ce qui se dit sur eux. Est-ce que tu regardes les commentaires sur YouTube ou Bandcamp ? Dans quelle mesure prends-tu en compte l'avis de tes auditeurs ?
Je ne devrai pas regarder, mais je le fais parfois. Je pense que la plupart des gens sont curieux de savoir ce que l'on dit sur eux. Je tombe sur des compliments la plupart du temps, mais je n'arrive jamais à me sortir de la tête les choses désagréables, même si je ne donne pas autant d'importance à ce que je lis en ligne par rapport à ce que me disent les gens en face à face. Partir à la rencontre des gens qui apprécient ma musique donne un sens à Peach Kelli Pop.
Quelle est la nouvelle la plus excitante que tu voudrais partager avec nous à propos de Peach Kelli Pop ?
Nous serons en Europe durant les mois de Septembre et Octobre 2015. C'est notre plus gros projet actuel. Je travaille également sur la création d'un zine (mon premier) et je suis sûr que ce sera super cool à lire. Je suis aussi impatient à l'idée de créer mon nouveau groupe. Je ne sais toujours pas de qui il sera composé, mais j'ai envie qu'il soit super noir.
Quel est le groupe le plus cool avec lequel tu aies déjà joué ?
Quintron et Miss Pussycat ! On a également joué avec Katy Red, un artiste de la Nouvelle Orélans, c'était fou. Moi qui viens du Canada, je n'avais jamais vu autant de gens danser…
Ton prochain album est prévu pour quand ?
Peut-être pour l'été prochain, sauf si je me concentre sur mon autre projet avant ça.
Comment imagines-tu ta discographie dans 20 ans ? Penses-tu produire un autre style de musique un jour (non pas que je le veuille hein !) ?
J'aime l'idée d'avoir 3 albums par groupe. Je conçois les discographies comme des sérieux, c'est pourquoi je garde toujours le même thème pour les pochettes de Peach Kelli Pop. J'espère que j'aurai l'occasion de jouer dans plusieurs groupes que j'aime. Et puis, je ne suis pas contre l'idée de jouer dans le groupe de quelqu'un d'autre.
Quelles sont tes influences en dehors de celles musicales ?
Je suis inspirée par mes expériences personnelles et les gens que je rencontre. Les relations que je tisse avec mes amis et mes amoureux comptent beaucoup…
Quels autres groupes contemporains écoutes-tu ?
J'écoute beaucoup The Courtneys (de Vancouver). Je joue toujours leur musique dans mon van. J'aime bien aussi un groupe qui s'appelle P.H.F., originaire de la Nouvelle Zélande. Et puis, Audacity et SoCal (sur Burger), sans oublier King Tuff. Il y a pas mal de jeunes groupes à L.A., je vais les voir jouer dès que j'en ai l'occasion.
J'ai récemment lu que tu aimais la musique de Soko, une artiste française également produite par Burger. Il y a t'il d'autres groupes français que tu aimes ?
J'ai tout juste commencé à écouter Soko, j'aime bien sa musique en effet. Je ne connais pas trop de groupes français, tu pourrais m'en recommander ? J'espère avoir l'occasion d'en croiser pas mal quand je viendrai en France pour notre tournée.
Easy, voici le lien pour les groupes français : ici. Maintenant, quelle est la question la plus importante que l'on ne t'ait jamais posé ? Et peux tu y répondre ? 🙂
Aucune idée. Je dirai que tu m'as posé toutes les questions importantes au cours de cet interview. Alors, merci pour cet interview bien cool !
Le mot de la fin ?
Venez nous voir jouer en Europe ! On est super excités à l'idée de jouer dans 13 pays différents. Vous pouvez également voir nos photos sur
Instagram
ou
Twitter
. Merci !!!
*********
Liens afférents :