Interview

The Courtneys
(English) For a long time now Still in Rock has expressed its desire to interview the Courtneys and it is finally a great honor to publish it today. This band has already released a superb first LP. This interview tells us that he is about to release a second LP before the end of this year. Rare enough to be noticed, The Courtneys is one of those bands that answer to all questions. And if the Courtneys are among the greatest of the scene, I am very happy to see that he has not forgotten to keep all the chill of the nineties that its music translates so well.
(French) Cela fait longtemps que Still in Rock a exprimé le désir d'interviewer les Courtneys, et c'est un grand honneur que de pouvoir finalement vous le présenter aujourd'hui. Ce groupe, qui fait partie de la crème des all-girl bands, a déjà fait paraître un premier opus de haut vol. Cet interview nous apprend qu'il s'apprête à sortir un deuxième LP avant la fin de l'année. Fait suffisamment rare pour être noté, The Courtneys fait partie de ces groupes qui répondent à toutes les questions. Vous devinerez facilement ceux qui ne se sont pas totalement prêtés au jeu en comparant la longueur des interviews précédents. Si les Courtneys font partie des grands de la scène, on constatera avec plaisir qu'il n'a surement pas oublié de conserver l'esprit chill-nineties que sa musique traduit si bien.

———

INTRODUCTION


– How would you describe your music to someone who has not heard about you yet?
– Comment décrirez-tu ta musique à quelqu'un qui ne la connait pas ?
Sydney : We usually say 90's grunge or slacker pop. We like to mention Sonic Youth, Dinosaur Jr., Pavement, The Clean, The Breeders, etc…
Sydney : On dit généralement que l'on fait du grunge nineties ou de la Pop Slacker. On aime bien mentionner Sonic Youth, Dinosaur Jr., Pavement, The Clean, les Breeders, etc…


—–

- Some of your music reminds me of the Flyin Nun's sound. Is it a source of inspiration for you?
– Votre musique me rappelle souvent le son de Flyin Nun. Est-ce une véritable source d'inspiration pour vous ?
Sydney : Absolutely. We recently went to New Zealand and got to meet the people behind Flying Nun, it was a dream for us!!

Sydney : Tout à fait ! Nous étions récemment en Nouvelle-Zélande et avons pu rencontrer les gens du label, un rêve devenu réalité !
—–

- Why did you chose to play some Slacker Pop music? Also, is it just a "step" for you or do you intend to play this kind of music for your entire life?
– Pourquoi avoir choisi de jouer de la Slacker Pop ? Est-ce une simple "étape" pour vous ou comptez vous continuer dans le même registre ?
Sydney : We all love different types of music and have been in projects before this one that sounded quite different, i'm sure there will be others in the future!
Jen : I for one intend to play slacker pop music for all eternity! But for real, I'd love to play in a 70's classic rock inspired band one day.
Courtney : My next band is going to be sensual new age music.


Sydney : Nous aimons tous des styles de musique assez différent et, avant The Courtneys, nous avons été dans des projets assez variés. Et je suis sûr qu'il y en aura d'autres dans le futur.
Jen : Pour ma part, j'entends bien jouer de la Pop Slacker pour l'éternité. J'aimerai bien jouer du rock classic façon seventies un jour aussi.
Courtney : La musique de mon prochain groupe sera de la new age sensuelle.
—–

- So, you released one single last year, and already one this year. The question in everybody's mind is the following: when is your next LP coming out?
– Bon, vous avez fait paraître un single l'an dernier et un cette année. La question est la suivante : QUAND est-ce que votre prochain LP sortira ?
Sydney : We are finishing up recording our next album this may. Hopefully it will be out before next year.

Sydney : Nous finissons d'enregistrer notre prochain album en Mai. On espère qu'il sortira avant la fin de l'année.
—–

- Will "Lost Boys" and "Mars Attacks" be on it?
– Est-ce que "Lost Boys" et "Mars Attacks" seront dessus ?
Sydney : The exact track listing has not been decided yet.

Sydney : La tracklist n'est pas encore fixée.
—–

- "Mars Attacks" features Young Braised. How did you meet him?
– "Mars Attacks" features Young Braised. Comment l'avez vous rencontré ?
Sydney : Young Braised is an awesome musician from Vancouver. Jen met him because they worked together, and we all became friends. We are always happy to run into Jaymes or see his shows – he is a great performer and a super nice guy.

Sydney : Young Braised est un super musician de Vancouver. Jen travaillait avec lui et ils sont devenus amis. On adore toujours aller voir ses lives et c'est un mec super, alors…
—–

- Do you intend to do more collaborations/featuring? If you could use one actual artist to do another, who would it be?
– Avez vous l'intention de faire plus de collaboration ? Si vous pouviez choisir un autre artiste de la scène actuelle, qui serait-il ?
Sydney : Not sure! We will have to see what happens! It would be pretty funny to collaborate with our buddy Mac DeMarco. He once played drums for Jen and Sydney's previous band, and it was hilarious.

Sydney : Je ne sais pas, on verra bien ! Ce serait plutôt cool de collaborer avec notre pote Mac DeMarco. Il a joué à la batterie pour Jen une fois et dans le précédent groupe de Sydney, c'était assez délirant.
—–

- Your music is sincere and take deep inspirations. Is music a family thing for all of you? Did you grew up listening to a lot of punk rock/grunge?
– Votre musique est sincère et semble puiser des sources profondes. La musique, c'est un truc de famille pour vous ? Avez-vous grandi en écouter du punk et du grunge ?
Sydney : Thank you! We all grew up listening to different types of music. Because we are all born in the mid 80's we were definitely exposed to lots of grunge because it was on the radio all the time. 

Sydney : Merci ! Nous avons tous grandi dans les années '80 en écoutant différents styles de musique et puis nous avons été exposées à beaucoup de grunge quand c'était la mode.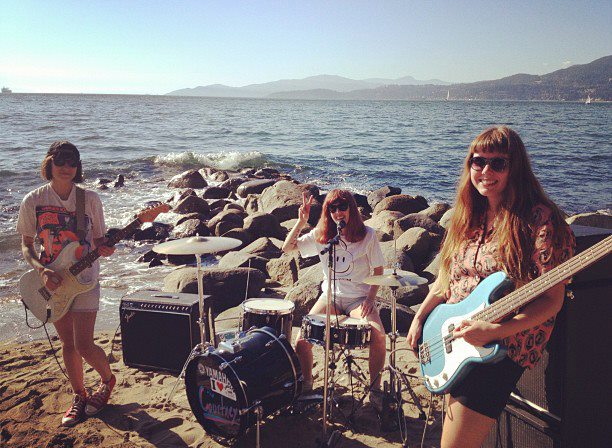 AROUND THE MUSIC


- The nineties are very popular those days, and many bands are playing related music. Would you play some Nickelback' type music in few years?
– La musique des années '90 est très populaire aujourd'hui et beaucoup de groupes s'y essaient. Pensez-vous que l'on verra un retour de Nickelback dans quelques années ?
Sydney : Ewwwwwww. I hope not. Grunge sure produced some terrible music.

Sydney : Errrrkkkkkkkkk. J'espère pas. Le grunge a assurément produit des choses terribles…
—–

- Do you feel close to the riot grrrl movement? Do you feel like the scene need another girl-power moment or is this all fight over?
– Vous sentez vous proche du mouvement Riot grrrl ? Pensez-vous que l'émergence d'un autre mouvement girl-power soit nécessaire ou le combat est-il fini ?
Sydney : We often get compared to Riot grrrl, although we don't think this is very accurate. Our lyrics are not explicitly political at all. I often wonder if this comparison is just because we are all female. The fight will be over when people get treated the same regardless of gender.

Sydney : On est souvent comparé à du Riot grrrl bien qu'on ne pense pas que ce soit très juste. Nos paroles ne sont jamais explicitement politique. Je me demande souvent si cette comparaison vient du fait que nous soyons un all-girl band. Le combat n'est pas terminé, il le sera quand tout le monde sera traité de la même façon, indépendamment du sexe.
—–

- Maybe you feel closer to the these all-girls band playing some kinda Punk Rock, like The Slits?
– Peut-être vous sentez vous plus proche de ces groupes féminins qui jouent du Punk, comme les Slots ?
Sydney : We generally don't relate to bands based on the fact that they were also born female. We relate to bands that make music that we love. 

Sydney : On ne s'identifie vraiment pas à d'autres groupes à cause du fait que les membres soient également des filles. On s'identifie à d'autres groupes qui font de la musique que l'on aime.
—–
– I recently wrote (here) about this musical press which is constantly pursuing "cool bands" so they can pretend to be 'avant-gardiste'. As an artist, what do you think of that? Do you feel like it's easier to become famous if musicians are good looking and kinda cool?
– J'ai récemment écrit (ici) sur cette presse musicale constamment à la poursuite de "groupes cool" afin de pouvoir se revendiquer "avant-gardiste". Qu'est-ce que cela vous inspire en tant qu'artistes ? Avez-vous le sentiment qu'il est plus simple de se faire connaitre si les musiciens sont beaux et plutôt cool ?
Sydney : I simply hope journalists will write about bands whose music they like. 

Sydney : J'espère simplement que les journalistes écriront sur les groupes dont ils apprécient la musique.
—–

- What do you think about the Canadian music scene? Is there a real sharing experience, or is it more about individual goals?
– Que pensez-vous de la scène musicale Canadienne ? Y-a-t-il un réel partage ou est-ce plus individualiste ?
Courtney : Community seems to be important, from what I've seen anyways.

Courtney : De ce que j'ai pu voir, la communauté a l'air d'être importante.
—–

- I remembered interviewing Canadian bands who were telling me about their wish to leave Canada and go live in the US. Is it your case?
– Je me rappelle avoir interviewé des groupes Canadiens qui m'exprimaient leur souhait de quitter le Canada pour vivre aux États-Unis. Est-ce votre cas ?

Courtney : Not really, but who knows!

Jen : I don't really have any motivation to go to the US for band/music related reasons – although it would make touring easier. I do, however, wish I could live in the US for personal reasons. They just have so many more options when it comes to cool cities to live in!
Courtney : Pas vraiment, mais qui sait !
Jen : Je n'ai pas vraiment de motivation liées à la musique pour partir aux États-Unis, bien que cela rendrait les tournées plus simples. Cependant, j'aimerais pouvoir vivre aux États-Unis pour des raisons personnelles. Et puis, il y a tellement de villes sympas où s'établir !
—–

- On a different subject, I read some stories about your haunted guitar. Can you explain?
– Sur un autre sujet, j'ai lu quelques histoires à propos d'une guitare hantée. Pouvez-vous nous expliquer ?
Courtney : We have a specific guitar where weird things happen on stage with it, usually unexplainable rhythmic swells in volume or distortion. There are specific songs the guitar likes to haunt more than others. So we always have a backup guitar too.

Courtney : Nous avons une guitare bien particulière avec laquelle il se passe toujours des choses étranges sur scène, généralement il s'agit de déferlements sonores ou de distortions inexpliqués. Il y a des chansons que la guitare aime hanter plus que d'autres. Du coup, on a toujours une guitare de secours en plus.

TO CONCLUDE
– What is the most exciting news about The Courtneys that you want to share with us?
– Quelle est la nouvelle la plus excitante à propos des Courtneys que vous souhaitez partager avec nous ?
Sydney : We just wrote the last song for our next album.
Sydney : On vient tout juste d'écrire la dernière chanson de notre prochain album.
—–



- How do you see the future of The Courtneys?
– Comment voyez-vous le futur des Courtneys ? 

Sydney : Lots of cruising in our convertible 

Sydney : Avec beaucoup de virées dans notre cabriolet.
—–

- Who is the coolest band you played with?
– Quel est le groupe le plus cool avec lequel vous avez joué ?
Sydney : We really enjoyed playing with The Soft Pack, Parquet Courts, Dilly Dally, and of course, Tegan and Sara!
Sydney : On a beaucoup aimé jouer avec The Soft Pack, Parquet Courts, Dilly Dally et bien sur, Tegan and Sara!

—–

- When are you coming to play in France?
– À quand un passage en France ?
Sydney : Hopefully soon!

Sydney : Bientôt on l'espère!
—–

- Can you give us a list of your TOP 5 artists ever?…
– Pouvez-vous nous donner la liste de vos 5 artistes préférés ?
Sydney : That would be totally different for each member of the band. Collectively, we all really love U2, Fleetwood Mac, Pavement, The Clean, Eddy Current Suppression Ring
Sydney : La liste serait très différente pour chacun des membres du groupe. De manière collective, on aime toutes U2, Fleetwood Mac, Pavement, The Clean et Eddy Current Suppression Ring.
—–

- … and which other contemporary bands are you listening to?
– … et quels autres groupes contemporains écoutez-vous en ce moment ?
Sydney : I love the french band SIDA, whom my other band, Shearing Pinx, toured with last Fall. I also love the dreams and point invisible (both from France)
Jen : Lately I've been listening to Tonstartssbandht a lot.
Sydney : J'adore le groupe français SIDA, avec lequel mon autre groupe, Shearing Pinx, a tourné cet automne. J'aime également The Dreams et Point Invisible (tous deux français) 

Jen : J'ai écouté beaucoup de Tonstartssbandht dernièrement.
—–

- I did the test "Which Courtney Are You", which was kinda weird to do because I'm a guy. Anyway, I got Jen. Which one did you get?


– J'ai fait le test "Quelle Courtney êtes vous", ce qui était assez étrange à faire vu que je suis un mec. Bref, j'ai eu Jen. Lesquelles avez-vous eu ?
Sydney : It's not weird at all. We all get ourselves when we do the quiz, duh!
Sydney : Ça n'a rien d'étrange. On s'est toutes eu nous-même en faisant le quiz, duh!

—–

- What is the most important question that nobody ever asked you? And you can answer it
– Quelle est la question la plus importante que personne ne vous a jamais posé ? Et pouvez-vous y répondre ?
Courtney : No one has ever asked us "do you have a baseball team?" And the answer is "yes."
Courtney : Personne ne nous a jamais demandé "avez-vous une équipe de baseball?" Et la réponde est est "oui".
—–
– A word to conclude?

– Le mot de la fin ? 

Sydney : Thanks for the interview! Hope to see you in France soon!
Sydney : Merci pour l'interview! On espère vous voir bientôt en France!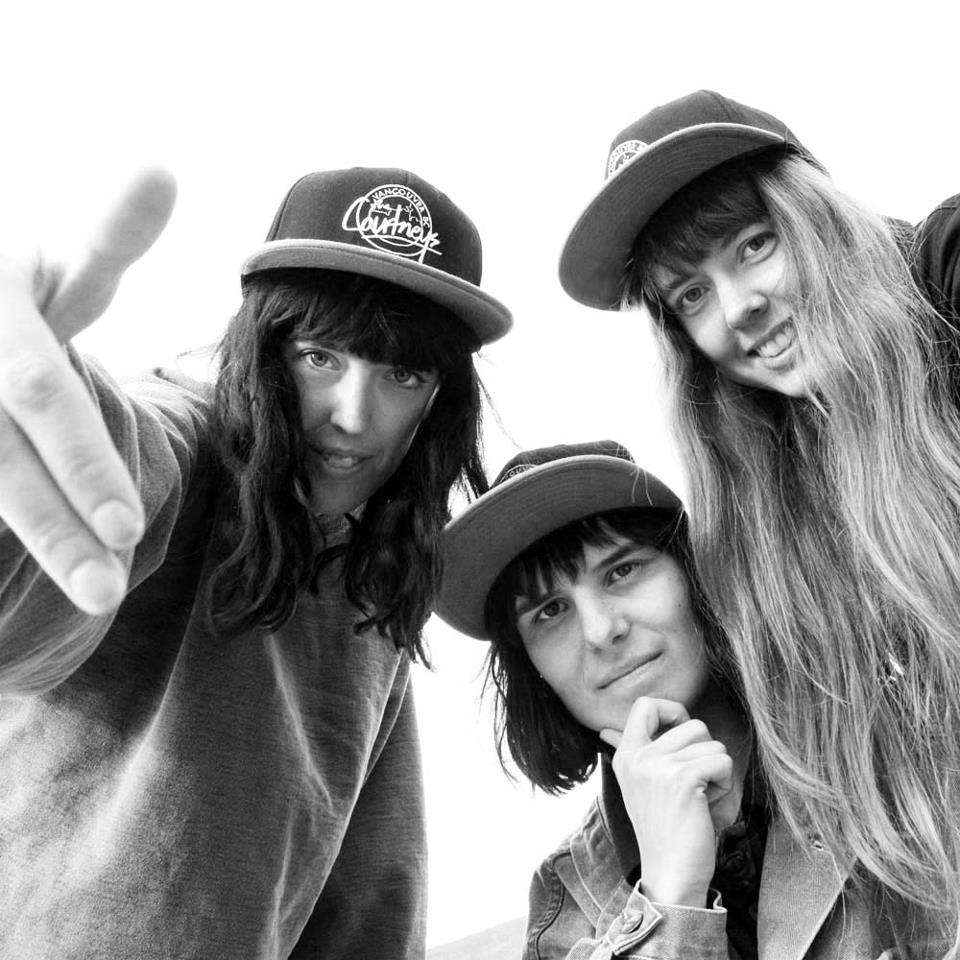 (mp3)
The Courtneys – Mars Attacks
(2015)
(mp3)
The Courtneys – The Lost Boys
(2014)
Liens afférents :
Article sur le single "Lost Boys"
Classement Still in Rock des 77 meilleurs titres de 2014