Non seulement ces quatre gars-là nous ont livré en 2010 un album de toute beauté, mais en plus, ils auront été au long de cet interview réellement ouvert. Ils ne se prennent pas la tête (alors qu'il y aurait de quoi), répondent aux questions avec humour, en bref, Everything Everything est votre indispensable. L'interview avec le chanteur du groupe, juste pour vous.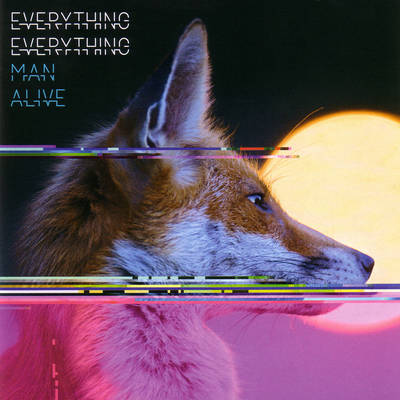 ———-
Why a fox ?
Pourquoi un renard ?
A song on the album called 'Tin' is about a fox moving through a city at night. We all liked the imagery and thought the fox would make a good symbol for the whole album.
Une chanson de l'album s'appelle "Tin" (boîte de conserve). C'est au sujet d'un renard arpentant une ville la nuit. On a aimé l'image et pensé qu'un renard ferait un bon symbole pour l'album entier.
—–
Why "Everything Everything" ?
Pourquoi "Everything Everything" ?
We liked the feeling of possibility and optimism that's created by doubling up the word into something which is actually impossible, and it also looks good, sounds good, and is easy to remember.
On a aimé le sentiment d'optimisme et de potentialité créé par la répétition et la transformation du mot en quelque chose d'impossible. Mais aussi ça rend bien, ça sonne bien, et c'est facile à retenir.
—–
Manchester rock music has been lacking inspiration for a while. Do you feel pressured by some hopes people might put into you ?
Le rock de Manchester était en mal d'inspiration depuis un petit moment, beaucoup d'espoirs sont portés sur vous. Cela vous met-il la pression ?
All bands have pressure on them to be as good as they can be, wherever they live. We don't feel any pressure, but it's very nice to have a lot of attention from the city, and from outside it, because of the great musical history.
Tous les groupes ont la pression, l'ambition d'être aussi bons que possible, où qu'ils vivent, où qu'ils jouent. On ne ressent pas de pression, mais c'est agréable de recevoir beaucoup d'attention de la part de la ville, mais aussi d'ailleurs, à cause du grand passé musical de Manchester.
—–
Where do you like best to perform ? London or Manchester ?
Préférez vous donner des concerts à Londres ou Manchester ?
Manchester has started to really feel like a homecoming when we've played it recently, we come from all over the country but we live here, and we have a strong fanbase now which is amazing.
On commence vraiment à se sentir comme chez nous à Manchester, particulièrement les dernières fois où on y a joué. On vient tous de différents coins du pays, mais on vit ici, et on a un solide groupe de fans, ce qui est génial.
—–
To what extent is your music influenced by Oasis ?
Quelle est l'influence d'Oasis dans votre musique ?
Most of us were fans of Oasis' first two albums when we were young. There isn't any kind of direct influence in our band that I can think of, though they do value melody highly and I guess we do too.
La plupart d'entre nous étions fans des deux premiers albums d'Oasis quand nous étions plus jeunes. Nous n'avons pas vraiment d'influence directe dans notre groupe, en tout cas pas qui me vienne à l'esprit, mais Oasis prête beaucoup d'importance à la mélodie, tout comme nous je pense.
—–
Noel or Liam? What is your opinion about Liam's new band, Beady Eye ?
Plutôt Noel ou Liam ? Que pensez-vous de Beady Eye (le nouveau groupe de Liam) ?
They only work as a pair really. I've heard a bit of it and it sounded like anyone would expect – a retro sounding band with Liam singing.
Franchement, je trouve qu'ils ne fonctionnent bien qu'à 2. J'ai un peu écouté Beady Eye et ça sonnait comme chacun aurait pu s'y attendre: un groupe rétro avec Liam au micro.
—–
Your music is a mix between rock and other universes. Where does this artistic maturity come from ?
Votre musique est faite de rock et plusieurs autres univers entremêlés. D'où vous vient cette maturité musicale ?
We try not to be snobby about genres and styles, though we probably still are. Sticking to one set of cliches within a genre is very boring and unexciting so we like to step out and squat in the other camps often.
On n'essaie de ne pas être trop snob à propos des genres et des styles, bien que nous le soyons probablement quand même encore. Coller à une série de clichés d'un genre est très ennuyeux et loin d'être excitant, donc on aime bien passer les barrières et squatter les autres camps le plus souvent possibles.
—–
What does "My Kz, Ur Bf" (My Keys, Your Boyfriend) mean ?
Que signifie "My Kz, Ur Bf" ?
The title takes elements from the lyric – "my keys" are thrown during the song, "your boyfriend" is blown up by an explosion during the song, at the same moment the keys are thrown. The song takes place in a very chaotic, exploding scene – using this title I was trying to evoke a sense of confusion and mixed up logic – small memories from the explosion that were only in snatches.
Le titre reprend des éléments des paroles: "my keys" sont lancées pendant la chanson, "your boyfriend" explose dans la chanson au même moment que les clés sont jetées. La chanson s'inscrit dans une scène très chaotique et explosive. En utilisant ce titre, j'essayais de faire naître un sentiment de confusion et d'illogisme: de petits souvenirs fragmentés de l'explosion.
—–
What is your favorite song in the album ?
Votre chanson préférée de l'album ?
This changes all the time, I really like the end of Schoolin' at the moment.
Ça change tout le temps. En ce moment j'aime vraiment la fin de Schoolin.
—–
You've been ranked #17 in the UK albums Chart. What's the next step ?
Vous avez été 17 du UK Albums Chart. Quel est le prochain objectif ?
New material is being demoed and lots of touring this year.
On fait des démos de nouvelles chansons, et on prévoit de beaucoup tourner cette année.
—–
The music videos from "My Kz Ur BF" or "Photoshop Handsome" do not look like each other at all ! Where did those ideas come from ?
Les clips de "My Kz Ur BF" ou "Photoshop Handsome" semblent à l'opposé. D'où vous sont venues les idées ?
Both of those videos have been done twice which perhaps adds to the confusion. We start with the song, usually the lyrics will lend some images that can be made real in film. We want our visuals to be as diverse as our music, so people never predict what is coming next.
Ces deux vidéos ont été faites deux fois ce qui ajoute peut-être à la confusion ! On commence avec la chanson, en général les paroles véhiculent des images qui peuvent être matérialisées dans une vidéo. On veut que nos visuels soient aussi divers que notre musique, comme ça les gens ne peuvent jamais deviner à l'avance ce qui va suivre.
—–
What has been the strongest feeling brought to you by the band ?
La plus forte émotion que vous ait procurée le groupe ?
Abject horror.
Une horreur abjecte.
—–
What is your most improbable objective ?
L'objectif le plus improbable que vous ayez ?
To break America.
Réussir aux US.
—–
Do you hang out with other bands ?
Fréquentez-vous d'autres groupes ?
We see Delphic, Dutch Uncles and Egyptian Hiphop occasionally in Manchester. We absolutely hate them all though and fight with them very hard.
On voit de temps en temps Delphic, Dutch Uncles et Egyptian Hip Hip à Manchester. Par contre on les déteste absolument tous et on se bat tout le temps.
—–
Some of your label buddies include (…). Who is your favourite ?
Votre label est aussi celui d'un grand nombre d'artistes. Votre préféré ?
We all have a soft spot for The Saturdays.
On a un petit faible pour The Saturdays.
—–
Bonus : Where did you buy the tricoloured jumper which is in "My Kz, Ur Bf" ?
Où avez-vous acheté le pull tricolore sur le clip My Kz, Ur Bf ?
On Oldham Street in Manchester there is a shop that sells loads of old clothes for £3 or less. I don't think it has a name. It's huge and smells – it's really good though if you look for ages. That jumper unfortunately lost it's elasticity in the wash and is now a bit limp and big.
Dans Oldham Street à Manchester il y a un magasin qui vend plein de vieilles fringues pour £3 ou moins. Je ne pense pas qu'il ait un nom. C'est immense et ça pue, mais c'est génial si tu passes du temps à farfouiller. Malheureusement ce pull a perdu son élasticité en passant à la machine et maintenant il est un peu distendu et trop large.