Everyday a Sunday
(new project)
About the name of this new project, Everyday a Sunday: "I actually like that name. Everyday a Sunday cos powerpop and punk is my jam and it's stupid like Sunday". (Mazz).
Who is Mazz? Mazz is my very good friend from Brooklyn, one of those nerdy dudes who knows nothing about music. He's known in certain circles as a weirdo who spends way too much time trying to guess what song is playing at bars. He likes to play pool while listening to bad folk hybrid Bob Cash.
But most of all, don't forget that music lives in the heart of every good Christian. Mazz is now on Still in Rock to bore us all to death so we can sooner meet the Holy Spirit.

—–
A propos de ce nouveau projet, Everyday a Sunday : "Ouais j'aime bien ce nom. Everyday a Sunday parce que powerpop et punk c'est mon dada et que c'est stupide comme un dimanche".
Qui est Mazz ? Mazz est un très bon ami de Brooklyn, un de ces premiers hipster qui ne connaît à peu près rien en matière de musique. Il est connu pour être du cercle obscur de ceux qui consacrent bien trop de leur temps à essayer de deviner la musique diffusée dans les bars. Il aime aussi jouer au billard en écoutant la
mauvaise folk hybride de Bob Cash. Mais avant tout, n'oubliez pas que la musique vit dans le coeur de tout bon Chrétien. Mazz est à présent chroniqueur sur Still in Rock dans le but de nous ennuyer à mourir et que l'on puisse enfin rencontrer le Saint-Esprit.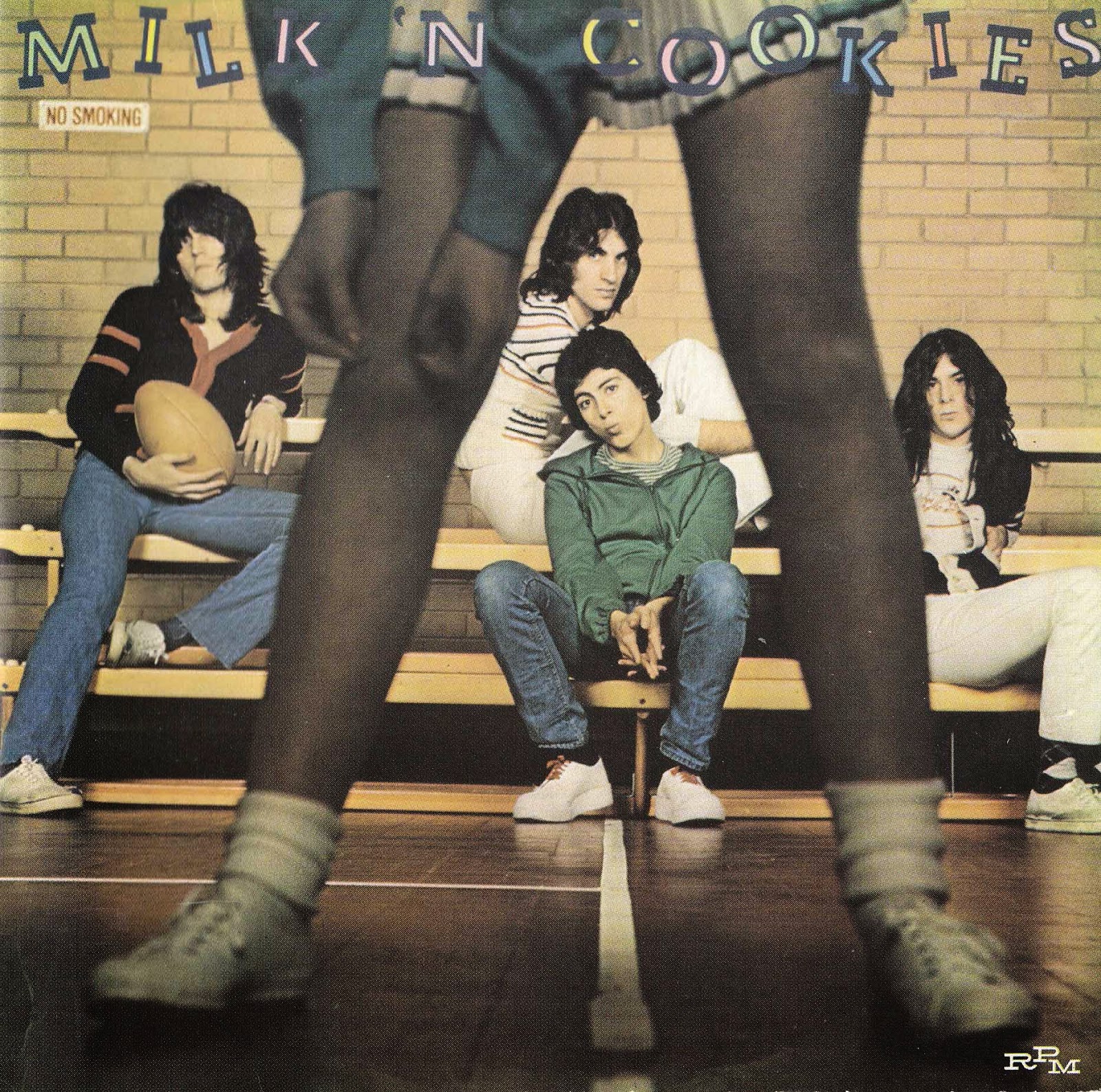 — ENGLISH VERSION (french below)
I first heard about Milk 'N' Cookies sometime in the early oughts through a friend. She recommended them to me during my desperate obsession with Johnny Thunders, which has since unfortunately faded, and gave me a copy of the album. I really didn't know what to make of her thoughtful suggestion because at that point I was listening to "Hurt Me" so often that I didn't see much point to listening to anything that
sounded
similar
to Johnny Thunders that I
wasn't
already listening to. I finally got around to listening to Milk 'N' Cookies thanks to a drunken buddy who
put em on after hijacking my stereo because he knew I could be stubborn about trying new things. He was right, I was being stubborn because I was hooked on Milk 'N' Cookies just as soon as "Tinkertoy Tomorrow" started to play.

Milk 'N' Cookies is an incredibly accessible, effortless, low-brow excursion into the depths of pop music that few artists are capable of matching. From start to finish the album is strange, gleeful and witty. Tracks like "Rabbits Make Love" and "Typically Teenage" match the saccharin pop sweetness that make bands like the Runinoos and the Pointed Sticks so popular with power pop fans, but with an absurd lecherous gloss that highlights and heightens just how ridiculous pop lyrics can be. Songs like "Tinkertoy Tomorrow", "Six Guns", and "Buy This Record" sound like what I imagine Sparks would sound like if they were fronted by a sober teenage Johnny Thunders; straddling the sidelines of punk, glam, and whatever the hell power pop is supposed to be. And that's why it's such a good record.

Like a lot of music from this era (1977) that wasn't proggy Tolkien wankery or didn't include incredibly dated sounding instrumentation (more cowbell, anyone?). Milk 'N' Cookies sounds ahead of its time for some reason. Maybe it's because rock n roll made by good humored jerks tends to be good? I suppose the reasons why don't much matter. This is a superb pop record that finds a refreshing balance between early 70's New York glam and new wave era punk-pop trashy (See Killed by Death). Do I think it sounds like Johnny Thunders? A little, but this record is unique, innovative and is still highly influential (See Hunx and his Punx, Nobunny, etc). You should really listen to it now and then buy this record.

— FRENCH VERSION

C'est une amie qui m'a parlé de Milk 'N' Cookies pour la première fois, au début des années 2000. Elle pensait vraiment que j'aimerai ce groupe à cause de mon obsession pour Johnny Thunders – depuis malheureusement tombé dans l'oubli – et c'est pour ça qu'elle m'avait donné une copie de l'album. En réalité, je ne sais vraiment pas pourquoi elle m'avait fait cette suggestion car j'écoutais "Hurt Me" à un tel point que je ne voyais pas vraiment pourquoi écouter quelque chose de similaire à Johnny Thunders que je n'écoutais pas déjà. Finalement, j'ai fini par écouter Milk 'N' Cookies grâce à un ami bourré qui a détourné ma stéréo parce qu'il savait à quel point j'étais têtu quant à l'idée de découvrir quelque chose de nouveau. Il avait raison, j'avais été trop têtu car en réalité j'ai adoré Milk 'N' Cookies juste après que "Tinkertoy Tomorrow" ait commencé.

Milk 'N' Cookies est un album incroyablement accessible et évident, une excursion dans les fins fonds de la musique pop que seuls quelques articles sont capables d'atteindre. Cet album est étrange du début à la fin, drôle et enchanté. Des titres tels que "Rabbits Make Love" et "Typically Teenage" sont faits d'une pop sucrée et édulcorée qui a fait la réputation de groupes tels que
Runinoos
et Pointed Sticks, très populaires sur la scène power pop, mais comme vernis d'une dépravitude qui souligne et accroît combien pop peuvent être ces paroles. Des titres tels que "Tinkertoy Tomorrow", "Six Guns" et "Buy This Record" résonnent comme si Sparks avait été emmené par un Johnny Thunders version sobre, chevauchant les frontières du punk, glam et de tout ce que l'on peut appeler power pop. Et c'est précisément pour cette raison que c'est un si bon album.

Comme beaucoup de musique issue de cette période (1977), ce n'est pas vraiment proggy et n'inclut pas un son incroyablement daté (plus de cloches, quelqu'un ?). Milk 'N' Cookies est en avance sur son temps pour plusieurs raisons. Est-ce principalement parce que le rock 'n' roll fait par de bons gars est toujours cool ? Après tout, je suppose que la raison importe peu. C'est un album fait d'une superbe pop qui propose de très intéressantes composition à la limite entre le glam New Yorkais du début des années 1970 et l'époque Wew Wave très punk-pop trash (voir les compilations Killed by Death). Est-ce que ça ressemble à ce que faisait Johnny Thunders ? Un petit peu, mais avant tout, c'est un album unique, innovant et qui influence toujours énormément (voir des groupes tels que Hunx and his Punx, Nobunny, etc). En fait, vous devriez l'écouter et l'acheter immédiatement.

Lien afférent :