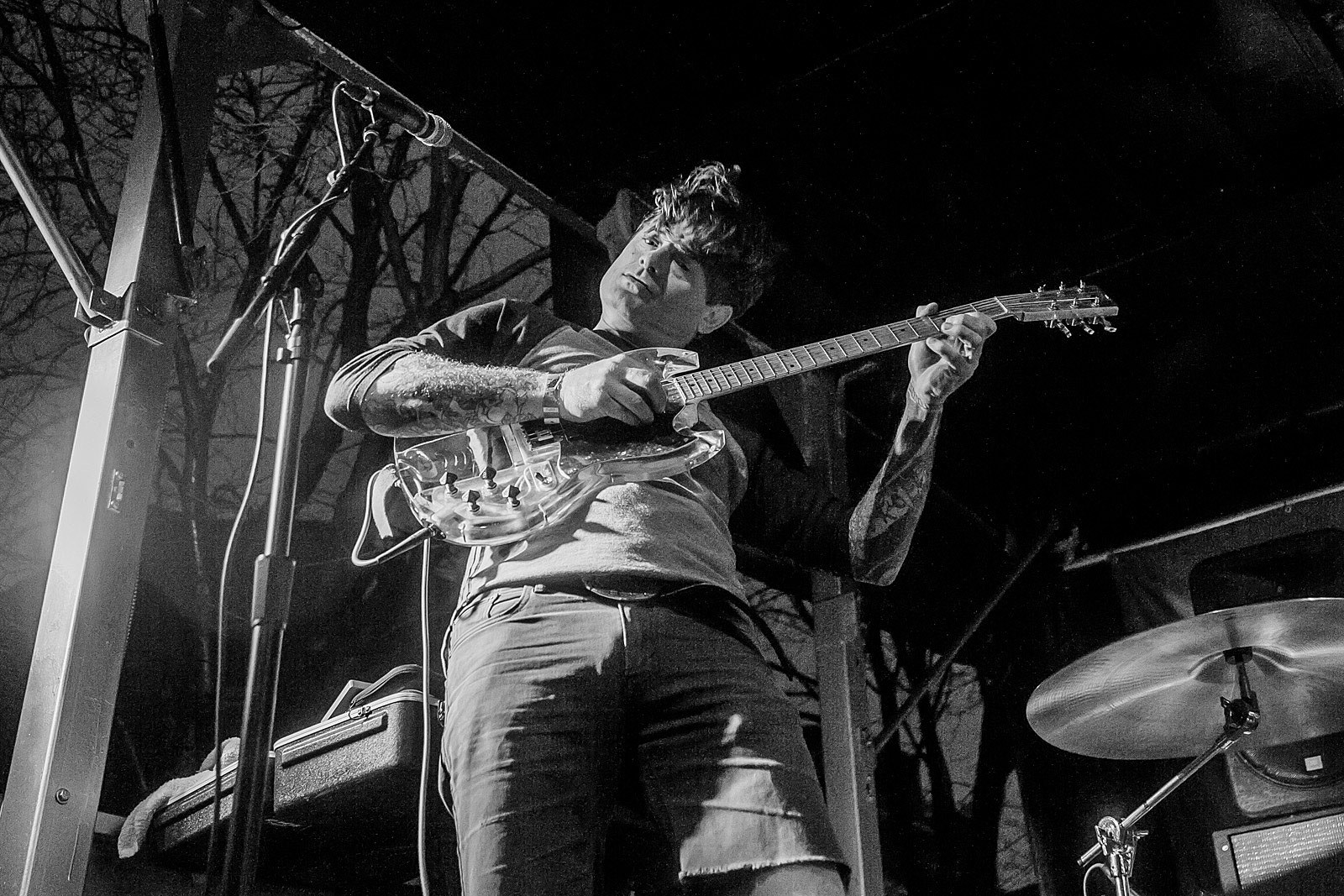 ENGLISH
(french below)
With each new Oh Sees' release, I always ask myself the same question: has the band just released the year's best album? The band has done it three times during the last decade, and there's no sign that it's running out of steam. No one evolves in the same spheres as John "God" Dwyer.
Its new album, Protean Threat, was released on September 18. More than ever, it is a celebration of the end of the world fantasized by all the alarmists, showing us what a cold world with destructive robots looks like. And Oh Sees perpetuates its road to irreverence: the one of robots that do not bother with feelings. If tomorrow's world will indeed be made of digital things, nothing obliges them to be necessarily mindless, soulless. Elon Musk keeps progressing, and everything suggests that he will indeed manage to combine AI with the human brain in the coming months (see). The mutation of mankind is beginning. But with Dwyer, Homo sapiens 2.0 has no place. The machine dominates entirely; man is only a servant.
Dwyer is thus a determinist-pessimist: he is among those who think technology is the determinant of our modern societies, and keeps pointing out the gloomy direction of a laissez-faire approach to the subject. As we have known since Orc (2017), Oh Sees believes in cyborgs more than he believes in his fellow man. The despicable cover of Smote Reverser (2018) came to tell us that it was useless to hope, while Face Stabber let a brief revolt ending in a masterful K.O. Protean Threat comes to conclude the movement. If logic is respected, Oh Sees' upcoming albums should be strictly instrumental, far from anything organic. There are already fewer vocals in this album than in all the previous ones.
Now that the stage set is set, let us take a closer look. On the instrumental side, Oh Sees does Oh Sees: two drums in perfect sync, a voice punctuated by a few "woo", a furtive guitar. Unlike past albums, some more dreamy songs come to punctuate the whole (see "Toadstool"), as if it came to tell us that machines also had the right to a little poetry. Nevertheless, the album is quite arid, the feeling of listening to the songs of a species more evolved than ours will put off some people. The others will enjoy a fluorescent green seed when listening to "Red Study" et "Gong of Catastrophe" and "If I Had My Way". The bass lines are particularly groovy, round, and voluptuous.
With Protean Threat, Oh Sees produces a new themed album, and once again, completes an artistic singularity that will make even the most ambitious artists dream. Those who were looking for a destructive Oh Sees may be disappointed, this LP bears little resemblance to Mutilator Defeated At Last and A Weird Exits (my two favorites). The war is indeed over: machine 1 vs. human 0. The victors now have the right to express themselves without violence, which Protean Threat allows them to do brilliantly. For the rest, the cover is still as awful as ever. Here is an article dedicated to all the Oh Sees's visuals.
***
FRENCH
À chaque nouvelle sortie d'un LP des Oh Sees, la même question revient toujours : le groupe vient-il de faire paraître le meilleur album de l'année ? Il l'a fait trois fois durant la décennie passée, et rien ne semble indiquer qu'il soit en train de s'essouffler. Personne n'évolue dans les mêmes sphères que celles de John "God" Dwyer.
Son nouvel album, Protean Threat, est paru le 18 septembre. Il fait plus que jamais la part belle à la fin du monde fantasmée par tous les alarmistes, au monde des robots froids, et destructeurs, et décomplexés vis-à-vis de leur créateur. En cela, Oh Sees perpétue sa route vers l'irrévérence : celle des robots qui ne s'embarrassent pas de sentiments. Si le monde de demain sera effectivement fait de choses numériques, rien n'oblige qu'elles soient nécessairement sans esprit, sans âme. Elon Musk n'en finit pas de progresser, et tout laisse à penser qu'il parvienne effectivement à allier l'IA au cerveau humain dans les mois à venir (voir). La mutation de l'homme a commencé.
Avec Dwyer, l'Homo sapiens 2.0 n'a pas sa place. La machine domine entièrement, l'homme n'est qu'un serviteur. Dwyer est ainsi un déterministe-pessimiste : il fait partie de ceux qui pensent la technologie comme le déterminant de nos sociétés modernes, et ne cesse de pointer du doigt la direction lugubre d'un laissez-faire en la matière. On le sait depuis Orc (2017), Oh Sees croit aux cyborgs plus qu'il ne croit en son prochain. L'ignoble pochette de Smote Reverser (2018) venait nous dire qu'il ne servait à rien d'espérer, tandis que Face Stabber indiquait une brève révolte qui finissait dans un magistral K.O. Protean Threat vient conclure le mouvement. Si la logique est respectée, ses prochains albums devraient être strictement instrumentaux, loin de toute chose organique. Il y a d'ailleurs moins de vocales dans cet album que dans tous les précédents.
Une fois cela dit et le décor planté, voyons voir de plus près. Côté instru', Oh Sees fait du Oh Sees : deux batteries inimitables, la voix perchée et ponctuée de "woo", une guitare furtive. A la différence des albums passés, certains morceaux plus rêveurs viennent ponctuer le tout (voir "Toadstool"), comme s'il venait nous dire que les machines avaient également le droit à un peu de poésie. Il n'en demeure pas moins que l'écoute est très aride, le sentiment d'écouter les compositions d'une espèce plus évoluée que la nôtre en rebutera certains. Les autres jouiront d'une semence verte fluorescente à l'écoute de "Red Study", "Gong of Catastrophe" et autre "If I Had My Way". Les lignes de basse y sont particulièrement groovy, rondes et voluptueuses.
Avec Protean Threat, Oh Sees produit un nouvel album à thème, et une fois encore, achève une singularité artistique qui fera rêver les artistes les plus ambitieux. Ceux qui recherchait un Oh Sees destructeur seront peut-être déçu, cet LP ne ressemble que peu à Mutilator Defeated At Last et A Weird Exits (mes deux préférés). La guerre est effectivement finie : machine 1 vs. humain 0. Les vainqueurs ont désormais le droit de s'exprimer sans violence, ce que Protean Threat lui permet de faire avec brio. Pour le reste, la pochette est toujours aussi affreuse. Voici un article dédié à tous les visuels Oh Sees.
***