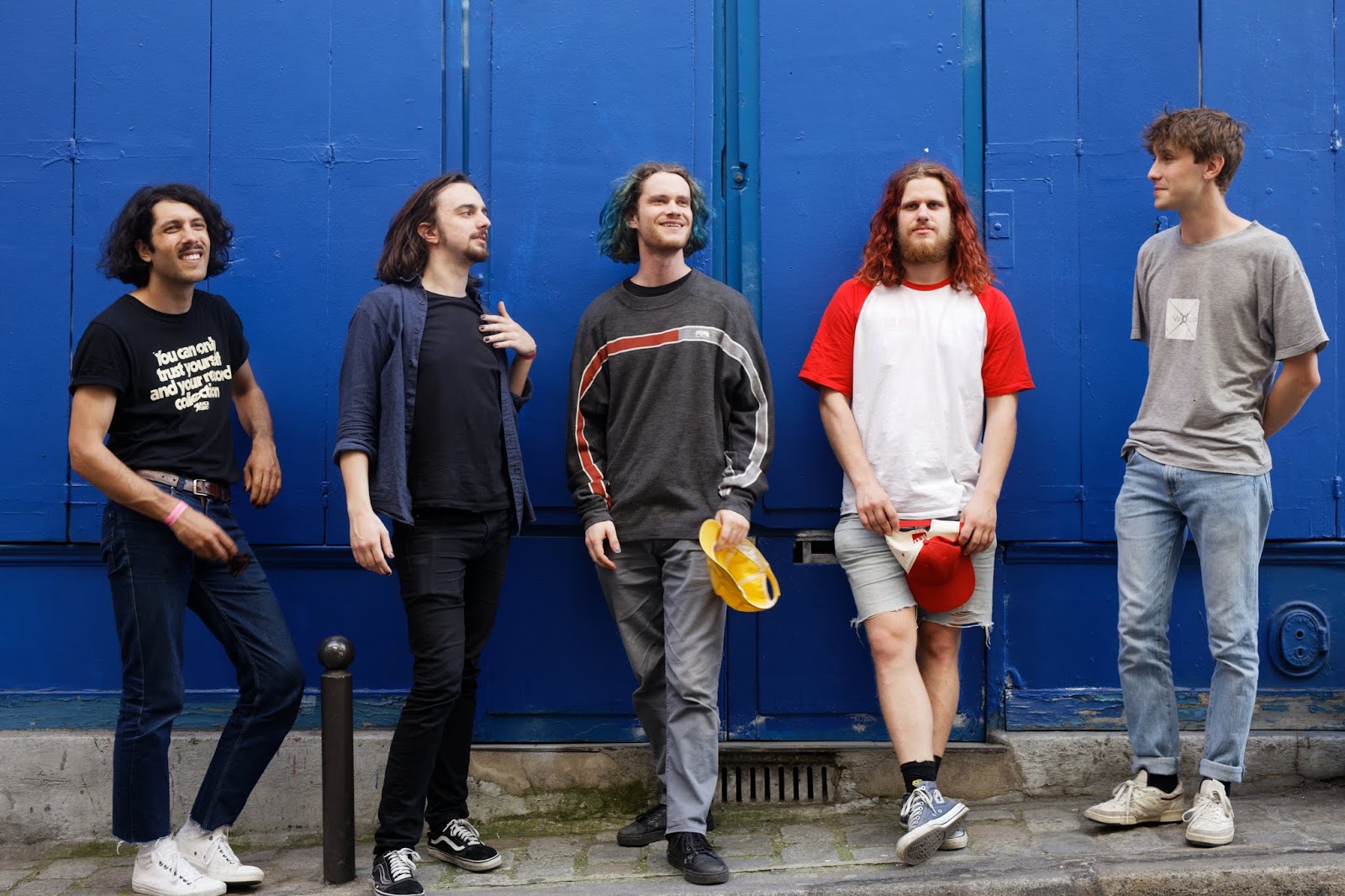 (photo Nicolas Bauclin)
FRENCH version



English below


*****

Lorsque vient le moment pour moi d'évoquer TH da Freak, je ne manque plus désormais de sortir ma formule préférée : "le meilleur groupe français de l'histoire". Ouais, TH est meilleur que Dutronc, meilleur que François Hardy, que Johnny et qu'Eddy Mitchel (c'est dire), meilleur que tout ce qui se fait actuellement. Et je ne compte pas m'excuser de balayer le reste de la sorte. Je voulais donc prendre le temps de faire un long interview de Thoineau Palis, aka TH da Freak. Ça m'a finalement pris deux ans ; voici le résultat. On y parle de grunge, de dope, de martiens, de nineties, d'être ironique ou de ne pas être… et de LOVE.
Je commence par le plus important: quand t'est venue l'idée des cheveux bleus ?
Lol, c'est quand j'ai vu ma pote Shelly avec les cheveux bleus, j'ai trouvé ça super stylé et je me suis dit que j'allais faire un super coup marketing et gagner d'la thune en faisant ça.
Raconte-nous le jour de la teinture…
C'était le jour d'un concert que j'ai performé avec mon ancien coloc Louis avec notre duo de garage punk NRJ12 : TH&C.
Est-ce que tu as toujours les cheveux bleus ? Si oui, est-ce pour la vie ?
J'ai parfois les cheveux verts quand ça fait longtemps que je m'en occupe pas.
Plus sérieusement, comment vas-tu ? J'veux dire, sérieusement.
Sérieusement, je vais très bien depuis très peu car j'assume désormais beaucoup de choses que je n'assumais pas avant, et la musique a grave aidé pour ça. C'est pas méga stylé de dire qu'on va bien par contre donc tu le mettras pas dans l'interview. Il faut savoir entretenir son image de Kurt Cobain.
Tu as dit que The Hood serait une exception dans ta discographie. Deux choses à ce sujet : sais-tu quelle direction tu comptes donner à ta discographie ? Par ailleurs, quelle est désormais ta relation à The Hood ? S'il représente une période difficile, j'imagine que tu dois également avoir une relation difficile avec ce dernier ?
Je ne sais pas quelle direction je vais donner à ma discographie, mais je suis sûr d'une chose : j'essaierai de ne pas faire le même album à chaque fois. Si vous vouliez que je fasse du The Hood toute ma vie, eh ben… c'est raté, car c'est un album qui parle d'un moment donné T dans un espace donné H (lol). Il représente une période difficile oui mais j'arrive encore à l'écouter car je suis nostalgique et je me fous de ma propre gueule en l'écoutant (le morceau « I was such an idiot » parle de ça d'ailleurs et conclut l'album, donc le mood déprime est vite expédié dès la fin de l'album).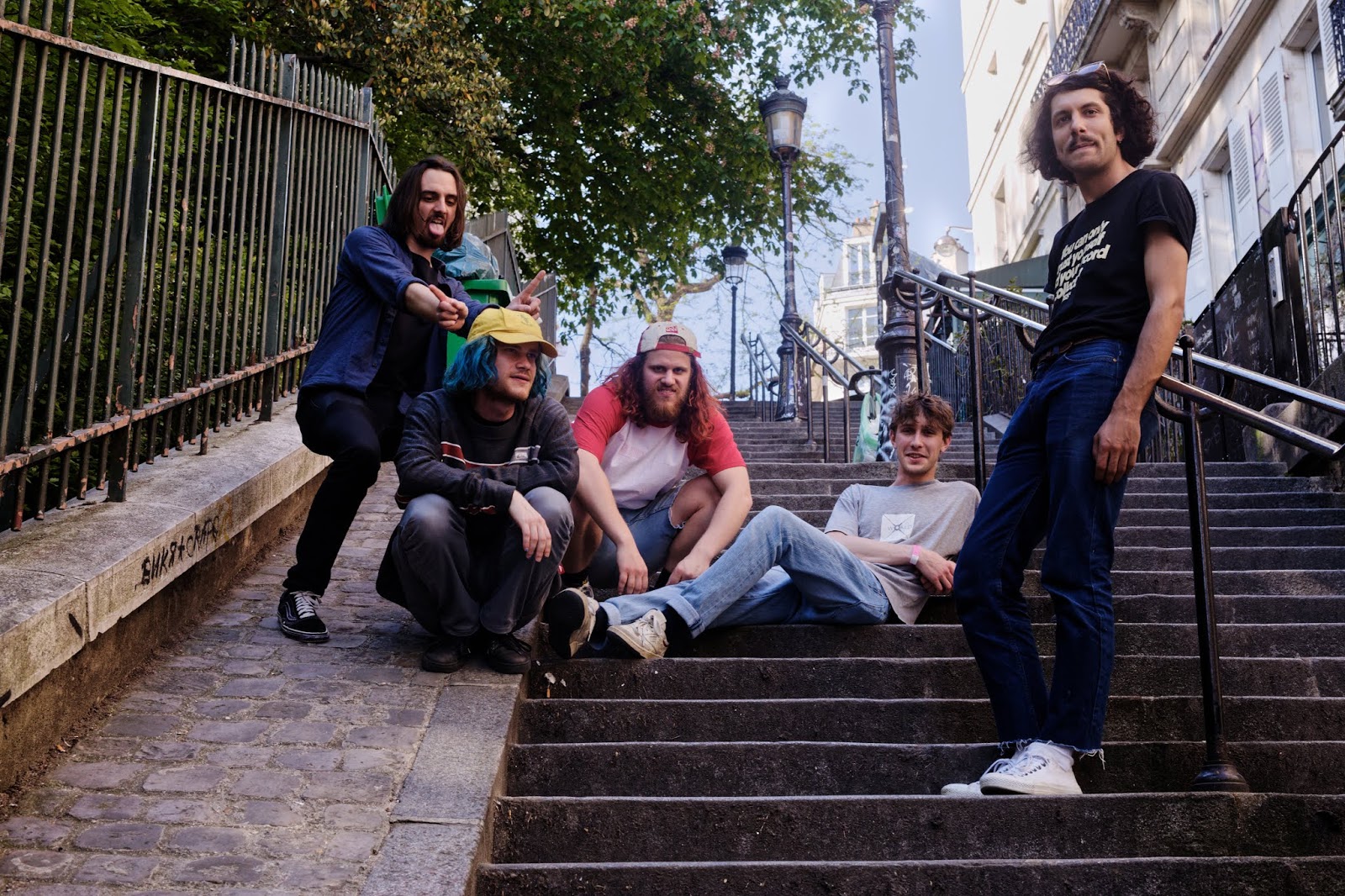 Tu as été labellisé slacker par la presse et cela va te coller à la peau. Bon, après tout, pourquoi pas, ça fait du clic. Je sais que tu te défends pourtant d'être un slacker au sens de branleur, mais quid du slacker au sens musical. Te sens-tu proche de Nobunny, Hunx, Pangea, Fidlar, Dune Rats & co… ou pas ?
Très honnêtement, je pense qu'on m'a appelé comme ça parce que j'ai un k-way dans le clip de « I don't understand » et que ma chambre et mal rangée. Sinon ben il y a une facette de ma personnalité qui se sent proche de ces groupes-là, oui, car c'est kiffant de bouffer des pizz, faire le jackass et caler trois accords en gueulant des trucs sur la bière, tu vois. Mais je n'ai pas du tout grandi avec ces groupes-là comme l'ont été la plupart des artistes du garage et ma connaissance de ces artistes est assez limitée.
Bon, et le grunge alors ? Es-tu grunge ? Est-ce que ta musique est grunge ?
Une fois je parlais avec des gens que je ne connaissais pas, quelqu'un m'a dit « ha ouais toi t'es garage et tout » (en parlant strictement de mon physique) et une fille à côté a dit « non, Thoineau, il est grunge ». Donc j'imagine que je suis grunge. Après musicalement c'est quoi le grunge déjà. Si c'est Alice in chains, Bush ou Pearl Jam, non, je ne suis pas grunge. Si c'est Nirvana, les Screaming Trees, Tad, Mudhoney ou les groupes de riot girls affiliés, oui je suis grunge. Personnellement je pense a ces groupes quand on me dit grunge et pas du tout a Alice in Chains et Soundgarden qui vont beaucoup plus dans le metal et l'alternative rock. Pour moi le grunge est indissociable du punk.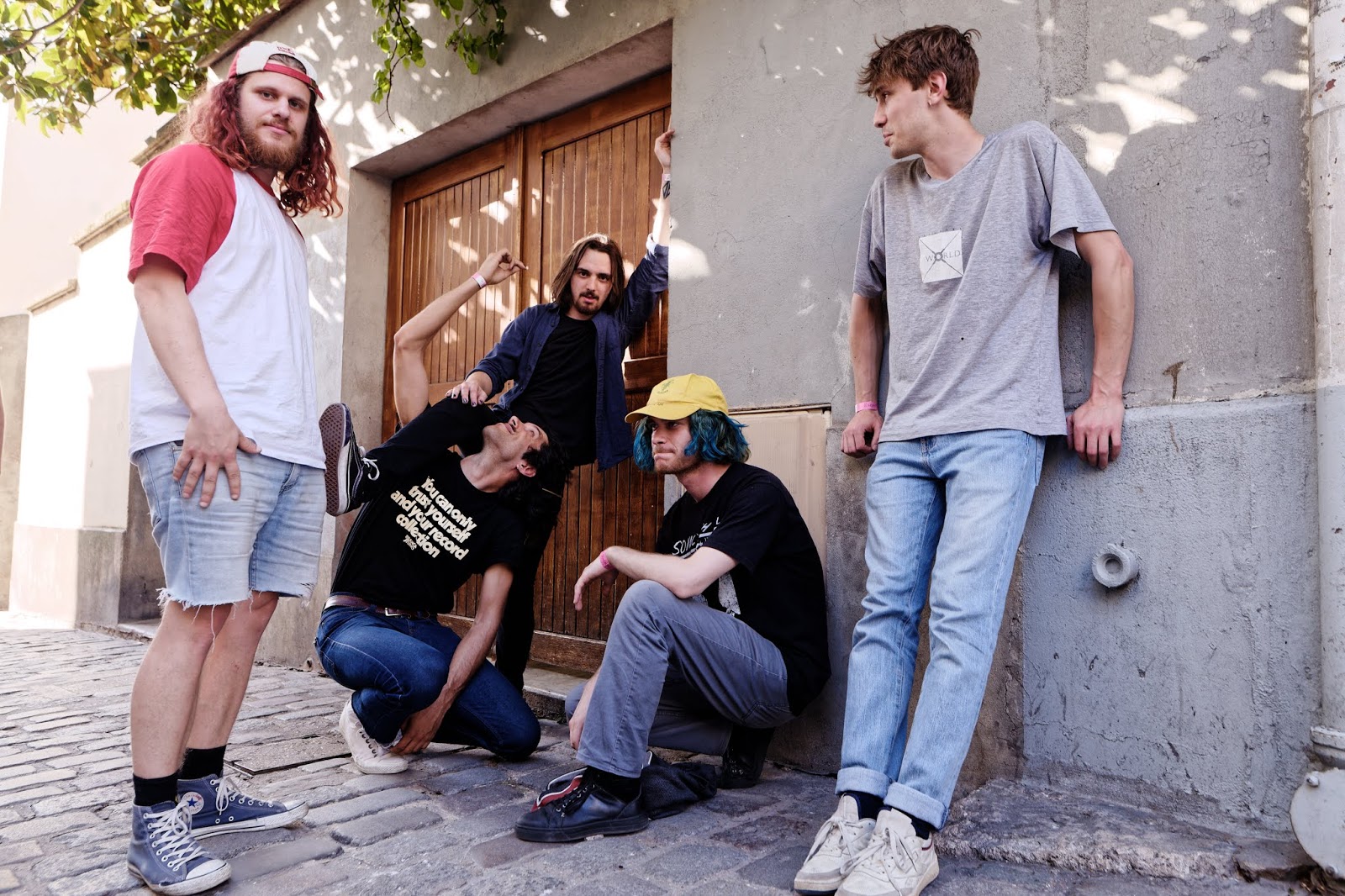 (photo Nicolas Bauclin)
Freakenstein
Cela fait désormais plusieurs albums que tu sors en quelques mois à peine. Tous ont en commun d'être nineties, d'une façon ou d'une autre. Cela semble indiquer que les années 90s ne sont pas qu'une fascination de passage pour toi. Penses-tu que ce soit le fait que tu n'as pas pu vivre la scène de l'époque quitte facile autant à son sujet ? Sinon, quelle explication as-tu trouvée au fil des ans ?
Non, ce n'est pas parce que je n'ai pas pu vivre la scène même si elle me fait rêver… c'est simplement parce que c'est la décennie la plus fun. Je veux dire, les groupes s'amusaient vraiment à l'époque et l'autodérision était un truc méga ancré donc je me sens comme eux : j'ai juste envie de m'amuser. Et ça a été très prolifique aussi, il y a eu des mouvements MEGA populaires : le grunge, la britpop, le hip hop, la dance etc. (en plus, tout s'est mélangé et a donné des albums hybrides ultra uniques et ouf). Ça fait rêver de se dire que les gens étaient ultra attentifs à ce qui sortait, achetaient tout et surtout, la musique pour les kids était en accord avec une vraie mentalité de kids : "faut tout casser et mes parents sont des cons". Aujourd'hui ce qui fait bander les kids c'est d'aller à Tomorrowland pour montrer leurs corps musclés.
Envisages-tu, un jour, de sortir un album qui ne soit absolument pas lié à cette décennie ?
Mais The Hood est pas du tout nineties les gars ! Il est seventies à la Steppenwolf je l'ai vraiment pensé comme ça, album de voiture avec guitare accordée dans les graves.
Parler d'autres styles musicaux me fait penser à ton titre "Techno Bullshit". Détestes-tu la musique électronique ? (high five).
Je ne la déteste pas (quand c'est très très bien fait et/ou que c'est rigolo, ce qui est rarement le cas hein, ça peut m'enjailler) par contre je déteste les gens qui en mettent tout le temps. On entend que ça, c'est insupportable, variez un peu, bordel !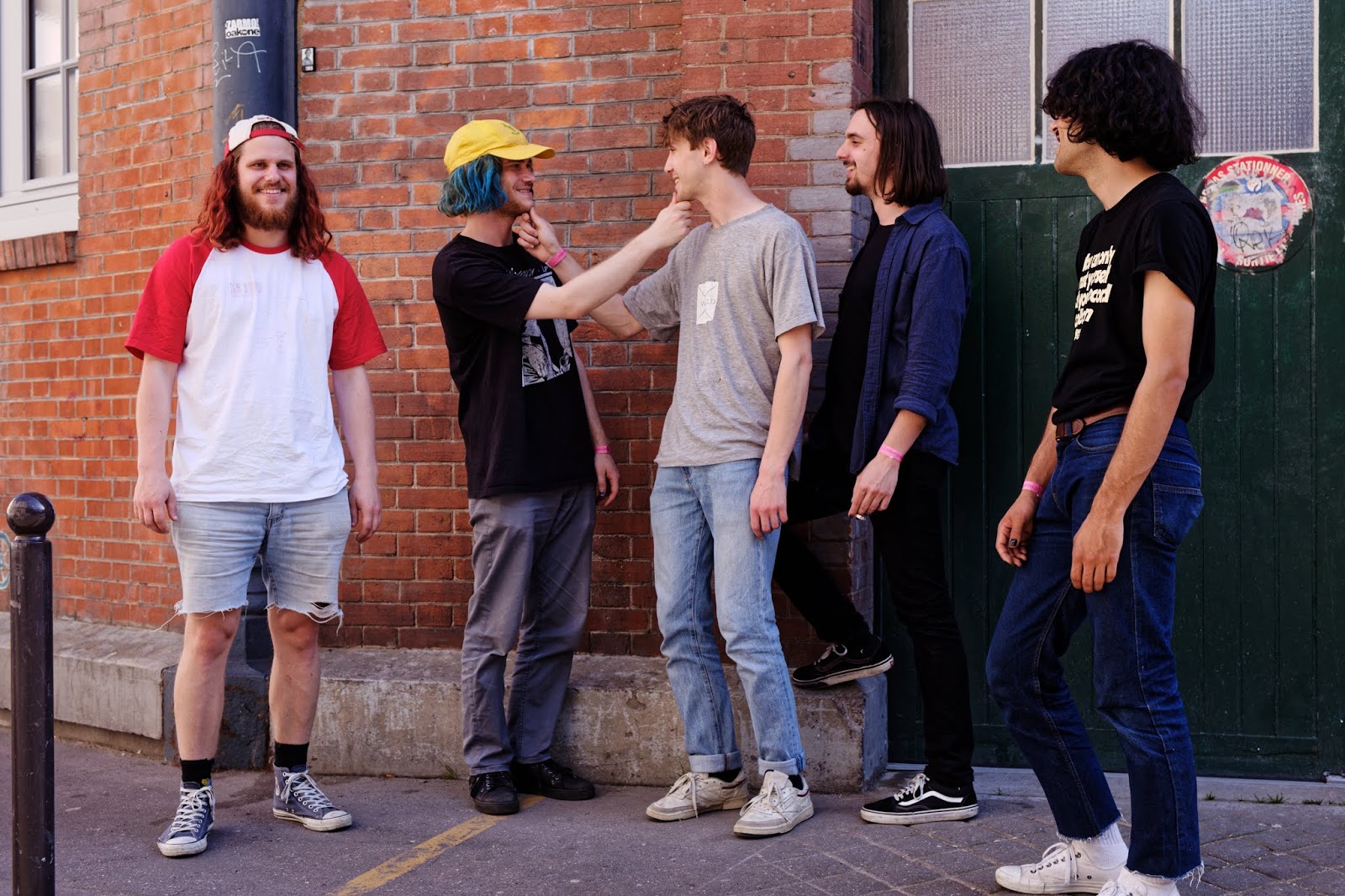 (photo Nicolas Bauclin)
En parlant de détestation, peux-tu me donner tes impressions sur des choses qui t'ont déçu en rapport avec le microcosme de la musique ces dernières années ?
Les junkies, frère. Je parle des vrais, pas des consommateurs occasionnels. C'est horrible, car c'est super triste et en même temps révoltant. C'est un sujet extrêmement sensible, j'en suis bien conscient. C'est toujours très décevant de rencontrer un individu que tu admires lorsque tu te rends compte qu'il veut juste de la dope et qu'il s'en bat la race de discuter avec toi.
J'en reviens à ton album. Dans ma super méga vidéo de la mort qui tue (lien), je relève à la toute fin que tu vas, je crois, devoir bientôt faire un choix très important : rester dans ta ligne actuelle (où tu excelles), ou aller sur des terrains que tu n'as jamais effleurés. Que penses-tu de cela, et si tu es d'accord avec cette analyse, as-tu une idée du choix que tu vas opérer ?
Je prends vraiment chaque album un par un, instinctivement sans trop me poser de questions. Donc je ne peux pas répondre à cette question. Inch Allah.
Je relève également dans cette vidéo que ton dernier album semble être moins personnel que le précédent. Ai-je juste, ou est-ce de la connerie ?
Il est toujours centré sur moi-même, mais il y a un ton plus spectateur des situations qui sont décrites que réel protagoniste vivant les trucs que je raconte.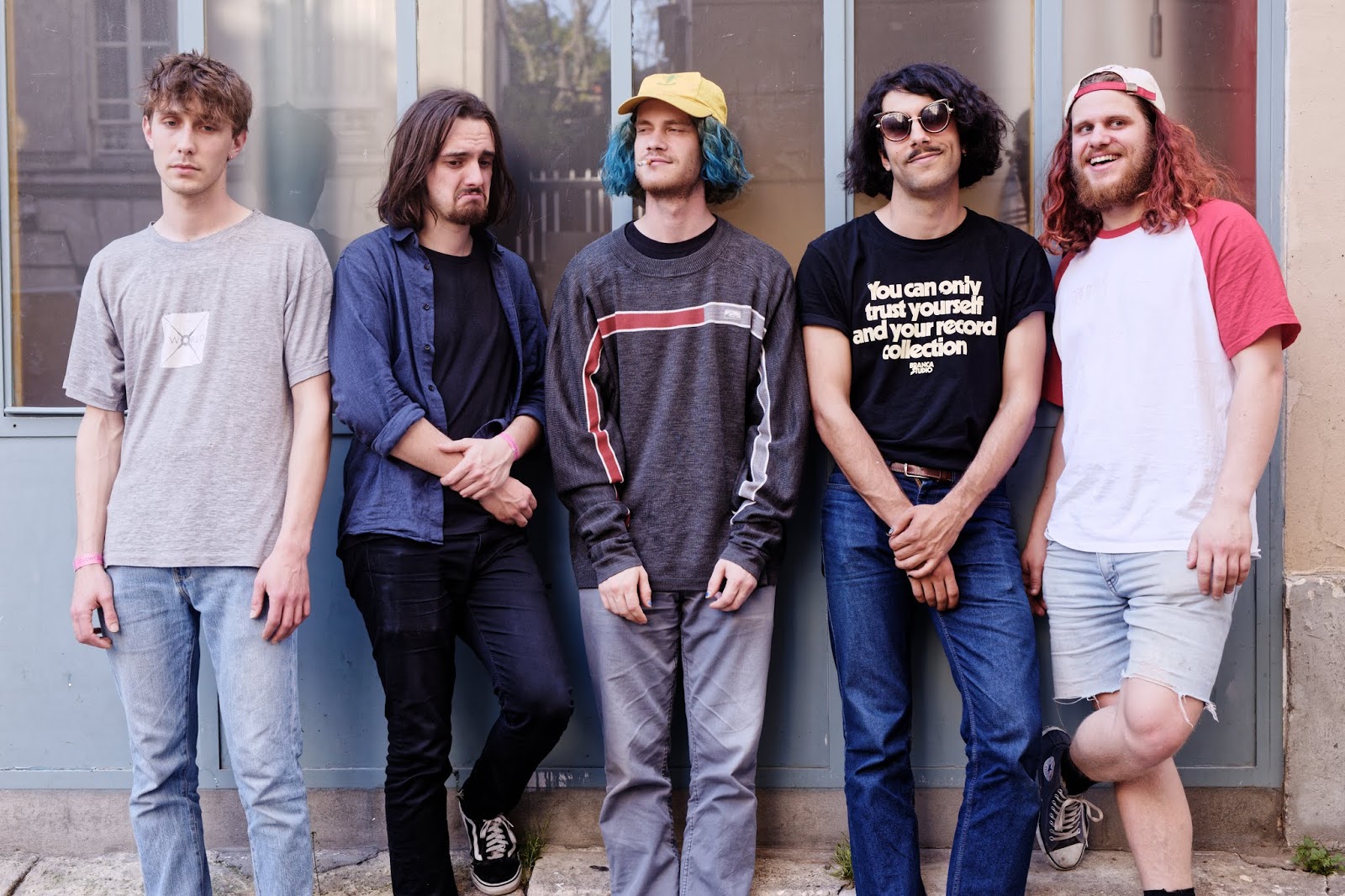 Je me souviens que tu me parlais de cet album en mars 2018. Pourquoi est-ce que sa sortie a pris si longtemps?
Car il n'était pas enregistré, mixé et masterisé (juste composé) et avant qu'un album sorte il faut faire des clips et tout le bordel. Et faut rajouter à ça tout le timing pour le pressage, promo et tout çaaaaaa, aaah, ça m'énerve !
Ce nouvel album a été composé sur le thème de Frankenstein. Es-tu un gros consommateur de films d'horreur ? Si oui, es-tu plus slasher ou plus old classic ? Et enfin, quelle est la meilleure version de Frankenstein ?
J'ai maté pas mal de films d'horreur et je suis plus old classic même si je kiffe les slashers hein. Sinon la meilleure version de Frankenstein, je ne l'ai pas vu, mais tout le monde dit que c'est Frankenhooker par Frank Henenlotter
Si je ne me trompe pas, le thème des martiens apparaît également dans ton dernier album. Cela me fait nécessairement penser aux théories conspirationnistes. Peux-tu nous livrer la meilleure théorie conspirationniste en laquelle tu crois ?
Macron est allé brûler Notre Dame lui-même à coups de bidons d'essence.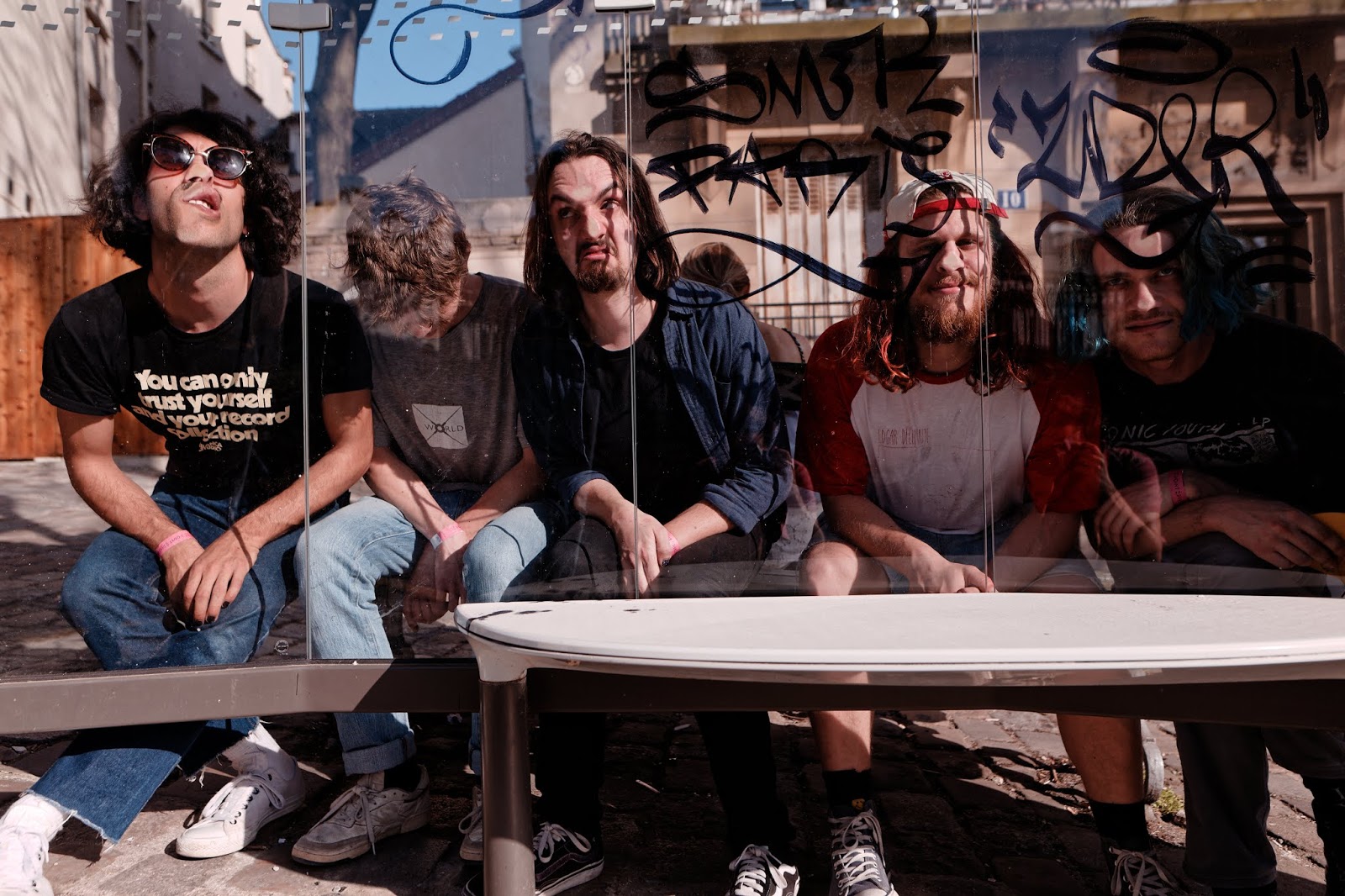 (photo Nicolas Bauclin)
Pour conclure en beauté
Il y a une question que je me pose… et que je te pose ainsi : les années 90 sont réputées pour avoir introduit l'ironie dans le rock'n'roll. Es-tu ironique ? Si oui, quel est le pourcentage ironie dans tes créations ?
Je suis très ironique oui. Dans mes créations c'est du 50/50.
Comment perçois-tu la relation entre l'ironie et la sincérité ? L'une empêche-t-elle l'autre ? Es-tu prêt à sacrifier l'une pour l'autre ?
Non les deux sont intimement liés, mais je préfère penser que l'ironie doit l'emporter à la fin. Je trouve la sincérité parfois un peu égoïste dans le sens où, par exemple, si un artiste ne relativise jamais ce qu'il chante il ne partage pas son truc à fond et donne qu'une seule dimension à son art.
Au sujet des sacrifices, justement. Où veux-tu être dans 10 ans, et qu'es-tu prêt à sacrifier pour y arriver ?
J'ai envie d'être pépère avec un potager, mec. Et quand je pars en tournée mondiale, hop, je me mets de bonnes races avec les copains.
As-tu le sentiment que tu es justement en train "d'y arriver" ?
Si « y arriver » signifie gagner de l'argent, non je n'y arrive pas. Si ça signifie avoir un label, un tourneur, que les gens me suivent, viennent aux concerts et sont attentifs à ce que je sors, je ne sais pas, j'ai envie de dire oui. Et je remercie tous ces gens-là d'ailleurs.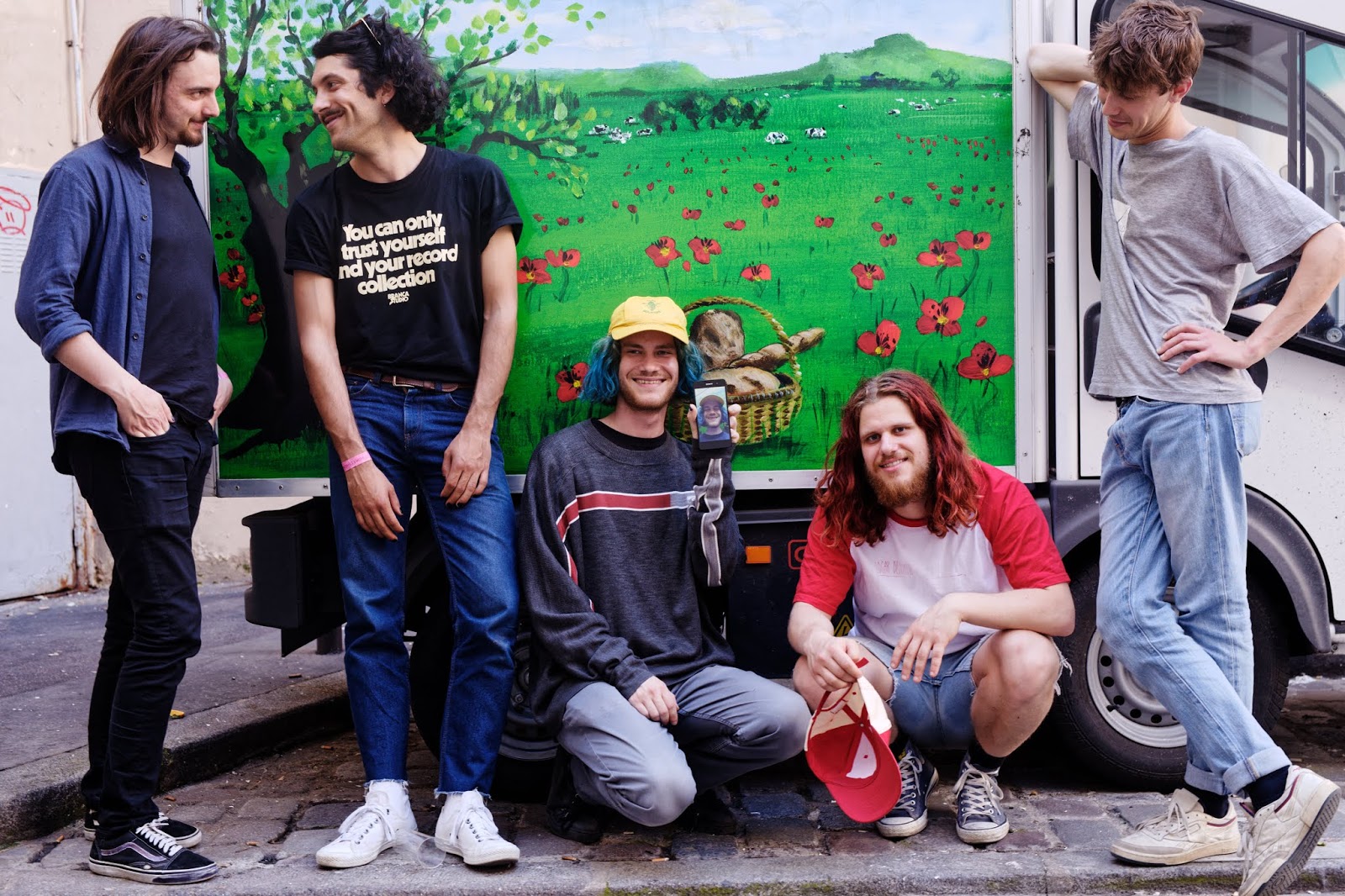 (photo Nicolas Bauclin)
Nous avons déjà parlé plusieurs fois (en privé) de notre amour mutuel pour les années 90s. Peux-tu ici lister quelques albums de cette décennie qui sont pour toi particulièrement marquants, expliquer brièvement pourquoi ?
J'ai cité ces deux mille fois, mais Horsdrawn Whishes de Rollerskate Skinny (les plus belles compositions du monde) et Mellow Gold de Beck (la folie mentale mais pas trop du jeune Beck mis en musique). A noter que ces deux albums sont le truc le plus anglo-saxon et le plus redneck ricain haha. Et voici mes quelques autres classiques : Hit to Death in the Future Head des Flaming Lips, Today's Active Lifestyle de Polvo, The Proximity Effect de Nada Surf, Grand Prix de Teenage Fanclub… Je cale des pépites pour les diggers : Eva Luna de Moonshake, le self titled de Quickspace, Chokin on the Jokes de Lotus Crown, tous les albums de Quickspace et le premier album de Of Montreal.
Tu fais partie du Flippin' Freak, un collectif d'artistes bordelais. Est-ce véritablement un collectif, par qui et quand a-t-il été créé, et quel est son objectif ?
Oui c'est un collectif, notre mode de fonctionnement est basé sur l'entraide et on pense vraiment groupe. Comme un gang un peu. Tous les membres du collectif font au moins partie de un, si ce n'est deux groupes. Les prémices étaient en 2012 quand Louis (Courtney), Alexis (Wet Dyedream) et moi même faisions un fanzine qui s'appelait Flippin' Mag et qui parlait de la scène noisy bordelaise. Ensuite, en 2015, on a décidé de transformer ça en collectif avec d'autres potes musiciens proches de notre sensibilité artistique. Notre objectif est de proposer de la bonne came via le label et de défendre, aider et faire grossir les artistes dans notre veine (c'est à dire grungy, psych, shoegaze, noisy, lo-fi, freak) car on sait ô combien c'est difficile aujourd'hui quand on fait ce genre de musique.
Ton frère, SIZ (!!!!!!!!), en fait également partie. Vous êtes-vous toujours bien entendu, avez-vous toujours joué de la musique ensemble et comment penses-tu que ta relation avec ce dernier affecte tes créations ? Je te pose notamment la question par ce que j'écoutais récemment un podcast avec Mark Duplass qui disait qu'après plus de 20 ans de collaboration avec son frère, le temps était venu pour lui de créer en dehors du cercle familial qui était devenu trop écrasant.
On a toujours joué de la musique ensemble, ouais. Mais il y a eu et il y a de temps en temps des projets dans lesquels nous ne sommes pas ensemble. Le collectif permet ça, il y a tellement de projets qu'on peut faire plein de trucs différents avec des combinaisons différentes. Et sinon non on aime bien créer ensemble, vu qu'on a chacun notre projet solo et qu'on n'intervient sur aucun aspect de la composition (sauf si on demande le contraire), on ne se marche pas dessus donc c'est cool. On verra où nous mène tout ça.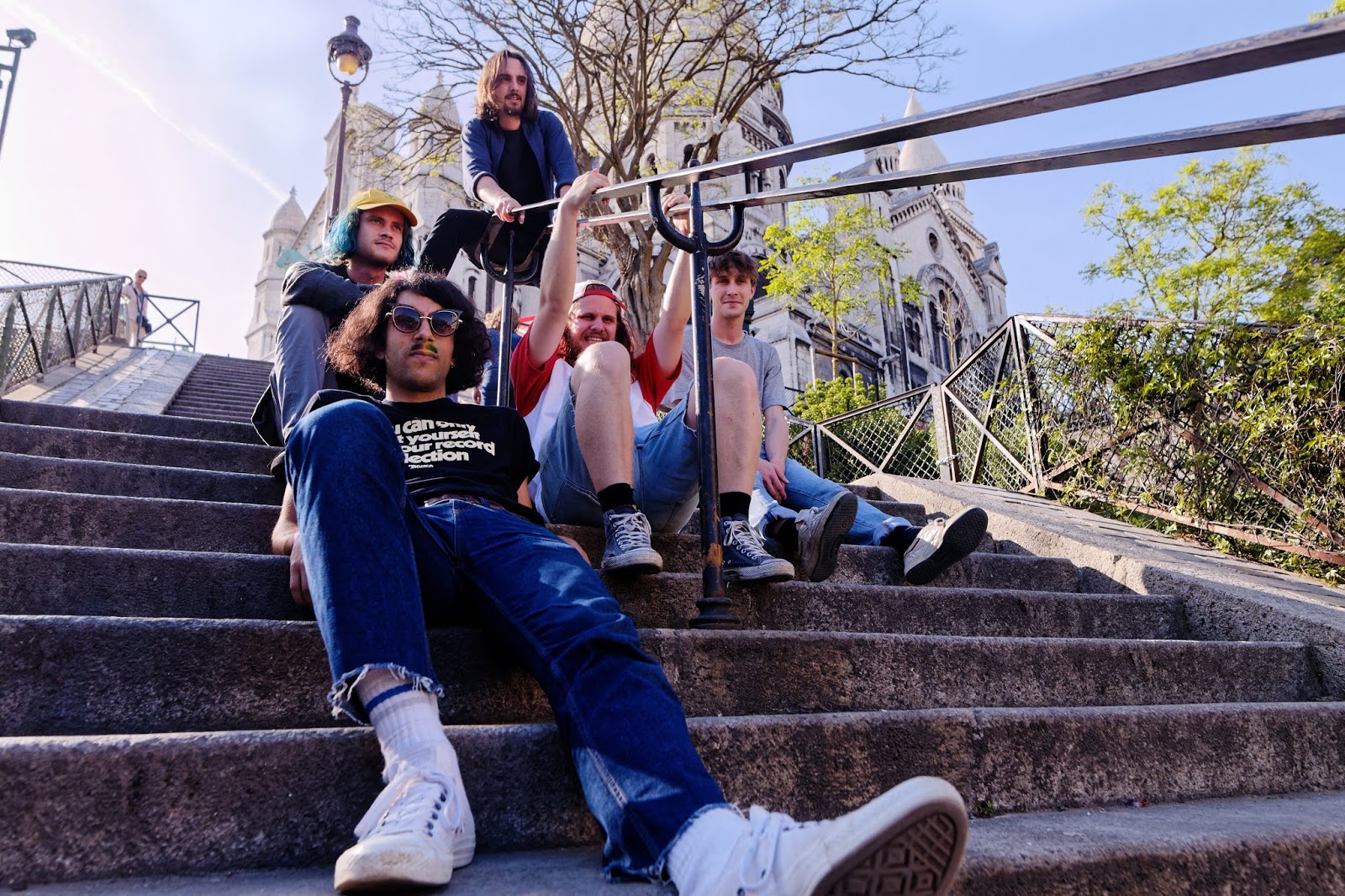 (photo Nicolas Bauclin)
****
ENGLISH version
french above
When I discuss TH da Freak, I no longer fail to mention my favorite formula: "the best French band in history". Yeah, TH is better than Dutronc, better than Françoise Hardy, Eddy Mitchel and Johnny, better than anything that's happening right now. And I don't intend to apologize for sweeping the rest away. Logically, I wanted to take the time to do a long interview with Thoineau Palis, aka TH da Freak. It took me two years; here's the result. We talk about grunge, dope, Martians, nineties music, being ironic or not being… and LOVE.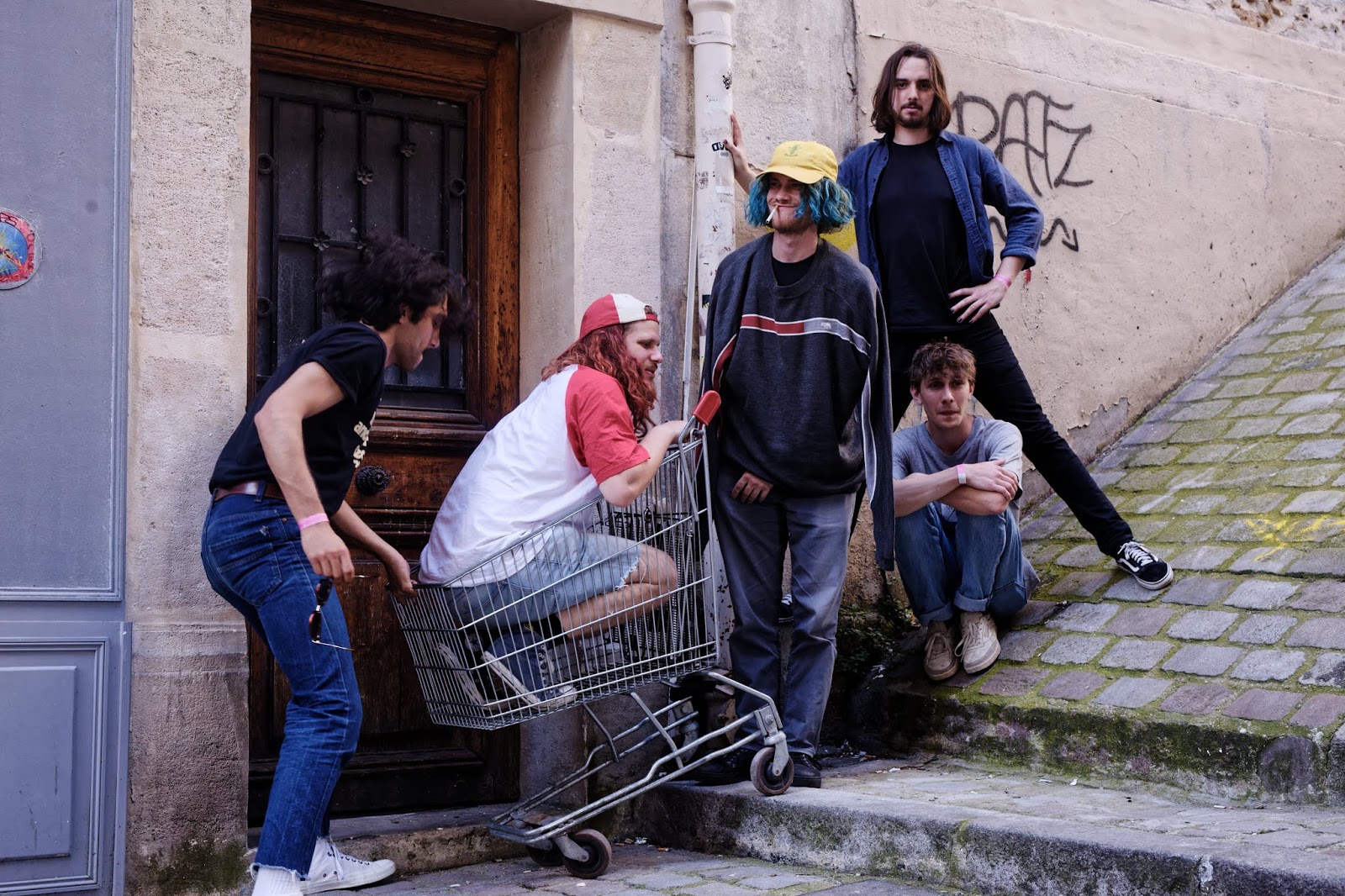 (photo Nicolas Bauclin)
I'll start with the most important thing: when did you get the idea of having blue hair?
Lol, that's when I saw my buddy Shelly with blue hair, I thought it was really stylish and that I'll make some easy cash thanks to it.
Tell us about the dyeing.
It was the day of a show I performed with my former roommate Louis, with our punk garage duo NRJ12: TH&C.
Did you always have blue hair?
I sometimes have green hair when I don't take care of it.
More seriously, how are you? I mean, seriously.
Seriously, I've been doing very well for a very short time because I'm taking on a lot of things I didn't take on before, and music has helped a lot for that. It's not very stylish to say we're fine though, so don't put it in the interview; I have to maintain my Kurt Cobain image.
You said The Hood would be an exception in your discography. Two things about that: do you know which direction you intend to take your discography in? Besides, what is your relationship with The Hood nowadays? If it represents a difficult time, I imagine you must also have a difficult relationship with it?
I don't know what direction I'm going to give to my discography but I'm sure of one thing: I'll try not to make the same album every time. If you wanted me to do The Hood all my life, well, I'm sorry but I intend to talk about what I need to in a given moment. This album represents a difficult period but I still manage to listen to it because I'm nostalgic and I don't care about making fun of myself. The song "I was such an idiot" talks about that by concluding the album, so… the depressed mood is quickly sent away.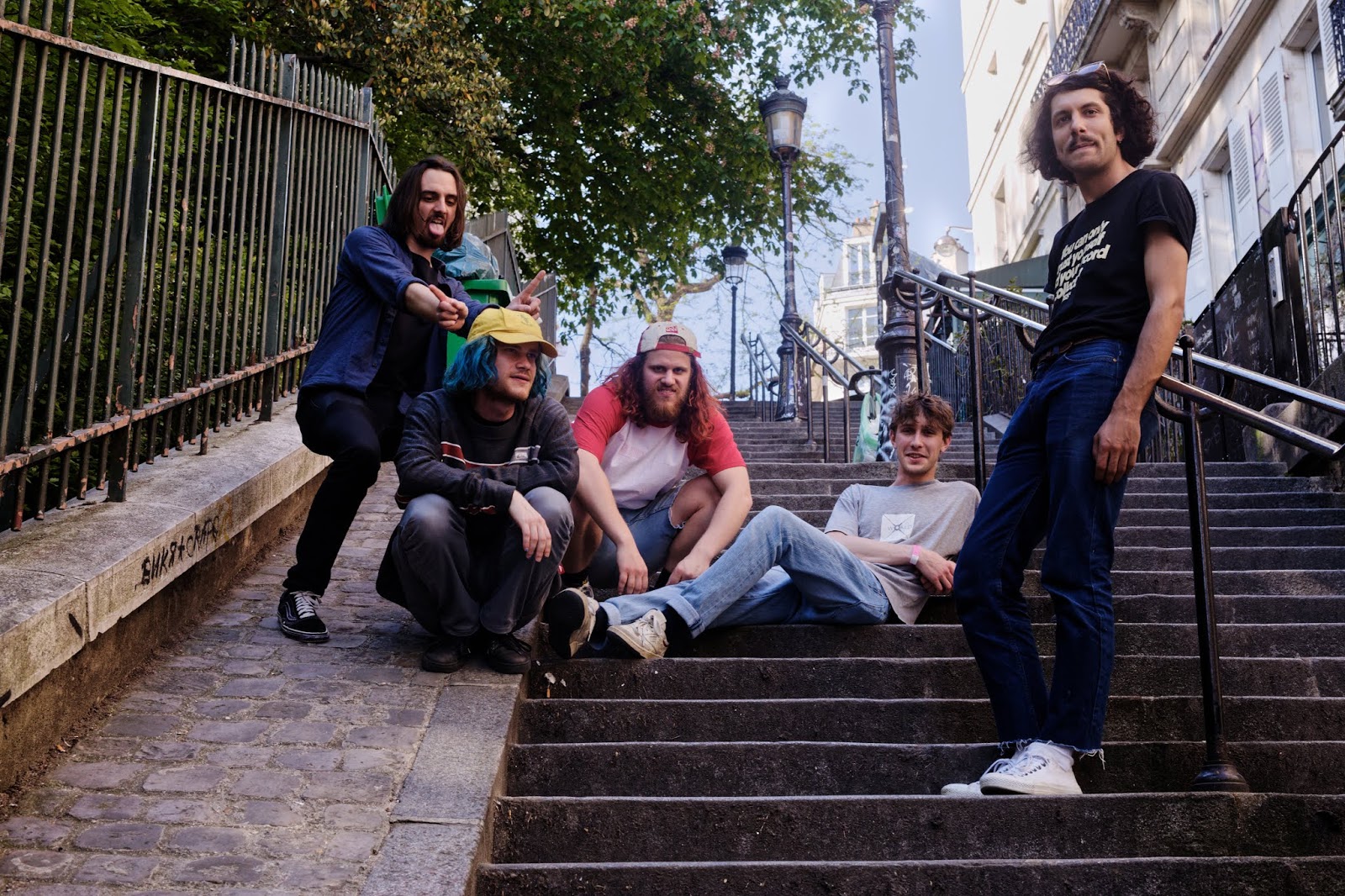 (photo Nicolas Bauclin)
You've been labeled as being a "slacker" by the press and it's going to stick to your skin. Well, after all, why not, it's good for the clicks. I know that you deny being a slacker in the sense of a wanker, but what about a slacker in the musical sense. Do you feel close to Nobunny, Hunx, Pangea, Fidlar, Dune Rats & co… or not?
Quite honestly, I think I was called that because I have a k-way in the video clip of "I Don't Understand" and my room is messy. There's a side of my personality that feels close to these bands, yes, because it's great to eat pizzas, be a jackass and chime three chords while shouting stuff about beer, you know. But I didn't grow up with these bands at all, like most of the garage artists did, and in fact, my knowledge of these artists is quite limited.
Well, what about grunge then? Are you grungy? Is your music grungy?
Once, I was talking to people I didn't know and someone said to me, "yeah, you're garage and everything" (strictly speaking about my looks) and a girl next door said, "no, Thoineau, he's grunge". So, I guess I'm grungy. After that, musically speaking, what's grunge? If it's Alice in Chains, Bush or Pearl Jam, no, I'm not grungy. If it's Nirvana, the Screaming Trees, Tad, Mudhoney or the affiliated riot girls bands, yes, I'm grungy. Personally, I think about all these bands when people say grunge and not at all about Alice in Chains and Soundgarden which are more metal and alternative rock. For me, grunge is inseparable from punk.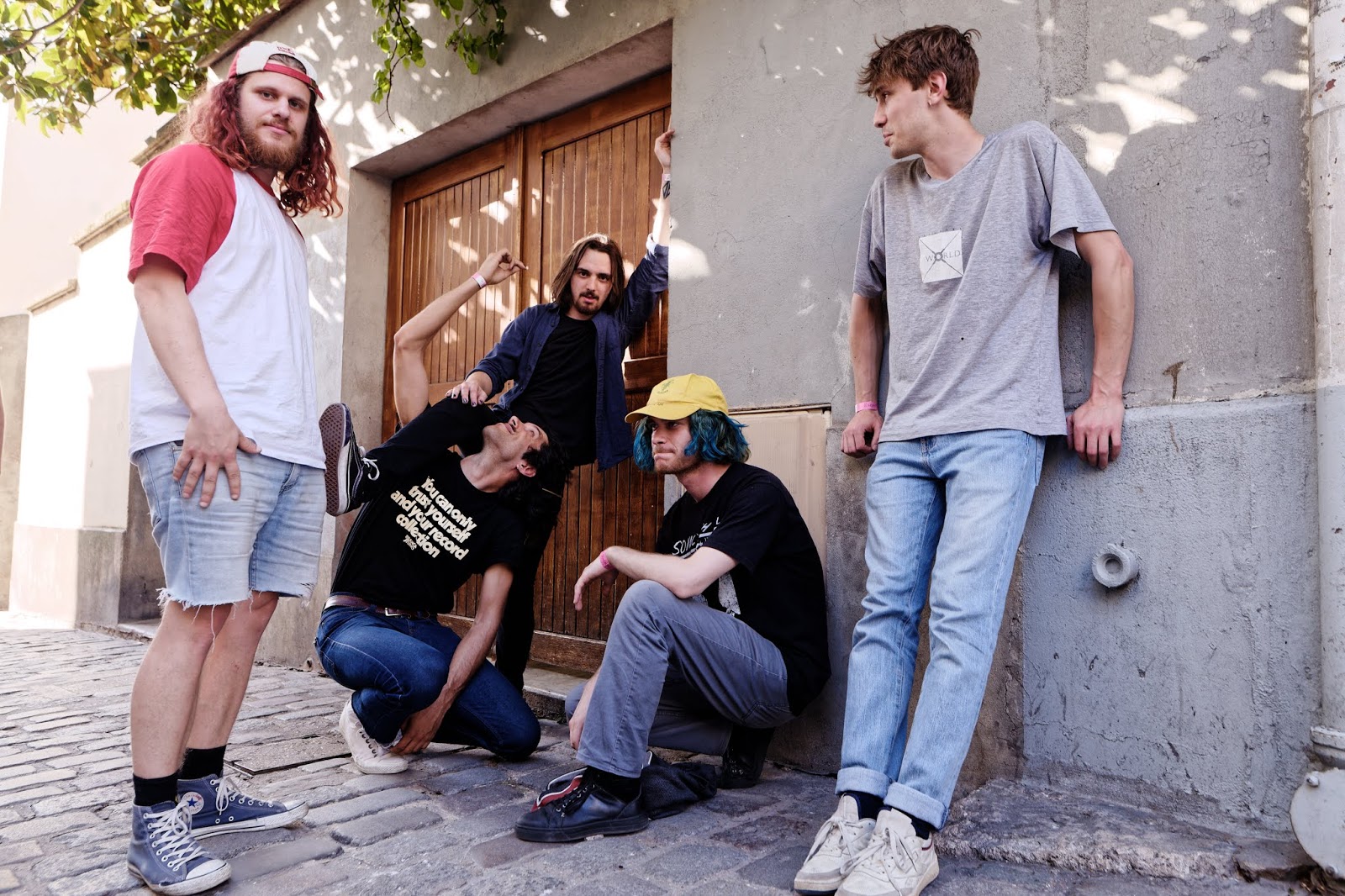 (photo Nicolas Bauclin)
Freakenstein
You've been releasing several albums in just a few months. All of them have in common to be nineties, in one way or another. It seems to indicate that the 90s are not just a passing fascination for you. Do you think this is due to the fact that you couldn't experience the scene as you were too young? If not, what explanation have you found?
No, it's not because I couldn't experience the scene, I think it's just because it's the most fun of all decades. I mean, the bands were really having fun at the time and self-derision was an ingrained mega thing. So I feel like them: I just want to have fun. And it was also very prolific, there were some VERY popular movements: grunge, britpop, hip hop, dance etc (eventually, everything got mixed and gave birth to super good hybrid albums). It makes you dream to think that people were ultra attentive to what was coming out, bought everything and above all, that music for the kids was in accordance with their mentality: "I want to break everything and my parents are jerks". Today, what gives them a boner is to go to Tomorrowland and to show their muscles.
Do you plan, one day, to release an album that is absolutely unrelated to this decade?
The Hood is not nineties at all, guys! It's seventies; Steppenwolf style, I really thought of it that way.
Talking about other musical styles reminds me of your song "Techno Bullshit". Do you hate electronic music? (high five).
I don't hate it (when it's very, very well done, which is rarely the case, it can be dancy), but I hate people who are playing it all the time. This is unbearable.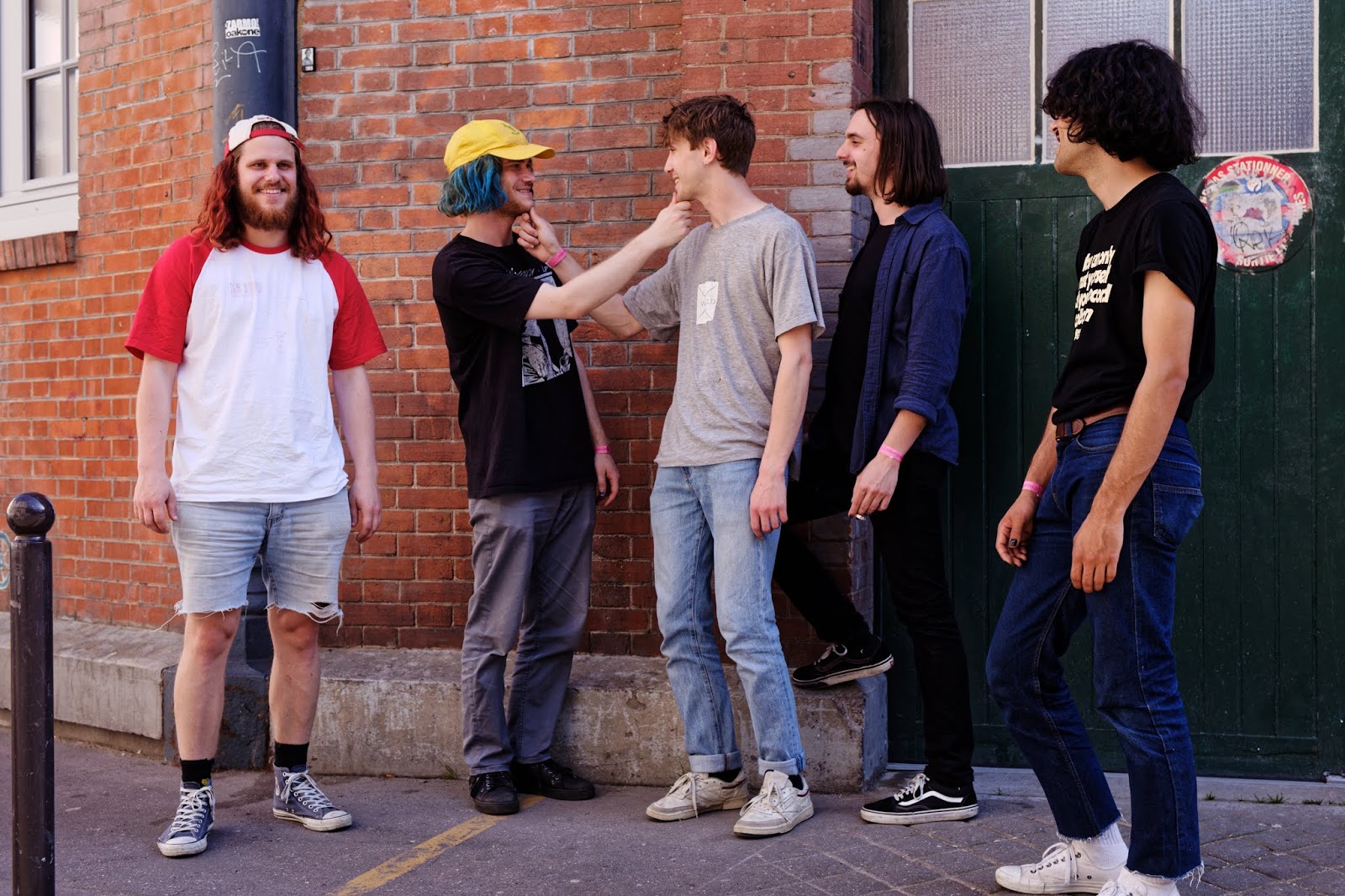 (photo Nicolas Bauclin)
Speaking of detestation, can you give me your impressions on things that have disappointed you in relation to the microcosm of music in recent years?
Junkies, brother. I'm talking about the real ones, not the occasional consumers. It's horrible because it's super sad and revolting. This is an extremely sensitive subject, I am well aware of that. It's always very disappointing to meet an individual you admire when you realize that all he wants is some dope and he doesn't give a shit about talking to you.
I'm going back to your album. In my super mega video about you (

link

), I note at the very end that you will, I think, soon have to make a very important choice: stay in your current line (where you excel), or go on fields that you have never touched before. What do you think about that, and if you agree with that analysis, do you have any idea what choice you're going to make?
I really take each album one by one, instinctively without asking myself too many questions. So I can't answer that question. Inch Allah.
I noticed that your latest album seems to be less personal than the previous one. Am I right, or is that bullshit?
It is always centered on myself, but there is a more spectator tone to the situations that are described.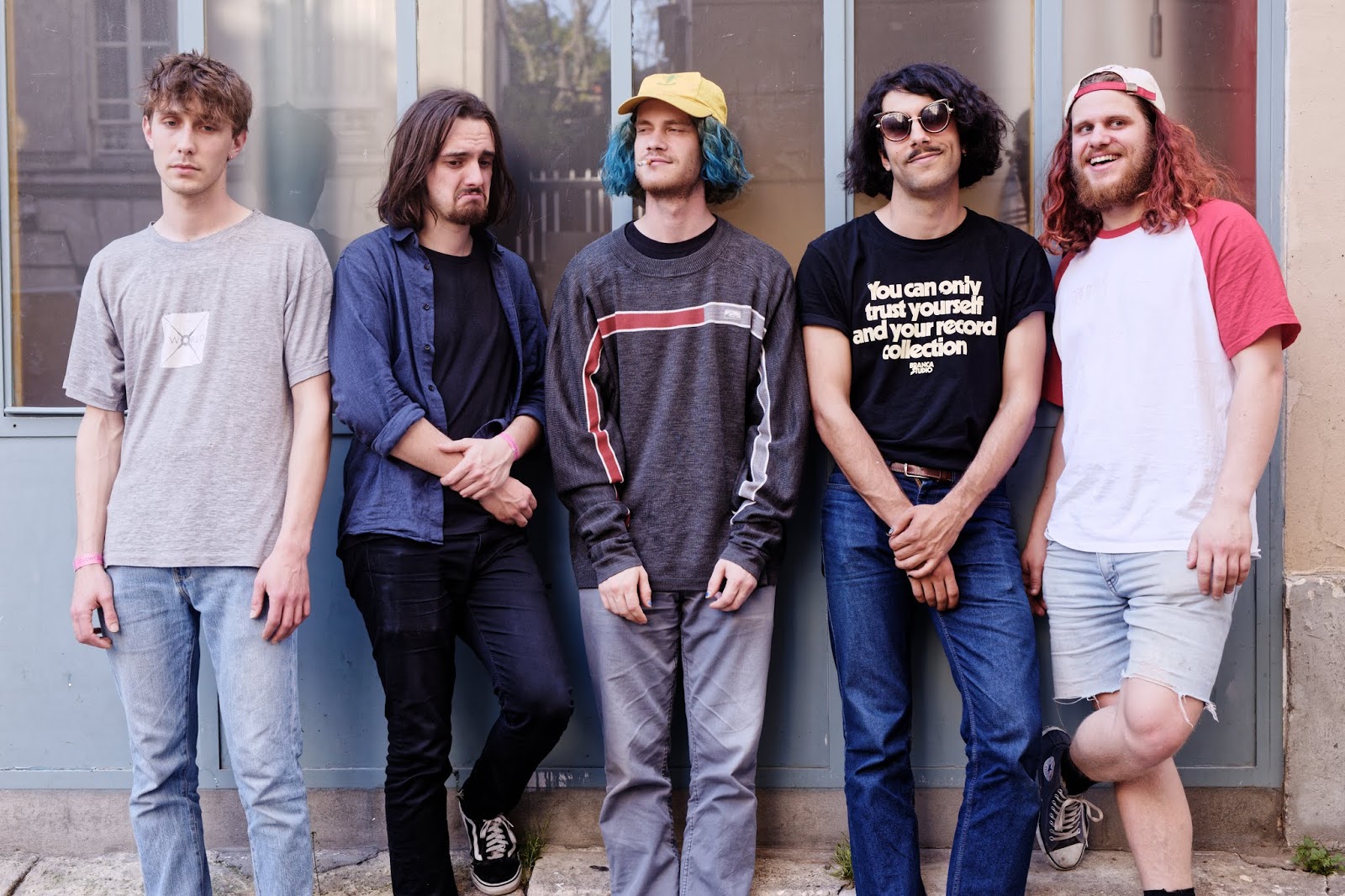 (photo Nicolas Bauclin)
I remember you telling me about this album in March 2018. Why did it take so long to get it out?
Because it wasn't recorded, mixed and mastered (just composed), also, before an album comes out you have to make clips and all that shit. And add to that all the timing for the pressing, promotion and all that, aaaaaaaaa, I hate it!
This new album was composed on the theme of Frankenstein. Are you a big consumer of horror movies? If so, are you more slasher or classic? And finally, what is the best version of Frankenstein?
I've watched a lot of horror movies and I prefer classics even if I like slashers as well. Otherwise, the best version of Frankenstein, everyone says, is Frankenhooker by Frank Henenlotter.
If I'm not mistaken, the theme of Martians also appears in your latest album. This necessarily reminds me of conspiracy theories. Can you give us the best conspiracy theory you believe in?
Macron burned Notre Dame himself with a few gasoline cans.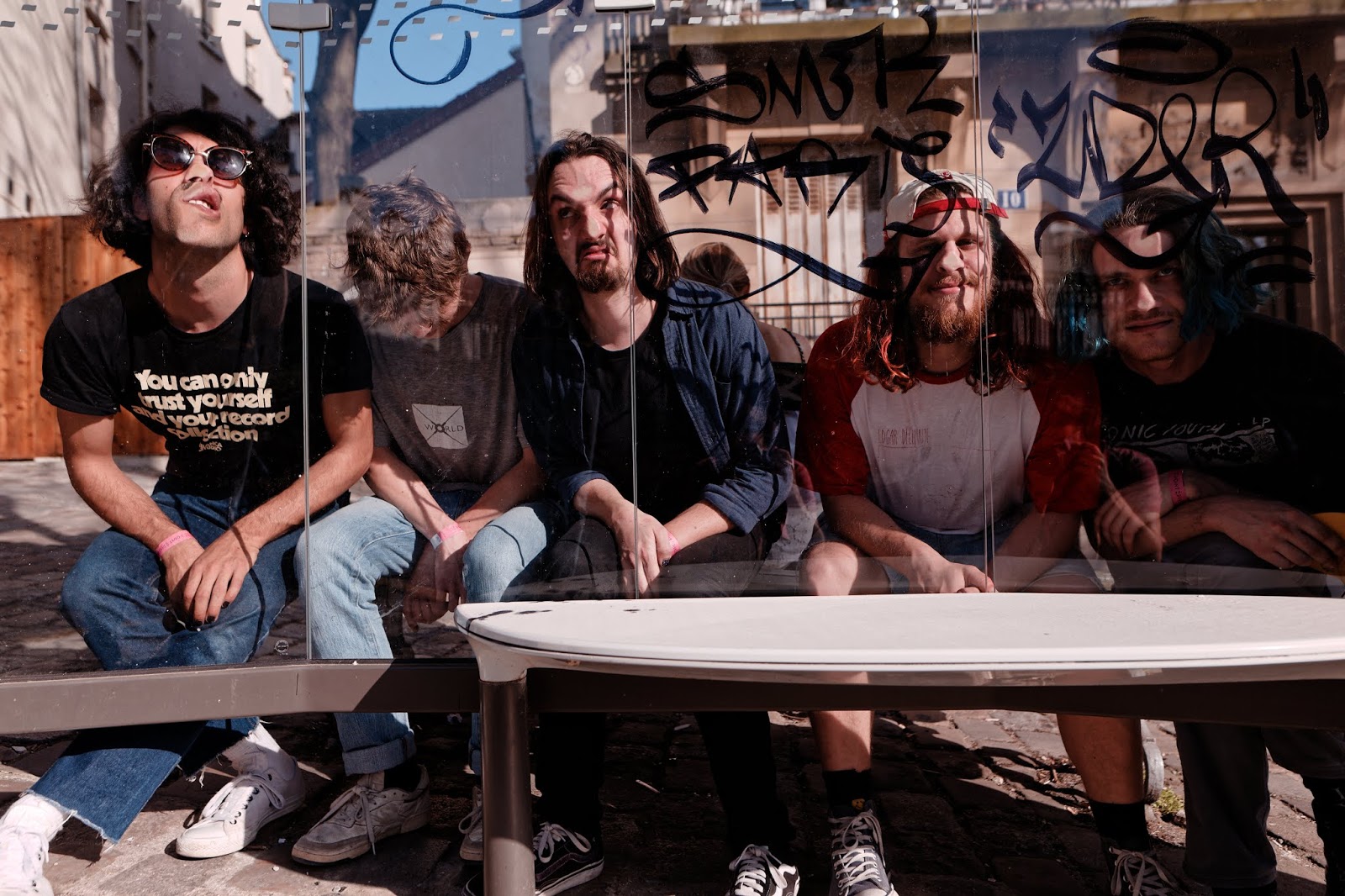 (photo Nicolas Bauclin)
To conclude in beauty
There's a question I'm asking myself, and I'm asking you this way: we all know that the 90s introduced irony into rock'n' roll. Are you ironic? If so, what is irony in your music?
I'm very ironic, yes. In my creations, it's 50/50.
How do you perceive the relationship between irony and sincerity? Does one prevent the other? Are you willing to sacrifice for each other?
No, the two are intimately linked, but I prefer to think that irony should prevail in the end. I find sincerity sometimes a little selfish in the sense that, for example, if an artist never relativizes about what he sings, he is only giving one dimension to his art.
About sacrifices: where do you want to be in 10 years, and what are you willing to sacrifice to get there?
I want to be a father with a vegetable garden, man, and sometimes, to go on a world tour to get drunk with my friends.
Do you have the feeling that you are "getting there"?
If "getting there" means making money, no, I am not. If it means having a label, a tour operator, people following me, playing shows… then yes. And I thank all these people for that.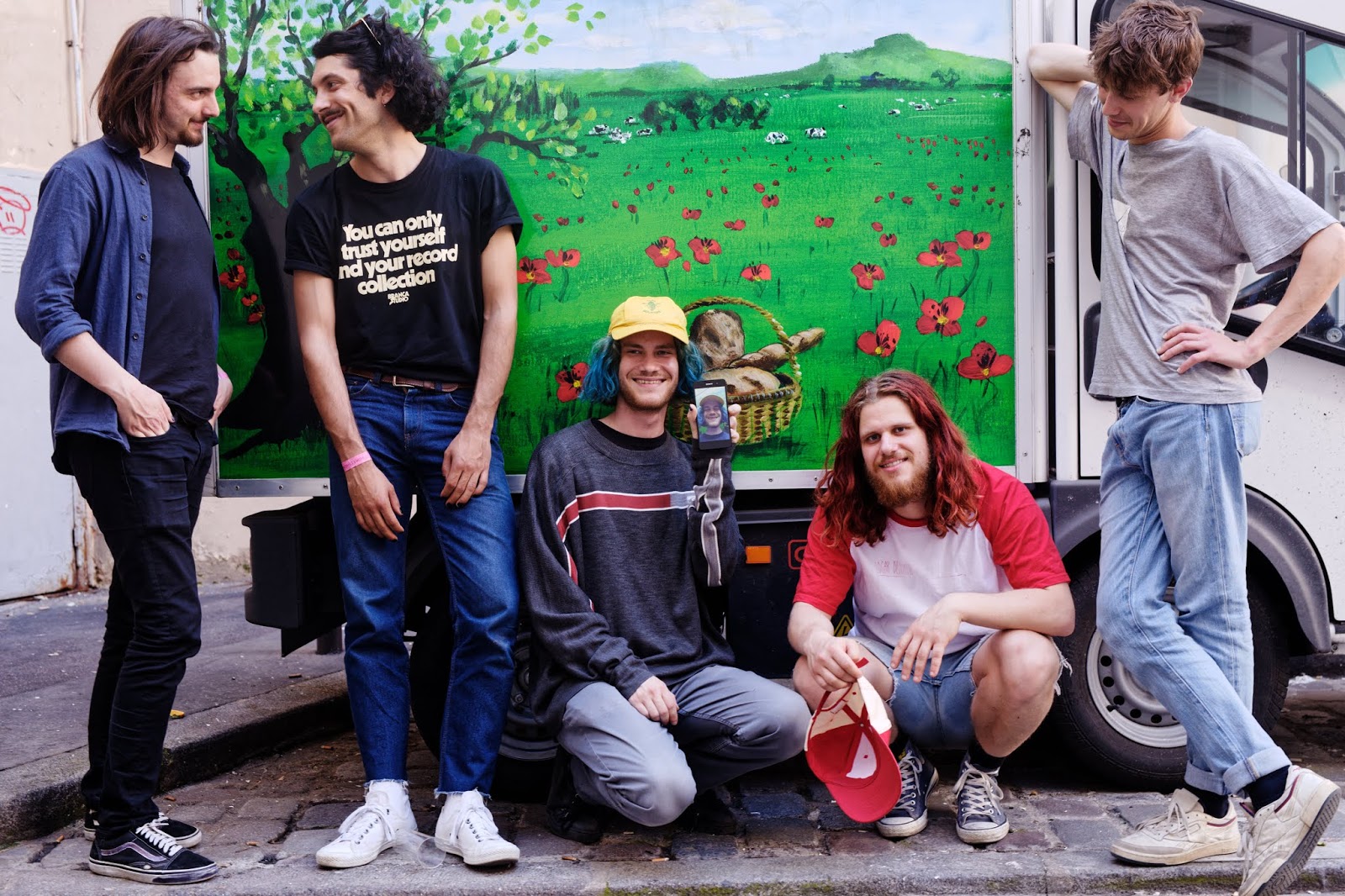 (photo Nicolas Bauclin)
We have already spoken several times (in private) about our mutual love for the 90s. Can you list here some albums from this decade that are particularly important to you, and explain briefly why?
I quoted these two thousand times, but Horsdrawn Whishes by Rollerskate Skinny (the most beautiful compositions in the world) and Mellow Gold by Beck (mental madness). Note that these two albums are the most Anglo-Saxon and the most redneck American haha. And here are some of my other classics: Hit to Death in the Future Head by the Flaming Lips, Today's Active Lifestyle by Polvo, The Proximity Effect by Nada Surf, Grand Prix by Teenage Fanclub… And here are some nuggets for diggers: Eva Luna by Moonshake, the self-titled by Quickspace, Chokin on the Jokes by Lotus Crown, all the Quickspace albums and the first album by Of Montreal.
You are part of the Flippin' Freak, a collective of artists from Bordeaux. Is it really a collective, by whom and when was it created, and what is its purpose?
Yes, it is a collective, our way of working is based on mutual aid and we really think as a group. Like a gang, a little bit. All members of the collective are at least part of one if not two bands on it. The first steps were in 2012 when Louis (Courtney), Alexis (Wet Dyedream) and I made a fanzine called Flippin' Mag about the Noisy scene in Bordeaux. Then, in 2015, we have decided to transform it into a collective with other musician friends close to our artistic sensibility. Our objective is to offer good music via the label and to defend, help and make artists grow in our vein (i.e. grungy, psych, shoegaze, noisy, lo-fi, freak) because we know how difficult it is today when we make this kind of music.
Your brother,

SIZ

(!!!!!!!!), is also part of it. Have you always heard yourself, have you always played music together and how do you think your relationship with him affects your creations? I ask you the question because I was recently listening to a podcast with Mark Duplass who said that after more than 20 years of collaboration with his brother, the time had come for him to create outside the family circle that had become too overwhelming.
We've always played music together, yeah. But there have been and there are sometimes projects in which we are not together. The collective allows that; there are so many projects that you can do a lot of different things with different combinations. And otherwise… no, we like to create together, since we each have our own solo project and we don't intervene on any aspect of the composition (unless we ask otherwise), we don't step on it so it's cool. We'll see where it leads us.