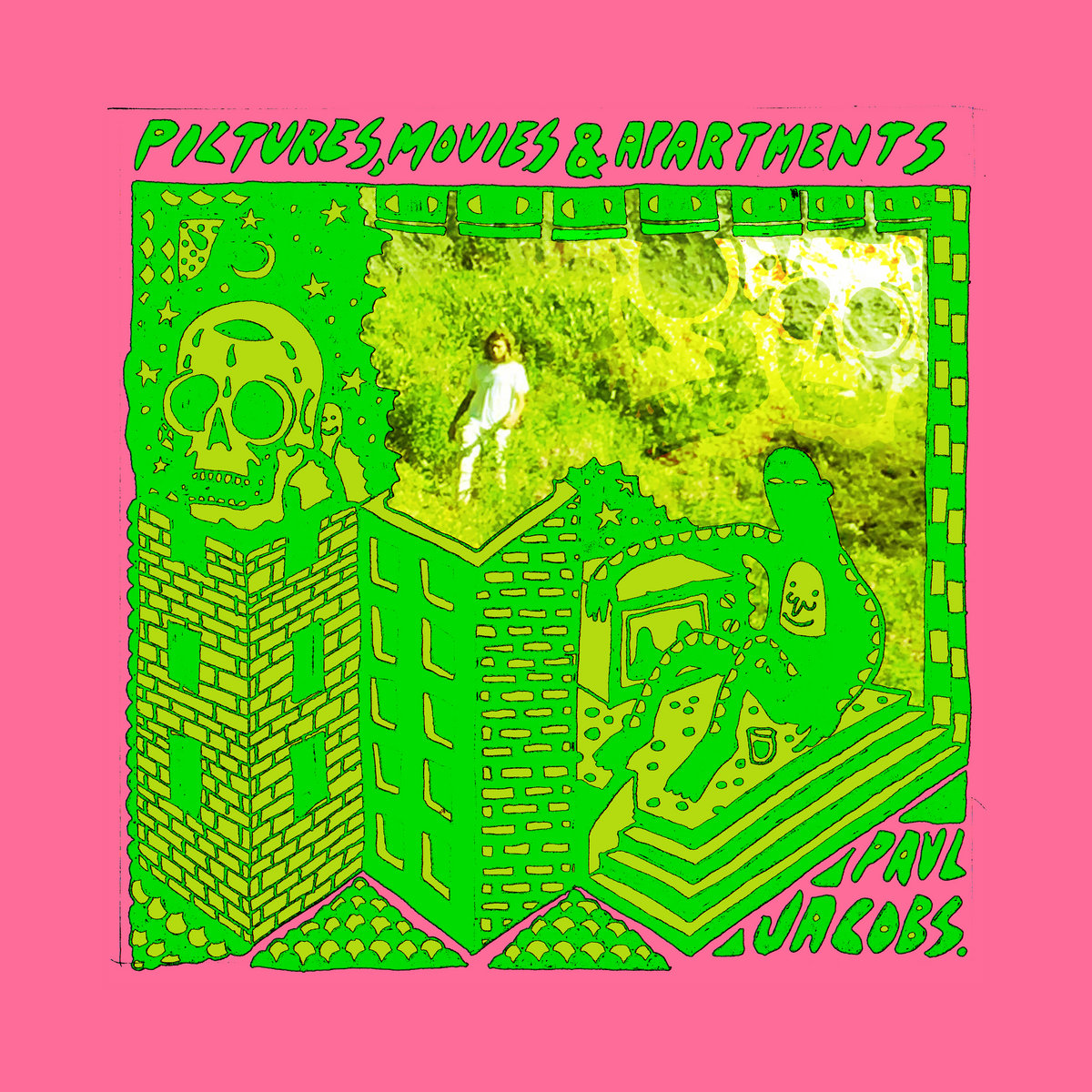 Paul Jacobs est un artiste canadien sur lequel j'ai de nombreuses fois écrit. Still in Rock avait été choisi pour dévoiler son dernier album en exclusivité, un I'm Into What You're Into très noir, très post-punk, finalement. Rebelote avec son tout dernier essai, Pictures, Movies & Apartments. Sans plus attendre et parce que les présentations sont faites depuis longtemps, place au track-by-track.
On se rassure d'entrée avec "
The Image
", un morceau super distordu, super psyché, super sale, super cool. C'est super ?!! "
The Image
" a pour lui une particulière gravité qui, disons le franchement, rajoute encore en intensité à la musique de Paul Jacobs. Quelle claque ! Paul Jacobs intègre un brin du côté épique de ses tout premiers titres au service du meilleur. "
Born In A Zoo
" prend alors le relais. Premier
single
de cet LP, il ouvre la voie vers une nouvelle identité sonore. Si ce titre me fait penser au meilleur de
Bigcolour
, il a pour lui une sorte de romance un peu passée, un truc désuet qui fait parfaitement l'affaire et sur lequel Paul Jacobs pose son filtre lo-fi.
"Changing" se la joue pop, encore un nouveau chemin de ce Pictures, Movies & Apartments assurément plus varié que les précédents. Que l'on ne s'y trompe pas toutefois, Paul Jacobs maintien une véritable identité sonore, surement faut-il aussi remercier Jean-Michel Coutu qui a fait un excellent travail de mastering. Il prend ici le parti du titre de lover bien caché, avec ses "But now you're changing for me, I should have never let this happen" distillé par-ci par-là. L'intru' est riche, le monde du garage est décidément plus complet que ce que 90% des artistes de la scène tend à nous faire croire. Paul Jacobs est un Maitre du genre, ce titre ne fait jamais que l'affirmer une fois encore.
"Pics, Movs & Apts.", c'est un raccourci, un autre morceau dans lequel la voix de Paul Jacobs fait preuve de toute la nonchalance du monde. Vous vous demandiez ce qu'aurait pu donner un bébé de Calvin Johnson et Ian Svenonius ? Le voilà finalement. Pour la première fois, Paul Jacobs s'essaie à ce que l'on pourrait ironiquement qualifier de balade pop. Une fois encore, il fait de nombreuses références à un monde nineties dans lequel nous étions encore au vidéo store le dimanche soir pour observer la belle Shady Lane d'un coin de l'oeil.
"Quarter To Eleven" fait ensuite évoluer le style, très punk, très proto-punk, il laisse place à une musique plus cathartique qui fait parfaitement le job. On est loin de la grandiloquence des deux premiers morceaux mais nous sommes toujours aussi proches de ce qu'il se fait de mieux en la matière. La dernière minute du morceau fait le pont entre les deux mondes, proto-musique et psyché, deux opposés qui se marient parfaitement. Et puis, "Your Favourite Number" vient clôre la première face. Une fois n'est pas coutume, la dernière minute est un joyeux bordel dans lequel il fait bon se perdre. Chapeau bas pour la prod.
"Come Over" s'introduit à nous sur un peu de pop avant de partir loin, très loin. Le son déniché par Paul Jacobs est tellement saturé qu'il en revient à un stade plus entubé. Il lâche les chevaux sur la toute fin, faisant de "Come Over" une joyeuse explosion sonore. "Words Of Wisdom" a pour sa part une batterie plutôt hip-hop, comme si les boites à rythmes de l'époque nineties l'avaient influencé. Et puis, une guitare au son très métallique vient rappeler les débuts du grunge, ou Total Slacker, c'est au choix. "Words Of Wisdom" a donc pour lui un aspect de marche militaire indéniable qu'il couple avec le trash de son univers habituel. Ce titre est l'une des immenses réussites de cet LP. Oubliez votre vieux The Verve moisi du fond du tiroir et marchez plutôt dans la rue avec ce morceau dans les oreilles, vous serez aussi invincible qu'un enfant de 15 ans.
"The Basement" annonce d'entrée la couleur : ce titre va reprendre un peu du post-punk de son avant-dernier album. Au risque de perdre en consistance, Paul Jacobs tente l'expérience du titre un peu chaotique qui se raccroche aux branches avec un synthétiseur bien placé. Il réintroduit un aspect mécanique par ci par là, la cohérence d'ensemble est ainsi maintenue, c'est parfaitement fait.
"All I Need / Want", c'est une traduction "un peu spéciale" (direz ma grand-mère) de la philosophie ataraxique. Voyez plutôt les paroles : "We're moving out, Out of the house, Because were getting older, I've got all I need for now". Ouais, mais encore ? Nouvelle démonstration de la beauté du nightmare sonore dans lequel nous plonge Paul Jacobs, il est un peu noyé dans un album d'un niveau plus exceptionnel qu'autre chose, mais ne nous y trompons pas, "All I Need / Want" vaut aussi son pesant de cacahuètes.
Viennent ensuite les 5 minutes de "See Through You", tout ce dont cet album pouvait encore avoir besoin. Paul Jacobs délivre une musique semi psychée / expérimentale depuis le début de cet LP, il fallait donc qu'il ose le morceau plus long pour nous montrer de quoi il pouvait être capable. Meagan Callen, qui l'accompagne sur scène (et pas que) à la batterie délivre un chorus qui rajoute en sensualité sur un album bourré de testostérone. Le couple fait des merveilles, ce titre est épique. "My Vacation" clôt alors l'assemblé sur un rythme automatique qui nous conduit doucement à un retour vers le futur la réalité.
Au final,
Pictures, Movies & Apartments
est un album plus varié que les précédents. Tout aussi explosif, il ajoute une nouvelle couche d'intensité qu'une volonté d'expérimenter les sous-genres du garage lui a permis de capter. De là à dire que
Pictures, Movies & Apartments
est le meilleur album de Paul Jacobs, il n'y a qu'un pas. Ses toutes premières créations étaient très brutes et minimalistes, elles avaient mis en lumière ce qui se fait de mieux en matière de garage façon Ty Segall des débuts. Et puis, les années passant, Paul Jacobs s'est finalement tourné vers une musique plus fouillée, une drôle de texture à la frontière entre pysché, punk et lo-fi-fuzz-a-go-go.
L'énorme travail réalisé sur cette texture sonore doit justement être respecté en tant que tel. Trop d'artistes "garage" (et oui, le terme veut dire quelque chose…) se contentent de plugger la guitare et de jouer le plus vite possible. Paul Jacobs démontre qu'il y a bien plus. Des artistes de son calibre donnent ses plus belles couleurs au genre. Avec Pictures, Movies & Apartments, c'est précisément un peu comme ci Paul Jacobs avait pris toutes
les teintes fluorescentes des pochettes qu'il réalise pour les faire
fondre dans une marmite en fonte. Le résultat est unique, voilà bien une claque de 2016, expérimentale, mélodique, intense et fun. Tout y est.
(mp3) Paul Jacobs – Born In A Zoo
(mp3) Paul Jacobs – Words Of Wisdom
Tracklist :
1.
The Image
2.
Born In A Zoo
3.
Changing
4.
Pics, Movs & Apts.
5.
Quarter To Eleven
6.
Your Favourite Number
7.
Come Over
8.
Words Of Wisdom
9.
The Basement
10.
All I Need / Want
11.
See Through You
12.
My Vacation
Liens afférents :
Article sur son album Do It Again
Article sur son album I'm Into What You're Into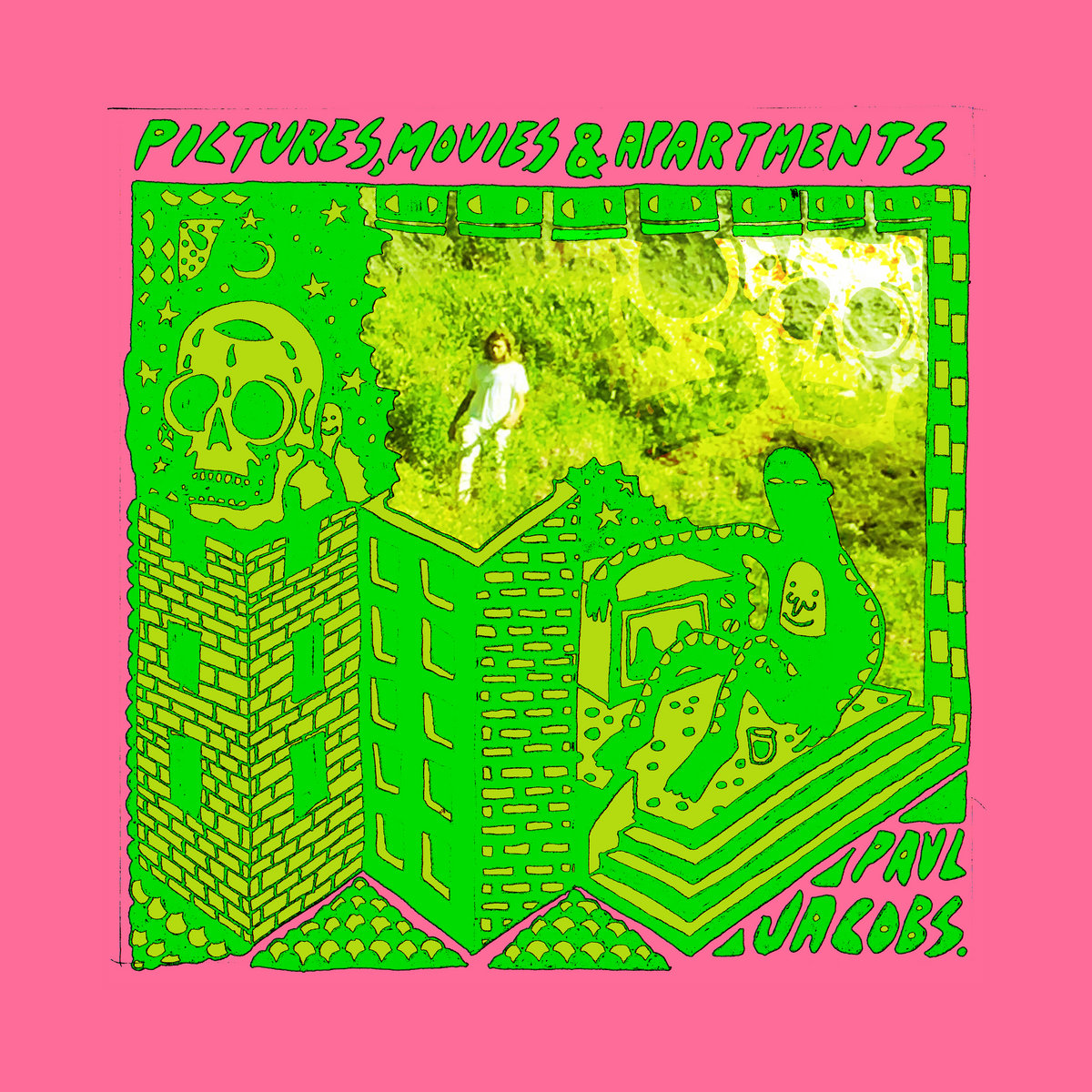 *******

ENGLISH version
(french above)
*******
Paul Jacobs is a Canadian artist about whom I have wrote many times. Still In Rock had been chosen to unveil his latest album exclusively, a very dark I'm Into What You're Into, actually very post-punk. He strikes again with his latest album, Pictures, Movies & Apartments. Without further ado, and because the presentations were already made long ago, let's get to the track-by-track.
We are reassured from the beginning with "The Image", a super crooked track, super psychedelic, super dirty, super cool. That's super?!! "The Image" has a special solemnity of its own, which, let's say it frankly, gives even more intensity to Paul Jacob's music. What a blow! Paul Jacobs incorporates an epic aspect to all his first tracks, for the best. "Born In A Zoo" then takes over. First single off this LP, it leads the way to a new sound identity. While this song reminds me of the best of Bigcolour, it shows a somewhat dated romance, something old-fashioned that does the job perfectly and on which Paul Jacobs places his lo-fi filter.
"Changing" sounds pop, yet a new path taken by this Pictures, Movies & Apartments, definitely more varied than the previous albums. But let's not get mistaken, Paul Jacobs keeps a true sound identity, and we should probably thank Jean-Michel Coutu, who did an excellent mastering work. He takes the side of a well-hidden lover song, with his "But now you're changing for me, I should have never let this happen" disseminated here and there. The instrumental is rich, the garage world is truly vaster than what 90% of the artists from the scene tend to make us believe. Paul Jacobs is an expert in that field, this track is another evidence for this idea.
"Pics, Movs & Apts", this is a diminutive, is another song in which Paul Jacob's voice shows all the world's nonchalance. You were wondering what a baby of Calvin Johnson and Ian Svenonius could be like? Here it is. For the first time, Paul Jacobs tries out what we could ironically define as a pop ballad. Once again, he is making numerous references to a nineties world in which we were still at the video store on Sunday nights to stare at beautiful Shady Lane out of the corner of the eye.
Then, "Quarter To Eleven" makes this style evolve: very punk, very proto-punk, it gives way to a more cathartic music, which perfectly does the job. We are far from the grandiloquence of the first two tracks, but we are still closer than ever to the best there is in this area. The last minute of the song is a bridge between the two worlds, proto-music and psychedelic, two opposites that get along perfectly in the end. And then, "Your Favorite Number" ends the first side. For once, the last minute is a big mess in which we're glad to get lost. Hats off to the production.
"Come Over" is introduced by a bit of pop before leaving far, far away. The sound Paul Jacobs has found is so saturated that he gets back to a more over-compressed stage. He swings into high gear in the very end, making "Come Over" a joyful sound explosion. "Words of Wisdom" has hip-hop drums, as if the drum machines from the nineties had influenced him. And then, a very metallic-sounding guitar reminds us of early-grunge, or Total Slacker, it's up to you. "Words of Wisdom" has an undeniable military march aspect that he pairs with his usual trash universe. This song is one of the huge achievements of this LP. Forget your old The Verve, left to dust in a bottom of drawer, but instead walk the street with this track in your ears, you'll be as invincible as a 15-year-old kid.
"The Basement" shows its intentions right from the start: this song takes a bit from his last album's post punk. At the risk of losing a bit of its consistence, Paul Jacobs experiments a more chaotic track that clutches at straws with well-placed keyboards. It reintroduces a mechanical aspect here and there, the overall coherence is kept, it's perfectly executed.
"All I Need / Want", is a "kind of special" (my grandmother would say) translation of ataraxic philosophy. See the lyrics: "We're moving out, Out of the house, Because we're getting older, I've got all I need for now". Yes, but what else? A new demonstration of the beauty of the sound nightmare Paul Jacobs dives us into, it's a bit drown into an exceptional album, but let there be no mistake, "All I Need / Want" is pretty damn good.
Then come the 5 minutes of "See Through You", all that this album could still need. Paul Jacobs had been delivering a semi psychedelic/experimental music since the beginning of this LP, so he had to try a longer track to show us what he's capable of. We could almost claim that, maybe, Pictures, Movies & Apartments is Paul Jacob's best album. His very first creations were very raw and minimalist, they highlighted what was best in garage rock, such as the early-Ty Segall. And then, as years went by, Paul Jacobs finally turned to a more meticulous music, a funny texture between psychedelic, punk, and lo-fi-fuzz-a-go-go.
The huge workload given on this sound texture must be respected as such. Too many "garage artists" (yes, it means something…) settle for plugging the guitar and playing as fast as they can. Paul Jacobs shows a lot more. Artists of such caliber reveal the best that this style can hold. With Pictures, Movies & Apartments, it's precisely as if Paul Jacobs had taken all the fluorescent tints used for the album covers he makes to melt them inside a cast iron pot. The result is unique, here is a 2016 must-have: experimental, melodic, intense, and fun. Everything is there.
(mp3) Paul Jacobs – Born In A Zoo
(mp3) Paul Jacobs – Words Of Wisdom
Tracklist :
1.
The Image
2.
Born In A Zoo
3.
Changing
4.
Pics, Movs & Apts.
5.
Quarter To Eleven
6.
Your Favourite Number
7.
Come Over
8.
Words Of Wisdom
9.
The Basement
10.
All I Need / Want
11.
See Through You
12.
My Vacation
Thanks Paul for the translation!