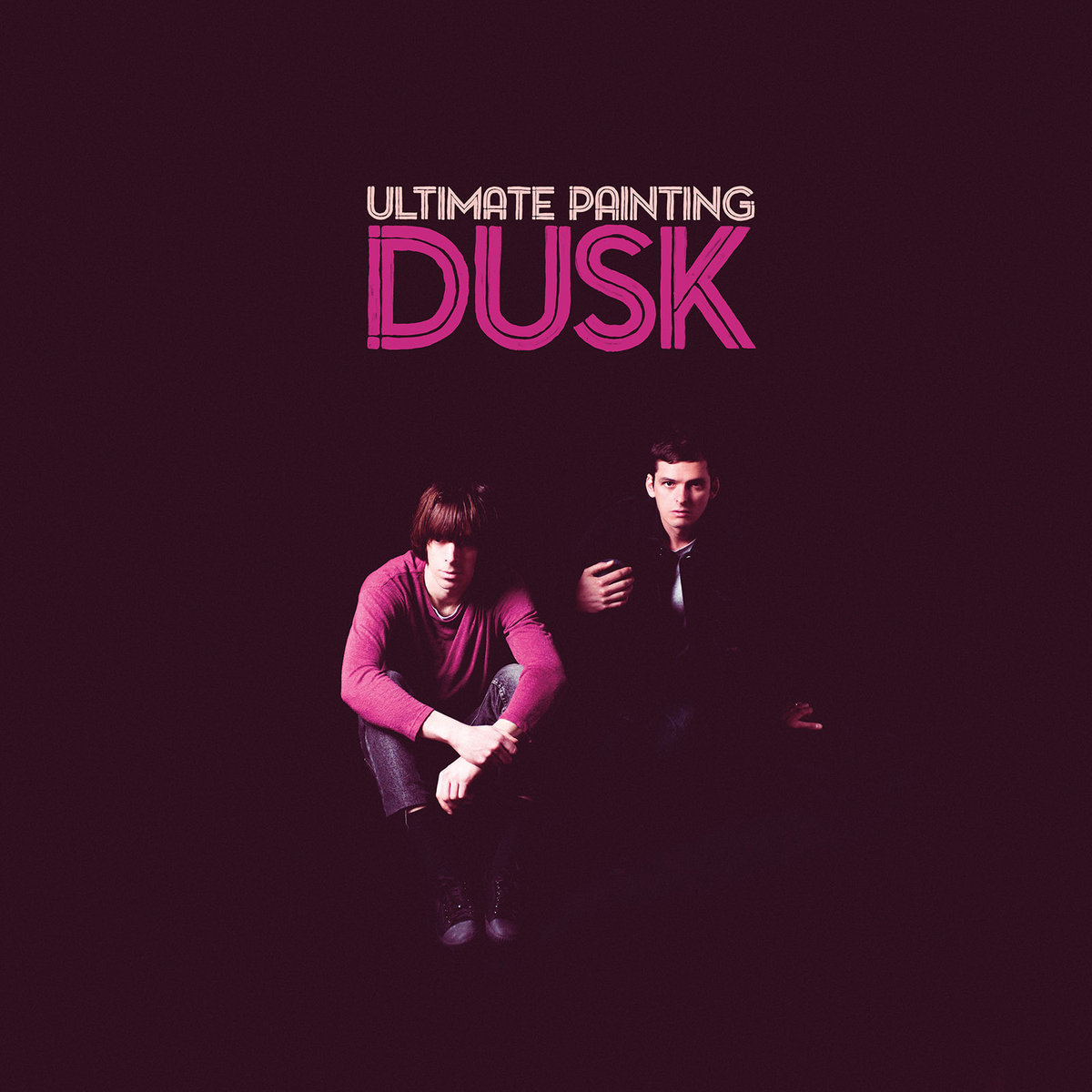 Ultimate Painting est un groupe originaire de Londres sur lequel j'ai déjà eu l'occasion d'écrire deux album reviews ainsi que de publier un interview. Pour rappel, Ultimate Painting est un duo formé par Jack Cooper (du groupe Mazes) et James Hoare (de Veronica Falls), et si l'on avait ainsi pensé entendre un groupe de rock'n'roll revival, on avait été surpris de découvrir une pop à la Velvet dont la précision était sans commune mesure. C'était en 2014.
Ultimate Painting a depuis fait du chemin,
mais
point d'inquiétude, il semble être un groupe pour ceux qui aiment les discographies dont la
simplicité ferait rougir une peinture de Kasimir Malevitch. Ultimate Painting
semble ne pas être fan du format EP (un seul à ce jour) et il a fait paraître un
album chaque année, un rythme plutôt soutenu.
Dusk
, paru
via
Trouble In Minds le 30 septembre dernier, est logiquement son troisième essai.
Dusk casse les codes sur un point au moins : pour la première fois, le groupe a décidé de se servir d'une photo pour illustrer son album, un comble avec un nom pareil… Point d'inquiétude toutefois, Ultimate Painting est un groupe d'habitudes et Dusk ne décevra personne. En fait, tout est là pour faire de Dusk un album qui compte : les gears avec lequel le groupe travaille (du matos' de Nirvana, en partie), un songwriting à deux qui fait des étincelles et une façon d'être assez captivante qui ne peut que conduire à une forme artistique singulière.
Les introductions d'Ultimate Painting ont toujours été particulièrement bien choisies. "Bills" ne déroge pas à la règle. Le titre est entraînant – comme l'était le "Kodiak" de son album Green Lanes – et fait déjà ressortir le spleen qui fait d'Ultimate Painting ce qu'il est aujourd'hui. Notons par ailleurs que les titres de Dusk sont plus longs que par le
passé, ce que l'on constate immédiatement avec "Bills" tant le morceau
profite d'une petite rallonge pour glisser une plage instrumentale. Je n'ai jamais bien compris pourquoi les
groupes (hors punk et garage) se cantonnaient à des morceaux de 3 minutes –
si ce n'est pour éviter de bousiller leurs compo' -, Ultimate Painting
prouve là qu'il y a quelques choses à faire sur ces quelques secondes
d'extra.
Vient ensuite "Song for Brian Jones", probablement pas le morceau le plus groovy jamais composé par le groupe, mais ça fonctionne toujours. "A Portrait of Jason" (ça parle de Jason Voorhees, ça parle de Jason Voorhees ???!!) est une balade pop tout ce qu'il y a de plus fidèle à l'univers d'Ultimate Painting. Le titre ne décolle véritablement jamais et l'on comprend alors que le groupe vise ici surtout à illustrer toute la simplicité de sa musique, en ce qu'elle a de meilleur. Le statement de cet LP est ainsi défini et les morceaux qui suivent ne font que le confirmer.
"Lead the Way" semble faire échos à la pochette très colorée de Dusk. S'il ne faut pas s'attendre à une franche partie de disco, Ultimate Painting en profite pour laisser la part belle à son clavier, ambiance eighties lorsque, après le bal, James rentre seul chez lui et se met à jouer de la musique dans sa chambre.
Le groupe enchaine alors avec "Monday Morning, Somewhere Central", le morceau consécration de cet album, consécration parce que les deux voix semblent se compléter comme jamais, consécration parce que le songwriting du groupe est confident et ne surjoue pas, consécration parce qu'il résonne assurément comme un seul morceau d'Ultimate Painting le peut. Les deux ans que le groupe vient de passer sur la route semblent avoir conduit à des titres de ce calibre, humble et élégant.
"
Who Is Your Next Target?
" est étrange parce qu'il semble vouloir faire entrer Ultimate Painting dans notre quotidien (qui est ta cible ?) alors que l'on a toujours perçu le groupe comme faisant partie d'un monde externe. Notons à ce stade que
Dusk
est moins Velvet Underground que les précédents, peut-être parce que les textures sonores ont un peu doré au soleil. Une fois encore, Ultimate Painting se sert d'un seul riff pour délivrer un morceau sur cette base solide, c'est indémodable.
"Skippool Creek" marquera nécessairement l'écoute de l'album. Sur la base d'un tempo plus lent que les précédents, il se donne le temps de contempler le paysage sonore créée par le groupe depuis 2014. Le duo de voix a quelque chose de très dandy, parce que soigné et enivrant.
"I'm Set Free" reprend le thème de la tranquillité qui semble si cher à Ultimate Painting. Il y a quelque chose de très introspectif dans sa musique que les paroles traduisent ici sans difficulté, l'envie de se retrouver seul et d'explorer son for intérieur. Peut-être est-ce l'une des formules de la réussite, cette capacité à s'adresser à notre singularité. "Silhouetted Shimmering" indique ensuite une nouvelle direction artistique, plus synthétique. Et puis, "I Can't Run Anymore" vient doucement fermer le rideau sur ce Dusk tout à fait lénifiant.
Au final, Dusk semble consacrer la simplicité que le groupe a toujours mise en avant. Les années qu'il a passées ensemble lui permettent une osmose évidente, comme si Dusk osait affirmer l'identité du groupe plus encore que ne le font ses deux premiers LPs. Et puis, comme toujours, Ultimate Painting délivre une musique gracieuse qui donne à entendre un doux mélange de pop slowcore et d'inspirations diverses, du blues en passant par la folk et autres sonorités jazzy.
Alors forcément, on aurait aimé de Dusk qu'il nous surprenne un peu plus. Il faut dire qu'Ultimate Painting a toujours excellé et lorsqu'on ne connait un groupe qu'à travers ses réussites, on se demande forcément ce qu'il a encore sous le pied. Peut-être qu'Ultimate Painting serait un maitre de la pop expérimentale. Peut être aussi qu'Ultimate Painting serait un leader de la jangle pop dansante, après tout, Central Park Blues faisait déjà son effet. Ses questions auront peut-être leurs réponses un jour ou l'autre, mais en attendant, on écoutera sans lassitude la pop d'un groupe anglais que l'on verrait bien être consacré au Royal Ballet.
(mp3)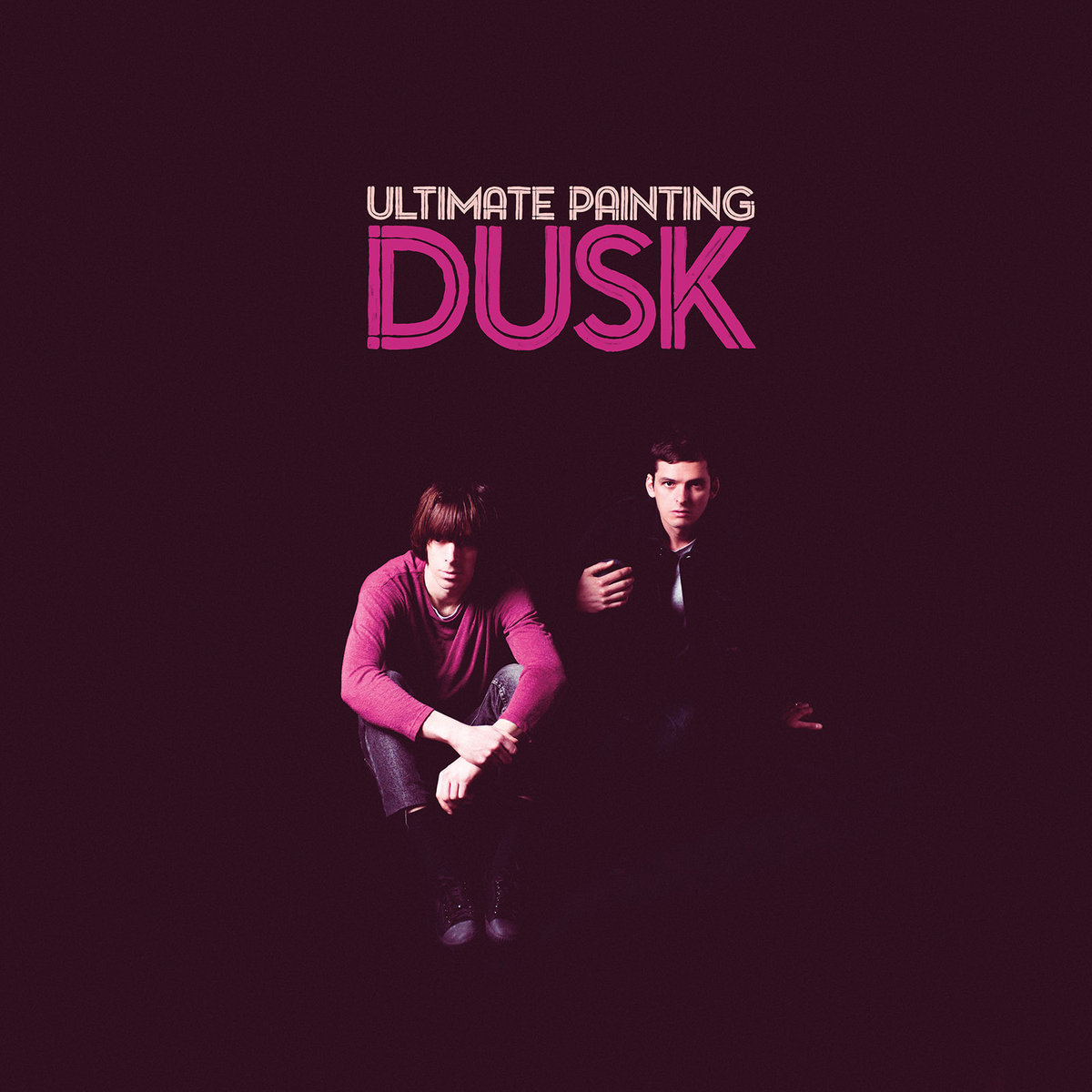 Ultimate Painting – Monday Morning, Somewhere Central
(mp3)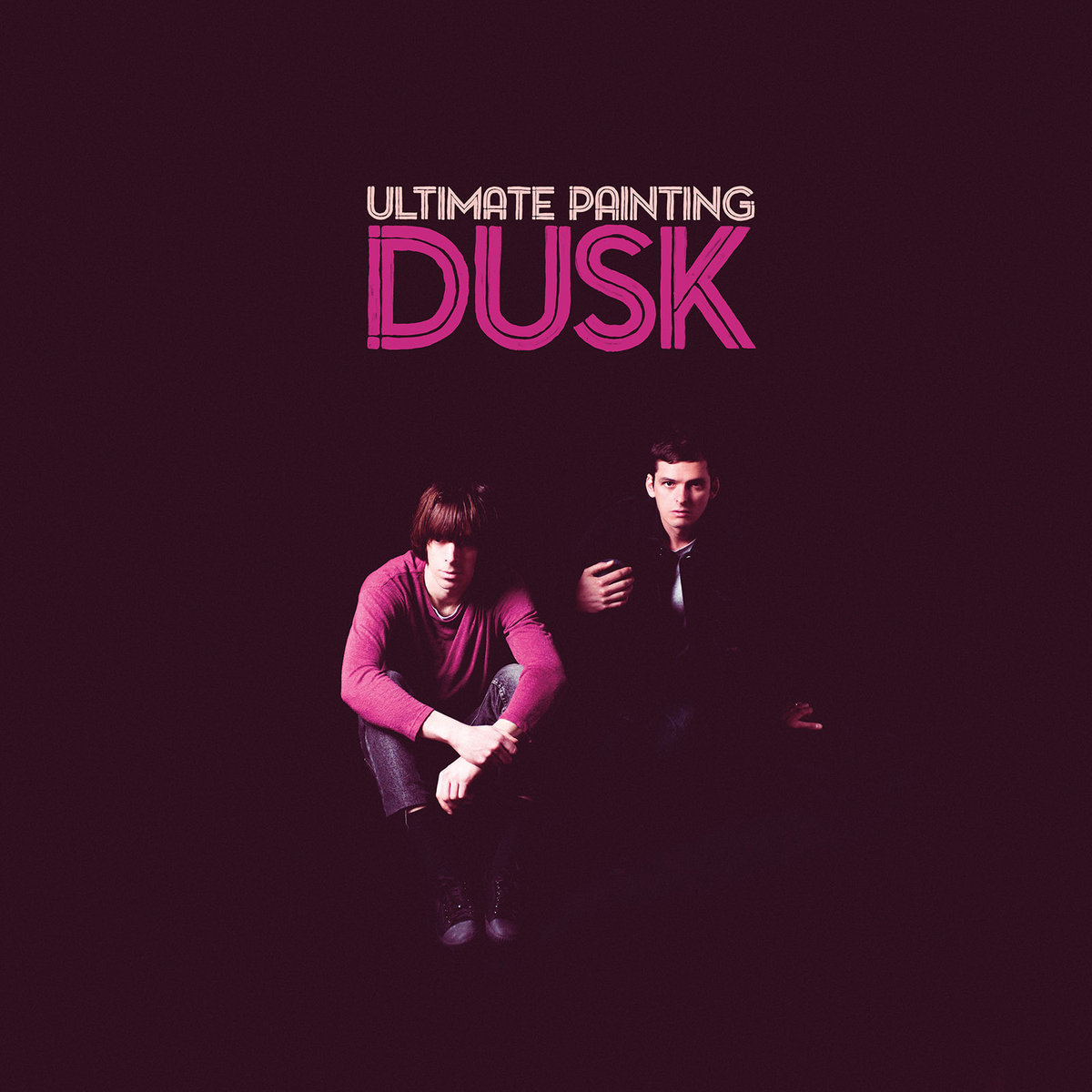 Ultimate Painting – Skippool Creek
Liens afférents :
Article sur le premier album du groupe
Article sur le second album du groupe
*******
ENGLISH version
(french above)
*******
Ultimate Painting is a band from London about which I have already written two album reviews and published an interview. For the recall, Ultimate Painting is a duo composed of Jack Cooper (from the band Mazes) and James Hoare (from Veronica Falls), and while we were expecting a rock'n'roll revival band, we were surprised to discover Velvet-like pop with an unapproachable precision. That was in 2014.
Still in Rock interview with Ultimate Painting
Since then, Ultimate Painting has come a long way, but don't worry, they seem to be the band for those who like discographies which simplicity could make a Kasimir Malevitch's painting blush. Ultimate Painting don't seem to be fans of the EP format (only one to this day), and they have released an album every year, quite a sustained pace. Dusk, released on Trouble In Mind last 30th September, is their third attempt.
Dusk breaks the codes on at least one aspect: for the first time, the band has decided to use a photograph as the cover of the album, a surprising decision with such a name… Still, no need to worry, Ultimate Painting is a band of habits and Dusk will not disappoint anyone. Actually, everything is there to make Dusk an album that matters: the gears the band works with (Nirvana's, for a part), a shared songwriting that sends sparks flying, and a captivating way of living that can only lead to a singular artistic form.
Ultimate Painting's introductions have always been well chosen. "Bills" is no exception. The song is catchy – like « Kodiak », from the album Green Lanes, was – and emphasizes the spleen that makes what Ultimate Painting is today. Besides, let's note that the songs from Dusk are longer than the older ones, which we immediately notice with "Bills", a song that takes advantage of a little extension to slip an instrumental track. I have never understood why bands (apart from punk and garage) restrict themselves to 3-minute tracks – unless it's made to screw up their compositions -, Ultimate Painting proves that there are things to improve with these extra seconds.
Then comes "Song for Brian Jones", probably not the grooviest song ever composed by the group, but still, it works. "A Portrait of Jason" (they're talking about Jason Voorhees, they're talking about Jason Voorhees ???!!) is a pop ballad, as loyal to Ultimate Painting's universe as could be. The song never really takes off, and we understand that the band aims at illustrating the simplicity of their music, in its best aspects. This LP's statement is now defined, and the following tracks can only confirm it.
Article about the band's first album
"Lead the Way" seems to echo to Dusk's colorful cover. While we shouldn't expect a frank disco section, Ultimate Painting makes the most of the opportunity to give prominence to the keyboards, eighties atmosphere when, after the dance, James gets back home all alone and starts playing music in his room.
Then the band goes on with "Monday Morning, Somewhere Central", the triumphant track of this album : triumphant because the two voices seem to be as complementary as ever, triumphant because the band's songwriting is confident and isn't overacting, triumphant because it doubtlessly sounds as only an Ultimate Painting song does. The two years spent on the road by the band seem to have led to such songs, humble and elegant.
"Who Is Your Next Target?" is odd because it looks like it wants to make Ultimate Painting get into our daily life (who is your target?) while we have always seen them as a band from an outside world. Let's note that to this point, Dusk is less Velvet Underground than the former albums, maybe because the sound textures have got some color under the sun. Once again, Ultimate Painting uses one single riff to deliver a song on this solid basis, it's timeless.
"Skippool Creek" will unavoidably stand out when listening to the album. On the basis of a lower tempo than before, it gives itself some time to contemplate the sound scenery built by the band since 2014. The duet singing has something very dandy, in the way it's neat and heady.
Article on the band's second album
"I'm Set Free" tackles the subject of tranquility, which is apparently very dear to Ultimate Painting. There is something really introspective in the music, which the lyrics reflect without any difficulty, the desire to stay alone, exploring the innermost being. Maybe this ability to speak to one's singularity is one of the formulas for success. "Silhouetted Shimmering" then indicates a new artistic direction, more synthetic. And then, "I Can't Run Anymore" comes to close the curtains on this absolutely soothing Dusk.
In the end, Dusks seems to consecrate the simplicity that the band has always highlighted. The years spent together enable an obvious osmosis, as if Dusk managed to assert the identity of the band, even more than how the first two LPs did. And then, as always, Ultimate Painting delivers a graceful music which shows us a sweet mix between slowcore pop and various inspirations, from blues to folk, and jazzy sounds.
See Ultimate Painting's KEXP session
So, necessarily, we would have liked to be surprised a bit more by Dusk. The thing is Ultimate Painting has always exceled, and when we only know a band through their success, we unavoidably wonder what more they hold in reserve. Maybe Ultimate Painting would be the Kings of experimental pop. Or maybe they'd be the Kings of dancing jangle pop, after all, Central Park Blues already did the trick. These questions might be answered someday, but meanwhile, we'll be listening tirelessly to the pop of an English band of which we would well witness a triumph at the Royal Ballet.
Thanks Paul for the translation!