english. There is no better way to start 2016 other than publishing our conversation with a living legend: Andy Shernoof, creator of the Dictators. The band, which appeared on the scene punk one year before the Ramones and two before the Sex Pistols, is now part of the history of rock'n'roll. I, therefore, went to interview Andy with my purse full of questions. But after all, what to ask to one of the creators of punk music, a close friend with Joey Ramone, a living legend, if not about his feelings on history and modern times? By reading this interview, you'll learn a lot about the beginnings of the Dictators, the development of the punk scene and about the last hours of Joey. But more than anything, I cannot help but entitled this interview: U2 killed Joey Ramone!
french. Quoi de mieux pour le premier interview de l'année que de commencer avec une véritable légende vivante : Andy Shernoof, créateur des Dictators. Le groupe, qui arrive sur la scène punk un an avant les Ramones et deux avant les Sex Pistols, fait aujourd'hui partie de l'histoire du rock'n'roll. C'est l'escarcelle pleine de questions que je m'en suis donc allé interviewer Andy. Mais après tout, que demander à l'un des créateurs du punk, à un ami proche de Joey Ramone, à véritable légende vivante, si ce n'est son ressenti sur l'histoire et l'époque moderne ? On y apprend finalement beaucoup sur les débuts des Dictators, sur le développement de la scène punk ainsi que sur les dernières heures de Joey. Mais plus que tout, je crois que je ne peux m'empêcher de titrer cet interview : U2 a tué Joey Ramone !
********************
ENGLISH version
(french below)
INTRODUCTION
Hi Andy. You created the band in 1973, a few years before the flood of '77 punk. How was the punk scene at that time, in the pre-CBGB era…?
The pre-punk scene was an interesting period. I go into the scene in great detail in my liner notes to the "The Dictators Go Girl Crazy", 40th Anniversary edition that was just released but basically it was a vast wasteland of hippie singer songwriters and long-winded progressive rock musical pomposity. Rock and roll was in short supply and the fun element had completely disappeared. Everybody was taking themselves way too seriously. That left a huge vacuum for the high energy, rebellious rock and roll that we loved and grew up on
The Dictators became popular in a very short period of time. How did you handle the transition from being a small punk band to worldwide stars?
I guarantee that the band did not become popular "in a very short period of time". Our first record was quickly dismissed by the music business on its release and there were many years when the band's style of music was out of favor. I'd like to think that respect for the band has grown over a 40 year period because the music has aged well.
THE BAND
You had (and still have) the reputation of performing very energic live performances. I read on the internet about a potatoes story, can you tell more?
When we first started performing there weren't any punk rock clubs so we were thrown on tours with inappropriate acts. One tour was The Dictators, Foreigner and Uriah Heep. It sounds ridiculous but it is true! On the final show of a tour, it is traditional to play pranks on the other bands and we had a few bushels of potatoes dropped on us during the last show.
Also, can you tell us more about the cover of Go Girl Crazy?
That was the concept of our former manager Murray Krugman. We were all big professional wrestling fans and Murray had the idea to design the entire package to look like a wrestling magazine.
Your lyrics largely refer to what some have described as the "junk culture", fast food, sexy women, TV… But maybe is this the secret of such a great longevity?
First, you have to write about what you know. At the time there weren't any bands writing about "junk culture". I always say people like a band for the music but love a band for the lyrics. Thankfully the lyrics connected with people.
As you said, only two things run the world: cars and girls (or pussy and money). What was the importance of women through the Dictators' history?
Most rock songs are about women, love or relationships; I just gave those topics a sardonic twist. The Beach Boys are one of my all time favorite bands so I wrote "Cars and Girls" as a tribute to them. "Pussy and Money" is my tongue in cheek observation on – as the lyrics say – "what makes the world go round". Nobody can deny the power of sex and money.
You also said that "The Dictators never broke up. Sure there were occasional gaps of a few years between some shows (we had lives to lead) but deep in our hearts and souls we always knew we were Dictators. We couldn't escape it even when we tried." So, is the The Dictators NYC a different band from The Dictators?
The difference between The Dictators and Dictators NYC is Scott Kempner and I aren't onstage. The music, songs and arrangements are the same.
YOUR MUSIC
The Dictators' music conciliates Punk Rock and Hard Rock, two musical genres often opposed. Was it deliberate, was it a desire to show that these two philosophies could be reconciled?
The Dictators combine a punk rock attitude with a hard rock sound. It is how we incorporate our influences and a combination of the way I wrote my songs and how the band performs them. I love hard driving music played fast and loud. All I want is a good guitar riff and a catchy chorus.
Furthermore, some have described your music as proto punk. I'm not sure I agree with this label because your music was very well produced from the beginning. What do you think? This prompts me to ask you if you care about the place of the Dictators in music history?
Proto punk refers to bands that influenced punk rock. We are called proto-punk because we released our first record a year before The Ramones and two years before The Sex Pistols. We have a lot in common with those bands like our lyrical attitude but there are also major differences. Our sound incorporated other elements and colors than the downstroke guitar associated with punk rock.
You have been described as the missing link between the MC5, the Stooges and New York Dolls. What do you think of that statement?
You left an important part of the quote out…The full quote, which is attributed to Steve Van Zandt, is that "we were the missing link between the MC5, Stooges, Dolls era ….and the late 70's punk explosion"…. I think it is an apt description as out first record was influenced by the Detroit sound of the MC5 and Stooges and we then influenced the late 70's bands that came after us.
You were friends with the Ramones. Can you tell us more about your personal relationship with them? Is there any yet unveiled anecdotes that you want to tell us?
I had a long personal and professional relationship with Joey Ramone. Besides being friends we wrote songs together and I played bass for all his solo projects. Dee Dee was brilliant but tortured. I co-wrote a few tunes with Dee Dee after he left The Ramones but he was a difficult personality. I was much closer to Joey. They were both unique individuals and if they weren't in a rock and roll band I think they might have fallen between the cracks of society.
Regarding anecdotes, forever etched in my brain is being in the hospital room with Joey Ramone on the day he passed away. He was lying unconscious in his bed when his brother put a U2 song called "In A Little While" in a boom box he kept in the room. The lyrics go "In a little while, this hurt will hurt no more". The song ended and he literally breathed his last breath. I watched his skin turn from pink to white as his heart stopped pumping blood. It was an unforgettable, transcendent experience.
U2? Really? Wow, this is really sad. Oh well. Ok, since we were talking about the New York Dolls, you were also friends with Johnny Thunders (I saw that you had just produce LAMF: Live at the Village Gate, 1977), and if so, what kind of a man was he?
I went to the same grade school as Johnny Genzale, Johnny's real last name. He was one of the kids I played stickball with in the schoolyard. It was all about playing sports until we saw The Beatles on Ed Sullivan. Then our worlds changed.
About you being a producer on the side, you have worked with many big names including the Ramones and Guided by Voices… How was it? And what about your work for Iggy Pop?
I love Iggy Pop but I never worked with him.
(ed. Allmusic says so). I enjoy the process of making a record, from writing and compiling the songs to working out the arrangements to recording the tracks and mixing. The process is my real motivation. Making the hundreds of very small decisions that make up the final product. The method has changed significantly since the 70's as computers take over but I still love it.
It was an honor to work with the Ramones. I did some songwriting and played a bit of bass and guitar on some of the later records. I also admire the creativity of Guided by Voices. Their catalogue is huge. I used to work with their first label, Scat Records and did one recording session with them.
SOME MORE
You knew Lester Bangs, the greatest rock'n'roll critic in my opinion. What can you tell us about him?
I knew Lester pretty well. I had a fanzine called "Teenage Wasteland Gazette" and he recruited me to write for Creem magazine when he was the editor. Lester was a brilliant writer who in my opinion would have transcended music and gone into writing books, movies and who knows what else. It's a shame he died so young.
You have more perspective on the punk rock scene that anyone else. Can I ask you what are, in your opinion, the most significant bands in history? Elvis Presley, The Beatles, Bob Dylan, The Beach Boys and The Ramones are the most important and influential rock and roll artists, in my humble opinion.
And what do you think of the current punk scene? And more generally, what do you think of the rock'n'roll scene of the 21st century?
As the world changes, musical genres come and go. Unfortunately rock and roll and punk rock are fading. They lost their rebellious edge a long time and I can't remember the last time a rock and roll band topped the US charts. I wrote the song "Who Will Save Rock and Roll" 20 years ago and I believe it is more true today than it was then, particularly the line "My generation is not the salvation". We need a crop of young bands reinventing the genre, creating something new, not just replicating the past.
The Dictators NYC recently played in Paris (video), several days after the terrorist attacks. I will always remember this show. Did you hear about it?
I understand that was an emotional time for Paris music fans.
TO CONCLUDE
The Dictators is now part of the Rock and Roll Hall of Fame. Was it something important, or was it too institutionalized and therefore contrary to the punk spirit?
We are in the museum of the Rock and Roll Hall of Fame not in the Hall of Fame itself. … I don't pay too much attention to the RRHoF, though I like two of this years inductees, NWA and Cheap Trick very much. I do however support their efforts to collect the memorabilia, clothing, guitars etc. associated with the history of rock and roll. That is important work.
What is the most exciting news you'd like to share with us?
Check out my Youtube channel and sunscribe…
link
What other contemporary bands do you listen to?
Thanks to YouTube and Spotify I am able to check out new stuff all the time but nothing sticks with me. When I listen to music for pleasure it tends to be the stuff I grew up on from the 60's and 70's.
I recently interviewed Bret Easton Ellis (link) and he told me that, in his opinion, "rock is dead", I quote, "you have to go to country music to find people who are writing pop or rock songs". What would you like to answer him?
Well, rock is not dead but it certainly is ailing. At one time we awaited the new Beatles or Stones album with baited breath, rock and roll changed the culture influencing politics, fashion and art. I am skeptical that it will ever return to its former glory.
Brett is not the first person I've heard call country music the new rock and roll. He's referring to the commercial country music coming out of Nashville today. To my ears it sounds like the crappy, processed rock music I didn't like in the 80's. If that is what passes for rock music, then rock might be dead!
A word to conclude?
"Car, girls surfing, beer… nothing else matters here."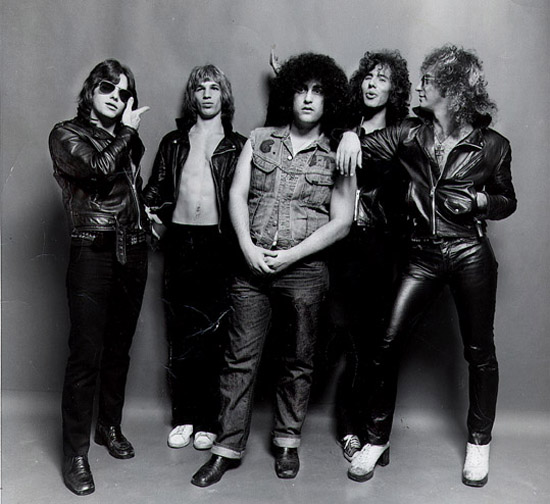 (mp3)
The Dictators – California Sun (1975)
(mp3)
The Dictators – (I Live For) Cars And Girls
(1975)
Link:
********************
FRENCH version
(english above)
INTRODUCTION
Salut Andy. Tu as créé le groupe en 1973, quelques années avant l'avalanche punk de l'année 77. Comment était la scène punk à l'époque pré-CBGB ?
La scène pré-punk était une période intéressante. Je l'évoque d'ailleurs en détails dans les commentaires inclus sur l'édition du 40ème anniversaire de "The Dictators Go Girl Crazy". Le Rock and Roll existait alors en quantité limitée et le côté amusant de la chose avait totalement disparu au profit d'un rassemblement de chanteurs et songwriters hippies avec des morceaux interminables, du rock progressif pompeux. Tout le monde se prenait bien trop au sérieux. Cela a eu pour effet de créer une sorte d'appel d'air pour le rock énergique et rebel que l'on aime et avec lequel on a grandi.
The Dictators est devenu populaire en très peu de temps. Comment s'est passé la transition entre le statut de groupe punk peu connu à celui de groupe de renommée mondiale ?
Je peux te garantir que ce groupe n'est pas devenu populaire en "très peu de temps". Notre premier album a rapidement était rejeté par l'industrie dès sa sortie et ce durant de nombreuses années, notre style de musique n'était pas très populaire. J'aime à penser que notre réputation a grandi tout au long des 40 années d'existence parce que cette musique vieilli bien.
LE GROUPE
Vous aviez (et avez toujours) la réputation d'être très énergiques en live. J'ai lu sur internet une histoire à propos de patates, tu peux nous en dire plus ?
Lorsque l'on a commencé à faire des concerts, il n'y avait pas de salle punk rock, on partait donc en tournée avec des groupes totalement incompatibles. On a fait l'une d'entre elles avec Foreigner et Uriah Heep. Ça semble ridicule, mais c'est la vérité ! Lors du dernier concert de la tournée, il est de tradition de jouer un tour aux autres groupes et on a reçu un tonneau de patates en plein concert.
Peux-tu nous parler de la pochette de Go Girl Crazy ?
C'était l'idée de notre ancien manager Murray Krugman. Nous étions tous des fans de lutte professionnelle et Murray a eu l'idée de désigner l'intégralité de l'album pour qu'il ressemble à un magazine de lutte.
Vos paroles font souvent référence à ce que beaucoup décrivent comme la "junk culture", avec les fast food, les femmes sexy, la TV… Est-ce le secret d'une telle longévité ?
Il faut écrire sur ce qui est familier. À l'époque, aucun groupe n'écrivaient sur la "junk culture". Je dis toujours que le public aime un groupe pour sa musique, mais l'adore pour ses paroles. Heureusement, nos paroles ont fédéré des gens.
Comme tu le dis, il y a seulement deux choses qui dirigent le monde: les voitures et les filles (ou aussi le sexe et l'argent). Quelle a été le rôle joué par les femmes dans l'histoire de Dictators ?
La plupart des chansons parlent des femmes, d'amour ou des relations. J'ai simplement donné à ces sujets un tour un peu narquois. Les Beach Boys est l'un des mes groupes préférés, j'ai écrit "Cars and Girls" pour leur rendre homage. "Pussy and Money" représente mes observations impertinentes sur, comme le dit la chanson, "ce qui dirige le monde". Personne ne peut nier le pouvoir que peuvent avoir le sexe et de l'argent.
Tu as également dit que "les Dictators ne s'étaient jamais séparés"…
Évidemment, il y a parfois eu quelques années entre deux concerts (on avait nos vies à mener) mais au fond de nos coeurs et de nos âmes ont a toujours su que nous étions des Dictators. On ne pouvait pas y échapper, même lorsque l'on essayait.

Quelle est donc la différentre entre The Dictators NYC et The Dictators ?
La différence entre les deux, c'est que Scott Kempner et moi même ne sommes pas sur scène avec The Dictators. Mais la musique et les arrangements sont identiques.
VOTRE MUSIQUE
La musique des Dictators regroupe Punk Rock et Hard Rock, deux styles musicaux souvent opposés. Est-ce que cela était intentionnel, comme une manière de montrer que ces deux philosophies pouvaient être réconciliées ?
The Dictators combine une attitude Punk Rock avec des sonorités Hard Rock. C'est de cette manière que l'on a combiné nos influences. C'est aussi une combinaison entre la manière dont j'écris mes titres et la façon dont le groupe les joue en live. J'adore la musique hard jouée rapidement et de manière puissante. Tout ce que je veux c'est un bon riff de guitare et un refrain entêtant.
Certains ont également décrit votre musique comme du proto-punk. Je ne suis pas certain d'adhérer à cette étiquette parce que votre musique était très bien produite dès vos débuts. Qu'en penses-tu ? Cela me pousse à te demander si tu t'intéresses à la place qu'occupe les Dictators dans l'histoire de la musique ?
Le proto-punk fait référence aux groupes qui ont influencé le punk rock. On nous qualifie de proto-punk parce que nous avons sortis notre premier album un an avant les Ramones et deux avant les Sex Pistols. Nous avons beaucoup en commun avec ces groupes, mais il y a également de grandes différences. Notre musique incorpore d'autres éléments que le simple style de guitare souvent associé au punk rock.
Vous avez par ailleurs été décrit comme le chaînon manquant entre les MC5, les Stooges et les New York Dolls. Qu'en dis-tu ?
Tu as oublié une partie importante de la citation… La citation complète, qui est attribuée à Steve Van Zandt, est que "nous étions le chaînon manquant entre les MC5, les Stooges, les Dolls… et l'explosion punk de la fin des années 70″… Je pense que c'est une description appropriée vu que notre premier album a été influencé par les sonorités de Détroit emmenées par les MC5, les Stooges et que nous avons ensuite influencé les groupes de la fin des année 70 qui sont arrivés après nous.
Tu étais amis avec les Ramones. Peux-tu nous en dire plus sur vos relations avec eux ? Aurais-tu une anecdote encore inconnue à nous révéler ?
J'ai eu une longue relation avec Joey, aussi bien personnelle que professionnelle. En plus d'être un ami, on a écrit des de nombreux titres ensemble et j'ai également joué de la basse pour ses projets solo. Dee Dee était brillant mais torturé. J'ai co-écrit quelques titres avec Dee Dee après qu'il ait quitté les Ramones mais il était très difficile. J'étais bien plus proche de Joey. Ils étaient tous les deux uniques et s'ils n'avaient pas formés un groupe de rock je pense qu'ils auraient pu tomber dans l'oubli.
Une anectode est pour toujours ancrée dans mon esprit, lorsque j'étais avec Joey Ramone dans sa chambre d'hôpital le jour de sa mort. Il était allongé et inconscient sur son lit lorsque son frère a mis une chanson de U2, "In A Little While", dans un lecteur qu'il gardait dans la chambre. Les paroles donnaient quelques chose comme "dans peu de temps, cette peine ne sera plus…". La chanson s'est terminée et Joey a littéralement rendu son dernier souffle. J'ai vu sa peau passer de rose à blanche lorsque son coeur a arrêté de pomper le sang. Je n'oublierai jamais ce moment, une véritable expérience transcendantale.
U2 ? Vraiment ? Quelle tristesse… Bon, puisque nous parlions des NY Dolls, tu étais aussi ami avec Johnny Thunders. Quel genre d'homme était-ce ?
Je suis allé à la même école que Johnny Genzale (le vrai nom de Johnny). C'était l'un des gamins avec qui je jouait au stickball dans la cour. On passait notre temps à faire du sport jusqu'à ce que l'on découvre les Beatles dans l'émission d'Ed Sullivan. À partir de ce moment, notre monde a changé.
Tu es également producteur, tu as travaillé avec de nombreuses célébrités, notamment les Ramones et Guided By Voices… Comment était-ce ? Parles-nous également de ton travail pour Iggy Pop.
J'adore Iggy Pop mais je n'ai jamais travaillé pour lui (ndlr, même si Allmusic l'affirme). J'aime tout le processus qu'implique de faire un album, de l'écriture à la compilation des chansons en passant par les arrangements pour enregistrer les chansons et le mixage. Le processus est ma grande motivation. Prendre les centaines de petites décisions qui font le produit final. Les méthodes ont beaucoup changé depuis les années 70 avec l'arrivée des ordinateurs, mais j'adore toujours cela.
Ça a été un honneur de travailler avec les Ramones. J'ai écrit et joué un peu de basse et de guitare pour eux sur certain des derniers albums. J'admire aussi la créativité de Guided By Voices. Leur discographie est monumentale. J'ai travaillé avec leur premier label, Scat Records et fait une session d'enregistrement avec eux.
UN PEU PLUS
Tu connaissais aussi Lester Bangs, pour moi le meilleur critique rock. Que peux-tu nous dire à son propos ?
Je connaissais assez bien Lester, en effet. J'avais un fanzine qui s'appelait "Teenage Wasteland Gazette" et il m'a embauché pour Cream Magazine lorsqu'il était éditeur. Lester était un écrivain brillant qui aurait transcendé la musique et aurait commencé à écrire des livres, des films et probablement plein d'autres choses. C'est vraiment dommage qu'il soit mort si jeune.
Tu as plus de perspective sur la scène punk rock que n'importe qui. Puis-je te demander quels sont, pour toi, les groupes les plus influents de l'histoire ?
Elvis Presley, les Beatles, Bob Dylan, les Beach Boys et les Ramones sont les plus influents artistes en matière de rock, à mon humble avis.
Que penses-tu de la scène punk actuelle ? De manière plus générale, que penses-tu du rock 'n' roll au 21ème siècle ?
Le monde change et les styles musicaux avec. Malheureusement, le rock et le punk s'effacent. Ils ont perdu leur côté rebelle il y a bien longtemps et je ne me souviens même pas de la dernière fois où un groupe de rock a été en tête des ventes aux US. J'ai écris le titre "Who Will Save Rock and Roll" il y a 20 ans et je pense qu'il est encore plus vrai aujourd'hui qu'il ne l'était à l'époque en particulier la réplique "Ma génération n'est pas le salut". Il nous faut une génération de jeunes groupes réinventant le genre, créant quelque chose de nouveau et non pas seulement des groupes qui répliquent le passé.
Les Dictators NYC ont récemment joué à Paris, quelques jours après les attentats. je me souviendrais toujours de concert. As-tu eu des échos de ce concert ?
J'ai compris que c'était une période très émouvante pour les fans de musique à Paris.
POUR CONCLURE
Les Dictators font maintenant partie du Rock and Roll Hall of Fame. Est-ce quelque chose d'important ou est-ce que tout cela est trop institutionnalisé et donc contraire à l'esprit punk ?
Nous sommes dans le Museum du Rock and Roll Hall of Fame mais pas dans le Hall of Fame lui-même. Je ne porte pas trop d'attention à cela, ceci étant dit j'aime beaucoup deux des nouveaux entrant de l'année, NWA et Cheap Trick. Je soutient cependant l'effort de collecte réalisé par le Hall of Fame. C'est important.
Quels autres groupes contemporain écoutes-tu ?
Grace à Youtube et Spotify je peux écouter de nouvelles choses tout le temps, mais rien ne m'accroche vraiment. Quand j'écoute de la musique pour le plaisir, c'est généralement les trucs que j'écoutais en grandissant dans les annes 60 et 70.
Quelle est la nouvelle la plus excitante que tu voudrais partager avec nous ?
Allez voir ma chaine Youtube et abonnez-vous… lien
J'ai récemment interviewé Bret Easton Ellis et il m'a dit que pour lui, "le rock est mort", je cite "il faut aller vers la country pour trouver des gens qui écrivent des chansons rock ou pop". Qu'aimerais-tu lui répondre ?
Le rock n'est certainement pas mort, mais il faibli. À une époque on attendait le nouveau Beatles ou le nouveau Stones avec impatience. Le rock a changé la culture en influençant les politiques, la mode et l'art. Je suis assez sceptique sur le fait qu'il puisse à nouveau retrouver cette gloire. Bret n'est pas la première personne que j'ai entendu décrire la country comme étant le nouveau rock'n'roll. Il fait référence à la country commerciale qui arrive de Nashville aujourd'hui. Pour moi, ça sonne comme le rock merdique des années 80 que je n'aimais pas. Si c'est ce qui passe désormais pour du rock, alors le rock est déjà mort.
Le mot de la fin ?
"Voiture, surfeuses, bière… rien d'autre de compte ici".