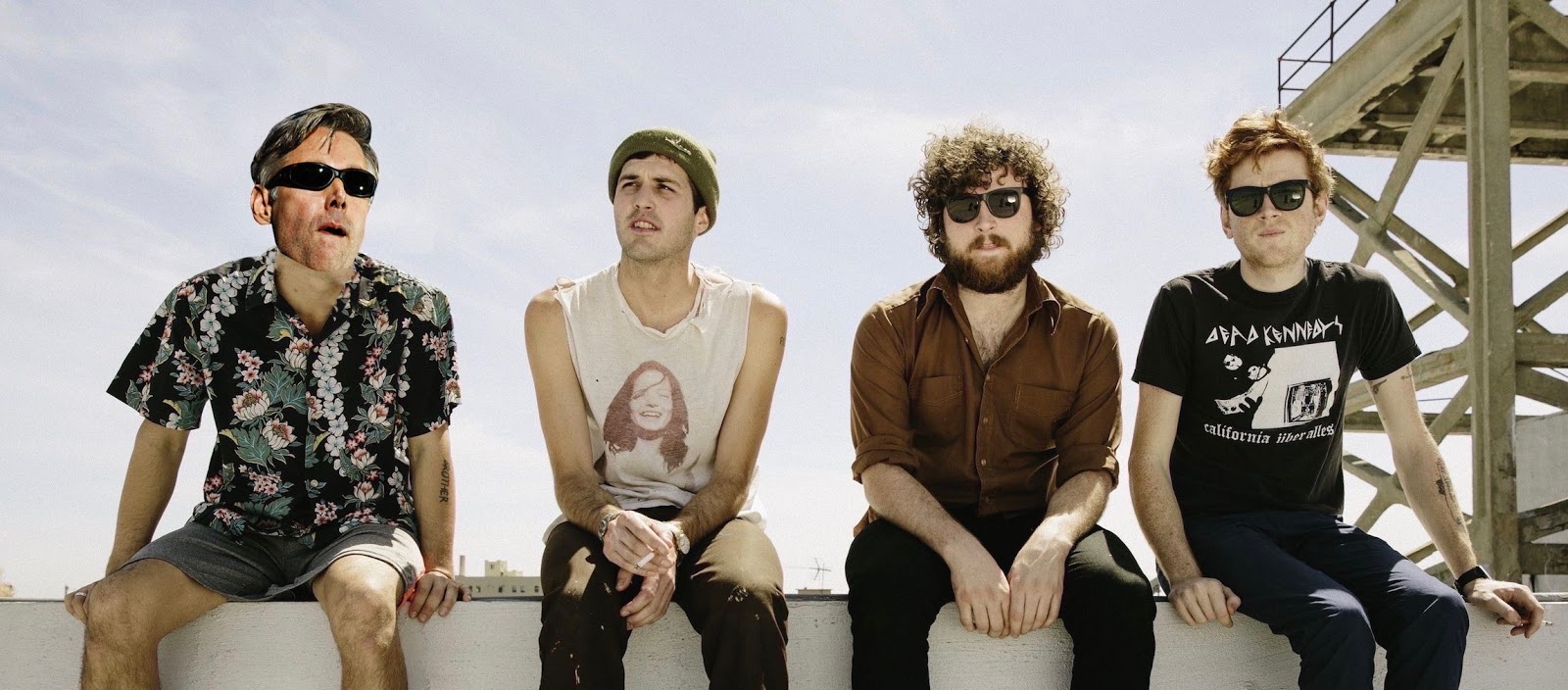 In a post-truth/post-music critic world, I am so proud, oh yeah, so, so proud to present a new Still in Rock column entitled "Fake News". Every once in a while, mostly on Fridayzzz, I'll publish a paper developing an alternative fact/theory in which I am the only one to believe. Only buzz matters so let's flush what they call "truth" down the toilet. And by the way, Jay Reatard is not dead and Donald Trump listens to his music. Did you know that?
******
Adam Yauch (Beastie Boys) réincarné en Fidlar


La nouvelle va faire le tour du monde : la réincarnation existe bel et bien ! Cela fait des décennies qu'elle est débattue, mais les sceptiques avaient un bon point : "moi, j'crois que c'que vois!". Seulement voilà, le 25 janvier dernier, Fidlar a prouvé au monde entier que la réincarnation existait pour de vrai, quoi. Ce jour-là, feu Fidlar a fait paraître son troisième album studio, Almost Free, et pour comprendre pourquoi cet LP est une sensation, il faut remonter un peu dans le temps.
En 2016, juste après avoir sorti une reprise de "

Sabotage

", Zac Carper a succombé dans le plus grand des silences à une terrible mort par overdose, faisant ainsi honneur à la devise du groupe : "
Fuck It Dog, Life's a Risk (FIDLAR)". L'histoire était ainsi bouclée.
Seulement voilà, tout ne s'est pas passé comme prévu une fois arrivé devant les portes de l'enfer. Ce jour-là, Satan était parti rendre visite à la mère Noël, laissant
le rôle de videur à Adam Yauch. Adam avait démontré tout au long de sa carrière avec les Beastie Boys qu'il savait comment faire le tri entre les groupies émoustillées et les véritables vermines, le choix était donc logique. C'est dans ce contexte que Zac, tout content d'être enfin débarrassé de ses obligations, est arrivé en effer en véritable rock star, faisant high five sur high five, ce qui, semble-t-il, a donné une idée à ce bon vieux Adam
Yauch déjà flatté que Fidlar ait sorti une reprise de son groupe quelques semaines auparavant.
Voici, en exclusivité mondiale, la retranscription de leur conversation :
– Adam Yauch: Yo man, what's up?
– Zac Carper: Good brah, good… ya?
– Adam Yauch: Yeah man, good! So, welcome to Hell. You gonna like it here, we're super happy that you're among us, man. But before you enter, lemme make you a proposal, man.
– Zac Carper: Tell me brah.
– Adam Yauch: Aigh'. Here's the thing: I want to slip into your body, play some more shows, maybe release albums, and you, during that time, you fucking rest with all of our bitches here. If you agree man, I can change your original schedule (

here

) in Hell to only "sex time".
– Zac Carper: Oh brah, I'm so in. This is RAD.
– Adam Yauch: Ok man, that's a deal. Take this badge, go on your right after the door and enjoy, man.
– Zac Carper: Thanx brah. Appreciated.
C'est ainsi que, dans le plus grand des secrets, Zac de Fidlar a conclut "un pacte avec le quasi-Diable" : Adam des Beastie Boys. Il ne fallait dès lors plus compter sur le Fidlar de
"Chinese Weed", mais plutôt, sur un revival mal foutu du fameux groupe de la bande à Mike D
. Et pour ne pas que le monde entier découvre trop tôt la nature du deal entre les deux hommes, Adam a eu la bonne idée de demander à Dan Auerbach des Black Keys de produire le nouvel album de Fidlar, histoire d'altérer un peu le son qu'il avait en tête. C'est ainsi que nous avons aujourd'hui Almost Free entre les mains.
Sur plus de 13 morceaux, le nouveau Fidlar vomit un mauvais Beastie Boys qui n'a rien de similaire à "She's Crafty" et autres "No Sleep Till Brooklyn", "Shake Your Rump" ou "The Sounds of Science".
À la place, on se retrouve avec la guitare des Black Keys et une production en force qui sera bientôt proposée en pharmacie comme laxatif de remplacement. Le titre éponyme, "
Almost Free
", en est probablement le meilleur exemple. Il faut dire qu'
Adam Yauch n'avait qu'un rôle mineur dans les Beastie Boys. L'album est donc logiquement avorté et le New York Times a déjà reporté plusieurs cas d'hospitalisations sévères faisant suite à son écoute
.
Seulement, on sait désormais que la réincarnation existe.
Fake newz or not, this is your call.