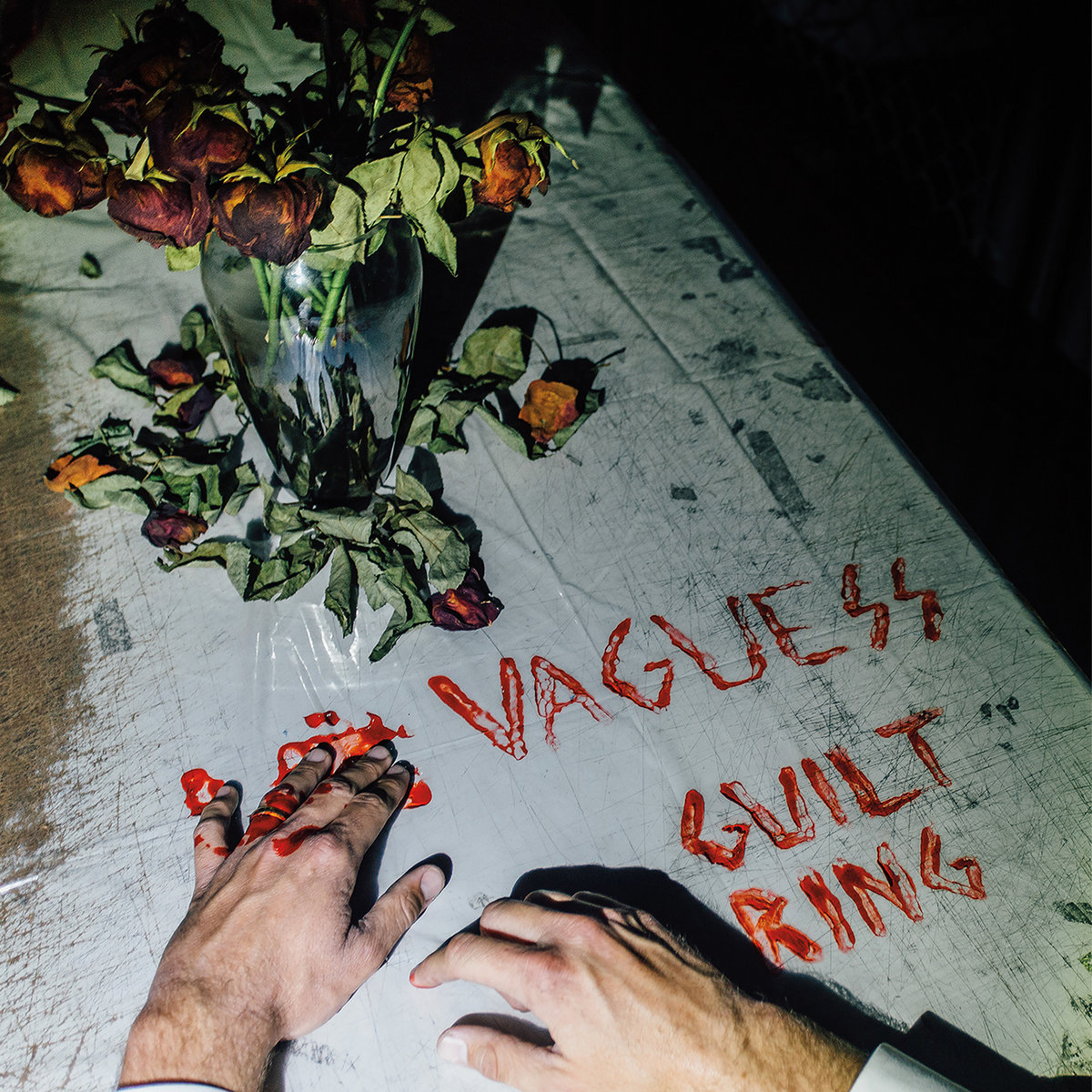 Vaguess is a band from Dana Point (California) which was created back in 2012. Vinny Vaguess, a great kingpin, is the charismatic leader of this band who has played with most of the best Californian bands around, to name a few, Together Pangea, Tomorrows Tulips, LA Witch, Mr Elevator & the Brain Hotel, Gap Dream, Froth, Ladywolf, and also Paul Jacobs from Canada. That's right, Vaguess represents all that we defend over here: laugh and dirty punk rock.
The band's new album, Guilt Ring, will be released on March 3 via Sinderlyn which is part of Omnian Music Group created by Mike Sniper (Captured Tracks). Today first news is that Still in Rock has the great honor to unveil this album in INTERGALACTIC exclusivity!! The second great news of the day is that this album is a slap for anyone interested in the punk/garage scene. Also, anyone who has 'vaguess' interest in the '70s will be served.
Composed of 14 tracks, Guilt Ring is both erratic and pleasantly hot. These songs rarely exceed the mark of 2 minutes, which adds in intensity and forces the band to catch our attention before the end of the first riffs, which the band makes easily. Following the Bodhi Collection which was released in 2015, this band's new LP will make it one of the most scrutinized punk bands around. Let's gang grandma's seat belt, she's going to cross the windscreen!
In fact, what do we generally expect from a great punk band? To be without compromise, fast, punchy and melodic. That's exactly what Vaguess is. Guilt Ring is crushing us but it also contains some of the cheesy-ness that all the best punk albums of the past 10 years have.
"Guilt Ring" introduces Guilt Ring by making us rotate in the middle of the crowd. Vaguess holds us by the arms and quickly accelerates the movement, turning ever faster to the point that the rest becomes totally blurred. We are now focused on the riff, and only on the riff. "Can't Hang", more pop than the first one, is how Vaguess expresses its slacker attitude, also how the band answers to X's "I Don't Wanna Go Out". And when it's too hard to get out of the house to go to a concert, try to find a comfortable couch with some old Street Fighter videogames. Once it's done, you can't complain even though it's what Vaguess is doing with "Can Complain". DEVO seems to have taken some funny drugs.
"Jimmy's Gotta Go" is part of Vaguess' pop songs, where the band excels, in my opinion. The sound of the guitar is grungy, here is one of this album highlights! "Life's Long Enough", experimental but equally impulsive, goes on without considering the listener's pulse. And "Uncle Gretchen" undoubtedly recalls us of the most obscure lo-fi 70s punk compilations.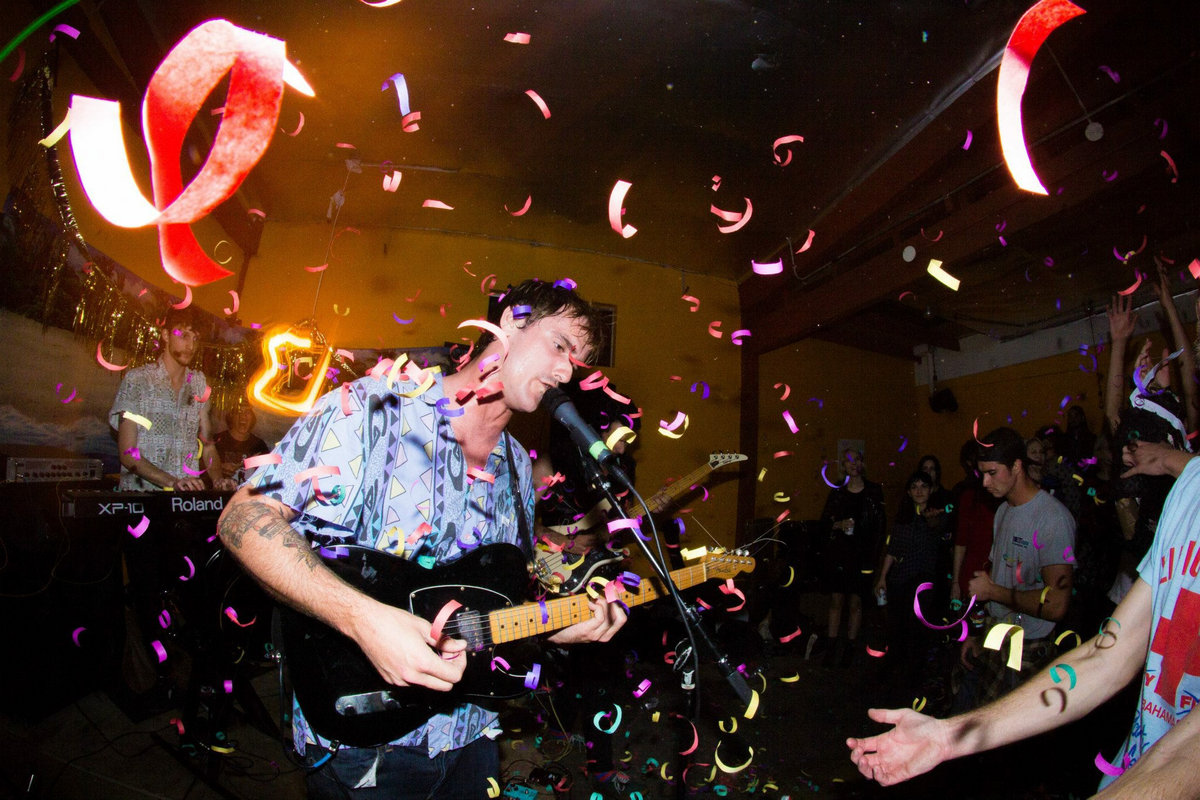 "OG 1" introduces the second half of this LP. Aiming to crush us under some eighties punk – which is very well done, it finally makes granny lift his wheelchair. Then, "Less to Live For" could be a definition of what Riot boyyys is, a wedding between Gang of Four and Television Personalities. "Black Tar Blues" then takes the lead, once again, with a seventies sound that Vaguess revamps as French Chefs are doing with those cream puffs… without puff. It's better that way, anyway.
"Luxury Sedan" gently brings us closer to the end with a bouncing riff that is reminiscent of some jangle pop. This is undoubtedly one of the album highlights. "Sober Cult" then intends to remind us that Vaguess also has a baseball bat in his van and that he is willing to use it against any Californian surfers denying having ever seen Fast Times at Ridgemont High. "Be Bored" leaves us no break, the song prod' has changed – once again, which clearly captures our focus – and Vaguess keep illustrating how to create some great party-punk rock. "Private Windows" closes Guilt Ring on a reminder: looking at the girls' locker room, it's bad, and not listening to Vaguess when you tell your friends that you like punk/garage, it's even worse.
In the end, Guilt Ring is packed with great ideas. Vaguess alternates between a somewhat old British punk, rather misty, and some more recent US slacker punk. We also find, at times, the sound of Richard Hell that the band has definitively compressed so to make it an indoor perfume of which only one puff is enough to unfasten the groupies bra. As you understood by now, I take the bet that Guilt Ring will generate some love sweats to all of those who have ever swung their heads to Buzzcocks. Vaguess' eighties is adding to our need to engage in sexual intercourse with that old lady behind the bar. After X (album X-Aspirations), here's V!
Tracklist :
1. Guilt Ring
2. Can't Hang
3. Can Complain
4. Jimmy's Gotta Go
5. Life's Long Enough
6. Bad Chicks
7. Uncle Gretchen
8. OG 1
9. Less to Live For
10. Black Tar Blues
11. Luxury Sedan
12. Sober Cult
13. Be Bored
14. Private Windows
Label: Sinderlyn : pre-order here!!
Release date: 3 mars 2017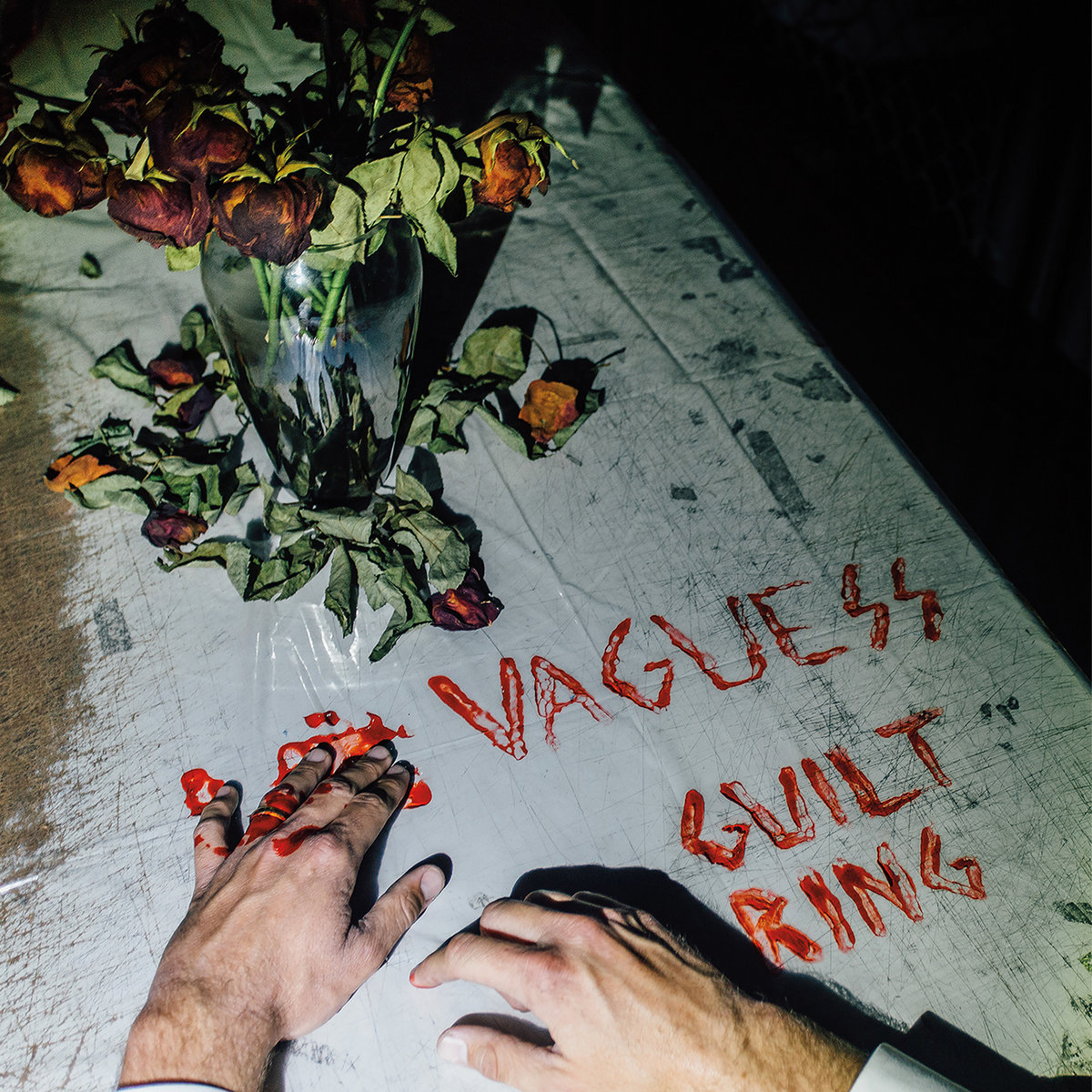 *****
French version
(english above)
*****
Vaguess est un groupe originaire de Dana Point (Californie) formé en 2012. Vinny Vaguess, comme il se plaît à ce qu'on le surnomme, est le leader charismatique de cette formation habituée des dates bien californiennes, comprenez-là, à trainer avec Together Pangea, Tomorrows Tulips, L.A. Witch, Mr Elevator & the Brain Hotel, Gap Dream, Froth, Ladywolf, mais aussi Paul Jacobs from Canada. Vous l'aurez compris, Vaguess, c'est un groupe de la scène que Still in Rock défend : celle du rire et du punk rock crado.
Son nouvel album,
Guilt Ring
, paraîtra le 3 mars prochain
via
Sinderlyn
, un label qui fait partie du Omnian Music Group créé par Mike Sniper (Captured Tracks). La première news du jour est que Still in Rock a l'honneur de vous dévoiler cet album en exclusivité mondiale !! Considérant le fait que nous sommes lundi matin et que les américains dorment encore – décalage horaire oblige – vous êtes donc les premiers à l'écouter. La deuxième bonne nouvelle est que cet album est un claque pour qui s'intéresse de près ou de loin à la scène punk/garage américaine. Et tous ceux qui ont un 'vaguess' souvenir du punk des années '70 seront également servis.
Composé de 14 morceaux, ce Guilt Ring est à la fois violent et accueillant. Les titres qui le composent dépassent rarement la marque des 2 minutes, ce qui ajoute en intensité et oblige le groupe à nous saisir dès les premiers riffs de chaque création. Il relève ce défi haut la main. Faisant suite à The Bodhi Collection qui était paru en 2015, il entend placer Vaguess parmi les groupes de punk les plus en vus, ce qu'il serait indéniablement dès le 3 mars prochain. Accrochez les ceintures de sécurité de mamie, elle s'apprête à passer par le pare-brise.
En réalité, que demande-t-on à un bon groupe de punk ? D'être sans compromis, rapide, percutant et mélodique. Et c'est exactement ce qu'est Vaguess ! Guilt Ring est un album qui crisse et qui contient le minimum de cheesy que tous les meilleurs albums de punk de ces 10 dernières années contiennent nécessairement.
"
Guilt Ring
" introduit la danse sans tarder à notre faire tourner en rond au milieu de la foule. Vaguess nous tient par le bras et accélère rapidement le mouvement, tournant toujours plus vite au point que le reste devienne flou. Nous voilà à présent concentré sur le riff, le seul riff.
"
Can't Hang
", plus pop que le premier, c'est une traduction du slacker façon Vaguess et une réponse au "
I Don't Wanna Go Out
" de X. S'il est trop dur de sortir de chez soi pour aller à un concert, on se conforte avec un vieux canapé jeux vidéo Street Fighter. Et ensuite ? On ne se plaint surtout pas, ce que Vaguess fait pourtant avec "
Can Complain
", un titre plus malsain que les autres. DEVO semble y avoir pris de drôles de drogues.
"Jimmy's Gotta Go" intègre la catégorie des titres pop de Vaguess, là où il excelle, à mon sens. Le son de la guitare est toujours aussi grungy et une douce voix vient faire de ce Jimmy un temps fort de l'album. "Life's Long Enough", expérimental mais tout aussi impulsif, prend le relais sans se soucier du pouls de son auditeur. Quant à "Uncle Gretchen" et sa prod' lo-fi, il vient assurément rappeler le punk 70 des vieilles compilations de morceaux obscures.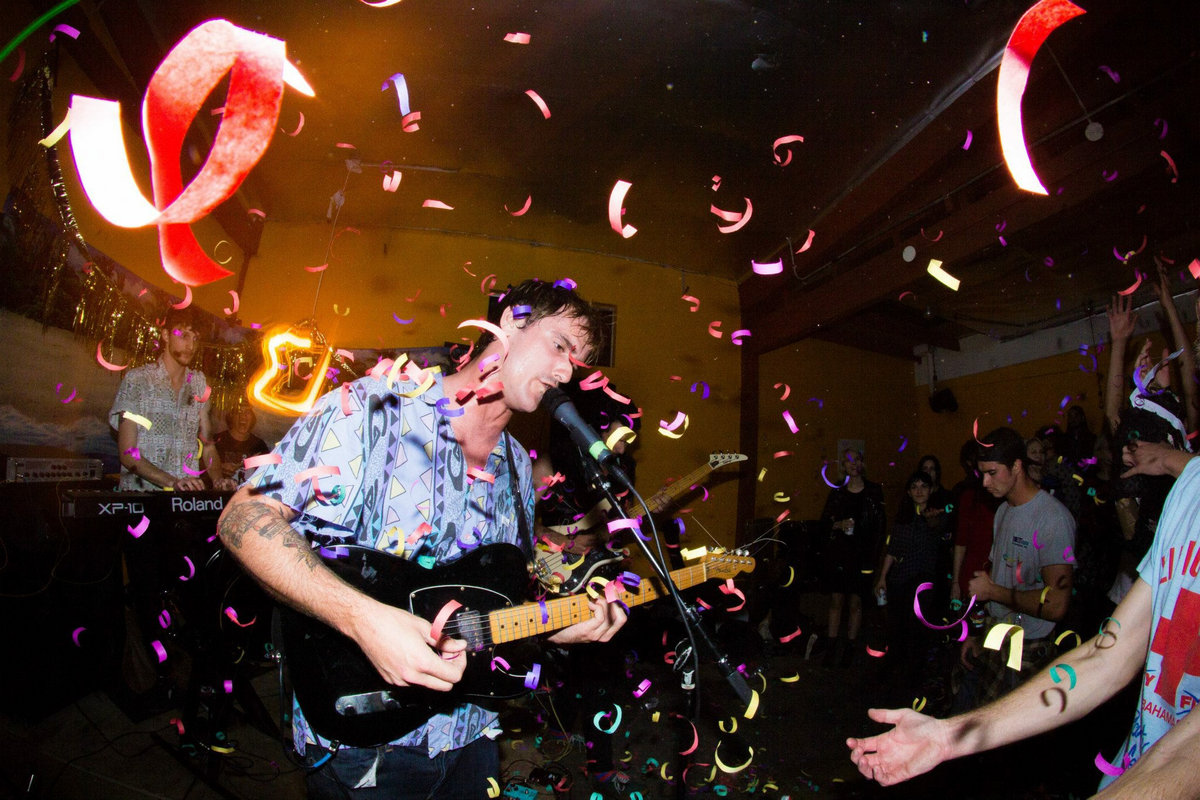 "OG 1" introduit la seconde moitié de cet LP. Visant à nous écraser sous un son eighties punk très bien senti, il fait en réalité se lever mamie de son fauteuil roulant. "Less to Live For" enchaine avec un Riot boyyss gentil qui semble avoir marié Gang of Four et Television Personalities. Toujours aussi suave, c'est "Black Tar Blues" qui assure la suite avec, une fois encore, un son seventies que Vaguess prend un malin plaisir à déstructurer pour nous en servir un concentré façon chou à la crème, mais sans chou. C'est meilleur comme ça, de toute façon.
"Luxury Sedan" nous approche doucement de la fin avec un riff assez rebondissant qui rappelle volontiers certaines créations jangle pop. C'est incontestablement l'un des temps forts de l'album. "Sober Cult" vient alors couper fin à toute volonté trop slacker pour nous rappeler que Vaguess a aussi une batte de baseball dans son van, prêt à aller casser tout surfeur californien niant avoir un jour vu l'excellent Fast Times at Ridgemont High. "Be Bored" ne laisse aucun répit, la production a changé – une nouvelle fois, ce qui a le mérite de nous accrocher l'oreille – et Vaguess continue de s'illustrer avec un punk à la fois réjouissant et dévoué à nous faire oublier ce début de semaine. "Private Windows" clôt ce Guilt Ring sur un rappel à la loi : regarder dans le vestiaire des filles, c'est mal, et ne pas écouter Vaguess lorsque l'on se dit amateur de punk / garage, c'est plus mal encore. Et le mal… ben c'est mal.
Au final, Guilt Ring est un album qui grouille de bonnes idées. Vaguess alterne entre un vieux punk british assez brumeux et le slacker américain de ces dernières années. On y trouve aussi, par moment, le son de Richard Hell que le groupe a compressé à l'extrême pour en faire un parfum d'intérieur dont un seul pfuit suffit à dégrafer le soutif des groupies. Vous l'aurez compris, je prends le pari que Guilt Ring fera causer tous ceux qui ont un jour balancé la tête à l'écoute d'un titre de Buzzcocks et ce n'est pas la touche eighties rajouté par le groupe qui fera décrocher papi. Après X (album X-Aspirations), V est arrivé !
Tracklist :
1. Guilt Ring
2. Can't Hang
3. Can Complain
4. Jimmy's Gotta Go
5. Life's Long Enough
6. Bad Chicks
7. Uncle Gretchen
8. OG 1
9. Less to Live For
10. Black Tar Blues
11. Luxury Sedan
12. Sober Cult
13. Be Bored
14. Private Windows
Label : Sinderlyn
Date de sortie : 3 mars 2017
Liens :
Article sur
Article sur