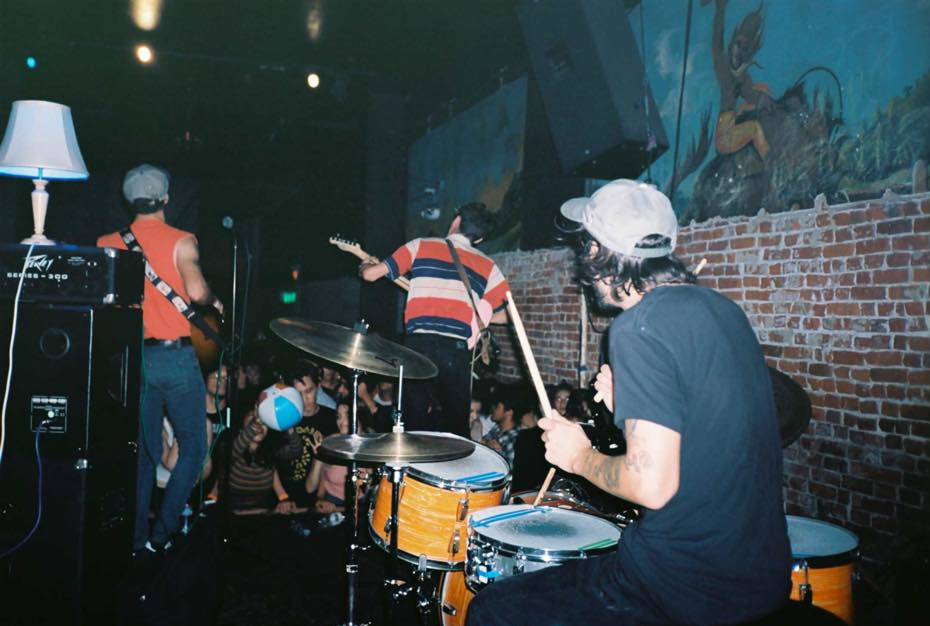 SadGirl
est un groupe formé à Los Angeles en 2013. Ce trio de garage pop commence à se faire un nom sur la scène californienne, lui qui a joué aux côtés de
Nobunny
,
Tijuana Panthers
et autre
Sunflower Bean
. Il a fait paraître deux nouveaux EPs en 2015,
Volume I
et
II
, de la chair à canon pour amateur de garage à tendance surf (et gore).
Le
Volume I
contient 6 morceaux. Dans l'ensemble, le son est plus entubé que sur le volume suivant, ce qui lui donne une allure plus rétro.
SadGirl
s'introduit à nous avec "
Breakfast Is Over
", sorte de slow fifties revisité à la sauce (
mayonnaise
) garage. L'expérience se transforme doucement avec "
Total Bummer
". "
Norma & Jessica
" justifie à lui seul l'étiquette de surf-noir / gothic tropic, selon. Inspiré d'un Rodriguez (le groupe se réclame de "Pulp Fiction meets Back to the Future"), d'un bon vieux slasher à l'ancienne, ce titre fera frissoner Sally qui le regarde seule dans sa chambre le soir. Et puis, après le punk bubblegum de "
Swine
" vient "
Feel Like Shit
", le premier titre a avoir attiré mon attention. Il y a les longs riffs qui nous trainent vers la romance du dernier
Shannon and the Clams
. Ah, cruelle beauté quand tu nous tiens.

(un clip avec Machete, je jure)
Mais, me direz-vous, que trouve-t-on également sur le Volume II ?
Un excellent titre introductif,
"
Penelope's Leg
", qui semble plus proche d'un
Guantanamo Baywatch
que les autres. Ce genre de morceaux participe de faire de SadGirl est un groupe festif taillé pour les Burgerama & co. Les filles tristes en deviendront joyeuses, voilà que Sally sautille sur son lit, les sous-vêtements éparpillés aux quatre coins de sa chambre. "
Born Dumb
", sans immiter
Afrika Korps
qui se la jouer également idiot du village, nous rappelle aux roots d'un garage punk de genre. "
Sex in Sleep
" est un peu plus
boring
, à l'image du titre ? "
One Way Ticket
" parvient à nous faire croire à la romance d'un vieux film d'
high school
, mais là n'est pas l'essentiel. "
Motorbreath
", plus surf rock, pose un punk à chien sur une planche de surf, et ça fonctionne parfaitement ! "
Ready for Nothing
" débarque ensuite avec son garage rock, passage obligatoire d'un groupe de pop slacker. Finalement, le petit dernier rend un hommage mérité au Shannon And The Clams des débuts, c'est "
Take Me Home
", c'est bon.
Au final, la musique de SadGirl est plus bordélique que celle de nombreux autres groupes de la scène garage, un véritable plus. Et puis, elle est aussi plus mélodique, plus D.I.Y. et plus
trash
. SadGirl, pour l'instant, est un nom 100% gagnant, une petite aubaine, une fortune à elle seule. Il faudra suivre de très près son premier album, je parie sur une musique qui score très haut dans le genre. Et puis, une popularité du niveau de celle de
together PANGEA
viendra bientôt accompagner cette formation qui le mérite amplement.
(mp3)
SadGirl – Penelope's Leg
(mp3)
SadGirl – Breakfast Is Over