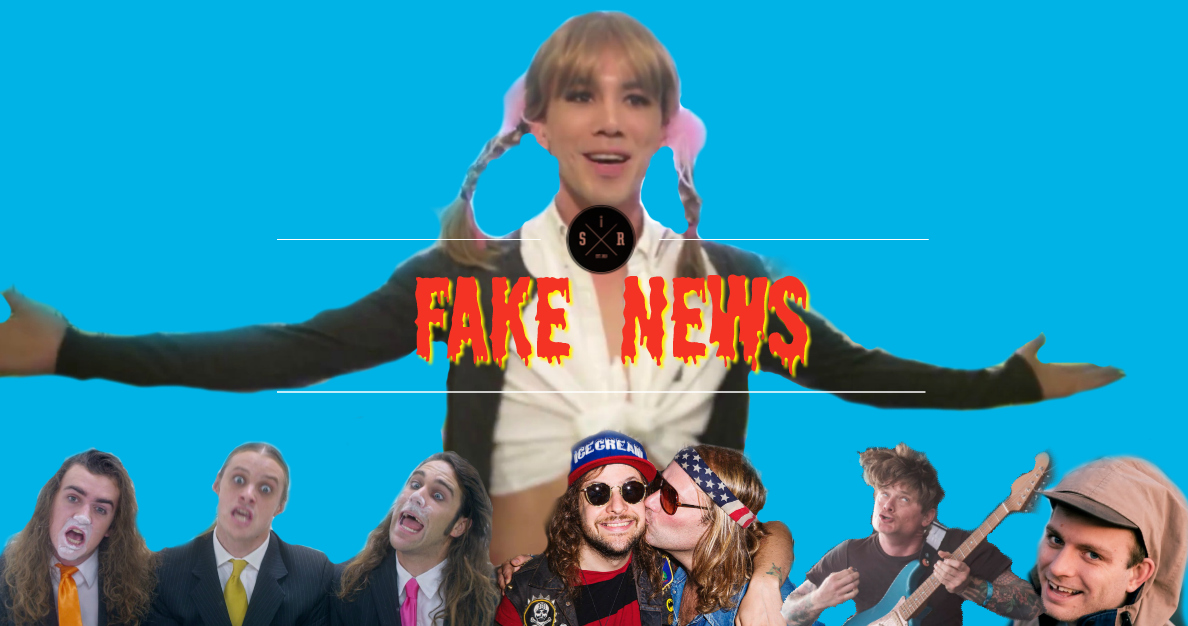 In a post-truth/post-music critic world, I am so proud, oh yeah, so, so proud to present a new Still in Rock column entitled "Fake News". Every once in a while, mostly on Fridayzzz, I'll publish a paper developing an alternative fact/theory in which I am the only one to believe. Only buzz matters so let's flush what they call "truth" down the toilet. And by the way, Jay Reatard is not dead and Donald Trump listens to his music. Did you know that?
*********
Ty Segall n'a jamais aimé le rock
Tout a commencé un 3 avril 2007. Ce jour-là, Ty Segall se rendait au dernier DJ set de David Guetta sur une plage de Los Angeles. Uber n'existait pas encore, il avait donc dû commander un taxi (imaginez !). Il faut bien dire que Ty Segall n'a jamais aimé marcher, et puis, l'argent n'a jamais été un problème non plus, alors bon… Seulement, son taxi n'est jamais venu, et après une heure passée au standard de la compagnie pour se plaindre, lui et Charles Moothart ont pris la route vers l'heureux événement du grand DJ. Tout se passait pour le mieux lorsque, au détour d'une ruelle, les deux compères ont entendu quelques accords qui semblaient provenir d'un vieux hangar.
C'était John Dwyer qui jouait avec son Coachwhips. Quelle marrade. Le type transpirait plus que de mesure, les filles qui assistaient à l'événement n'étaient même pas belles et Ty Segall trouvait le son tellement mauvais qu'il décida d'enregistrer ce massacre à l'iPhone 1 pour le poster sur DailyMotion, #foutagedeguelequoi. La fin du concert arriva trop lentement, c'est alors qu'il s'approchera de John Dwyer, plein d'ironie et lui dit (aucune traduction n'est disponible dans les archives de l'INA) :
– Ty : Dude, it's seriously so good. How do you manage to create such a sound?
– John : Thanks man. Would you like to copy me? I'll show you my secrets
– Ty : Dude, I'd love to be a little version of you. But first, let me know: can I be rich?
– John : No really man, but you can grab pussies (note de l'éditeur : John Dwyer envisage la Présidence Américaine en 2020…)
– Ty : Oh Dude, I'm in! Seriously! Let's record stuff. I don't know how to play guitar, but I don't have to, right,
– John : Well man, not really, it's only garage. All it has to be, is LOUD. Fucking LOUD man.
– Ty : Dude, I'm so existed for the pussies.
C'est ainsi que Ty Segall débuta sa carrière. S'en suivit un premier album, Horn The Unicorn, et puis Ty Segall qui paru sur Castle Face (le label de John). Mais Ty n'aimait pas ça et les pussies n'y changeaient rien. "It sounds like shit and people think I'm a god, they're so stupid" (pas de traduction disponible). Seulement, la formule fonctionnait, il fallait donc "milk the cow" (décidément, désolé pour cet article franglais). S'en suivirent Lemon, Melted et Goodbye Bread. Sur Twins, Ty tenta un truc encore plus bourrin pour vérifier l'équation donnée par John Dwyer : "Hard Rock au carré = pussies au cube". C'était avéré.
Sleeper influa un premier changement artistique. Il faut dire qu'entre temps, Ty Segall avait eu le temps d'apprendre à jouer de la guitare et qu'il voulait donc nous montrer ce qu'il savait faire sur une version acoustique. Manipulator allait vers le psyché tandis qu'Emotional Mugger était un premier hommage caché à son héros de toujours : David le Guetta.
Pour vivre heureux, vivons cachés. C'était la phrase que Ty Segall répétait à qui voulait bien l'entendre de 2007 à 2017. Dix ans à jouer d'un rock'n'roll auquel il ne croyait pas. Dix ans à berner tout le monde. L'opération avait parfaitement fonctionné. Mais il voulait désormais tenter le coup, ce qu'il fit sur
Freedom's Goblin
. Bingo. Le public n'avait pas compris que le Freedom du titre illustrait
sa
délivrance du rock'n'roll. Les moutons suivaient encore, sur fond de : "
non mais mec, c'est normal quoi pour un artiste de vouloir explorer ses horizons de l'intérieur de l'introspection quoi
". Dans la foulée, Ty Segall confiait au plus grand magazine de son temps, les InRocks, "
j'ai envie de m'éloigner de plus en plus du rock
" (
lien
). Ça tombait bien, ce magazine n'avait plus déniché un album de rock depuis plus de 15 ans.
En janvier 2019 paraîtra le nouvel album de Ty Segall, comme c'est désormais la coutume. Chers lecteurs, qu'elle n'est pas ma joie de dévoiler son intitulé en exclusivité intergalactique : Oh, David!. Voyez la référence (de choix). Sur cet album, que j'ai pu écouter dans les locaux des InRocks, Ty Segall dévoile son premier LP sans guitare. "Tu peux tout faire avec un ordinateur, dude, pourquoi te faire chier à utiliser une guitare ? ll faut savoir vivre avec son temps" (traduction des InRocks). Fini les tracks inaudibles, Ty Segall arrive dans l'univers du Dumstep à petits pas, avec un seul objectif en tête : "que David soit fier de moi". Ah, il rajoute aussi "And for the love of easy pussies, dude" (pas de traduction, malheureusement). On attend donc le premier album anti-rock de Ty Segall avec impatience. Fake newz or not, it's your call.
Lien :