Il y a une lignée d'article anachronique dans laquelle je chronique les anciens groupes de folk américaine, ceux qui flirtent avec la country, l'envie de grandes étendues, les après-midi sous les porches, le whisky et un peu plus de liberté. Les artistes qui s'y rattrachent sont généralement issus des années '70. C'est la décennie des grands films hollywoodiens du genre, aussi.
J'ai ainsi eu l'occasion d'écrire quelques mots sur The Flying Burrito Brothers, Scott Walker, Nick Drake, James Taylor, Chris Darrow, Gram Parsons, et j'en passe… Tout est disponible ici même :
lien
. J'y ajoute aujourd'hui
Curt Boettcher
. Cet artiste originaire du Wisconsin a été décrit par le
New York Times
comme… "un autre Brian Wilson". À peu de choses près : "
If his life had gone just a bit differently, [he] might have been another Brian Wilson. … As it stands, Boettcher — a pop-music producer whose heyday was the late '60s — now survives in rock history mostly as a liner-note credit. He could have been, but never was. Yet he enjoys a godlike status among a select group of music fans, for whom obscurity is more enticing than fame
."
Le fait est que les mélodies de Curt Boettcher sont reconnaissables parmi toutes. Mais je veux aujourd'hui vous conter l'histoire de Chicken Little Was Right, un album un peu particulier étant donné qu'il ne vit le jour qu'en 2004… bien qu'étant composé en 1973. L'album en était encore au stade de démo lorsque Boettcher a décidé de jeter l'éponge. En ressort des titres acoustiques qui sont relativement minimalistes. Il dira plus tard que s'il avait poursuivi sa production quelques mois encore, les titres auraient été bien transformés. Pour cette raison, on y retrouve moins l'étiquette Sunshine Pop qu'il est coutume d'accoler à sa musique. La comparaison de Boettcher avec les Beach Boys, Love ou les Byrds tient moins le coup, on se retrouve ainsi en compagnie des grands musiciens folk de l'époque et c'est très bien ainsi tant Chicken Little Was Right est excellent.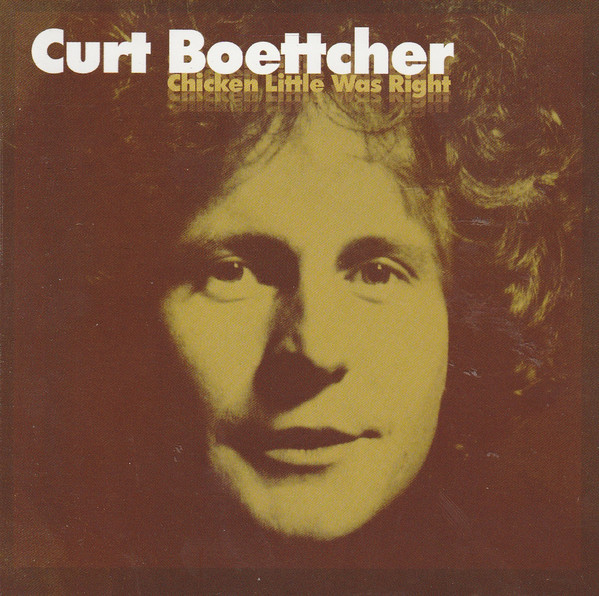 "I Call You My Rainbow" est le titre le plus (sunshine) pop de l'album. Tout rappelle les grandes heures de la pop seventies, le thème, la voix de Boettcher, le cheesy sans gêne.
"
Louise
", le second morceau, fait également dans la chanson d'amour, c'est le thème de cet album et de l'ensemble de la discographie de
Boettcher. Ici, il aime Louise, les montagnes, la mer, les arbres, ça fait très illuminati et ça lui va bien.
"
Out of the Dark of the Night
" et d'un autre genre, plus Bee Gees dans l'âme. C'est que Boettcher a probablement aimé les Pink Floyd, aussi. Les harmonies vocales sont un modèle du genre.
Vient alors "
Astral Cowboy
", la raison d'être de cet article. Cette fois-ci, Boettcher est branché Far West, et nous, on voyage en sa compagnie dans le wagon du fond. Je ne peux m'empêcher de me rappeler la Beat Generation. Et les Flying' Burrito Brothers. Et
Volage
?! Ils seraient capables d'autant de grâce. Pour brouiller les pistes, Boettcher conclut la face A de son presque-album sur "
Rest in Peace
". POP.
"Sunrise Mango" fera du bien à tous ceux qui rêvent de Californie un lundi matin. C'est un peu la raison de ces articles anachroniques que je maintiens coûte que coûte. Il est bon de voyager dans le temps, et il est bon de voyager dans la vieille USA que l'on continue de rêver. "Sunset's Fallin'" perpétue de cette même destination, un peu poussiéreuse, un peu mielleuse, aussi.
"
Angel City (We're Dying)
" me rappelle le "
My Kind of Woman

" de
Tony Joe White. Ce sont des titres avec 1% de funk attitude, et finalement, couplés à la country, ils atterrissent en plein dans le mille.
"
You Make Me Feel So High
" a la douceur des Beach Boys, effectivement. Un petit côté magie noire rappelle Pet Sounds. Et c'est
"
I've Been Wrong
" qui conclut le tout.
Boettcher se balance sur sa rocking-chair, une vieille cigarette à la bouche, et surtout, son chapeau de cowboy dument planté sur sa tête.
Au final,
Chicken Little Was Right
est un excellent album pour qui s'intéresse aux mouvements hybrides. Je n'ai pas souvenir d'avoir jamais chroniqué un LP qui soit à mi-chemin entre sunshine pop et country folk. Entre Brian Wilson et
Gram Parsons
. Entre mer et terre.
(mp3) Curt Boettcher – Astral Cowboy (1973)
(mp3) Curt Boettcher – Sunset's Fallin' (1973)
Tracklist :
1. I Call You My Rainbow
2. Louise
3. Out of the Dark of the Night
4. Astral Cowboy
5. Rest in Peace
6. Sunrise Mango
7. Sunset's Fallin'
8. Angel City (We're Dying)
9. You Make Me Feel So High
10. I've Been Wrong
Liens :
Article sur Gram Parsons